WMV VS MP4: How to Choose between WMV and MP4 Formats
As commonly used video formats in daily life, WMV and MP4 are both used for saving and playing videos. When you save videos from social platforms, you may be curious about which format should you choose, WMV or MP4? Which one has higher quality and which one has a smaller size? This article will introduce WMV and MP4 formats in detail, and you can also learn about how to play them or convert between them.
Part 1: WMV VS MP4: The Differences between Them
What is WMV?
WMV or Windows Media Video is a compressed video container that is developed by Microsoft especially for Windows. Thus, it can be played by Windows Media Player and other third-party video players. The codec contained in WMV format is WMV 9, which is commonly used for DVD and Blu-ray videos with high quality. Moreover, it's suitable for playing streaming videos on the Internet because you can play them while downloading.
Check this post to play WMV on Mac computer.
What is MP4?
MP4, also called MPEG-4 Part 14, is the most commonly-used container format for saving video, audio, subtitle files. With its high compatibility, MP4 videos can be played by almost all players on the computer and mobile. Thus, it is always used to spread and upload videos on the Internet.
The Differences between WMV and MP4 Format
| Video Container | WMV | MP4 |
| --- | --- | --- |
| Supported codecs | Video: WMV 9, MPEG-2, MPEG-4, H.264 Audio: MP3, WMA, AAC, AC3, DTS | Video: MPEG-1, MPEG-2, MPEG-4, H.264, H.265, HEVC Audio: AAC, MP3, AC3, ALS |
| Compatible Video Player | Windows Media Player, third-party video players (VLC, RealPlayer, etc.) | All the media players on the computer and mobile |
| Pros | Best for Blu-ray and DVD videos Relatively higher quality than MP4 Better for playing videos on Windows | Easy for spread and playback Small size with high quality High compatibility with players |
| Cons | Unable to play on Mac and mobiles through the built-in players | Can't reach such high quality of WMV videos |
Part 2: WMV VS MP4: The Best Way to Play WMV and MP4 Videos
As a Windows user, you can easily play WMV and MP4 videos through the built-in Windows Media Player. But to play WMV videos on other devices, you should rely on Bluraycopys Free Blu-ray Player. It can also provide a better viewing experience with more functions when playing MP4 videos.
Play WMV, MP4, and almost all formats.
Provide high-quality playback with 1080p HD.
Support playing DVD or Blu-ray disc.
Able to add video effects, adjust the playback, etc.
Step 1
Download Blu-ray Master Free Blu-ray Player on your computer and launch it. Click the Open File button to choose the desired WMV or MP4 videos.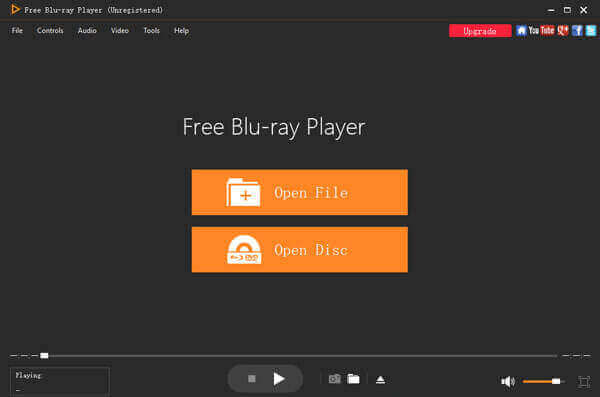 Step 2
Then you can click the Controls menu to adjust the playback settings, including the process, volume, title, etc. And by clicking the Tools menu, you can change the brightness, contrast, and hue to add different filters.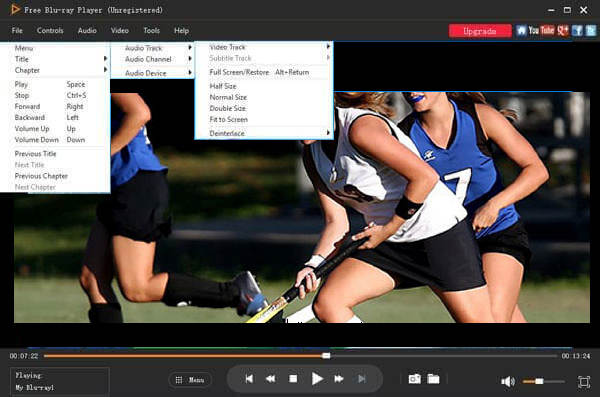 Part 3: How to Convert between WMV and MP4 Formats
If you can't play WMV videos through the built-in video player on Mac and portable devices, you can also choose to convert WMV to the compatible MP4 format. In this case, Blu-ray Master Free Online Converter is your best choice. It supports converting between any video formats without a size limitation.
Step 1
Navigate to the website of Blu-ray Master Free Online Converter on any browser. Click the Launch Free Converter button to download the launcher in a few seconds. Then click it again to choose the desired WMV or MP4 files to add.

Step 2
Choose the desired format you want to convert to in the Video list. You can click the Settings icon to adjust the video resolution, and frame rate further. At last, click the Convert button to choose the storage path and start converting between WMV and MP4.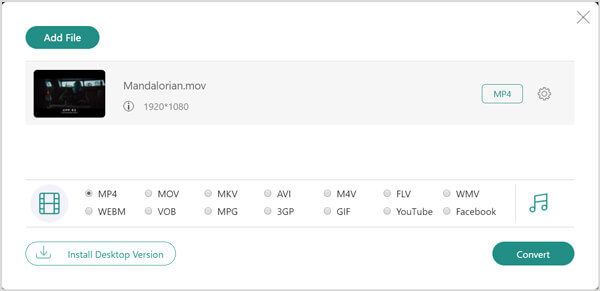 Part 4: WMV VS MP4: Which One is Better for Ripping DVD/Blu-ray to
As mentioned before, WMV format with WMV 9 codec is commonly used in saving Blu-ray and DVD videos. That's because it is encoded according to the VC-1 standard, which makes the WMV format have high quality. Thus, you'd better rip DVD to WMV format through Blu-ray Master Free DVD Ripper.
Easy-to-use DVD Ripper with All Formats to Export
Rip DVD disc to WMV, MP4, and 200+ formats easily.
Customize the export video resolution, quality, etc.
Latest CPU and GPU acceleration to provide super-fast speed.
Able to preview the video effects before exporting.
There is also a professional Blu-ray ripper called Bluraycopys Free Blu-ray Ripper to rip Blu-ray videos to WMV format easily.
Part 5: FAQs about WMV VS MP4
1. WMV or MP4? Which one is better in video quality?
Normally WMV format. That's because it's less compressed than most codecs of the MP4 format. But the H.265 codec contained in MP4 has higher quality with less compression rate.
2. Is WMV larger than MP4 format?
Not always. Actually, the file size is not related to the video container format. The codec, frame rate, and bitrate decide the video size. But the H.264 and H.265 codecs in MP4 always have smaller sizes than WMV.
3. How to play WMV videos on Mac?
You can choose to play WMV videos through other video players on Mac. Besides, you can also convert WMV format to MP4 or MOV formats through Blu-ray Master Free Online Converter to play on Mac.
Conclusion
After reading this article, you have learned more about WMV and MP4 formats. WMV VS MP4, which one is better? There's no correct answer, and you can choose the suitable one to download or play videos according to your need.