8 Best Voice Recorder Apps that Android Users Should Not Miss
This article will share top 8 best voice recorder apps for Android users. Today, smartphones almost can any tasks related to daily life and work. When you participant an important business meeting, a voice recorder app is able to turn on your handset to recorder and save important information. There are a lot of apps have such capacity and average people cannot identify the most proper tool. If you are in such condition, read this post and get the top list immediately.

Part 1: Top 8 Voice Recorders for Android
Top 1: REV Audio & Voice Recorder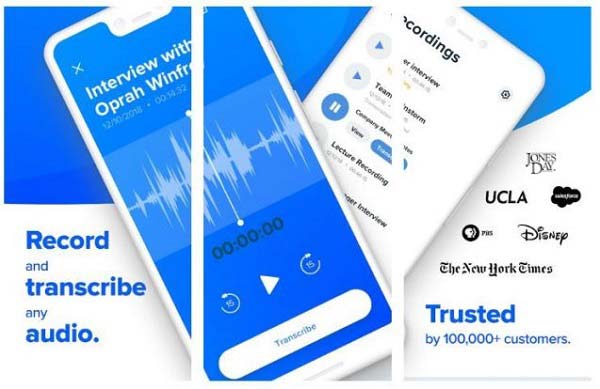 REV Audio & Voice Recorder is one of the best voice recorders for Android 5.0 and above. The voice recording feature is completely free to use, but if you need some advanced functionalities, you have to pay for it.
Pros
1. High quality voice recording.
2. Record voice in the background.
3. Transcribe voice to text.
4. Monitor the voice recording process.
Cons
1. This voice recorder contains ads.
2. The audio transcribing feature needs extra payment.
Top 2: Voice Recorder Pro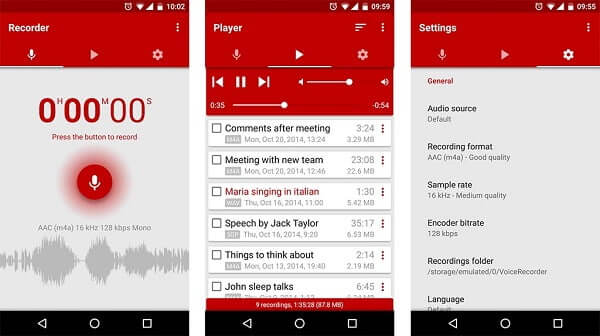 As its name indicated, Voice Recorder Pro provides some pro-level features related to voice record on Android. It does offer in-app purchase, you can get the basic app from Play Store for free.
Pros
1. Easy to use.
2. Free to download with no time limit.
3. Record notes, memos, meetings, etc.
4. Save voice recording in MP3, WAV, AAC, 3GP.
Cons
1. This voice recorder cannot work in background.
2. You have to view ads.
Top 3: Smart Recorder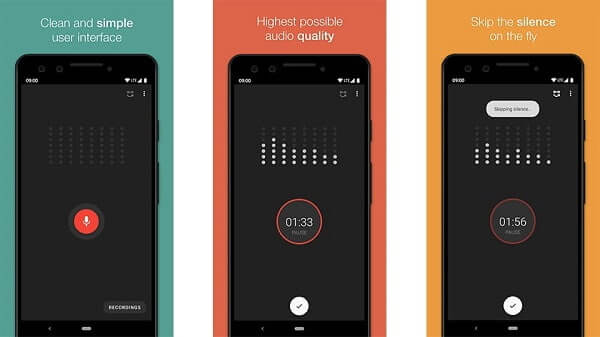 Smart Recorder is a voice recorder app designed for high quality audio recording. Moreover, it includes some advanced features, like skip silence from voice recording, edit your voice recording and more.
Pros
1. View voice recording in multiple spectrums.
2. Adjust sample rate and more.
3. Record voice in one tap.
4. Offer a live audio analyzer.
Cons
1. It is only available to new smartphones.
2. Advanced features need purchase in app.
Top 4: Otter Voice Notes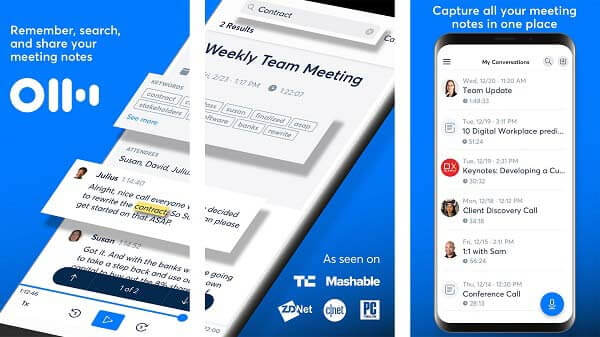 Otter is both an audio note maker and voice recorder for Android 5.0 and later. Compared to other voice recorder apps, it has more features and integrates lots of advanced technologies.
Pros
1. Record voice automatically.
2. Share audio recordings.
3. Transcribe voice notes to text.
4. Provide live captioning.
Cons
1. This Android voice recorder is not free to use.
2. There is no audio editor.
Top 5: ASR Voice Recorder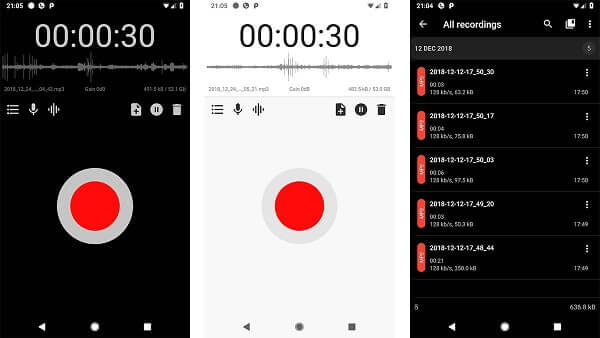 ASR Voice Recorder is a simple way to record voice on Android without paying a penny. In fact, it allows you to exchange the free features by watching ads. If you are using a device running Android 5.0 or above, it is worth to use.
Pros
1. Add notes while recording voice.
2. Manage recordings by tags.
3. Auto start recording.
4. Lightweight and work without lag.
Cons
1. There is no way to remove ads.
2. It lacks an audio editor.
Top 6: RecForge II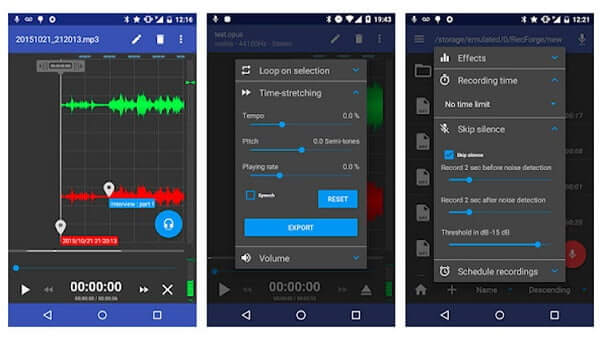 RecForge II is an all-in-one voice recorder for Android 4.4 and up. Though it contains a wide range of features covering record, management and edit, it is pretty lightweight and work smoothly.
Pros
1. Record for sound, voice, note, etc.
2. Offer various playback modes.
3. Convert recordings to different formats.
4. Edit audio recordings immediately.
Cons
1. It includes annoying ads.
2. This voice recorder requires a lot of permissions.
Top 7: Evernote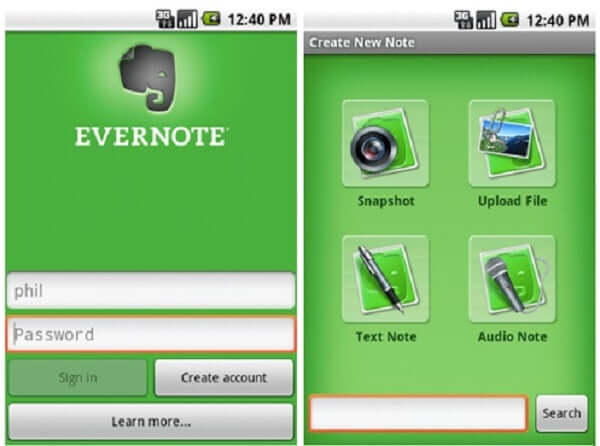 Though Evernote is a note service primarily, many users treat it as a voice recorder on Android. Therefore, you can get more features with in a single app, such as write ideas, save webpages, scan documents, create notebooks, etc.
Pros
1. Make audio notes by recording.
2. Sync notes across devices.
3. Attach voice recording to notes.
4. Support a variety of file formats.
Cons
1. This app requires subscription.
2. It is not available to old Android devices.
Top 8: Built-in Voice Recorder on Samsung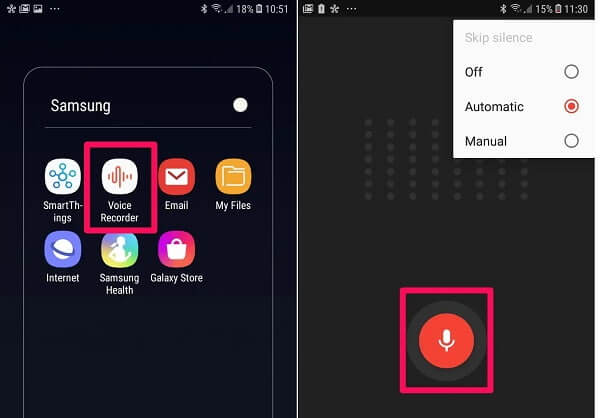 For Samsung Galaxy users, the built-in voice recorder app is the best option to capture voice, sound and meetings around. It is free of charge, no ads and does not have any restrictions or limitations.
Pros
1. Record voice on Samsung for free.
2. Pre-installed on the latest Galaxy devices.
3. Skip silence automatically.
4. Simple to use.
Cons
1. It is only available to Samsung Galaxy devices.
2. There are no advanced features.
Part 2: How to Record Android Voice with a Computer
Many users believe that it is not convenient to record voice on Android phone due to the small screen. The alternative solution is to do the job with a computer using Blu-ray Master Screen Recorder.
Main Features of the Best Voice Recorder for Smartphone
1. Record voice, phone calls, chats and more on Android.
2. Save voice recordings to computer smoothly.
3. Pre-listen to the recordings with the built-in media player.
How to Record Android Voice with a Computer
Step 1Connect Android to computer
Launch the best voice recorder for Android after installation. Choose Audio Recorder to open the main interface. Next, cast your Android screen to your computer.

Step 2Record Android voice
There are two options in the main interface, System Sound and Microphone. The former is able to capture sound from your computer and the latter will record your voice through microphone. You can turn on or off each option based on your need. When you are ready, click on the REC button to begin recording voice from Android.
Tip: If you want to record voice automatically, click Take Schedule and set the options according to your need.

Step 3Preview and save recording
When you want to stop Android voice recording, press the Stop button. Then you will be presented the preview window. Listen the recording by hitting the Play icon. If it contains unwanted parts, cut it with the Clip tool. Finally, click the Save button to export the recording to your hard drive.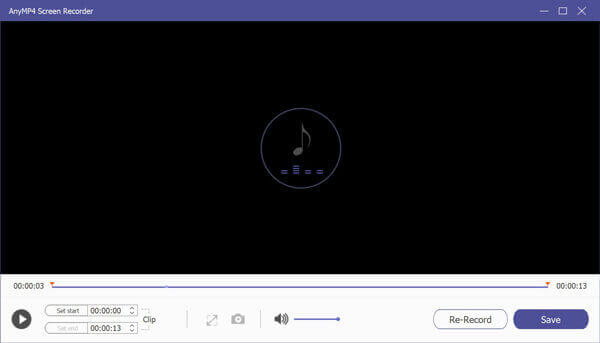 Part 3: FAQs about Voice Recorder Android
Does Android have a built-in voice recorder?
Google introduced a voice recorder in Android 10, but the built-in feature lacks some basic features, such as audio editing and more. It is limited to record voice only.
Where to find the voice recorder on my phone?
For the built-in voice recorder app, swipe downward from the top of your screen and scroll down, and then you will find it. If you want to find the third-party voice recorder app, go to your app tray.
Does Google have a voice recorder app?
Google does not have voice recorder app for Android system, but it introduced the Google Recorder app for Pixel 4 and some old Pixel phones. Other smartphone users have to use third-party voice recorder apps.
Conlusion
This article has identified top 8 best voice recorder apps for Android phone and tablet. They all have unique benefits and advantages. You can pick the most appropriate app for your device based on your situation. Even if you do not like to record voice on mobile device, Blu-ray Master Screen Recorder can meet your demand. You can use it to grab sound from your microphone, and save audio with ease. More importantly, it can free up space on your Android device. If you have other problems, please feel free to leave your message below.