How to Capture Gameplay Videos on iPad
More and more people choose to play a game on iPad during their leisure time. It is relaxing. Some game enthusiasts would like to capture game tutorial or share the exciting gameplay to popular video sharing platforms like YouTube.
So, finding a good game recorder on iPad has become a necessity for most of us. In this post, we will talk about the easiest way to create a gameplay recording and capture sound on your iPad.

Part 1. Default Method to Record Gameplay on iPad
Apple has provided us the easiest way to record iPad screen. If your iPad is running iOS 11 or later, and iPadOS, you can create a quick gameplay recording with audio on your iPad.
Step 1
Go to Settings > Control Center > Customize Controls. Find Screen Recording and tap the plus sign next to it.
Step 2
For iPad running iOS 12 or later, or iPadOS, you need to swipe down from the upper-right corner of the screen. If your iPad is running earlier versions of iOS, you can swipe up from the bottom edge of any screen.
Step 3
Find and tap the concentric circles icon, then wait for the three-second countdown. Go back to your game for recording. You can press the concentric circles icon and enable Microphone option on.
Step 4
When the gameplay recording is finished, you can tap the red concentric circles icon again to stop the recording.
After that, you can go to the Photos app to view, edit, delete or share the gameplay video with friends via facebook, twitter, email, etc.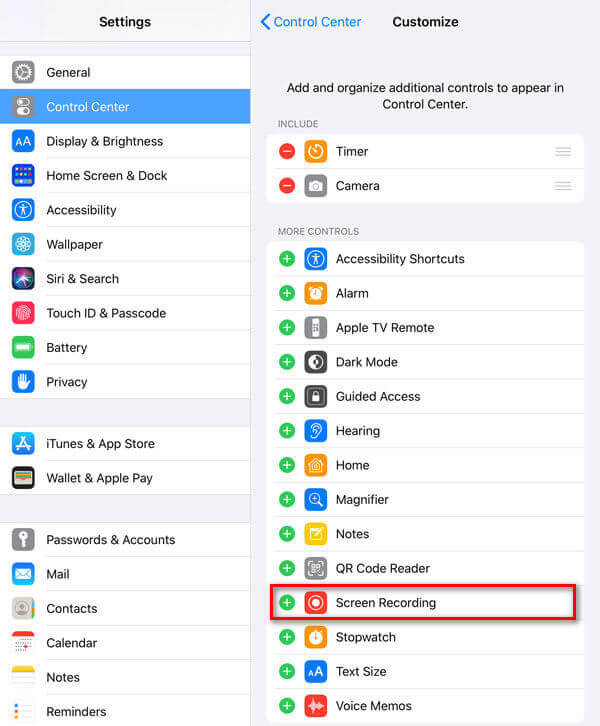 Part 2. Record Gameplay with Screen Recording App
RECGO is an iOS recording app that helps you record your favorite games, apps, tutorials, video demos and video calls on your iPad and iPhone. It's a better choice when you want to record your game like PUBG on your iPad mini or iPad Pro. With the preset option, you preset the photo resolution up to 4K, video bitrate and frame rate, as well as recording orientation.
Step 1
Search and download RECGO from your App Store, then open the recording app on iPad.
Step 2
Tap Recording settings to preset the photo resolution, bitrate and frame rate. Tap Recording Orientation to choose Auto, Landscape or Portrait.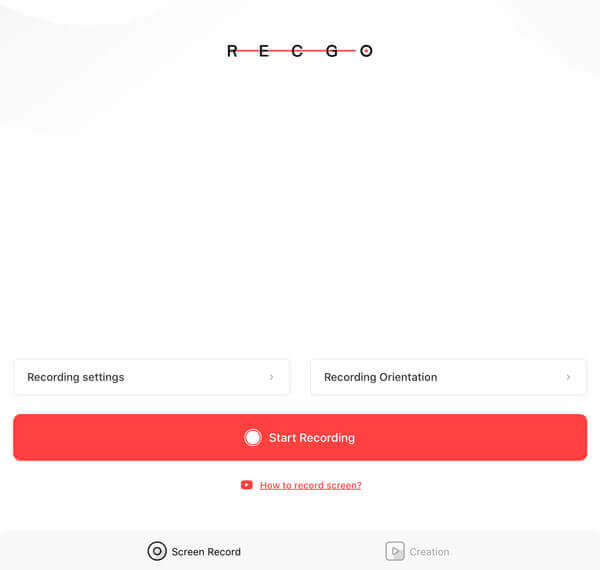 Step 3
After making all settings, click Start Recording button to start. If you want to record your own voice, you can tap Microphone option to enable it.
Step 4
Then tap Start Broadcast and back to your game to record your gameplay. When the game is over, press Stop Broadcast to stop game recording.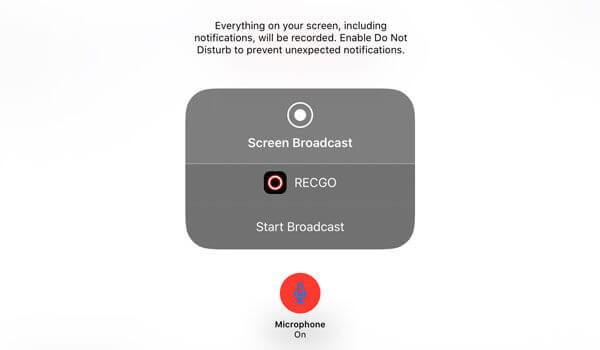 Step 5
By tapping the scissors icon, you can clip, cut, split, rotate, add filters to the gameplay recording as you want. You can also click the three horizontal dots icon to rename, save, share or delete your game recording.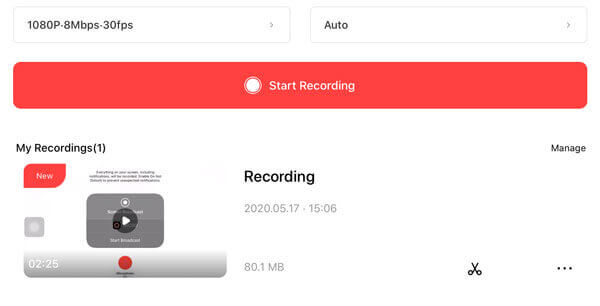 All your recordings will be shown in My Creations section, you can preview, edit, save it to your album or delete it according to your needs. But there are also limits in this RECGO app. For example, there are too many annoying ads. If you want to remove the watermark or ads on RECGO, you need to buy the premium version for more privileges.
Recommended Gameplay Recording Software for Desktop
For some game enthusiasts, they prefer board games than mobile games. Blu-ray Master Screen Recorder is the best screen recording to record gameplay, online videos, meetings, Skype calls, webinars and lectures on Windows and Mac computer.
● Record gameplay videos with audio on Windows 10/8/7 and Mac.
● Select the audio source from system sound or microphone voice.
● Add rectangle, circle, line, arrow, color paint, text to the gameplay recording.
● Preset a gameplay recording task and set the video format, quality, codec, frame rate..
Part 3. FAQs of Recording Gameplay on iPad
How long can you screen recording on iPad?
There is no time limit on iPad screen recording, so you can record as long as you want. The only limit is the available space on your iPad hard drive.
How to record internal audio on iPad?
You can record the internal audio with the default recording on iPad. Swipe from the top right of the interface and press the recording icon. Tap Microphone icon to make it in red shadow, then you can record your voice on iPad.
What do YouTubers use for recording?
Bandicam has been known as the best game and video recording software for YouTubers. It is satisfied by both beginners and advanced users to capture their gameplay, computer sound and webcam.
Conclusion
With Apple's default screen recording, you can easily capture gameplay on iPad or iPhone. If you are particular about the gameplay video quality, you can use an iOS recording app to capture gameplay video and sound. It provides more options to adjust and edit the gameplay video before sharing to platforms like YouTube.