How to Save and Where to Find Overwatch Highlights on Your Computer
Overwatch is a team-based first-person shooter game developed and published by Blizzard Entertainment. Though Overwatch is not free to use, there are still millions of users play Overwatch all over the world. Thus, you can get similar topics with many other Overwatch gamers. You can see many Overwatch gameplay recording videos on YouTube and other online sites. If you want to share your achievements and excellent moments, you can use Overwatch highlights or third-party game recording software.
Highlights is the built-in screen recording feature in Overwatch. You can get Today's Top 5, Recently Captured and Saved Highlights to record short clips from previous Overwatch matches. However, there are these or those limits of Overwatch gameplay recording. Even though you save Overwatch highlights to your computer, you still need another screen recorder to record and save Overwatch gameplay video.
From this article, you can know the detailed steps to record short and long Overwatch game video clips. Just read and follow.

Part 1: How to Record Overwatch Gameplay for Hours
Overwatch highlights cannot record long gameplay videos. You can record the latest 12 seconds of the Overwatch game up to 3 recent highlights per round. Meanwhile, you can store up to 36 Overwatch highlights at a time. The Overwatch high score, lifesaver and other highlights in Today's Top 5 will be replaced with new highlights after 24 hours automatically.
To bypass Overwatch highlights restrictions, you can use Blu-ray Master Screen Recorder. The game recording software allows users to record Overwatch gameplay video and audio for hours and even days. There is no maximum recording length. You can use hotkeys or on-screen options to record Overwatch highlights while playing quickly. Here're the main features you can get.
1. Record Overwatch gameplay video up to 60 fps.
2. Record yourself playing Overwatch with your face and voice.
3. Get the advanced hardware acceleration to record Overwatch moments and highlights without lag.
4. Control Overwatch recording with hotkeys and video trimmer.
5. Save Overwatch recordings to MP4, WMV, AVI and other formats permanently.
6. Share Overwatch game video to YouTube, Facebook, Twitter and more directly.
Step 1Launch Blu-ray Master Screen Recorder after the installation. To record and save Overwatch highlights and gameplay video, choose Video Recorder in the main interface.
Step 2Select Overwatch's window as the screen capture interface. To record Overwatch game video with audio, turn on System Sound. Of course, you can add voiceover and webcam overlay based on your need.

Step 3Click REC to start Overwatch recording. You can edit and take a screenshot while recording on Overwatch.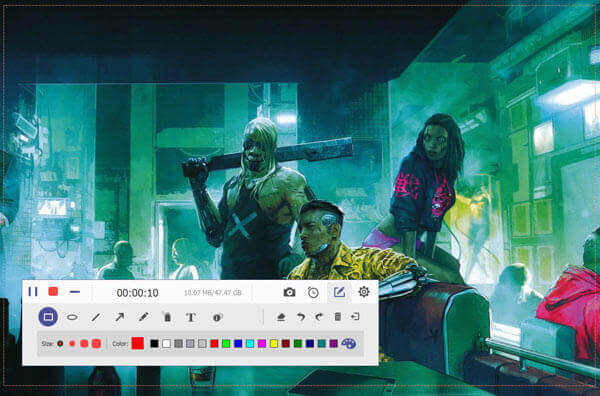 Step 4After recording, click Play to have a preview. At last, click Save to save Overwatch best highlights as MP4 and other formats.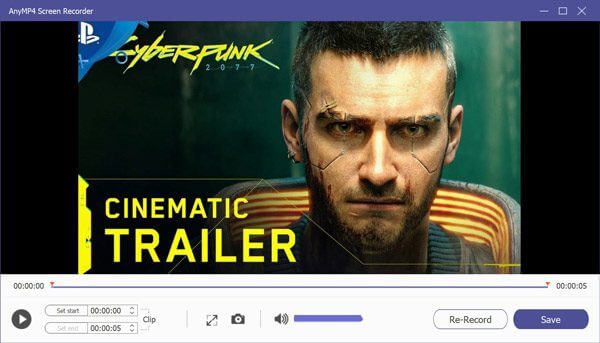 What's more, you can screen record Overwatch for free with Blu-ray Master Free Online Screen Recorder. The Overwatch highlights online capture tool allows users to record game video with audio up to 24 fps. The default output video format is WMV.
Part 2: How to Save Overwatch Highlights
Overwatch will not save highlights to your computer automatically. Thus, you need to take measures to save Overwatch highlights to Windows or Mac manually. Here is the tutorial to save highlights on Overwatch.
Step 1: Open Overwatch. Choose Controls and move to the Request Highlight area.
Step 2: Use Overwatch highlights hotkeys to screen capture. The Overwatch highlights video will be saved in the Recently Capture after pressing.
Step 3: Open the Highlights menu. Select the Overwatch highlight video you want to save. Then choose Record from the right-click menu.
Step 4: Keep recording to save Overwatch highlights on PC.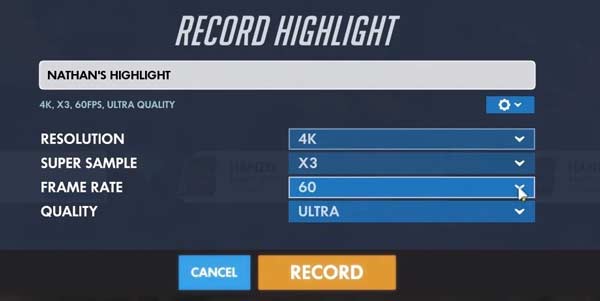 Part 3: Where Do Overwatch Highlights Save
Then where are your 12-seconds Overwatch highlights are saved? To find all your Overwatch highlights, you can head to the Documents folder. Find and click the Overwatch folder. It is the default output folder for all highlights. You can find all Overwatch highlight videos in MP4 format. Later, you can use any media player to watch Overwatch highlights.
Part 4: FAQs of Overwatch Highlights
How to change Overwatch recorded highlights save location?
Firstly, make sure Overwatch is closed. Press Windows on your keyboard. Then type %Documents% and press Enter on the keyboard. Go to Overwatch settings via \Documents\Overwatch\Settings. Open a file named Settings_v0.ini file. Find MovieExport and add [MovieExport. 1] below. Later, add where you want to save your Overwatch highlights with VideoPath = "". Save your changes and relaunch Overwatch. That's how you change Overwatch highlights location.
How to save Overwatch highlights in 1080p?
You can change the highlight settings to save Overwatch highlights in 1080p, 720p and other resolution. In the Overwatch Save Highlight window, unfold the Resolution list to change video resolution. Moreover, you can adjust frame rate, video quality and super sample before exporting.
How to share Overwatch highlights on PS4?
You can share highlights by pressing the Share button on the left of the touchpad. If you cannot share Overwatch highlights on PS4, you can go to Settings to enable sharing and broadcast.
All in all, you can save Overwatch highlights with the above steps. Or you can change the default Overwatch highlights save location to anywhere you like. If you want to record Overwatch gameplay for a long time, you can free download Blu-ray Master Screen Recorder and have a try right now.