How to Record Discord Audio Calls When Chatting with Friends
This article will talk about how to record Discord audio. As a fun product, Discord create a platform for a group of people who have the same interest, such as mobile game. Most early adopters of technology use Discord as a preferred way of socializing, learning, doing business and more. However, this service does not provide any built-in features related to audio recording. Does that mean you cannot save important conversations and chats? The answer is no and all you need is to read the article below.

Part 1: The Easiest Way to Record Discord Audio
Discord does not provide audio recording feature, but you can use a third-party tool to get it. Blu-ray Master Screen Recorder is one of the best choices, partly because it offers almost everything you need when recording Discord audio.
Main Features of the Best Discord Audio Recorder
1. Record Discord audio in the background smoothly.
2. Not notify others participants when recording audio calls.
3. Support both system audio and built-in or external microphone.
Needless to say, it is the easiest way to record Discord audio on Windows and Mac OS X.
How to Record Discord Audio without Quality Loss
Step 1
Set up Discord recorder
Run the best audio recorder for Discord after you install it on your computer. It is compatible with both PCs and Mac. Then choose Audio Recorder from the home interface. The Video Recorder option is used to capture video calls.

Step 2
Record Discord audio
There two sections in the main interface:
System Sound: Once you turn it on, all sound from your computer will be recorded.
Microphone: Capture your voice through microphone if you enable it.
Now, you can decide whether to turn on each option based on your need. Moreover, it is able to record Discord audio automatically if you set Task Schedule.
When the audio call starts, click the REC button to begin recording it.

Step 3
Preview and save audio recording
Hit the Stop button whenever you want to stop Discord audio recording. Then you will be taken to the preview window. Pre-listen to the recording using the built-in media player. If it contains unwanted part, cut it with the Clip tool. Finally, click the Save button and follow the onscreen instructions to output the Discord audio recording file to your hard disk.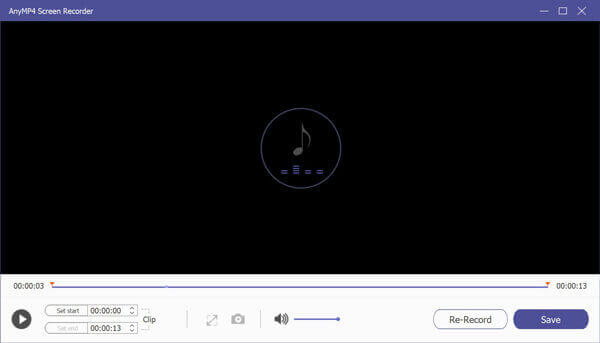 In addition, you can use the audio recording software to record a call on FreeConferenceCall, or screencast the online meetings with ease.
Part 2: How to Record Discord Audio with Craig Chat Bot
Craig is an extra audio recording both for Discord with multi-track. In another word, it will detect all speakers and record each one as a separate audio track. Before using it, there are somethings you need to know:
1. Craig Chat Bot record Discord audio with commands, so beginners may be confused.
2. It has frequent connectivity issues, though the service announced that the problem is due to Discord being overloaded.
3. You need to configure both Discord and the chat bot.
How to Record Discord Audio with Craig
Step 1
Firstly, open your Discord app, click the Setting button, and go to Voice & Video under App Settings. Unfold the Input Device option and select the desired microphone.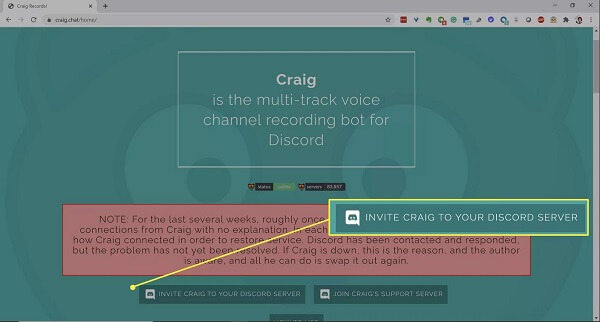 Step 2
Next, open a web browser and visit https://craig.chat/home/. Press the Invite Craig To Your Discord Server button, hit the down arrow under Add Bot To, and select your server from the list. Generally speaking, the bot will detect and list it in the drop-down option.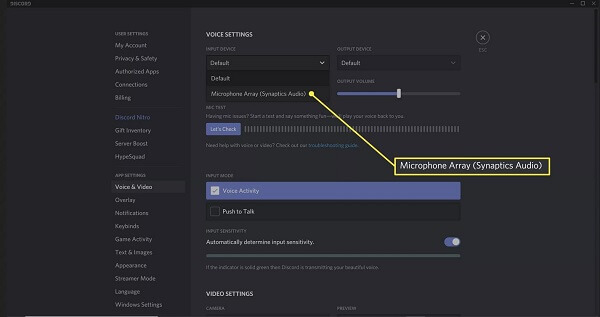 Step 3
Click on the Authorize button to confirm it. Next, check the box next to Captcha and verify that you are not a robot. Once the authorization is successful, you will see a message said Craig has joined or similar in your server.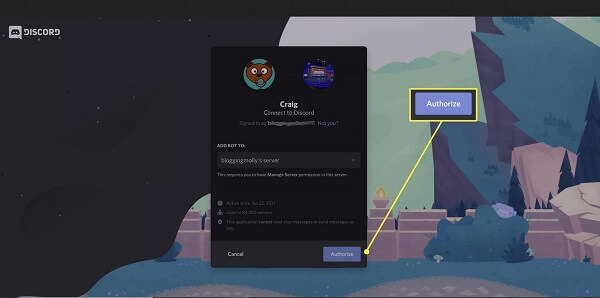 Step 4
When you want to record Discord audio, go to the audio channel, and type in :craig:, join. Then the chat bot will tell you now recording and Craig bot will send you a message with the links to download or delete your recordings. We suggest you to copy the Download link to avoid data loss.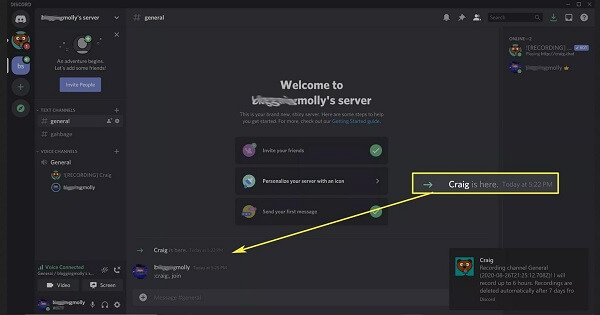 Step 5
You have two ways to stop Discord audio recording. Type in :craig:, leave, and the current audio recording will stop but other channels will continue if you are capturing more than one channel. To stop recording from all channels, type in :craig:, stop.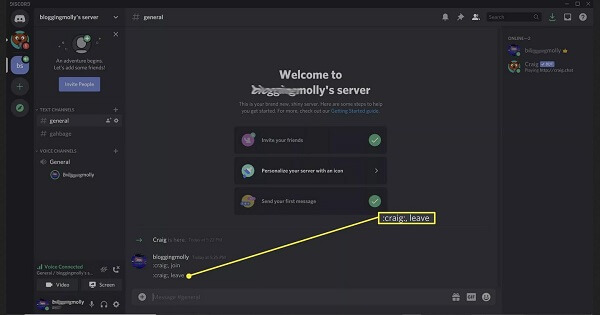 Step 6
Now, visit the Download link that you have saved and download a copy of Discord audio.
Note: Since the chat bot record an audio track for each speaker, you have to download all audio files and combine them together to get a whole conversation. That may need an extra audio editor, such as Audacity. Or you can try using Audacity to record audio directly.
Part 3: FAQs about Recording Discord Audio
Does Discord record your voice?
Though Discord is a great platform for gamers and other communities to chat online for free, it does not offer any option to record your voice or the conversations. It is only possible if you use a third-party solution.
Can you play audio through Discord?
Sometimes, you may want to share something on Discord not only with voiceover through the microphone but with program audio as well. To play audio through Discord when sharing a game, for example, you can do it in two ways, use VAC, Virtual Audio Cable, or use screen share.
Is it legal to record a Discord call?
There is no rule to prevent people from record a Discord call, but the servers are in the USA and have to comply with USA laws. Generally speaking, it is okay, if you just want to listen to the call later on your computer. To use the recording for commercial purpose, you'd better get the permission from other speakers.
Conclusion
This guide has shared two verified ways to help you record Discord audio at any time. If you are using Discord, you should find what you want from this post. Blu-ray Master Screen Recorder, for instance, simplifies the workflow of audio call recording. You just need one-click to get it, so it works for both beginners and tech savvy. More questions? Please leave your message below this post.