How to Record Google Hangout with or without G Suite Account
Today, we are always looking for ways to use video content into our daily chat and communication. Time, distance and budget make it pretty hard to meet everyone in person. Fortunately, Google Hangouts gives us a good way to achieve it. Instead of traveling long road, we can make interviews, classroom, business meetings and conferences in video calls. Moreover, we can record Google Hangouts without extra software in some cases. Anyway, this guide will share the best ways to save important video calls.

Part 1: How to Record Google Hangouts in G Suite Enterprise
Firstly, Google Hangouts is a free video call service. It means that everyone has a Gmail account can use it without paying a penny. However, as an advanced feature, video call recording is only available in the G Suite Enterprise and G Suite Enterprise Education editions, which are paid subscriptions. If you already have a G Suite account, follow the steps below.
Step 1
Go to hangouts.google.com in your browser, sign in your account, and click the Video Call button to start a meeting. Or join a video meeting directly. If you want to record a conference, do it in the Hangouts homepage. Then click Add People and invite some people to your meeting.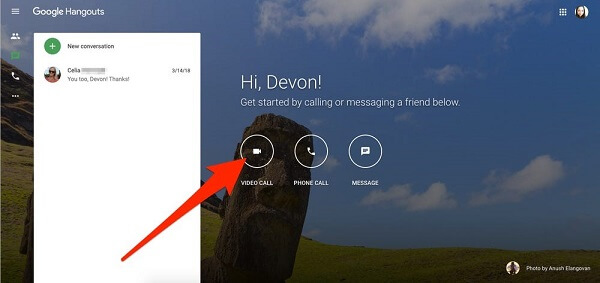 Step 2
Once you are ready, click the More option with three-dot icon at the bottom right corner. Then select Record meeting to begin recording Google Hangouts.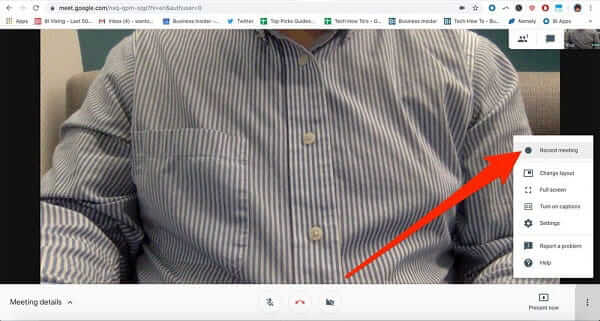 Step 3
When you want to stop recording, click the More option and select Stop recording instead. It takes a few minutes to generate the video file.
Step 4
Next, you can find the Google Hangouts recording in the Meet Recordings folder in Google Drive, and download or share it directly.
Note: Both host and participants have the recording feature. The only requirement is the paid subscription. However, when you start recording a video call or meeting, other participants will get the notification.
Part 2: Record Google Hangouts without Paid Edition
Obviously, most people only have ordinary account and use Google Hangouts for free. Does that mean they cannot record Google Hangouts? No, Blu-ray Master Screen Recorder can meet your need. It is able to record any video and audio calls online including Google Hangouts. It does not require G Suite account or have any restrictions.
Main Features of the Best Google Hangouts Recorder
1. Record video calls, meetings and more from Google Hangouts.
2. Optimize video and audio quality automatically.
3. Preview and edit video recording with built-in media player.
In brief, Screen Recorder is the best choice to record Google Hangouts without notifying other participants.
How to Record Google Hangouts on PC
Step 1
Install video recorder
Google Hangouts recorder provides two versions, one for PCs and the other for Mac. Install the right one to your computer and run it. Choose Video Recorder from the home interface. If you just want to record audio calls, select Audio Recorder instead.

Step 2
Record Google Hangouts
Open your Hangouts app or webpage, create a meeting or join a video call. Turn to the recorder and set the recording region in the Display section. To record full screen, select Full. Or click Custom to set a custom region. Enable System Sound and adjust the volume, which will capture the sound from your Hangouts. If you want to add your reactions and voice to the Google Hangouts recording, enable Webcam and Microphone; otherwise, disable them. Once the video call starts, click the REC button to start recording it.
Tip: An important feature of the Hangouts recorder is automatic recording. Click the Take Schedule button, and then set the options based on your situation. Then it will work spontaneously.
Step 3
Edit and save recording
During recording, the recorder lets you to take screenshots at important moments with the Camera icon. If you wish to add text and paintings, click the Pen icon and you will get more tools.
Wait for the call to finish and click the Stop button to enter the preview window. Play the Google Hangouts recording with the built-in media player. To remove unwanted frames, reset the start and end points in the Clip section. If you are satisfied with the recording, click the Save button, select the destination folder and name the file, and export it to your hard drive.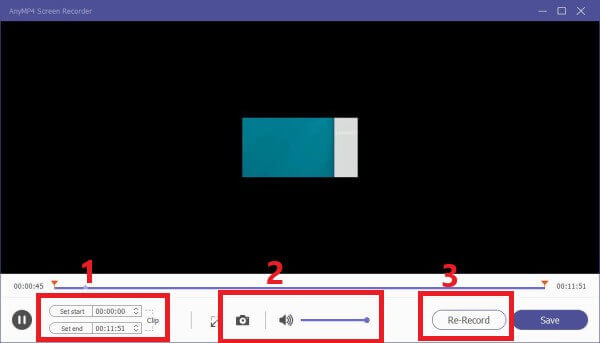 All in all, it is considered as the best audio recording software and you can easily get any audio from any resource without losing quality.
Part 3: FAQs of Google Hangouts Recording
How much does Google G Suite cost?
Google G Suite is a set of subscription plans and not free at all. The Basic plan costs from $5 per user per month to $6. G Suite Business goes from $10 per user per month to $12. G Suite Enterprise runs $25 per user per month. The recording feature requires G Suite Enterprise at least.
Is Hangouts video call safe?
No matter with the free accounts or G Suite subscriptions, Google Hangouts is safe to use. The service encrypts your information and chats to protect your safety and privacy. If you just use it to chat with friends, family or others you already know and trust, you will be safe with all options in Hangouts.
Can you record a Google meet in Google Classroom?
The answer depends on what account you are using. To record a Google classroom meeting, you must use a G Suite administrator account. It means that you should be a teacher or organizer if you want to record Google Classroom. Students have to use third-party meeting recorders to save a Google meeting.
Conclusion
This guide has talked about an important feature in Google Hangouts, recording. As mentioned previously, it is a privilege for users who have a G Suite Enterprise subscription. Standard accounts won't get the feature when Hangouts with others. However, following our guide, you will find a more powerful way to record your Google Hangouts without any restrictions, Blu-ray Master Screen Recorder. It is not only easier to use, but also provides more advanced features involved with video call recording. If you have more questions, please write it down below this post.