5 Best WhatsApp Call Recorder Apps Worth to Use on iPhone and Android
WhatsApp has become an important way to keep in touch among both teenagers and adults. The WhatsApp video call feature lets you to see your friends and families around the world, even in the different time regions. For a variety of reasons, you may find yourself in the condition where you need a WhatsApp call recorder to save important or interesting chats. This guide tells you the best ways to do the job with or without a computer easily.

Part 1: How to Record WhatsApp Call on Computer
Many people complained that it is not convenient to record WhatsApp calls on smartphone due to the small screen. In fact, you can do it on your computer as well. Blu-ray Master Screen Recorder is the WhatsApp call recorder on computer.
Main Features of the Best WhatsApp call recorder
1. Record WhatsApp video and audio calls on computer.
2. Offer extensive custom options for advanced users.
3. Preview and edit call recordings easily.
Shortly, it is the easiest way to record your WhatsApp calls on Windows and Mac.
How to Record WhatsApp Video Call on Computer
Step 1 Install WhatsApp call recorder
Launch the best WhatsApp call recorder after installation. It is compatible with Windows 10/8/7 and Mac OS X. Choose the Video Recorder option to enter the main interface. The Audio Recorder is used to capture audio calls. Stream your smartphone screen to computer.
Tip: To change the options related to hotkeys, output, recording and more, click the Settings icon and you will find them on the Preferences dialog.
Step 2Record WhatsApp call
Locate the Display section, make sure it is enabled, click Custom and set the recording area based on the phone screen. Then toggle on the System Sound option and adjust the volume. The Webcam option will capture your face through webcam and the Microphone option is able to record your voice. You can decide whether to enable them or not based on your need. Now, start a video call in WhatsApp on your mobile device and click the REC button to begin recording it.
Step 3Preview and save call recording
When WhatsApp call recording is done, hit the Stop button. Next, you can preview the recording with the built-in media player. If you are satisfied with it, click the Save button to output it to your computer.
Part 2: Top 5 WhatsApp Call Recorder Apps for iPhone/Android
Top 1: AZ Screen Recorder
Platform: iOS 12.0 and above or Android 5.0 and above
AZ Screen Recorder is a popular WhatsApp call recorder app for both iPhone and Android users. It offers a wide range of features including a video editor to polish the call recordings directly.
Pros
1. Free to download in App Store and Play Store.
2. Record video call, reactions and audio.
3. One-tap to share recordings.
Cons
1. Advanced features need subscription.
2. It is only available to new devices.
Top 2: ADV Screen Recorder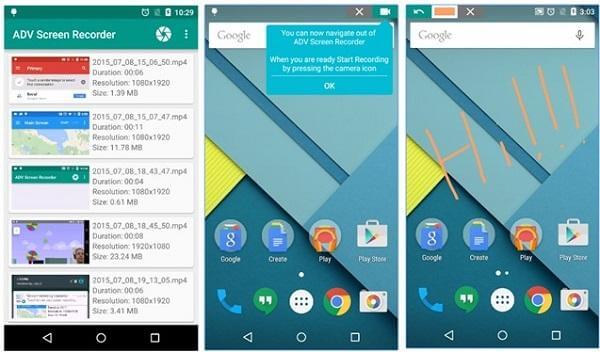 Platform: Android 5.0 and up
ADV Screen Recorder is the WhatsApp call recorder app for Android users. Though it offers a lot of features in addition to call recording, this app is lightweight and works smoothly on Android phone.
Pros
1. Record WhatsApp call with 2 engines.
2. Skip unwanted clips.
3. Support both front and back cameras.
Cons
1. This app contains annoying ads.
2. The built-in video editor is too simply.
Top 3: Rec Screen Recorder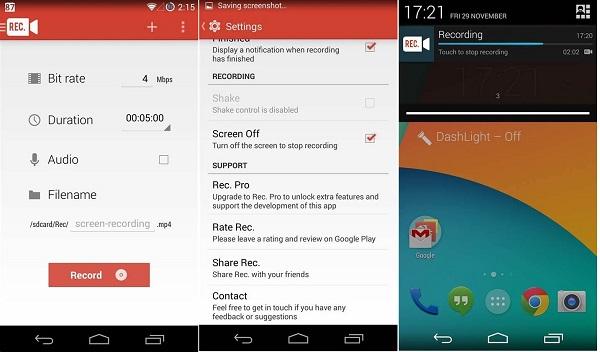 Platform: iOS 11.0 or later and Android 4.4 or up
Rec Screen Recorder is another WhatsApp call recorder app for both iPhone and Android users. Unlike other all-in-one solutions, it is concentrating on video and audio call recording automatically and manually.
Pros
1. Take schedule and automatic record calls.
2. Save configurations as presets.
3. Record audio via microphone.
4. Control call recording with gestures.
Cons
1. It requires root access on Android 4.4.
2. There are no bonus tools, like video editing.
Top 4: Lollipop Screen Recorder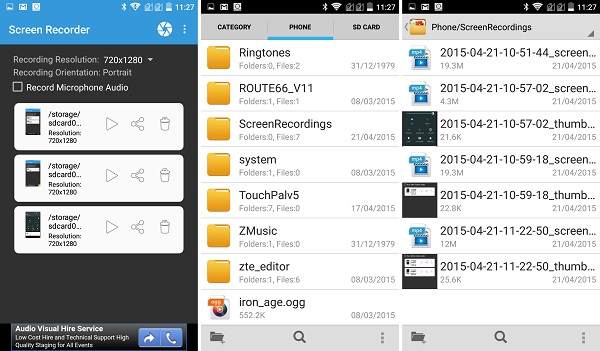 Platform: Android 5.0 and up
Though it is called Lollipop Screen Recorder, this WhatsApp call recorder is available to a lot of Android devices. More importantly, it lets you exchange all features for free by viewing in-app ads.
Pros
1. Store call recordings on SD card.
2. Change resolution, orientation and more.
3. Record video call with audio.
Cons
1. There is no way to remove ads.
2. It lacks video editing feature.
Top 5: iOS Built-in Screen Recorder
Platform: iOS 11 and above
For iPhone users, the easiest way to record WhatsApp calls is the built-in screen recording feature. It is totally free to record iPhone screen with no limitations. Plus, iPhone users do not need to install it at all.
Pros
1. Free to use with no ads.
2. Record everything on screen.
3. Capture audio through microphone or not.
Cons
1. It is too simple for advanced users.
Part 3: FAQs about WhatsApp Call Recorder
Is WhatsApp video call recorded automatically?
WhatsApp won't record or save your video or audio call. It does not provide the recording feature at all. If you want to save your video calls, you have to do it manually with a third-party recorder.
How can I get WhatsApp call history?
If you want to get WhatsApp call history of yourself or someone else, you have to use the backup.
Is WhatsApp audio call safe?
Generally speaking, both WhatsApp video and audio calls are safe to use if the recipients is trustable. If you talk with a contact that is not trust-worthy, the call is not security.
Conlusion
This article has told you a top list of the 5 best WhatsApp call recorder apps for iPhone and Android devices. They all have some benefits and advantages. The built-in screen recording feature on iOS, for example, is preinstalled on iPhone. If you do not like to record your calls on smartphone, Blu-ray Master Screen Recorder can meet your need and do the job with a computer. Moreover, you can use it to record online video lectures, and record gameplay with ease.