How to Record Your Skype Calls with or without Built-in Feature
In this guide, you will learn how to record Skype calls efficiently. As a VoIP service, Skype has been around for years. It enables users to make and receive free voice and video calls over the internet on computer, web browser or mobile device. According to a recent survey, it has attracted hundreds of millions of users around the world. The good news is that Microsoft has introduced the recording feature in Skype, so that you can save important conversations easily.

Part 1: How to Record Skype Call with Built-in Feature
Before recording your Skype calls, there is something you should understand:
1. Firstly, the call recording works in Skype application on Windows 10, Mac OS X, Linux, iOS and Android. It is available in Skype for the web as well, but you have to use it in Google Chrome and Microsoft Edge right now.
2. The feature works the same in desktop app and web browser. The mobile app is a bit different.
3. Once you start recording a call, everyone in the chat will get a notification.
How to Record Skype Call on PC
Step 1
Open your Skype app or visit the website in your browser, and start a call as normal.
Step 2
Click the More option with three-dot icon at the bottom right side and select Start recording. Then you will see the notification at the top left side. It tells you the length of the recording in real time.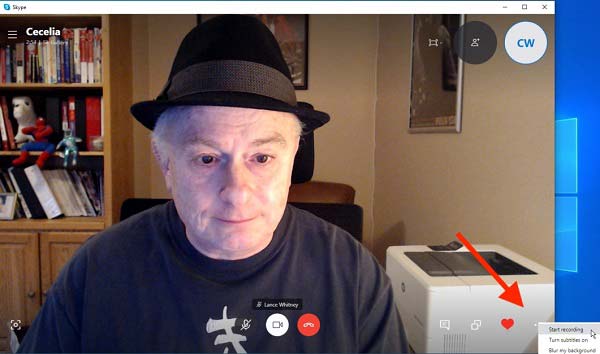 Step 3
When you want to stop it, go to the More option and pick Stop recording. Alternatively, you can hit the Stop recording on the notification to finish it quickly.

Step 4
Skype will keep the recording for 30 days. In order to avoid data loss, you'd better download it to your computer. Go to the chat, press the three-dot icon next to the recording and select Save to Downloads. If you want to share the Skype call recording to the recipient, choose Forward from the menu list and hit Send button next to the desired contact.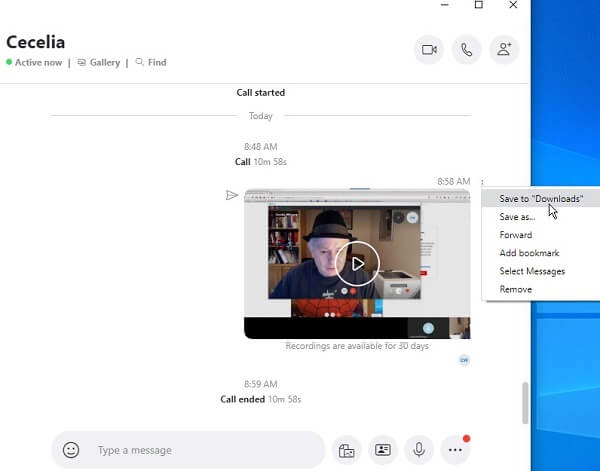 How to Record Skype Call on Mobile
Step 1
Run the Skype app on your phone, sign in your account, go to Contacts tab, select a contact and start a call by tapping the Video call icon.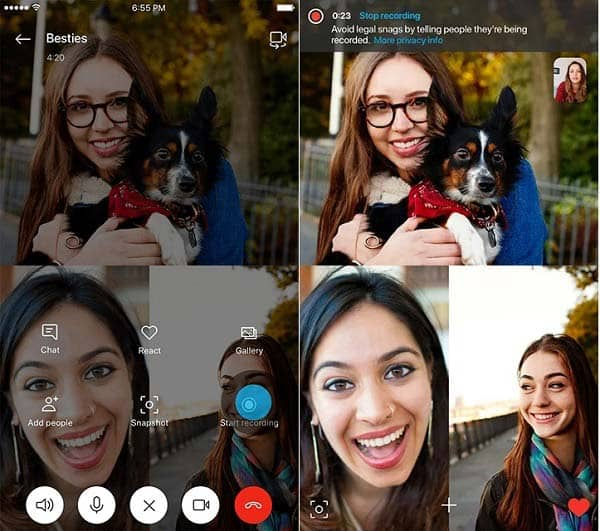 Step 2
As the call is ongoing, tap the + icon and touch Start recording. Then you will see the notification bar on the top of your screen.
Step 3
When the call finishes, the recording will be saved automatically. Or you can tap Stop recording at the top bar to stop it at any moment.
Part 2: Advanced Method to Record Skype Call
It cannot be denied that the built-in recording feature is pretty easy to use in Skype. However, it will notify everyone in your chat, so you cannot make recordings secretly. Sometimes, it is not convenient at all. Therefore, you may need a more powerful Skype call recorder, such as Blu-ray Master Screen Recorder.
Key Features of the Best Skype Call Recorder
1. Record video and audio calls in Skype without notification.
2. Support multiple sources when recording Skype calls.
3. Automatic record Skype calls by taking schedule.
How to Record Skype Call Secretly
Step 1
Install Skype call recorder
Launch the best call recorder for Skype once you install it on your computer. Then choose Video Recorder to enter the main interface. If just want to record an audio call, select Audio Recorder instead. Open your Skype app and make a call as usual.

Step 2
Record a Skype call
Firstly, turn on the Display option and set the recording area according to your need. To record full screen, select Full. Or choose Custom and set it manually. If you want to capture yourself and surrounding, enable Webcam; otherwise, disable it. Next, decide the audio sources, such as System Sound and/or Microphone.
Once the Skype call begins, click the REC button to initiate recording it. Alternatively, click Take Schedule and set the starting time and other options. Then the Skype call recorder will work automatically.
Step 3
Edit and save call recording
During the call, you can take some screenshots with the Camera icon. If you want to add text or paintings, click the Pen icon and you will get what you want.
When your call is over, click the Stop button to enter the preview window. Here you can play the call recording and remove unwanted frames with the Clip tool. Finally, click on the Save button and follow the onscreen instructions to export the call recording to your hard disk.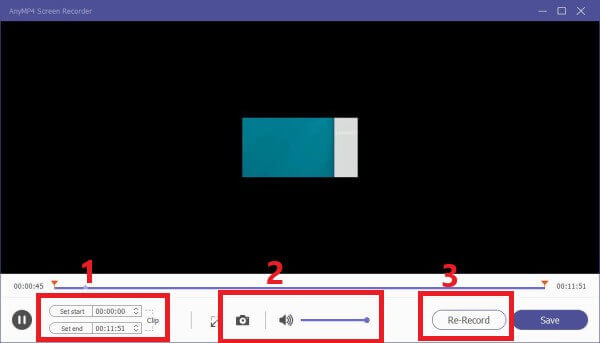 With this powerful Skype call recording software, you can also record Lync calls and meetings with high quality.
Part 3: FAQs about Recording Skype Call
Can you record Skype video calls without the other person knowing?
The built-in recording feature will notify all participants once you start it. If you just want to make call recordings privately, try a third-party call recorder application instead.
Is it legal to record a Skype call?
According to Skype, everyone in the call will be notified as soon as you start recording the Skype call. So, there are no surprises. However, it may produce some troubles if you record private conversations without consent of everyone.
How long can you record a Skype call?
The maximum duration for a call recording is 24 hours. Longer calls will be split into several recording files. However, we suggest you to record a call no more than one hour since the file will become too large and your machine will slow down.
Conclusion
If you are using Skype to keep in touch with your friends, classmates, families, colleagues or business partners, you will find our guide helpful. We have shared how to record Skype calls on computer and mobile above. The built-in recording feature is simple with some shortcomings, such as notify everyone in the conversation. Blu-ray Master Screen Recorder, on the other hand, is not only easy to use, but also able to meet your need on recording calls secretly. Apart from recording calls, it also allows you to make video tutorials, record videos, and more. If you still have other problems, please feel free to write them down below.