How to Take Picture Snapshot Using VLC Media Player
VLC is a free and open source media player that can play videos, audio, DVDs, VCDs and more. VLC Media Player helps you take a snapshot of the video you are playing. In this post, we will share you with quick methods to take screenshot in VLC, where do VLC snapshots go, and find the best VLC alternative to fix the issue if VLC not working.

Part 1. How to Take Snapshot in VLC Media Player
VLC provides quick methods to take snapshots while playing movies. There are two simple ways to take snapshots with VLC Media Player.
Method 1: Use Snapshot Button
Open VLC Media Player, click Video at the top menu bar and choose Take Snapshot to save the screenshot.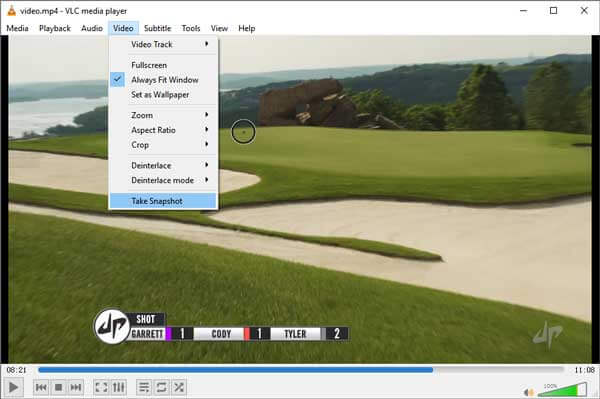 After screenshot, you can see the thumbnail of the picture in the left side of the window. The screenshot path will be shown at the top side as well. The screenshot will be saved in PNG format.
Method 2: Use Snapshot icon
Open VLC Media Player, and go to View > Advanced Controls. Then the Snapshot icon will appear. You can click the Snapshot icon on the left bottom side to save the snapshot.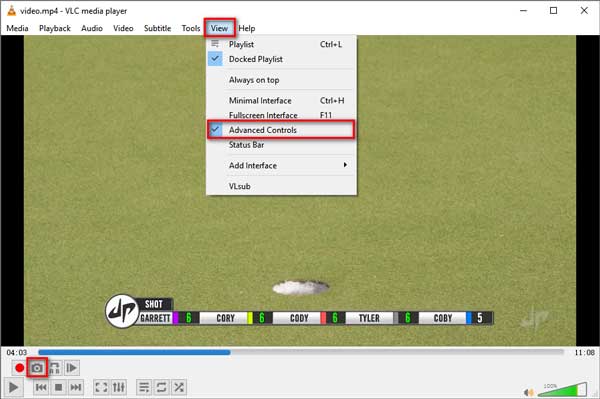 Method 3: Use Snapshot Hotkey
VLC offers users snapshot hotkeys to take a quick snapshot. You can take quick snapshots by pressing the snapshot combination hotkeys on your Windows, Mac, Linux or Unix.
For Windows/Linux/Unix, press Shift + S.
For Mac OS X/11, just press Command + Alt + S.
If there is hotkey conflicts or you want to change the hotkeys, you can click Tools > Preferences. Click Hotkeys settings and search snapshot in the box. Then double click on Take video snapshot, and press the new key to take a video snapshot. (What if VLC not recording?)
Part 2. Screenshot Computer Screen with Screen Recorder
Though VLC Media Player provides quick methods to take screenshots, the screenshot may get failed to save. What's more, VLC didn't allow users to edit the screenshot. So if you want to edit the snapshot, you need to find a professional snapshot tool with editing features. Blu-ray Master Screen Recorder is a powerful screen capture software for users to capture any activities and take screenshot on any area of computer screen.
Main Features of Blu-ray Master Screen Recorder:
1. Take snapshot on Windows/Mac of full screen, window or custom screen.
2. Save screenshot in any image format like JPG, PNG, TIFF, BMP or GIF.
3. Edit the snapshot before saving (add text, draw a shape, type color, etc.)
4. Record online videos, music, gameplay, lectures, webcam, audio calls, etc.
Ste 1
Free download, install and launch Blu-ray Master Screen Recorder. Click Screen Capture to enter its snapshot tool.

Step 2
You can drag the cross-arrow icon to select a specific screenshot. After the screenshot, you can edit it by drawing a line, adding a shape, typing text, spray color, etc. In the end, click the Save icon to save the snapshot on your computer.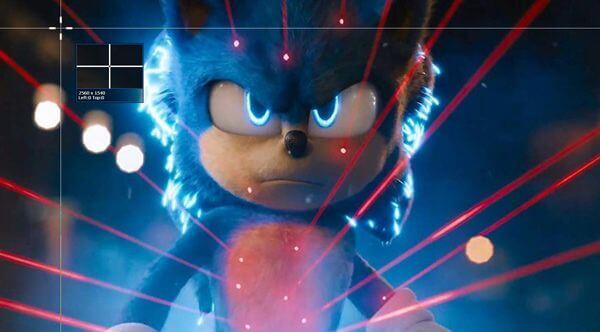 Part 3. Take Snapshot with VLC Alternative
As we know, VLC Media Player is a multimedia player with snapshot feature. Some users complain the program crashed while taking a snapshot. Well, you can find a VLC Media Player alternative like Blu-ray Master Free Blu-ray Player to take a quick snapshot while playing the movie. See the main features of VLC Media Player alternative.
1. Best VLC alternative to take snapshots while playing movies.
2. Play popular HD/SD videos, Blu-ray/DVD disc, folders or ISO files.
3. Play all Blu-ray Discs, including the and commercial ones.
4. Different screen modes, full, half, normal, double and more others.
5. Advanced hardware acceleration to improve the playback experience.
See the detailed steps to take a snapshot.
Step 1
Launch Free Blu-ray Player on your computer. Click the Open File button to load the video or click the Open Disc button to load the Blu-ray/DVD disc.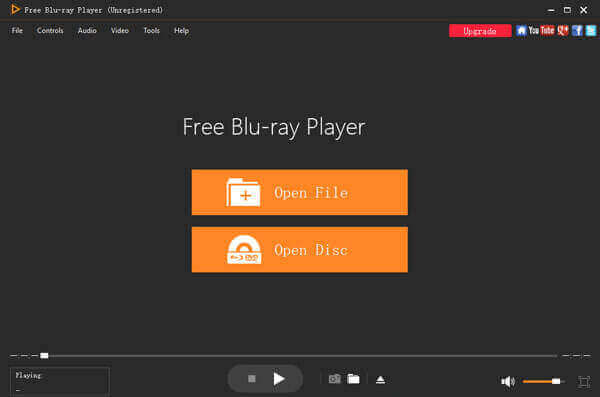 Step 2
Once the video is loaded, click the Camera icon at the bottom to take the snapshot on computer.
Note: You can go to Tools > Preferences, and set the snapshot destination and snapshot format in JPEG/PNG/BMP.
Don't miss: How to record screen and video in VLC
Part 4. FAQs of Taking Snapshot on VLC
1. Where are VLC screenshots saved?
The VLC screenshots are saved as PNG format in My Pictures folder on Windows computer. You can change the output settings in the Preferences.
2. Can I trim videos with VLC player?
Open VLC Media Player on your computer, and go to View > Advanced Controls. Open and play the video you want to cut. Scroll around the starting point from where you want to trim. Click the Record button. Play the video or move it frame by frame. When you reach the ending point, click the Record button again.
3. How do I move frame by frame in VLC?
You can go to View > Advanced Controls in VLC Media Player, and then click the last button in Advanced Controls to access the frame by frame feature.
Conclusion
We mainly talked about efficient methods on how to take a snapshot in VLC Media Player. Blu-ray Master Screen Recorder works as a professional snapshot tool to capture any area of your computer screen and take snapshots. If you have any VLC snapshot issues, just feel free to leave your comment below.