How to Convert AVCHD to DVD: 4 Best DVD Converters for Your Device
Are you looking for an AVCHD to DVD converter? Great! We will reveal the top 4 tools that passed the criteria to be called excellent DVD burners. Besides the description, pros, and cons of each program, you will also see a simplified comparison table. Also, we will teach you how to create a DVD. Keep reading below and stand in amazement.
Part 1: 4 AVCHD to DVD converters for Windows & Mac
1. AnyMP4 DVD Creator
Indeed, you can burn DVDs like an expert with AnyMP4 DVD Creator. You can master using this program because of its simple and user-friendly interface. Plus, it supports hundreds of popular formats, including AVCHD.
Another thing, you can choose the type of your DVD output ranging from low to high. Besides that, there is a wide range of engaging templates if you ever want to make a DVD menu. It also burns AVCDH files to DVD and sets them in either an NTSC or PAL TV standard. Finally, you can have this tool on Mac or Windows-operated devices.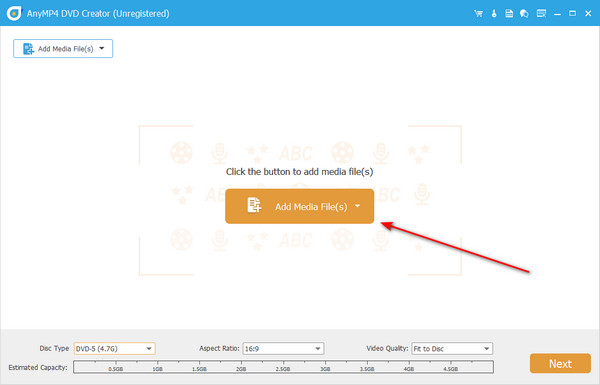 Pros:
1. It has a real-time preview in video editing
2. You can protect your files by adding a watermark
3. Engaging DVD menu templates are available
Cons:
Limited features on the free trial
2. DVDStyler
DVDStyler is a free AVCHD to DVD converter. Besides that, this offline tool is cross-platform and open source. Plus, it allows users to create a DVD menu.
On top of that, this program is translatable to a different language. Some of the available languages are Vietnamese, English, Greek, Italian and more. Suppose your language is not yet on the list. In that case, the developer welcomes volunteers to translate the program into their local speech.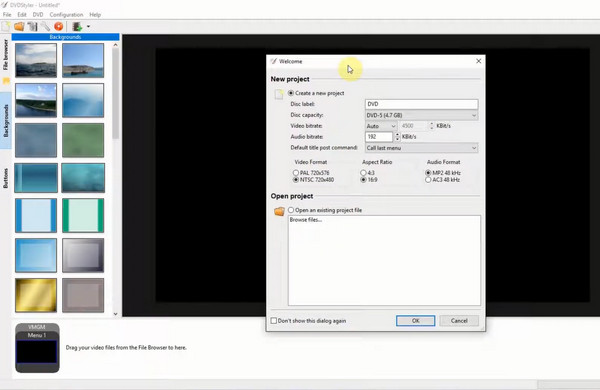 Pros:
1. Open-source
2. Free of charge
3. Works in Windows, Linux, and Mac
Cons:
Plain or outdated-looking interface
3. Express Burn
The first AVCHD to DVD maker is the Express Burn. This tool has a simple and intuitive interface, making it possible for beginners to author their files. Besides that, it also includes 20 templates that you can customize for the DVD menu.
Besides these great features, this program is perfect for storing your files on DVD, CD, or Blu-ray discs.
No wonder most people love to listen to their favorite music when driving. Using Express Burn, you can also save your covers on a DVD so you can play them while on the road.
You can also have the accessible version of the program without requiring you to sign up using your email. However, you can burn DVDs by upgrading because the free version only allows CD authoring.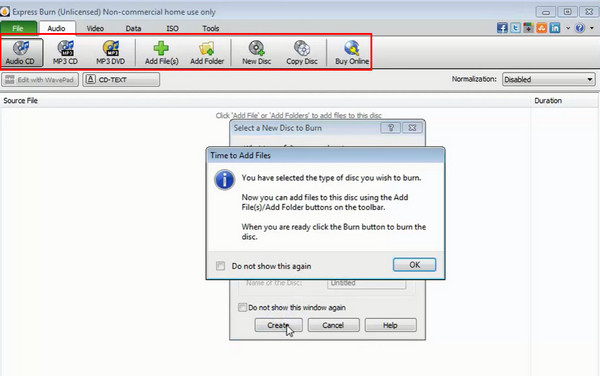 Pros:
1. Available for Mac OS version 10.5 and above
2. No need to sign up in accessing the free trial version
Cons:
1. No built-in video editor
4. Movavi Video Suite
Another program that works well with Windows and Mac platforms is the Movavi video Suite. The program declares it is an all-in-one program because it supports a wide range of media formats, like videos, soundtracks, images, and documents. Another thing, the program also provides basic video editing tools. But more importantly, you can record the screen activity of your device or convert one file format to another with Movavi Video Suite.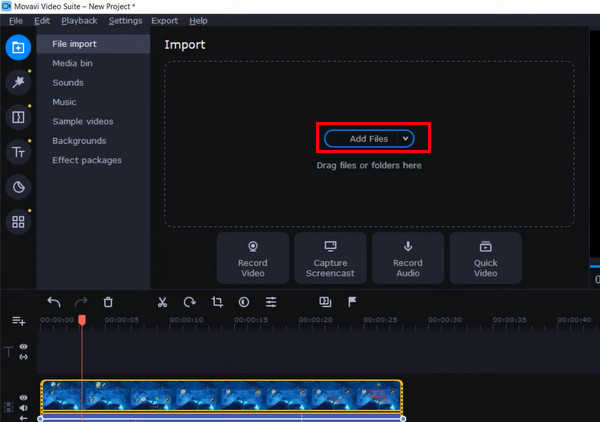 Pros:
1. Can burn music tracks to CD
2. It contains a converter and screen recorder
Cons:
Part 2: Comparison Table of the 4 AVCHD to DVD Converters
| | AnyMP4 DVD Creator | DVDStyler | Express Burn | Movavi Video Suite |
| --- | --- | --- | --- | --- |
| Interface | GOOD | A BIT OUTDATED | GOOD | GOOD |
| Cost (Lifetime Plan) | $59.00 | FREE | $69.99 | $99.95 |
| Platforms | Windows and Mac | Windows, Linux and Mac | Windows and Mac | Windows and Mac |
| DVD Menu Templates | AVAILABLE | AVAILABLE | AVAILABLE | AVAILABLE |
| Suitable for | Beginners to Professional | Beginners | Beginners to Intermediate | Beginners to Professional |
Tips: How to Burn AVCHD Video to DVD
Now, here are some easy-to-follow steps in burning your files. Of course, we do not just want you to know the information about DVD burners but as well learn to create a DVD for yourself.
Step 1
Install the ACVCHD to DVD Burner
First, you have to install the program on your respective device. Click the Free Download buttons below and follow the setup wizard. When the AnyMP4 DVD Creator launches, tick the DVD Disc option.
Step 2
Load the AVCHD Files on the Program
The next step is to import your AVCHD files on the program. To do this, hit the Add Media File/s button and select the files in your computer folder. Alternatively, you can drag and drop them.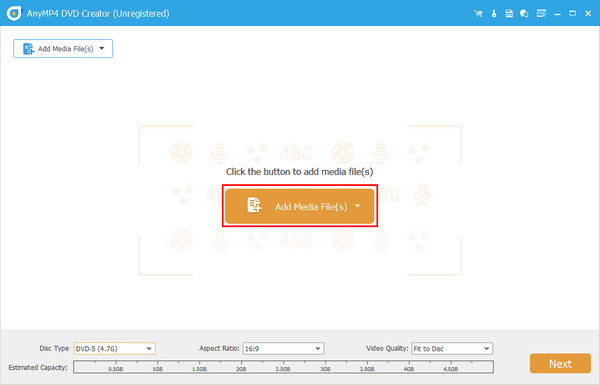 In addition, check the three settings on the program: the DVD Disc, Aspect Ratio, and Video Quality. As you expand each of the dropdown menus, choose your preference.
Step 3
Enhance the Video
Before burning your files, you can use the Power tool feature to improve your video and watching experience. Tick the thumbnail of your file and select the Power Tool tab. Then, begin to trim, crop, rotate, and add effects. Do not worry about the results because you will see the real-time preview for your file while editing. Then, hit the Next button.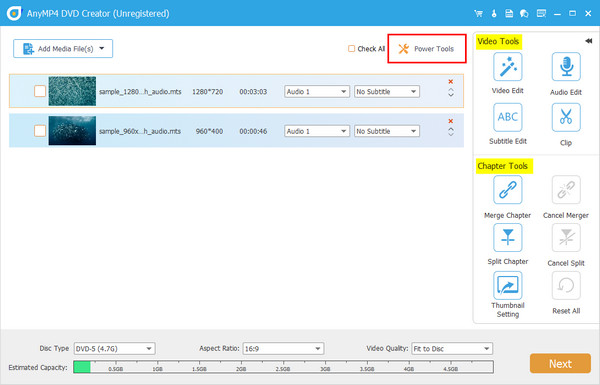 Step 4
Customize a DVD menu (Optional)
To have easy navigation on your screen, create a DVD menu. Next, choose a template you would like to have for your files. Alternatively, you can upload your picture. Plus, add background music and tick the Loop option. After that, hit the Preview or the Burn button, as their function suggests.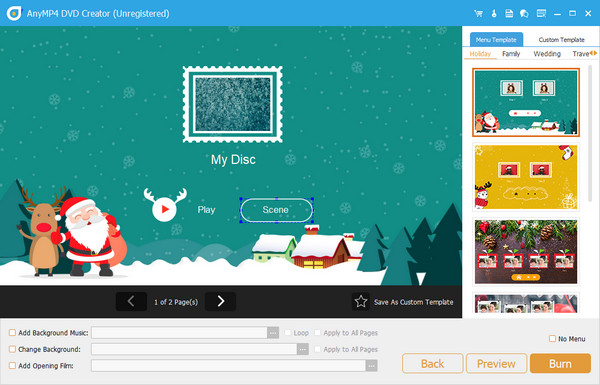 Step 5
Burn AVCHD to DVD
Lastly, begin to mount your blank disc and wait for the program to read it. If you do not have one, click Save as ISO. After that, change some settings such as the TV Standard and the Burn Engine. When all is set, hit Start and wait for your output to come out nicely.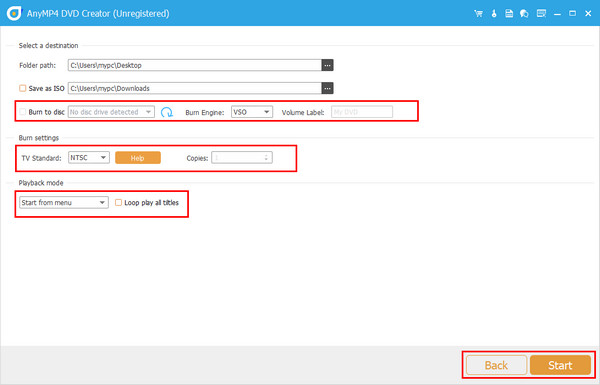 Part 3: FAQs about AVCHD to DVD Converters
What is an AVCHD video format?
Advanced Video Coding High Definition or AVCHD is a video format released by Sony and Panasonic. The file extension using AVCHD is .M2TS.
Can I directly play AVCHD on DVD players?
Unfortunately, you cannot play AVCHD videos on DVD players. They are not designed for AVCHD media players. However, playing these files on a Blu-ray disc player is possible.
Which is better, AVCHD or MP4?
AVCHD vs MP4? Choosing which one depends on your intent. AVCHD video files are suitable if you want a high-quality video. On the other hand, MP4 is standard and compatible with most media players.
Conclusion
There you have the information you need to know about AVCHD to DVD makers! We believe that you are now ready to back up your videos files and enjoy them in your home theatre. Should you struggle to come up with your final decision, AnyMP4 DVD Creator is the real deal.