What is BBC iPlayer: Everything You Need to Know About It
Are you a home buddy who loves watching your much-awaited TV show? You can surely do that at home with your television, but what about when you are out of town but wouldn't want to miss your favorite program? Then you should know a iPlayer like BBC that you can access online. You might ask now, is BBC iPlayer free? Learn everything about this TV streaming device as you read the content below.

Part 1. What is BBC iPlayer
To start with factual information about the subject, let us first have what is essential. So, what is BBC iPlayer? This iPlayer is an on-demand video service from the BBC that was dreamt by Ben Lavender, a BBC employee, in the year 2005 as a beta proof of concept. Eventually, the iPlayer was modified and developed to include program links and channels as its functions. And today, its service is available on different devices, including tablets, mobile phones, smart televisions, and computers.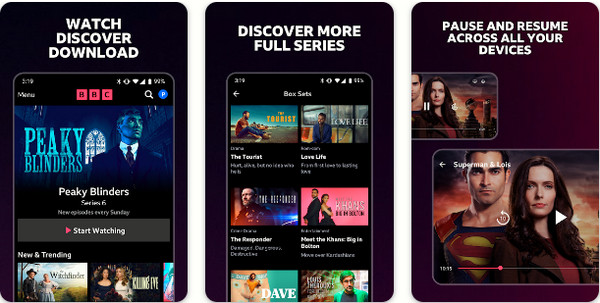 Part 2. What is on BBC iPlayer
This iPlayer of BBC has something that you can enjoy. You can actually use this player to watch over 12 channels on the internet, even the live ones. Furthermore, to provide you with specific details on what's on BBC iPlayer, you will be glad to know that modern TV shows, new and trending movies, and the following radio and TV channels are below.
● BBC News.
● BBC One, Two, Three, and Four.
● BBC Radio.
● CBeebies.
● BBC Scotland.
● BBC Alba.
● S4C.
● CBBC.
● BBC Parliament.
Additionally, you can enjoy various options on BBC, such as the News, Sports, Worklife, Travel, Future, and Reels.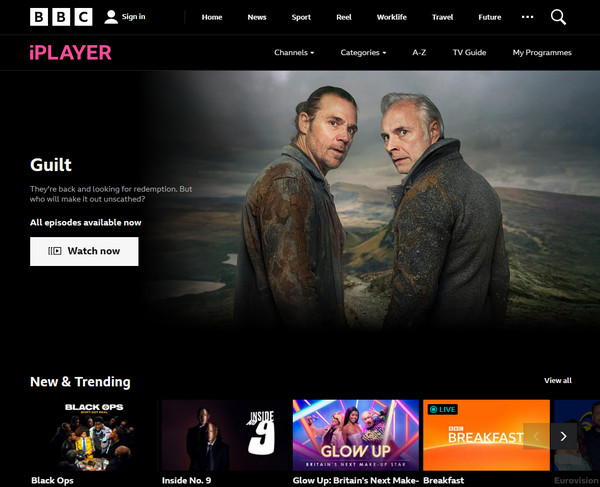 Part 3. BBC iPlayer Download
As mentioned above, the iPlayer of BBC lets you use it on various devices with its downloadable app. You can obtain it on your phone, tablet, iPad, Mac, laptop, etc., and easily access it. However, this iPlayer is not accessible for free and will require you to pay a license fee of $159 yearly. This app offers good features that will enable you to discover the new series of your favorite program. Moreover, this BBC iPlayer download allows you to restart, pause, and rewind the live channels to help you grasp everything it casts. Plus, it lets you build your own playlist and stream it on your TV anytime.
If you find iPlayer challenging and extravagant for a player, you can consider using the best Blu-ray Player. It is a player that lets you create a playlist of your favorite movie from your Blu-ray, ISO, IFO, folder, and DVD in just one click! Furthermore, it offers a free trial version with full functionalities. And if your free trial is up, you can acquire it with its $ 24.96 monthly license or the $45.96 for its lifetime license, which is quite more affordable than BBC iPlayer.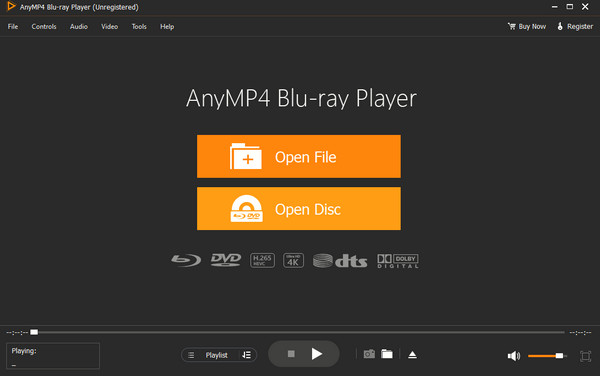 Key Features:
● It supports 4K Ultra HD movie content.
● With advanced technologies such as Dolby Digital, DTS, and hardware acceleration.
● Workable even without the internet.
● It has a snapshot feature that lets you capture the best movie scenes.
Part 4. How to Watch Live on BBC iPlayer
Would you like to watch live channels on iPlayer as a beginner but do not know how? Fortunately, we have prepared the instructions you can follow for both online and app. Yes, as BBC iPlayer is available on various devices, live channels are available on both platform versions of the iPlayer. So, here are the guidelines to follow.
Watch on the BBC iPlayer Online
Step 1
Visit the official page of iPlayer using your browser.
Step 2
Then, click the Channels tab and look for your desired channel.
Step 3
Once chosen, hit the Watch Live button. Before you can proceed to watch, you will need to sign in or register first.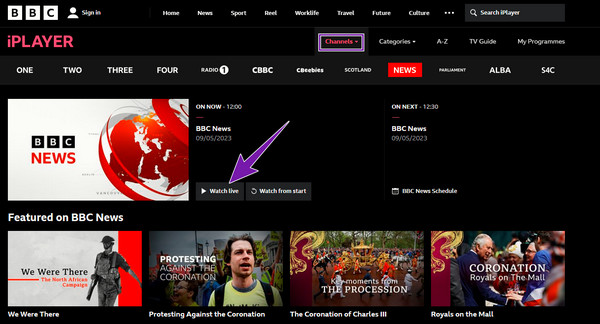 Watch on the BBC iPlayer App
Step 1
Get a good VPN applicable for watching BBC.
Step 2
Download the app on your chosen device, then launch it with your registered account after connecting it to your chosen VPN.
Step 3
Select the live channel you desire to watch. And that's how to watch videos on the BBC iPlayer app.
Part 5. BBC iPlayer Review
Below is our honest-to-goodness review of this TV streaming app.
Price
Since iPlayer plays paid programs, its price, its yearly license amounting to $159, is quite reasonable.
Interface
BBC iPlayer has an elegant interface. It looks familiar with a nice, dark, and neat face, similar to today's most popular movie streaming app. You wouldn't lose track in navigating it because the tabs and search engines are properly arranged.

Region
iPlayer has rights agreements that hinder users who are located outside the UK from watching the programs it shows. This might be unfortunate for registered users who travel outside the UK. But the good news is BBC iPlayer allows the registered users to watch the programs on iPlayer offline while in the UK, and then they can watch them anywhere worldwide.
Features
As a paid streaming program, iPlayer provides some features you can find while using it. And they are listed as follows.
●

Video Quality

- Users can set the video quality that they want. iPlayer provides 3 options for this setting, which are Low, Medium, and Highest Available.

●

Picture in Picture Mode

- This feature is applicable online. This app allows users using their browsers to watch on a movable screen, allowing them to make it smaller to visit other websites.

●

Easy Sharing Option

- BBC iPlayer downloadable app for tablets and mobiles has a link to share option under each episode description. With this option, users can share the program link to various apps on the device.
Further Reading
How to Watch on MX Player in the USA [Problem Solved]
MX Player for PC and Mac with Its Best Alternatives
Part 6. FAQs about BBC iPlayer
Does iPlayer notify me when there is a new episode?
Yes. iPlayer automatically notifies those users who added the show to their My Programmes tab when a new episode is released.
Where is the watchlist on iPlayer?
For both users online and app, they can find their watchlist or continue watching list at the top of the homepage.
Can I switch off the autoplay on BBC iPlayer?
Yes. To do so, hit the settings icon and uncheck the autoplay tab if you use the online version. If you are using the mobile app, hover over the top right portion to see the setting icon and toggle off the autoplay.
Conclusion
This article outlines an honest review of BBC iPlayer. It contains everything you need to know about it. Therefore, we hope you learned what you need to learn about this iPlayer. Nevertheless, if you want a simpler and more affordable movie player, trust to acquire the Blu-ray Player.