Top 15 Best DivX Players for PC/Mac/Android/iOS with Smooth Playback
DivX is a media container format based on MPEG-4 standard. The DviX codec can compress video clips into small file sizes in pretty good image quality. Therefore, you can save video and audio files as the DivX format with little noticeable quality loss. To play DviX files everywhere, you can get your best DivX player software for playback here.
XviD is an open source MPEG-4 video codec distributed under the GNU General Public License (GNU GPL) on multiplatform. Thus, you can play XviD movies with an XviD player across all platforms. Though XviD is a lossy compression. It can keep sharp picture details without causing heavy quality loss.

Part 1: Top 10 DivX Player for PC and Mac
DviX and XviD formats look quite similar. If you pay attention to DviX VS XviD, you can find many differences varies from privacy to compatibility. To play DviX, XviD and other popular video formats on PC, you can turn to Blu-ray Master Free Blu-ray Player for help. Obviously, you can also play any Blu-ray and DVD disc as its name shows. The intuitive interface and customizable visual-audio effects can also bring you full pleasure.
1. Play almost all popular videos, including DivX, XviD, MP4, AVI, WMV, FLV, etc.
2. Watch any and commercial Blu-ray and DVD discs with 100% image quality.
3. Choose from full, half, normal and double screen size.
4. Apply video effects including hue, brightness, contrast, saturation and Gamma.
5. Work with Windows 10/8/7/Vista/XP.
Step 1
Download and install the free DviX player on the PC. Click "Open File" to import your DivX video. Well, you can insert a Blu-ray/DVD disc and click "Open Disc" to load the disc content if necessary.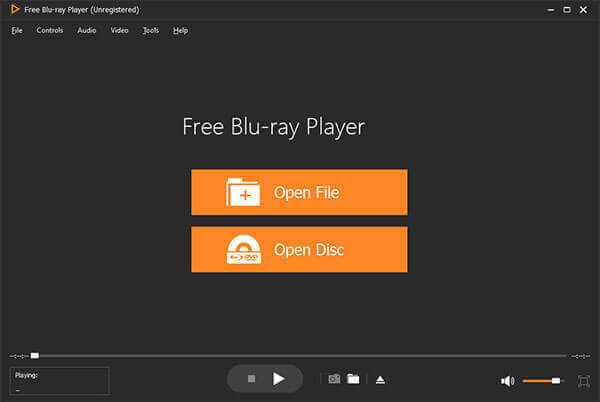 Step 2
After choosing the DivX file, it will start to play the video automatically. You can click "Fast forward" or "Fast backward" icons to skip unwanted part quickly. If you want to take a screenshot, you can click the camera-like "Screenshot" icon near the bottom.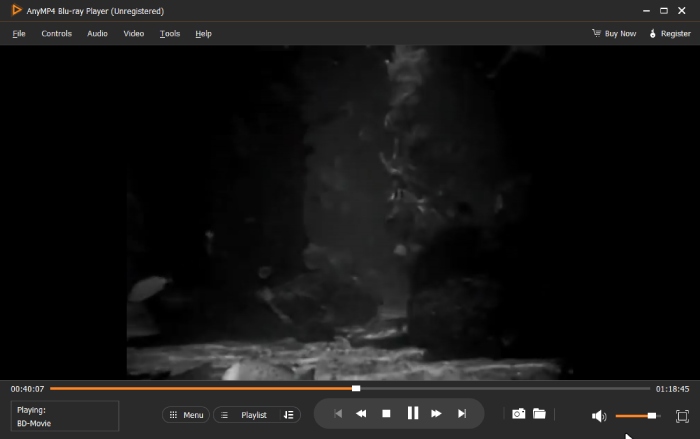 Step 3
Click "Video" to switch to a proper screen size. Moreover, you can adjust visual effects with easy-to-use parameters. Click "Reset" to confirm and move on.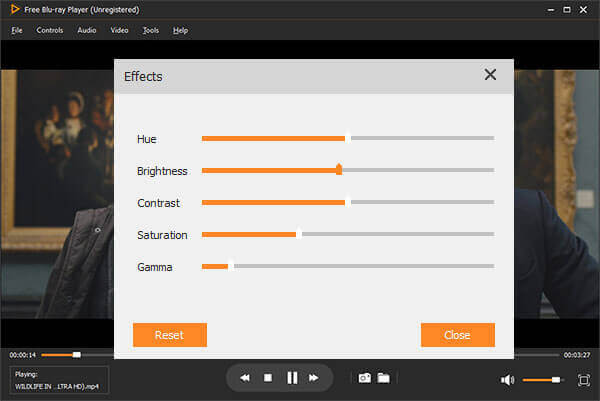 If you want to get more information about DivX player for PC and Mac, you can check the complete table below. These are best free DivX and XviD player for Windows 10 and Mac software.
DivX Player
OS
Download link
Features
Free Blu-ray Player
Windows
https://download.bluraycopys.com/free-blu-ray-player.exe

1. Free to play Blu-ray, DVD, general video and audio with zero quality loss.

2. Offer an intuitive interface with various adjustable visual effects.

VLC Media player
Windows, Mac
https://www.videolan.org/vlc/

1. VLC DivX player freeware can play XviD videos on multiplatform.

2. Have built-in video editing features.

MVS Player
Windows
https://www.malavida.com/en/soft/mvs-player/

1. The Windows-based DivX player can play videos with main integrated video codes, like DivX, XviD, MPEG, MP4, AVI, etc.

2. Support to play up to twelve video tracks at the same time.

KM Player
Windows, Mac
http://www.kmplayer.com/

1. Allow users to watch high quality movies with video and audio effects.

2. The XviD video codec player can increase the playback speed in clicks.

Free XviD Player
Windows
https://free-xvid-player.en.softonic.com/

1. Free XviD Player is made for XviD movies without any codec packs on Windows 7/Vista/XP.

2. The XviD video codec player can play XviD files for free only.

XUL Player
Windows
http://xulplayer.sourceforge.net/

1. It is an open source DivX and XviD video player.

2. The standalone DivX player for Windows offers a dual-player mode.

GOM Player
Windows, Mac
https://www.gomlab.com/gomplayer-media-player/

1. The free DivX player for Mac and Windows integrates DivX, XviD and other popular video codes.

2. Search and sync subtitles for the movie automatically.

QuickTime Player
Windows, Mac
https://support.apple.com/kb/DL837?locale=et_EE

1. QuickTime Player is the default media player for Mac. You can play XviD and DivX video files on PC with QuickTime Player for free too.

2. The DivX player needs to be upgraded to the Pro version to get more features.

DivX Player
Windows, Mac
https://www.divx.com/

1. Play, create and cast your favorite videos in DivX, AVI, MKV, and HEVC up to 4K.

2. The DivX Player free version provides limited playback features.

Windows Media Player
Windows, Mac
https://formac.informer.com/windows-media-player

1. The free DivX player can play multimedia files, including DviX and XviD files.

2. Offer a clean and simple interface.
Part 2: Top 5 DivX Player for Android and iPhone
Then how about DivX Player apps for iOS and Android devices? If you want to play DivX movies on your phone, you can get your best DivX player for Android or iPhone here.
DivX Player
Platform
Download link
Features
BS Player
Android
https://play.google.com/store/apps/details?id=com.bsplayer.bspandroid.free&hl=en

1. BSPlayer free XviD video codec player for Android supports various video and audio formats, like XviD, MKV, MOV, MTS, etc.

2. Get background playback in popup window.

Mobo Player
Android
https://play.google.com/store/apps/details?id=com.clov4r.android.nil.noplug&hl=en

1. The DivX player for Android allows users to watch videos in various formats without conversion.

2. Support multi-audio streams and multi-subtitles playlists.

Playable
iOS
https://apps.apple.com/in/app/playable-play-almost-anything/id502405034

1. It is a full HD XviD player app optimized for the latest iPhone and iPad.

2. Transfer XviD files between iOS devices.

Flex Player
iOS
https://apps.apple.com/in/app/flex-player-video-player-for/id451024857

1. The application can play XviD, DivX, MOV, MP4 and multiple video formats on iPhone, iPad and iPod.

2. The DivX Player enables users to watch and download video and audio files in different qualities.

RockPlayer 2
Android
https://play.google.com/store/apps/details?id=com.jbl.rock.musicplayer

1. It is a powerful DivX video player for all Android phones and tablets.

2. Play 720p, 1080p FullHD and 2K/4K UltraHD videos on Android fluently.
These are latest DivX player software that you can play DivX movies on Windows, Mac, iPhone and Android freely. By the way, you can also enjoy XviD video files with the above programs. As for the best DivX Player for PC, Free Blu-ray Player is the first choice for both beginners and experts. You can play almost all discs and HD videos smoothly and effortlessly. Well, you can get good user experiences from other DivX players too. If you have any suggestions or questions, you can feel free and leave messages below.
Part 3. FAQs of Free DivX/XviD Video Player
1. Is DivX still used?
Yes. DivX is a brand of video codec that can compress lengthy video segments into small sizes while maintaining high quality. It is used to store high-quality video with high resolution up to 1080 HD.
2. Do I need DivX on my computer?
DivX is a video codec. You can use some open source players like VLC to play the video that are encoded with DivX format. If you don't have any player, you may not need it.
3. Which player can play DivX files?
You can play DivX file with Blu-ray Master Free Blu-ray Player, VLC Media Player, MVS Player, GOM Player, QuickTime Player and DivX Player on Windows and Mac, Mobo Player and RockPlayer 2 on Android, and Flex Player on iPhone.