Top 3 Blu-ray to MP4 Converters for Desktops [100% Working]
Blu-rays and DVDs are becoming less popular as time passes by. We must accept the fact that the best technology now is digital. But it doesn't mean that you will throw away your collection of DVD/Blu-ray movies at home. What you can do is extract and save your movies on your PC by converting them to a widely used format, like MP4. This also enables you to transfer them to different devices via a storage drive or share them over wifi to smartphones and tablets. And to do that, you need a Blu-ray to MP4 converter software. This guidepost you are reading right now contains several programs that can efficiently extract your Blu-ray videos and convert them to MP4 for free. We know that you are excited to learn about these programs, so let's begin!

Part 1. Why Do People Want to Convert Blu-ray to MP4?
Why do you need to convert your Blu-ray to MP4? We know that when it comes to portability, Blu-ray discs are no good. You need a DVD/Blu-ray playing device to watch them, which you cannot bring anywhere. Some laptops still have optical disk drives, but those are very few and old. The most optimal right now is to use a hard drive, USB drive, or external storage that can store digital files such as MP4. MP4 is one of the most popular and widely used formats today. It is because you can play the videos in this format on almost all devices. Another reason is the file size. MP4 consumes less data on your storage devices and is supported by almost all social media platforms. There are free Blu-ray converters to MP4, which you will come upon in the next part of this post.
Part 2. 3 Best Blu-ray to MP4 Converters
Note: You can use these products for your personal use only.
Blu-ray Ripper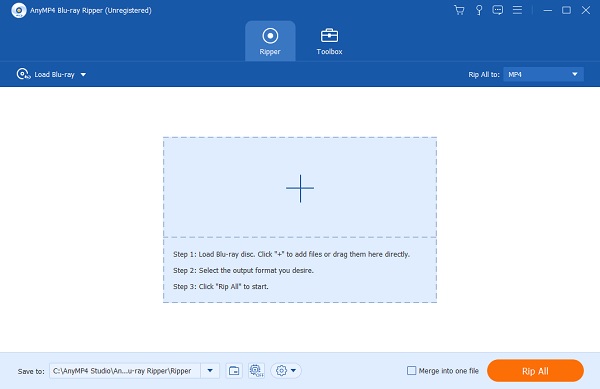 Topping the list of Blu-ray to MP4 converter software for free to download is Blu-ray Ripper. This remarkable program can safely rip your Blu-ray movies and save them on your computer. It can extract videos in 1080p up to 4K HD resolution and supports various output formats, including MP4. If you want to convert your extracted movies simultaneously, this tool can handle it perfectly as it supports file batch conversion. Additionally, if you're going to do some editing on your video, you can use the video editing feature to crop, adjust effects, trim video, set volume, and more. This offline solution is being offered on Windows and Mac devices.
Pros:
1. Lightning-fast disc burning
2. Allows importing videos in 100 formats (MP4, VOB, MKB, MPEG, etc.)
3. Plenty of different menu templates
Cons:
You need to avail the full version to use all features.
EaseFab Blu-ray Ripper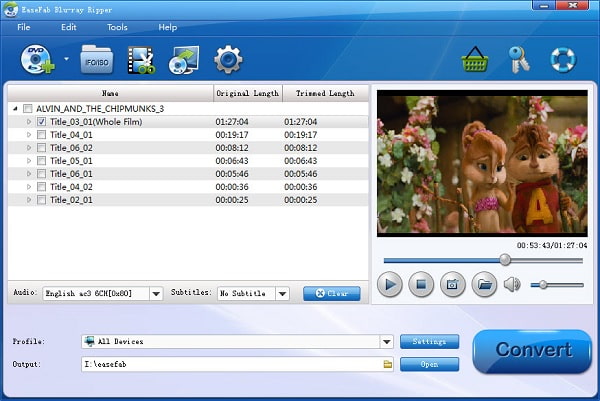 The following Blu-ray Converter to MP4 that you should consider is EaseFab Blu-ray Ripper. This reliable program can efficiently extract your Blu-ray videos of all types and convert them to MP4 and other commonly-used formats. It has an easy-to-understand interface so you can quickly operate the program. Also, it is one of the lightweight programs that does not put too much stress on your PC, so even a low-specced one can run this tool smoothly. In addition, you can do basic editing and add subtitles as well. You can have this tool on Windows and Mac.
Pros:
1. Very easy-to-use program
2. Can convert video to high-quality ones
3. Supports standard-protected Blu-rays
Cons:
1. Outdated user interface
2. No hardware acceleration
3. No 4K Blu-ray video support
DVDFab Blu-ray Ripper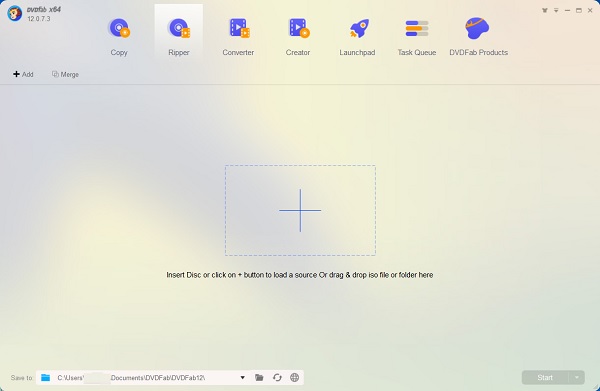 Last on the list of Blu-ray to MP4 converters but definitely not the least is DVDFab Blu-ray Ripper. This software is available on Windows and Mac computers. It has a simple UI that users will surely love. This program supports unlocking the copy-protection of Blu-ray discs. As for the ripping process, expect this tool to do it seamlessly and fast. Moreover, you can create clips from a movie and save them to common formats like MP4. The free version can only output videos in 480p to 1080p resolution. It also supports file batch conversion for user convenience.
Pros:
1. Hardware acceleration for a faster ripping process
2. Supports 4K output for the premium version
3. Smooth user experience
Cons:
1. Limited video output format on the trial version
2. Limited editing tools
3. The software is a bit expensive
Part 3. Bonus: How to Convert Blu-ray to MP4
Here's a very quick guide using one of the best free software to convert Blu-ray to MP4 right now, Blu-ray Ripper.
Step 1
Download Blu-ray Ripper by pressing the Free Download button above, then proceed to install it on your computer. After installing, you open the tool and then load the Blu-ray disc with the video you will extract.
Step 2
After inserting the disc, tap the Load Blu-ray button to import the Blu-ray disc to the program.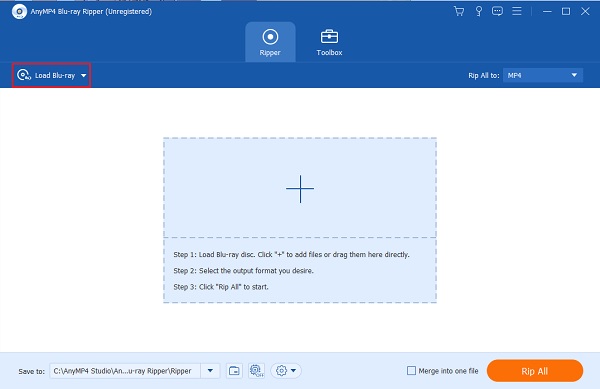 Step 3
Click the drop-down menu of Rip All to for the list of available output formats. Search and select MP4 and choose the highest quality possible for your device.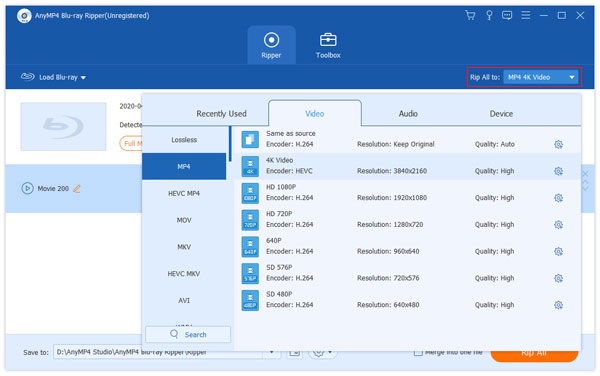 Step 4
Once you finish selecting the file format, you can finally tap the Rip All button to start exporting. The time of completion depends on the length of the video you are converting, so please be patient in waiting. Close the program once it's done.
Further Reading:
How to Convert ISO to MKV on Windows and Mac [Easy-to-Follow]
How to Extract Songs from an ISO [2023 Updated Tutorial]
Part 4. FAQs about Blu-ray to MP4 Converter
What is the MP4 file format?
MPEG-4 Part 14, short MP4, is a video file format, the successor of MP3. This format can store movies or videos and audio that also contain images, subtitles, and metadata.
What are the disadvantages of the MP4 format?
Here are some disadvantages of an MP4 video:
1. Audio goes out of sync sometimes
2. MP4 is a lossy format so expect some loss of quality in audio and video
3. MP4 videos are not easy to edit
4. It became the most used format for pirated movies
What is the best quality for Blu-ray?
The best and highest quality possible for Blu-ray is 4K Ultra HD. A 4K Blu-ray has 4 times more pixels compared to a standard 1080p Blu-ray. It also supports HDR and Dolby Atmos for a boost in video and audio quality.
Conclusion
There you have it. Did you enjoy reading about these fantastic Blu-ray Converters to MP4 format for free? We know you are amazed at how they can easily rip the files and convert them to MP4. More so to Blu-ray Ripper, an outstanding tool that can rip Blu-ray videos swiftly without any quality loss. You can even edit the videos before exporting them, a useful extra feature. You can try extracting your Blu-rays now and enjoy watching them on any device with your friends.