M4A and WAV: How to Change M4A Music Files to WAV and WAV to M4A Without Quality Loss
If you are wondering why you should convert them to WAV, then you must know that since Apple develops the M4A format, it is playable for specific devices only. Also, it is proven to fail on Windows Media Player, which is the standard media player on desktops. Therefore, if you are to transfer your music playlist from an apple device to a desktop, then it is highly advisable to convert them to the most supported audio format, such as MP3. However, we cannot deny the seamless quality of the M4A format, and changing it to MP3 can affect or lessen the quality. For this reason, you will need the best M4A to WAV converter that can also maintain the quality of your iTunes music when you convert WAV to M4A back.

Part 1. How to Convert M4A to WAV or WAV to M4A Efficiently Online
Suppose you are seeking a good solution for converting your audio files or, specifically, converting M4A to WAV without software installation. In that case, an online solution is the best. Online tools are safe to utilize as long as they won't ask for any of your information.
Free Audio Converter Online by Blu-ray Master
One of the best file converters that we highly recommend is this Free Audio Converter Online by Blu-ray Master. As its name suggests, it is an audio converter that enables you to convert files for free. Furthermore, it holds a wide array of audio formats that you can use for your input and output, including MP3, AAC, WAV, AIFF, AC3, M4A, etc. Moreover, unlike the most online tool out there, this amazing converter won't let you be dismayed by annoying ads, for it doesn't have any on its page and interface!
In addition, you won't believe how fast it is when processing the conversion, for you can already have your output after a second you click the convert button! On top of that, you can simultaneously work on your bulk M4A and transform them to WAV or bulk WAV to M4A files quickly! Amazing right? Thus, let us all see the best method to follow if you wish to convert M4A to WAV online.
Step 1
Search and visit the main webpage of this amazing free online tool on your browser. Then, it would be best to acquire its launcher. When you have the launcher, hit the Launch Free Converter button and upload your M4A files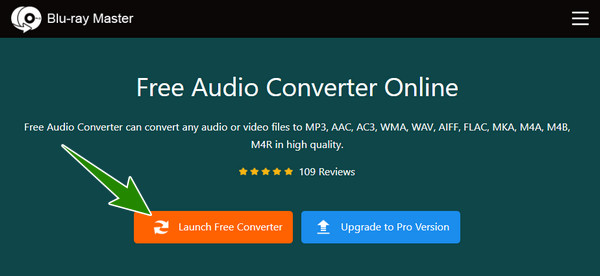 Step 2
After uploading all your M4A files in the interface, click the Note icon at the bottom part of the interface to access the audio formats. Then, tick the WAV selection.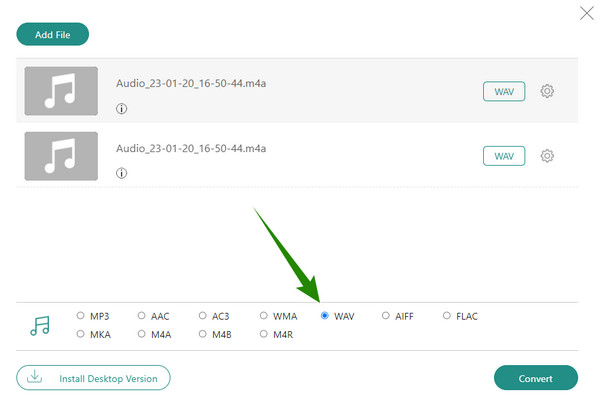 Step 3
This time, you can already hit the Convert button. Then again, hit the Coggle icon to customize your pre-output's Audio Encoder, Sample Rate, Channel, and Bitrate. Otherwise, when you start the conversion process, it will only take seconds, and your output will automatically be saved in your chosen local folder.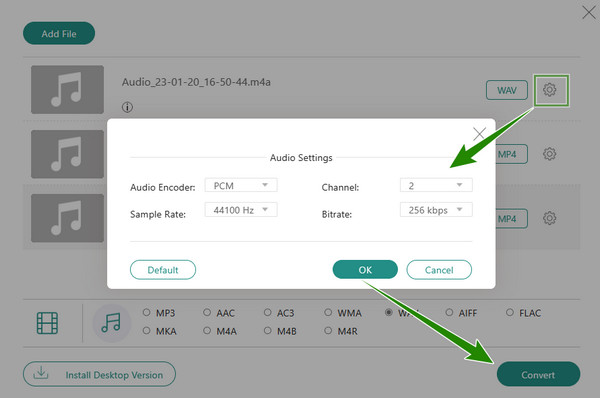 ZamZar
Another WAV to M4A or M4A to WAV converter online that deserves your time is ZamZar. Similar to the previous one, ZamZar is also an easy-to-use converter of many kinds of files. It is free to use, and be assured that no ads will bother you. In spite of that, this second online tool cannot work on bulk files, and its free service can only accommodate up to 50MB of file size. Nevertheless, it is one of the well-known web tools today due to its reliability and flexibility. Hence, here are the quick guidelines to follow in using it.
Step 1
Launch ZamZar on your browser, and immediately hit the Choose Files button to import your M4A file.
Step 2
Once uploaded, click the Convert to button and choose WAV as your output.
Step 3
Finally, you can now hit the Convert Now button to start the conversion process. Once the conversion is done, click the Download button on the next page to acquire the output. And that's how you convert M4A to WAV online with ZamZar.
Part 2. Offline Tools to Convert M4A to WAV or WAV to M4A Without Losing Quality
Moving forward are the offline tools that provide lossless output quality. Hence, prepare yourself for their simple yet remarkable ways to convert your video and audio files.
1. Video Converter Ultimate
First on the list is this all-in-one Video Converter Ultimate which serves its best for Mac and Windows. Would you believe that this ultimate converter comes with a simple and easy-to-understand interface? Yes, it makes its users' work very simple because of its straightforward procedure that even an elementary student can handle. Furthermore, it has this ultrafast technology, a kind of acceleration program that makes the conversion process 70 times faster. Not to mention this technology also helps with the bulk procedure allowing users to convert bulk M4A to WAV or WAV to M4A on Mac and Windows in one conversion process. Not just that, it supports more than 500 various formats for video and audio. Therefore, it has the edge over its competitor, for it has all that a user needs for a converter tool.
Moreover, we cannot compromise to introduce its other features, such as a moviemaker, collage maker, 3D maker, enhancer, ripper, and many more tools. Meanwhile, it can make your audio files even greater with the help of its audio editing tools like trimmer, merger, and modifiers of the channel, bitrate, sample rate, and encoder. Indeed, this Video Converter Ultimate is something you should notice when discussing a powerful media file converter. Hence, let us now see its remarkable process of converting M4A to WAV with the steps below.
Key Features:
1. Ultrafast conversion technology, even for bulk files.
2. It supports more than 500 video and audio formats, such as MP3, WAV, M4A, OGG, AIFF, WMA, and more.
3. Enhance your lossless output even more with its enhancing tools.
4. One-click to merge your music files to create a soundtrack playlist.
Step 1
Grab your cursor and prepare for this tool's quick download and installation procedures. To assist you, click the Download button that applies to your computer's OS.
Step 2
Fire up the software once you finish the installation. Then, upload your M4A files by clicking the Plus icon at the center of the interface. Alternatively, you can do a drag-and-drop procedure here. Just drop the files in the tool's interface after dragging them from your local folder.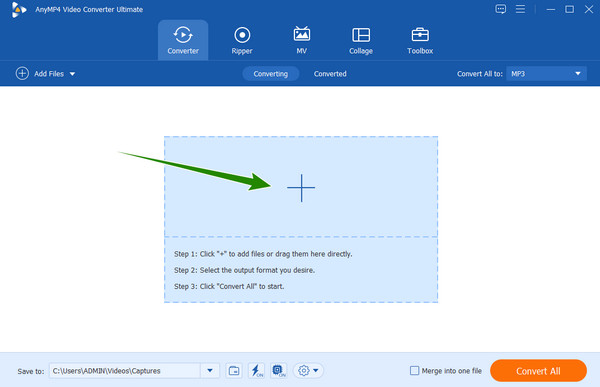 Step 3
Now that the M4A files are loaded, you must hit the arrow drop-down button of the Convert All to option. Then, in the new window, go under the Audio menu, and look for the WAV format. Once found, click it and click the lossless quality you see on the right side.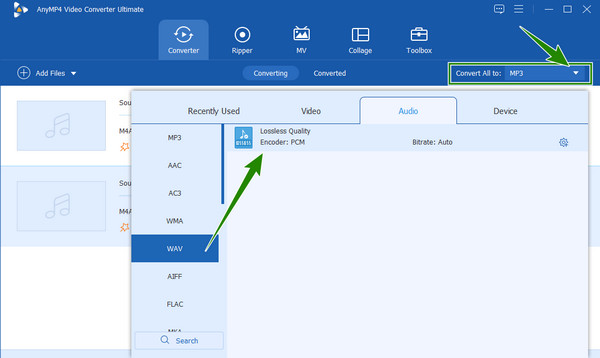 Step 4
Once done, you can start the conversion process by hitting the Convert All red button at the bottom right of the interface. Notice that upon pushing this button, the ultrafast conversion process will start. After that, you may check the newly converted MP3 in the Converted menu.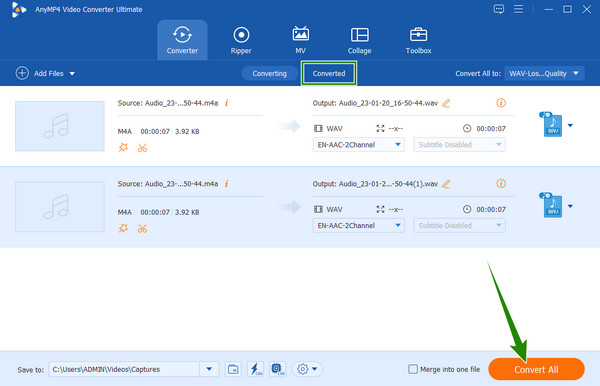 2. Audacity
Next on the list is this Audacity, which is a well-known program when it comes to editing audio files. Furthermore, this editing tool has many great tools that function well in editing and enhancing any audio files you have. In addition, it is also known for its instant yet undamaged output quality conversion process. If you wonder how to convert M4A to WAV or WAV to M4A in Audacity, this is the perfect time to get the answer. You also can merge audio tracks in Audacity. However, as a first-time user, you might find it challenging and overwhelming at first due to its confusing interface. But the moment you master it, it will always be a piece of cake to use. On the other hand, the simple steps below show you how this conversion process works.
Step 1
Launch the Audacity tool after you successfully install it. Then, right away, click the File tab at the interface's left top corner.
Step 2
Then, click the Import button, followed by the Raw Data selection. Now choose your M4A file, then on the small window, click the Import button to upload the file.
Step 3
Afterward, go to the File menu again, and click the Export option, then the Export as WAV dialogue. Please remember to set a file destination folder. Once the conversion process is finished, check the converted file immediately.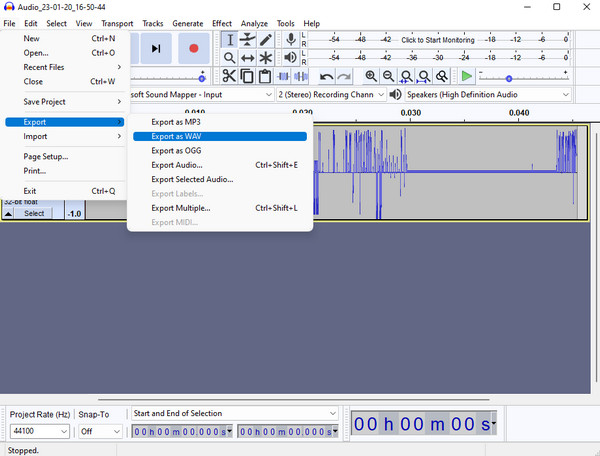 3. Windows Media Player
Is it possible to change WAV files to M4A or convert M4A to WAV using Windows Media Player? The answer is yes. Windows Media Player can convert your files, however, via ripping. If you have the M4A music in disc, this Windows Media Player is a perfect tool for a Windows-based device because, as a desktop user, you won't need to download any software for it is built-in. And you can use Windows Media Player to flip videos. However, it is not suitable for Mac users. Nevertheless, let us all see the detailed steps to rip your M4A music to WAV.
Step 1
Run the Windows Media Player on your desktop, hit the Organize tab, then choose Options.
Step 2
Now click the Rip Music tab on the new window. And under the Rip Settings, choose WAV (Lossless) as your target format. Then, hit the Apply button.
Step 3
You can now insert the CD and click the OK button to begin the ripping process. Then check your file storage for your newly ripped WAV files.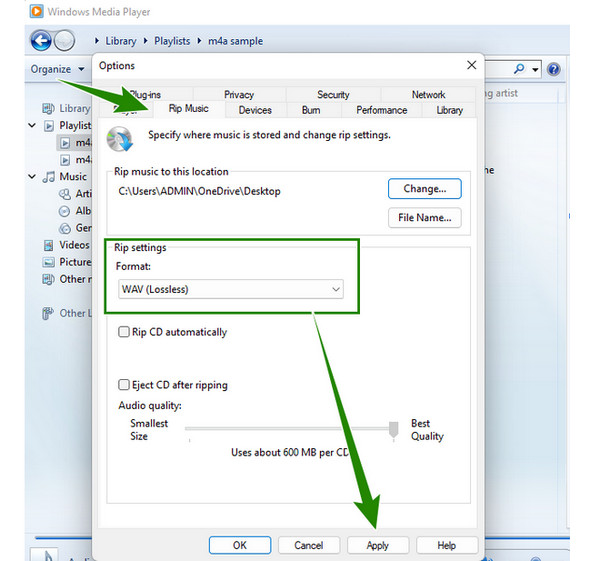 Part 3. FAQs about Converting M4A to WAV or WAV to M4A
Can I share my converted files online?
Yes. You can share the converted files anytime on your favorite social media account.
Can I convert a video to M4A format?
Yes, you can. Many converters allow video-to-audio conversion. However, only the audio content will be available in the new file. So, if you want to convert your videos to M4A, use Video Converter Ultimate.
Can I convert M4A to WAV on iPhone without a third-party app?
Unfortunately, iPhones do not have a built-in file converter. Hence, you will need a third-party app to convert your media files on an iPhone.
Conclusion
There you have it, the ultimate tools to convert M4A to WAV or WAV to M4A without losing quality. We hope you had a wonderful learning experience reading this article and meeting the tools presented. On the other hand, if you are still undecided about which method to use, then we highly recommend you use the top tools, which are the Video Converter Ultimate for the offline and Free Audio Converter Online, for it is quite evident that they have the edge over their competitors in many ways.