Easiest to Create ISO File [Windows and Mac Tutorial]
Using archive formats like .zip or .rar has saved many from seeing their storage device running out for many years now. Not only that, these archives are enormous heroes when sending files over the web, especially when our footage is at stake. Yet, besides these well-known archives, there is also an ISO image or ISO file.
ISO file is a disk image format containing optical discs' exact data. Furthermore, you can burn a whole operating system into it and later install it using ISO after formatting your device. And for today's blog, we will give you the best methods on how to make ISO files with suitable programs for your personal computer.

Part 1. How to Create ISO File on Windows
AnyMP4 DVD Creator is a versatile program that facilitates burning videos files on ISO, DVD, and Blu-ray discs. This ISO creator is designed with a very intuitive graphical user interface, so many users, especially beginners, love this. Not only that, it is a lightweight program compatible both on Windows and Mac devices and does not occupy much space on your storage.
Moving on, AnyMP4 DVD Creator is commendable for the full-packed features that you can enjoy. First, it supports more than 150 video formats like MP4, FLV, AVI, MTS, and more for an ISO image backup. On the other hand, it contains a built-in video editor that allows you to trim, rotate, add effects, and attach watermarks to your footage. Aside from that, it offers 4 modes of quality for your videos: fit to disc, low, middle, and high quality.
Refer to the detailed guide below to create an ISO file using a Windows PC.
Step 1
Install the ISO file creator
Begin by selecting one Free Download button below. Then, double-click the .exe file using your mouse and follow the installation process.
Step 2
Upload the video files
Now, select the Add Media File(s) button on the main interface. Then, your computer folder will pop up in a new window for you to select your target files for ISO folder burning. Once done, you should see the files on a thumbnail to indicate that they are already imported.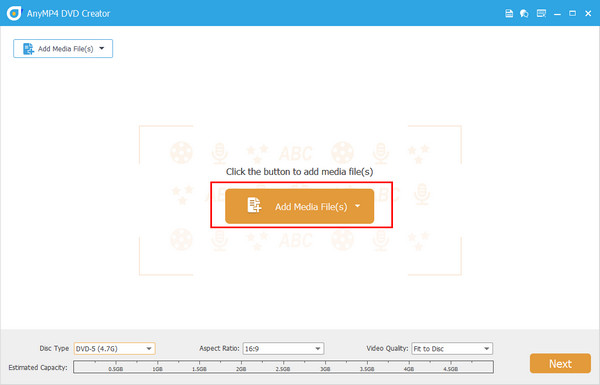 Step 3
Edit Video
On the other hand, you may consider editing your videos before saving them to ISO. Click the file that needs enhancement, then hit the Power Tools > Video Edit. Play around with the available tools on the editing panel, such as adding a special effect or screen rotation. You can look at the real-time preview to check your progress. When done, hit Apply to go back to the main interface.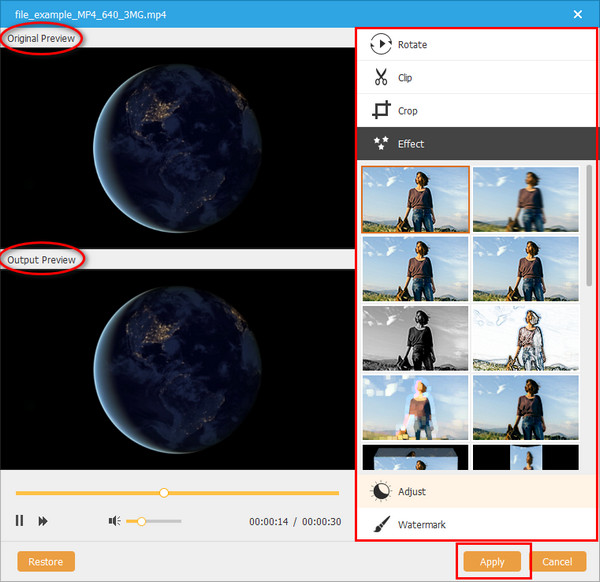 Step 4
Add DVD menu (Optional)
The good thing is that you can now create a DVD menu on your ISO folder. Therefore, the next time you have your blank disc, you will only care about the burning. Select the appropriate template you need or upload your background picture to create a DVD menu. Also, add background music to make it more engaging. Also, locate your buttons and put on your disc's title. When done, hit Burn.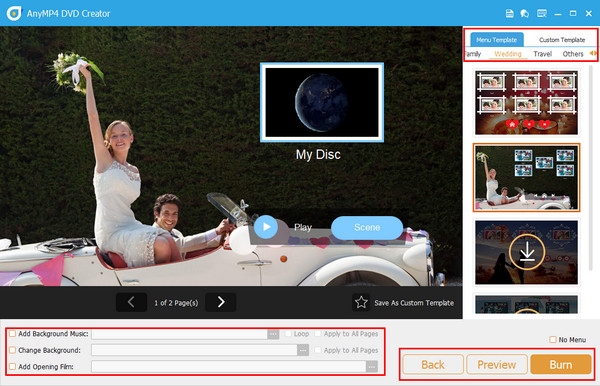 Step 5
Save videos as ISO
Finally, simply check the Save as ISO option. Moreover, don't forget to choose your file location for easy access after the process. After setting your proper TV Standard, hit the Start button and wait for the final output.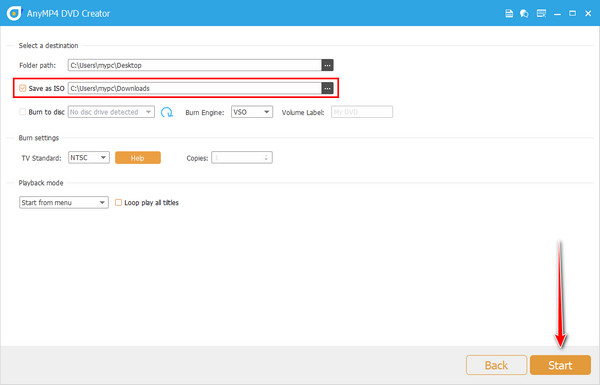 Part 2. How to Create ISO on Mac
Unlike the other computers with built-in optical drives, it does not apply anymore with the Mac computer. Do not panic if your device runs this operating system, for we still have your back. ISO is the answer if you cannot proceed with burning files on DVD or Blu-ray.
As a piece of good news, Mac devices contain a built-in app called Disc Utility, designed for ISO creation. Read the further guidelines below on how to create an ISO file using the said tool.
Step 1
First, you need to make a folder that will be responsible for holding your video files. To do this, hit the right-click on your mouse and select New Folder. Also, rename the folder for quick access. To give you a tip in renaming any of your files on Mac, click the file and hit Enter on your keyboard.
Step 2
Next, copy all of your video files and paste them into the folder you created earlier. Once done, go to your Finder and search for the Utilities. After that, scan the list until you finally see the Disc Utility. Then double click the tool to open it.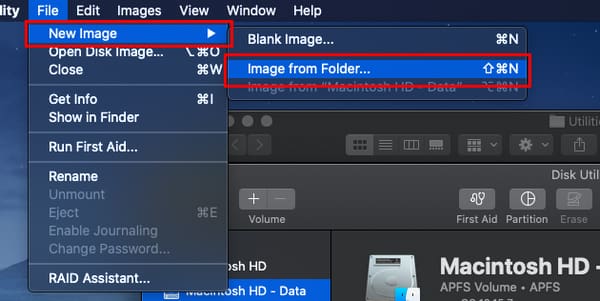 Step 3
After that, go to the toolbar at the top of the screen and drop down the File tab to New Image > Image from Folder. Then, a new window will appear, and in this, you should drag and drop the folder where your videos are contained. Then, select Choose.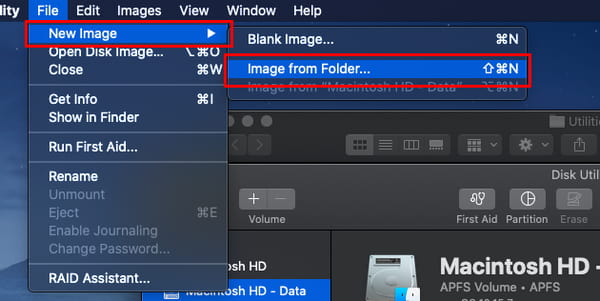 Step 4
Lastly, drop down the Image Format and select the DVD/CD master. Also, make sure that you save the output on the desktop. When all is ready, tick Save.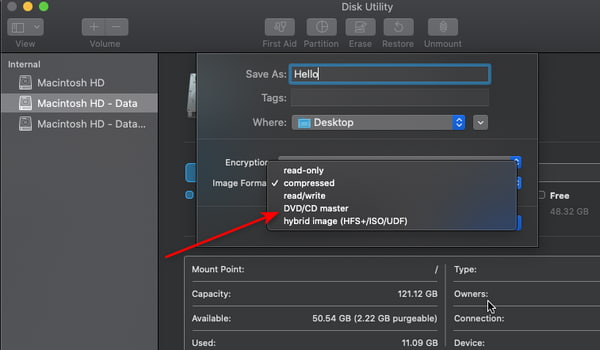 Further Reading:
Get Your Best Free ISO Player for Windows 10 and Mac from 5 Choices
6 Best ISO Creators in 2023 [FREE and PAID Solutions]
Part 3. 3 ISO Converters Online
Online tools may be your lifesaver when converting, especially MP4 to ISO. Aside from the fact that they are cross-platform, meaning that they can work in Linux, Mac, and Windows operating systems, online programs are usually lightweight. In this part, we will give you the top 3 online ISO Converters. Without any more chases, here they are.
1. CloudConvert
If you are looking for high-quality output, Cloudconvert is for you. This program caters to multiple options for converting files like documents, ebooks, videos, vectors, cad, and even ISO. Even though this program is an online tool, you should not worry about your privacy invasion because ClounConvert is entirely safe. It only gathers data, especially when taking a subscription but never on your upload files.
As for the pricing, you can enjoy unlimited access to this tool by taking a package or subscriptions. As for the free version of the program, you can only have 25 conversions per day.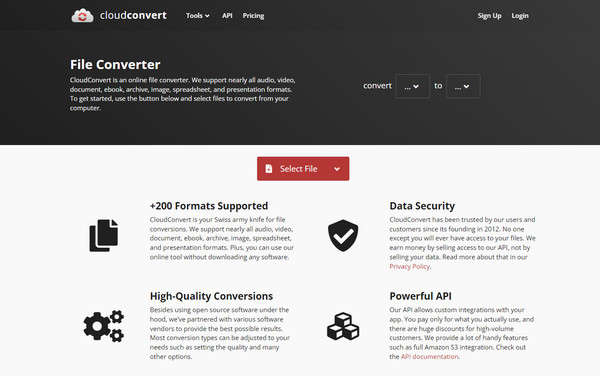 2. FreeFileConvert
This FreeFileConvert is a converter of popular video formats like presentation, audio, archive, fonts, and the like. This tool comes with a clean and intuitive interface, making the conversion process smooth and easy, even for a non-techy person. One of the great features you can see is the description of the format you are converting, such as its category, technical details, and associated programs. Above all else, FreeFileConvert is free to use. Yet, when you register on the program, you can access benefits like seeing your recently uploaded files.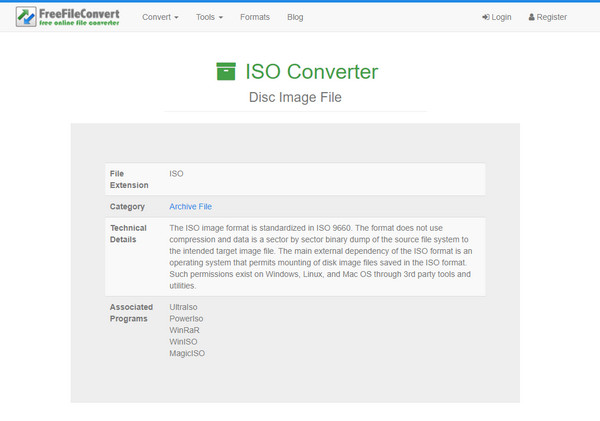 3. AnyConv
AnyConv is a lightweight program that converts files to ISO. Besides that, it is entirely free and requires no registration before its accessibility. Not to mention, this program also offers other disc images like BIN, RAW, and DMG. You can set AnyConv in other languages like French, Portuguese, Bahasa, and more when it comes to the interface. However, since this program is free, you may have to deal with the annoying pops up and advertisements on the screen while using it.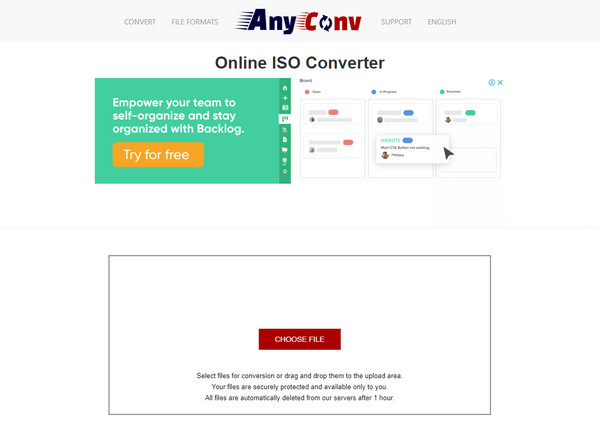 Part 4. FAQs about ISO files
Can I convert MP4 to ISO using HandBrake?
Unfortunately, Handbrake cannot create disk images like ISO files from MP4. However, this is an open-source video transcoder you use for converting a file to other presets like devices and web formats.
Where can I use the ISO file?
Honestly, ISO files are great for many reasons. For example, you do not have any physical disc like a DVD or Blu-ray to burn your most valued footage. You can save the files as ISO first on your hard drive and burn them later.
Does Windows have a built-in program for ISO making?
Unlike Mac devices, Windows cannot create ISO using a built-in program. To do this, you may need to install a third-party application.
Conclusion
And there you have the best methods on how to create an ISO file! Perhaps, this has been one of your weaknesses- looking for the best tool to serve your needs. Using the Disc Utility, you will not have to worry about installing software as a Mac operating system user. On the other hand, online programs are great. Still, you must ensure a stable internet connection or deal with the maximum file MB it can support. However, if you want a versatile tool, AnyMP4 DVD Creator is your best choice.