Get to Know 5 Top-Picks Portable DVD Players for Car
Do long drives bore you and your family? Well, who loves driving a car with a long silence? A peaceful ambiance is great, but it will make you feel drowsy, which is dangerous for drivers. Thus, one of the most effective stimulators for drivers and passengers is entertainment, such as music and movies within the car. Most cars have built-in music players but not video or movie players. For this reason, having a portable DVD player for cars is a free-will choice, and as a car owner, you wouldn't want a substandard device for your baby. This is why we gathered the best DVD players chosen, tried, and tested by many to help you decide on your acquisition. To cut to the chase, read the content below to see what you want.

Part 1. Can I Watch DVDs in a Car
As a driver, focusing your eyes on the road is a must, but you can lend your ears to a movie playing on a DVD player for cars. If you are asking if you can watch DVDs in the car, the safe answer would be it depends. Technically speaking, you cannot watch DVDs while you are driving, but your passengers can. And give the watching a time when you are in the waiting game, if you know what I mean. As a driver, we cannot ignore the waiting times where all you need to do is wait for your passengers until they get to the car. So, what will you do during the waiting time?
Part 2. Top 5 Car DVD Players
Top 1. Audiovox VODEXL10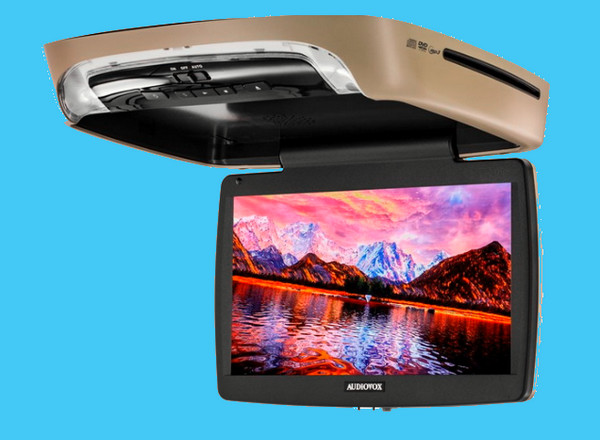 First on the list is this Audiovox VODEXL10 which has approximately 400-500 dollars for its price. It is a dual DVD player for the car that also works as an FM radio. Furthermore, it allows you and the passengers to play movies, music, and video games, taking the entertainment to the next level. It has a height of 9.25 inches when at a 90-degree angle. And when you acquire it, you will get the things you need for its installation, such as a mounting bracket, pry tool, harness, and others.
Top 2. XTRONS Dual Car DVD Player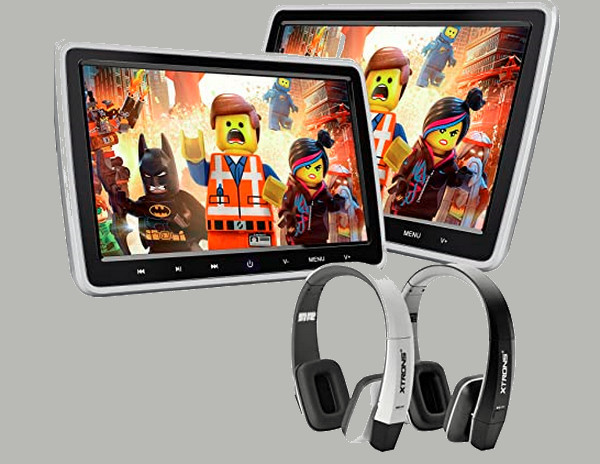 If you are looking for an easy-to-install portable DVD player, then you can take a look at this XTRONS. It is a highly integrated player that supports multiple advanced features. Furthermore, it comes with two compact devices, giving you independent usability for passengers. It has a modern and solid performance that will surely be loved even by your kids. Meanwhile, it has a screen size of 10.1 inches, with an LCD display for $269.89.
Top 3. Alpine PKG-RES4AP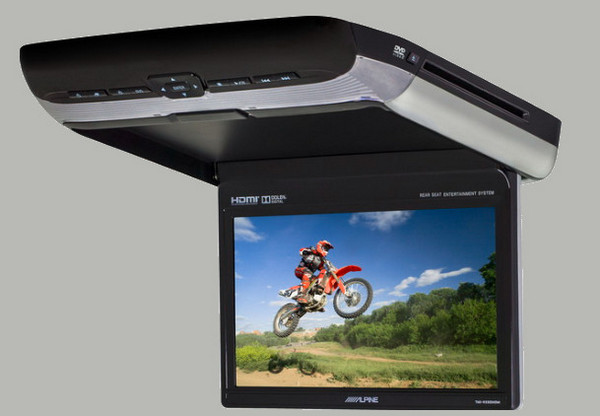 Here is a persistent to be one of the best car DVD players, the Alpine PKG-RES4AP. It has been one of the choices since 2016 due to the incredible features of this flip-down unit. Surprisingly, it comes with a big, high-resolution screen perfect for being installed in big cars. Another remarkable attribute of this player is its filter, which filters the fungi and contaminants inside your car brought by sweat and smoke.
Top 4. NaviSkauto
This type of DVD player has an HDMI media playback feature that also supports full HD video from optical disc carriers. NaviSkauto is the perfect choice for passengers to enjoy their desired videos and music while relaxing in the passenger seat area since it needs to be installed in the back seat. Besides videos and music, they can also play 32-bit games using the player's remote control as their game controller. Meanwhile, this Bluetooth DVD player for cars has 10.1 inches display with 1024 x 600 pixels resolution at a reasonable price.
Top 5. Power Acoustik PT110CM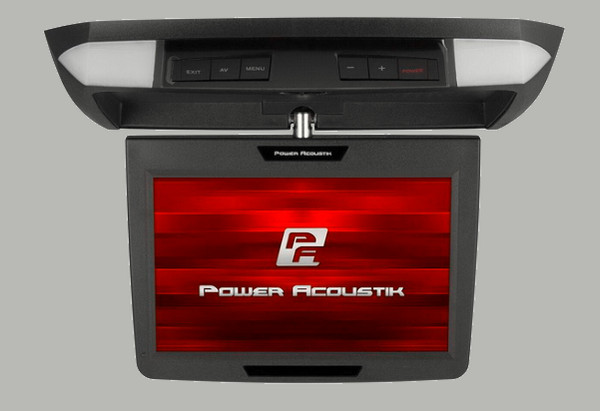 Lastly is the Power Acoustik PT110CM. It has a swivel overhead LCD monitor that functions for passengers to watch their favorite DVD movies comfortably. Furthermore, some good features added up to your reason for getting it, such as a USB port, adjustable angle, and more. You wouldn't be disappointed with its display quality, for it gives a steady and satisfying picture display.
Part 3. How to Install a DVD Player in Car
This part will show you the instructions for installing a DVD player in a car. Please note that this tutorial will show you how to replace the car radio with a DVD player. You need to prepare the DVD player, blue painter's tape, screwdriver, radio removal tool, and a towel.
Step 1
Star by removing the negative battery cable from your car's battery before executing the removal. Once done, place blue tape around the car's radio to prevent any scratches on the area.
Step 2
Place the towel at the center console to protect it. Then, start locating the screws of the radio and loosen them to help you remove the radio.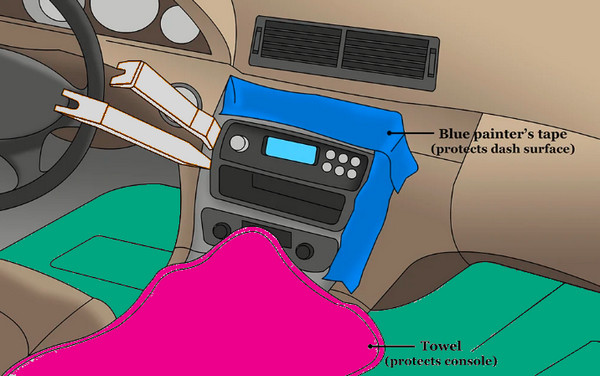 Step 3
Prepare the DVD player as you remove the radio from its place. Now locate the power wires of the radio, specifically the conversion wiring. You must transfer this harness from the radio into the DVD player you are about to install. Then, clip the DVD player in place and put back the screws.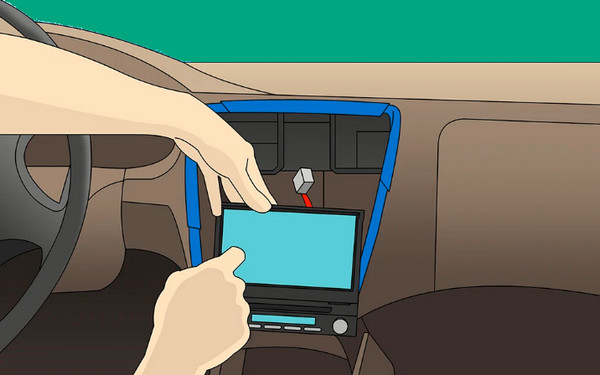 Step 4
Once the car's portable dvd player is installed, run a test to check if it is working well.
Part 4. How to Play DVDs in Car Without a DVD Player
Suppose you still do have the time to acquire a DVD player to be installed in your car but already want to play DVD movies in it. In that case, try ripping the DVD movie into a digital video that your handy device, like a laptop or phone, supports. With that said, use Video Converter Ultimate. It is an amazing software enabling you to rip and convert DVD content into over 500 media files and devices. This process will not consume much of your time since this tool comes with hardware acceleration and Ultrafast technologies that lets you rip and convert 30 times faster.
Furthermore, you will never regret grabbing it on your computer since it provides you with many useful functions. Yes, it is a multifunctional software that enables you to convert, rip, make movies, collage, 3D, and GIFs, enhance videos, and edit files as professionals do. Despite that, you don't need to be an expert before you get to enjoy the said features and tools because this software is designed for beginners. Thus, to give you an idea of how the ripping tool of this software works, kindly see the instructions below.
Step 1
Grab the converter tool on your computer by clicking the Download button below.
Step 2
Insert the DVD disc into your computer's optical drive, then launch your newly installed video converter. Now on its main interface, go to the Ripper menu tab, and click the Load DVD to read the disc you inserted.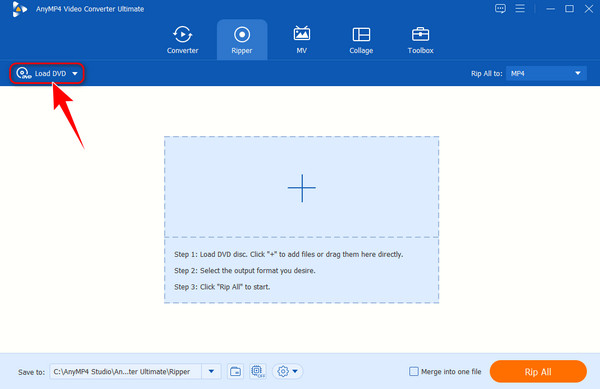 Step 3
After that, bring on the Full Title List of your DVD. Then, once uploaded, go to the Rip All To section at the top right corner of the interface to hit the Arrow button. Choose a digital format you want to use as an output in the new window.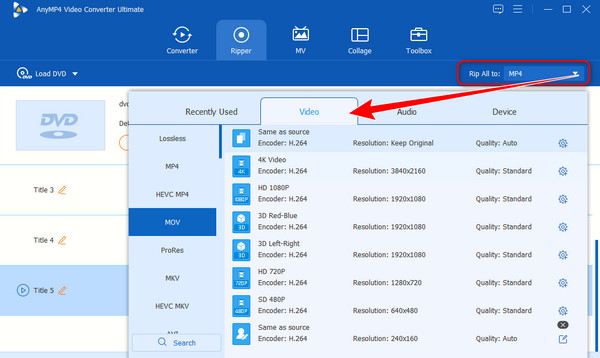 Step 4
Finally, hit the Rip All in red button to begin ripping. Wait til it ends, then check the video after.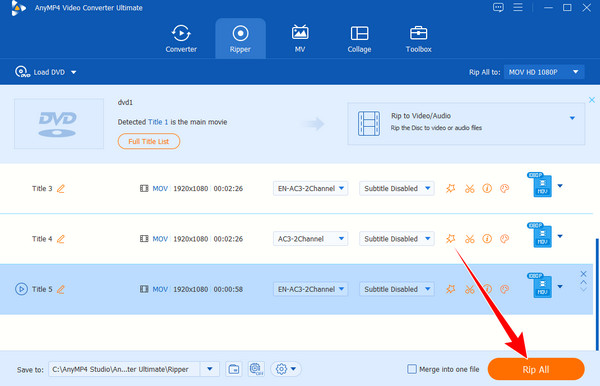 Part 5. FAQs about DVD Players in Car
Can I purchase a portable DVD player for a car from Walmart?
Yes, you can. As a matter of fact, some of the top 5 DVD players on the list above can be purchased from Walmart.
Are there limitations to playing DVD players for a car?
Yes. One of the limitations or disadvantages of portable DVD players is the small screen they have. Only limited users can watch on such a screen size.
Do DVD players for cars have a headset port?
Some DVD players have headset ports, but most don't have this feature.
Conclusion
With the list of portable DVD Players for cars, you don't need to try them all; you can read our factual review on each. Though you might have put the DVD player on the car, you still need to install it. That is why we added a tutorial on installing it with expert care. Instances may occur that a DVD Player isn't installed in the car, that is where the Video Converter Ultimate comes in since it can rip all of the digital data stored into DVD and convert it into a digital video that can be played on other non-DVD player devices. Share your thoughts about this article in the comment section!