Elmedia Player: Review About the Universal Media Player for Mac
If you use a Mac computer and have heard about this universal media player software Elmedia Player for Mac, this is the perfect time to get to know it further. You will discover the elements it holds by reading the content below. Furthermore, you will also see how its free version differs from the premium one. And if your forehead gets furrowed while discovering the software's attributes, the alternatives are prepared for you to choose from. Therefore, let's not delay this and proceed with the foretold content below.

Part 1. What is Elmedia Player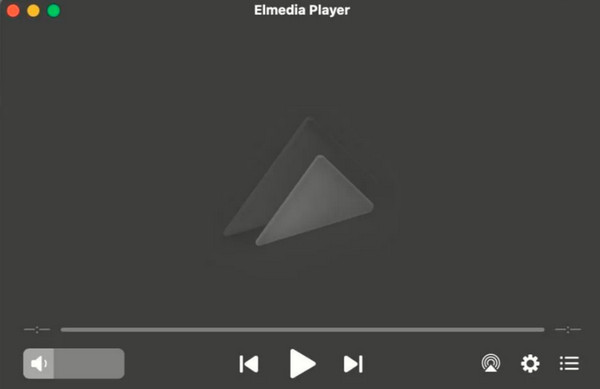 Elmedia is one of those convenient video players developed for Mac users. Aside from playing videos, it is also created to cater to playing your favorite songs as it supports audio formats like MP3, OGG, and WMA. Stay calm about your other videos because Elmedia can support almost all types, such as MP4, AVI, WMV, MOV, MKV, and FLV. Furthermore, this subject media player offers advanced streaming and playback options to stream the local media files to various media players.
Part 2. Elmedia Player Review
To discover more about Elmedia, here are some elements that will make you know it deeper.
Key Features
● Flexibility to play different video and audio formats.
● Elmedia Universal video player comes with Airplay.
● With a playback speed control.
● Sync the audio to your video.
● Control the video image to fit on the screen.
● Basic video editing such as rotator and deinterlacer.
● With audio equalizer and visualizer.
Interface
Amazingly, Elmedia has an intuitive and tidy interface. It comes with an easy-to-understand interface, showing the volume control, some playback buttons, playlist, browsers, stream to, and settings. If you are a minimalist type of user, you will surely love its style and unique interface with a salient color design.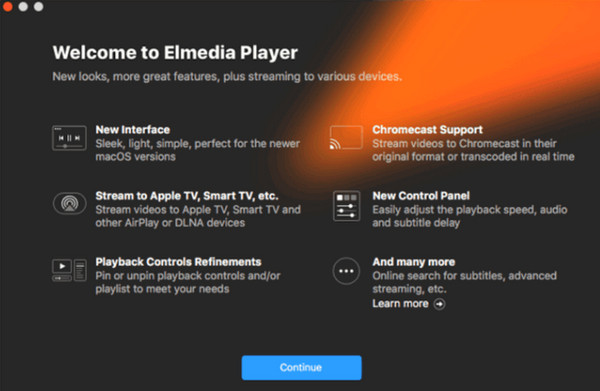 Advantages
There are reasons to choose Elmedia to be your dedicated media player that we listed below.
● You can use it for free.
● It is a media player for beginners.
● It lets you stream online videos without seeing ads all around.
● It can support up to 4K videos.
● It enables you to fix the unsynced audio and subtitles in your video.
Drawbacks
For all roses have their thorns, and so this media player does.
● You cannot download Elmedia player for Windows.
● It is not entirely free software.
● There are times when this player reduces the video resolution.
Prices
● Free Version
● Personal License - $19.95.
● Family License - $39.95.
● Business License - $29.95.
Part 3. Elmedia Player Free VS. Pro Version
Indeed, Elmidia offers a free service that you can use without spending any dime. However, we cannot disregard the limitations that you can have with this free version. Hence, if you wish to settle with its free version but are still undecided, comparing the paid and the free are listed below to help you decide.
| | | |
| --- | --- | --- |
| Features | Free | Pro |
| Sync subtitles and audio to the video. | Yes | Yes |
| Create a playlist. | Yes | Yes |
| Screenshot the playing video. | No | Yes |
| Stream media files to Airplay and Apple TVs. | No | Yes |
| Screen mirroring. | No | Yes |
| Picture-in-Picture mode. | No | Yes |
Part 4. Elmedia Best Alternatives
Suppose you still doubt downloading Elmedia after looking at the elements above. You must meet its best alternative to provide you with other best options of best media players.
1. VLC Media Player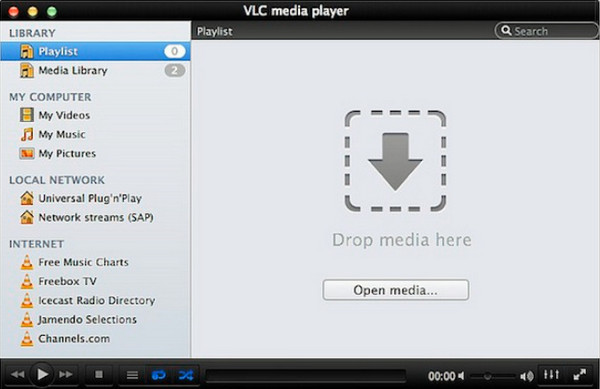 VLC Media Player is a compelling media player option of all time. It is an all-in-one media player that provides smooth playback on all video and audio formats. Furthermore, it offers extra functions besides being a media player that will thrill you. It lets you convert videos to your chosen format. Moreover, this free video player lets you take screenshots of your video frames or record your video on the play. If you are going to compare Elmedia player vs. VLC, they both give their benefits and drawbacks. But, if you want a free media player without compromising any feature in its net, VLC has the higher hand.
2. Blu-ray Player of Blu-ray Master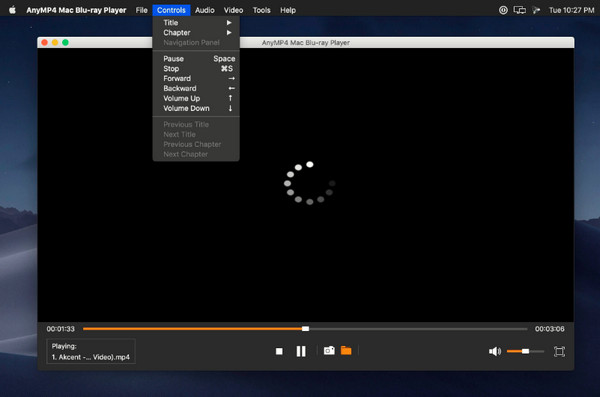 We give you an extra featured media player that will allow you to play Blu-rays, DVDs, IFOs, ISO files, and, of course, your regular videos with popular formats, the Blu-ray Player. Why is this media player the best alternative since it is dedicated to Blu-rays? Since it can work with higher qualitative movies, the playback of regular high-quality videos has been easy for this tool. It can provide you with a cinematic playback experience by just using your computer screen. And yes, you will be delighted at the vibrancy that you will see. In addition, you can also use its snapshot feature to extend your fondness for the video you are watching by capturing every scene it has. What's more, if the Elmedia player has subtitles options, Blu-ray Player is not left behind on this. In fact, it allows you to pick the subtitles and sync it to your video and its audio.
Features
Elmedia Video Player
VLC Media Player
Blu-ray Player
Platform
Mac.
Windows, Mac, and Linux.
Windows and Mac.
Price
Free;
Personal License - $19.95.
Family License - $39.95.
Business License - $29.95.
Free
Free;
1 Month License - $24.96.
Lifetime License - $45.96.
Pros
It is easy to navigate.
with a free trial.
support almost all video formats.
basic features available.
It is free and open source.
flexible to work on all platforms.
It comes with extra features aside from media playing.
It is easy to use.
It comes with a free trial.
It offers additional features besides media playing.
lossless media playback.
Cons
Not available on desktops.
It reduces the video quality.
it is not entirely free.
It is not the best for beginners.
it sometimes crashes.
This tool is not entirely free.
Best for
Playing any type of video format.
Playing any type of video format.
Playing Blu-rays and videos with up to 4K quality.
Part 5. FAQs about Elmedia Player
Is Elmedia Player safe?
Yes. Elmedia is absolutely safe. When you download it on your Mac, it won't create any changes that might break your computer's security.
How can I make the Elmedia Player default on my Mac?
Choose a video file and right-click. Then, select the open with option and choose Elmedia to open the file.
How to uninstall Elmedia Player on Mac?
To uninstall the player, go to the Finder app and search for the player. Then, you can simply drag the app to the trash bin to delete it.
Conclusion
You are lucky to read this article post because it gave you everything you need to know about the Elmedia Player. As we assess, this media player's free version is not enough to be called the best. It is why we provided you with additional free options to help you find your best partner in playing your videos. If you want a higher quality, most practically, choose Blu-ray Player.