Reviewing 6 GIF Collage Creator for Desktops and Online Tools for 2023
With the rise of program creativity, GIFs exist. It is an abbreviation for Graphic Interchange Format that has emerged as one of the best ways to express emotions and share memorable moments. They are used by almost everyone, especially on social media. Thus, the question is, why do we need a GIF collage maker when GIFs are already entertaining?
GIF collage makers' goal is to allow you to play GIFs for more fun by compressing multiple moments into one. Here is an amusing GIF collage. Therefore, if you want to make your GIF collage. Then, we must check out the best apps to make GIF collages available for desktop and online usage. Give them a shot and see which collage maker works best for you.
Part 1: Best 3 GIF Collage Makes for Windows and Mac
Blu-ray Master Picked Video Converter Ultimate
It is fitting, to begin with, the Blu-ray Master picked Video Converter Ultimate. This tool is one of the best editing tools that can mix multiple movies and images simultaneously, such as GIF files. It is straightforward to choose a design for your GIF collage and insert the GIF clips or photographs into the frame. Each screen is also instantly customizable. That means this tool is recommendable for novice users.
As a result, we're here to tell you the steps you need to take to make it a reality. Indeed, it is an excellent tool for creating GIF colleges with computers, especially when using Windows. Let us see how much performance it can provide for us in that vein. Let us now investigate why it is the best GIF maker and editor for Windows.
Step 1
Install the excellent Video Converter Ultimate by Bluraycopys on your computer.
Step 2
To begin, navigate the tool's ,Collage feature menu from the interface.
Step 3
In the new tab, please click the Start button. Then, from the available templates, choose the Two Cell or another template that you want to see your GIF collage. You can also select three or four cells.
Step 4
Now, click the Add button to create the GIF collage vision. Choose GIF media files and decide which should be placed on each Cell available on the template.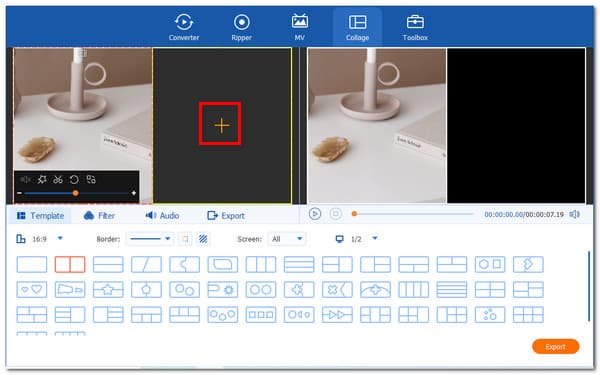 Step 5
After you have placed each GIF file in its proper location, choose Export to save your work. After that, we must allow the tools to begin creating and exporting the split-screen video.
Also, its toolbox has the GIF Maker to create video to GIFs and make animated images with other photos.
GiftedMotion
GiftedMotion is another program that must be downloaded to your computer to be used. It differs from GIMP because it does not require installation and is not complicated to use. You can change the order and frame delay of the images after you load them in. You can also use the process of drag and drop to resize the entire GIF and position the photos exactly how you want them to appear.
Pros:
1. GIF animator open source.
2. Simple to use.
Cons:
1. To use it, you must first download the app.
2. Image sizes cannot be changed based on pixel dimensions.
Giphy
Load photos, other GIFs, or videos into Giphy's GIF creator to create a new incredible GIF file. Videos can be imported from websites such as Vimeo and YouTube, as well as from your PC. Arranging the GIF in the order you want is simple, and you can change the image duration from 0.1 seconds to 3.7 seconds by swiping the image duration button back and forth. Decorating the GIF is the final step before it is created. There are caption, sticker, filter, and freehand drawing options.
Pros:
1. There are numerous editing options.
2. The sharing options are simple to use.
3. This website is ad-free.
Cons:
1. Every GIF you create must be uploaded.
2. GIFs cannot be deleted once they have been uploaded.
3. Allows you to add only one text box.
Part 2: Best 3 GIF Collage Makers Online Free
FlexClip
FlexClip is the most user-friendly collage maker available on the internet. It possess everything you need to create a high-quality GIF. You won't have to worry about the format because it supports JPG, PNG, MP4, WebM, and others. Furthermore, you can collage as many GIFs as you like, allowing you to experiment and create with any idea.
Pros:
1. User-friendly and simple interface.
2. The free version includes numerous valuable features.
3. There are multiple templates available.
4. Browser-based
Cons:
1. Watermark and video intro in free videos
2. All subscription plans have a video length limitation.
Kapwing
Kapwing is an online GIF editor as well as an image and video editor. This is ideal for digital storytelling because it supports multiple frames. One advantage of this platform is that it includes a workspace in which you can work and collaborate with your team. To make your life easier, Kapwing allows you to easily import media, including online GIFs, with just a few clicks.
Pros:
1. Very simple to use,
2. sharing your edited and finished videos on social media,
3. Excellent software for creating memes, gifs, and other animations.
Cons:
1. The package is not extensive.
2. Quality that does not remain constant
Ezgif
Ezgif is a simple online GIF maker and basic animated GIF editor. It has editing features that allow you to create, resize, crop, reverse, and optimize your GIF to your specifications. It is also user-friendly, making it simple to use. Furthermore, this tool does not need to be downloaded or registered. It also has a preview feature to check your outputs before downloading.
Pros:
1. Online GIF creation from image and video.
2. GIF files can be resized, cropped, reversed, and optimized.
Cons:
1. There is no online save option.
2. The interface is not as intuitive as that of other online GIF creators.
Part 3: FAQs about Best GIF Collage Maker
Is a GIF an image or video?
A GIF is simply an image file in its most basic form. The GIF format, like the JPEG and PNG file formats, can be used to create still images. However, the GIF format has a unique feature in that it can also be used to create animated images.
Is there a free Android GIF maker?
Some free GIF makers listed below can be downloaded, while others are online. However, they are entirely free and will generate an animated GIF in minutes. Before converting images to GIFs, you can make changes to them using a free online photo editor, a free photo editing app, or a free photo resizer. Create a GIF.
What is the best-animated GIF collage maker?
There are various editors you can use. Some of these are the fantastic EditFrame which can offer you a simple process of making your animated GIF. In addition, you can also use GIF Studio if you are looking for a tool that possesses extensive features in creating your animated GIFs.
Conclusion
That concludes our list of the best GIF collage creators. They could help create GIF collages. If you found this helpful post, please share it with others. Therefore, if you think this post is helpful, please share it with other users, as we help them too.