Step-By-Step Procedures to Eliminate High-Pitched Sound From Audio Files
It is indeed a problem when we hear a squealing noise from our audio file, especially when using a microphone. It is also a common issue that people worldwide experience, if not daily, then often. On the other hand, when this kind of noise appears, we can initially inspect the connectors, microphones, volume settings, devices like guitars, power supply, and other related devices. But in most cases, it always ends with the microphone, which creates this squealing noise. But for some uncontrollable reasons, your recorded audio in your music video can still catch this noise even when you put extra care to not have so.
For such cases, you won't need extra time re-recording your file. Instead you can learn how to fix such noise during the post-production phase using the solutions here. Check the simple solutions below and fix the high-pictched noise efficiently.

Part 1. Why is Sound High Pitch?
Technically, a sound can acquire a high pitch or squealing sound due to the high frequency the sound got. Since pitch refers to the level of the sound, whether it is high or low when it appears to our ears, then the higher the level of frequency, the higher the pitch is. So, what factors bring a sound high-pitched? Although it all comes down to how the sound waves are generated, literal sources still cause the problem, and they are listed and elaborated on below.
◆ Microphone
As mentioned above, the microphone is a big factor that causes very high-pitched sounds. Therefore, always check the volume of your mic before using it to prevent an ear-cracking whistle and echo from the device.
◆ Musical Instruments
When musical instruments have parts that vibrate quickly, they create music with high pitches. One example of this is the high-pitched guitar, which produces intense vibrations when its thin, shorter strings are plucked
◆ Cables or Wires
If you are using a microphone with many cables, you must inspect the condition of the wires that connects the microphone to your amplifier or speaker. If these connectors have damages, such as rips, holes, or any air-leaking part will cause squealing noises. Also, you must ensure that the cord of your mic does not cross over your device's power supply because it can be a flaw that can produce high-pitch noise on your sound after recording it.
◆ Computer Drivers
If you are using your computer to record, you must check your PC's drivers, a common source of a high-pitched sound. If so, you must erase, redownload, and reinstall the audio driver to fix the problem.
Part 2. Best Solutions to Fix High-Pitch Sound Noise
If you think you cannot do something to fix your existing recorded files with noise, then you are thinking it wrong. There are software programs that can help you fix the problem. And today, meet the 2 best programs we highly recommend due to their seamless ability to reduce noise in the sound.
1. Video Converter Ultimate
Here comes the best choice of Blu-ray Master, the Video Converter Ultimate. It is a flexible software program that can fix even the very high-pitched sounds and noises from your audio and video, aside from converting and editing them excellently. Thanks to its Noise Remover tool, which can be found in the Toolbox and other powerful editing tools. To elaborate, this Noise Remover enables you to remove the sound noise by just ticking a box, and then the Artificial Technology will automatically silence the noise and regulate the sound to make it appealing to your ears.
Moreover, this Video Converter Ultimate won't require you to be an expert for it has no learning curve and all its funcitons are explicit.. This means that even if it is your first time using it, it will still be so light for you to use due to its easy-to-master interface. You can use it to convert Blu-ray movies, regular media files, upscale video resolution, remove noise, and do many other things.Thus, to have a sneak peek at how to use it, here are the detailed steps.
Key Features
• Advanced AI and acceleration technologies to help you with your file editing and conversion.
• Tons of advanced editing tools for your video and audio.
• Support for more than 500 various video and audio formats.
• It lets you preview your audio while removing the squealing noise coming from the audio file.
Step 1
Launch this newly installed software on your computer, and select Noise Remover among the tools from the Toolbox menu. Then, hit the Plus icon on the new window and add the audio you need to fix.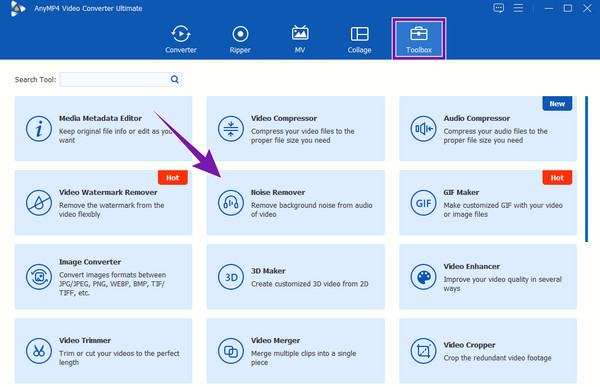 Step 2
After uploading the audio, go to the Enable audio noise reduction box and make sure to put a check on it. Also, you can adjust the Volume and Delay sliders if needed. Then, it would be best to always listen to your output by playing the Preview.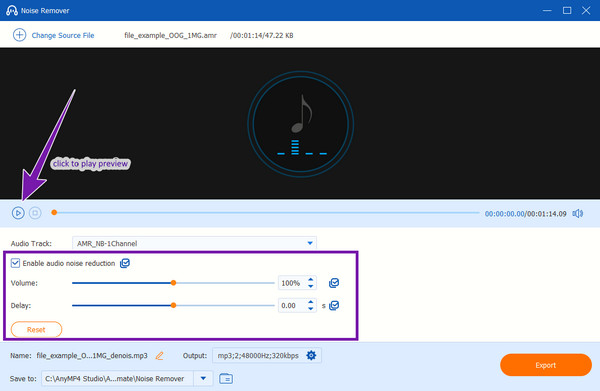 Step 3
Quickly, you may select your file destination when you click the Arrow drop-down button of the Save To option and hit the Browse and Select Folder buttons. After that, click the Export tab to save your edited audio.

2. Audacity
Audacity is always one of the choices for editing audio and a remover of audi-making squealing noise. It is a versatile software offering a free, open-source solution for recording audio and enhancing audio recordings. It has an extensive feature set that caters to both novices and experts in audio editing. It allows them to record, cut, copy, paste, and apply various audio filters and effects to their audio files. Moreover, it enables users to manipulate complex audio arrangements and compositions, supporting multi-track editing. What else? This software offers in-depth spectrogram views for both video and audio analysis. However, as it supports various formats, this support range is limited to the output.
Step 1
Open the software, and upload your audio file by clicking the File tab.
Step 2
Once the file is in, click the Analyze tab, and choose the Plot Spectrum option. Then, on the new window showing a graph, look for the parts with spikes. Then, move your cursor to those spikes, and see the amount of hertz on the Peak section. Then, hit the Close button.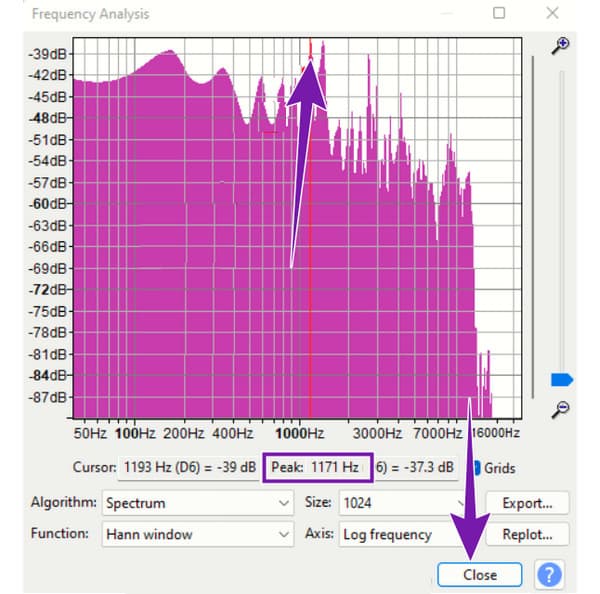 Step 3
Now click the Effect>EQ and Filters> Notch Filter buttons. Then, enter the amount of the Peak in the Frequency (Hz) section. After that, hit the Apply button.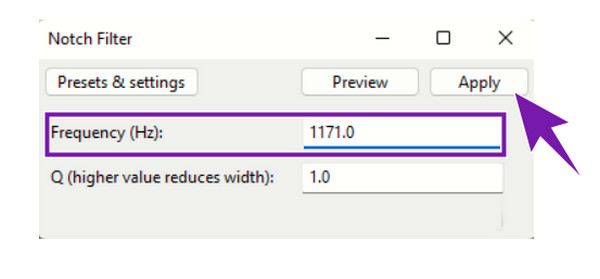 Part 3. FAQs About the Sound with High-Pitch Noise
Are high-pitched noises bad?
Not all. There also have benefits, like when used for alarms and warning communications.
Can a high-pitched voice in recorded audio be fixed?
Yes, the high-pitched voice in recorded audio can be fixed using a capable software program.
Why do I always hear a high-pitched noise when it's quiet?
Maybe you acquired a common condition called tinnitus. It is a perception of sound that you can get when you get exposed to noise for a long time.
Why is my mic making a high-pitched sound?
There are many reasons why your mic creates a high-pitched sound. But the common reason is due to electromagnetic interference.
How do I fix my mic's loudness?
The best way to fix the loudness of the mic is to lower its volume.
Conclusion
There you have it, the step-by-step procedures to fix the high-pitch sound. If you find this article beneficial, sharing the solutions with your friends is best. Both solutions are good, but if you are only a beginner, we recommend using the Video Converter Ultimate.