Reviewing MOD to DVD Converters: Here are the Top Picks
MOD videos are the standard format used by the JVC and Panasonic camera recorders. Sadly, since this format is not mainstream like the MP4, they are not playable in some video software like the Windows Media Player.
On the brighter side, you may desire to share your recorded memories in high school with your friends and create a copy for them. To amend this, looking for a MOD to DVD converter is your action to take. So, we have reviewed the programs that can do wonders, and here is our takeaway.

Part 1. Top 5 MOD to DVD Converters for Desktop
1. AnyMP4 DVD Creator
AnyMP4 DVD Creator is a top-grade MOD to DVD converter and also supports various video formats. One more thing, this desktop tool is known for is its fast burning speed due to the GPU acceleration. Lastly, it offers you unquantifiable templates for customizing your DVD menu.
As for the distinct feature, AnyMP4 DVD Creator has Power Tools. From here, you can edit, enhance the audio quality, add a subtitle for your video before burning them. Additionally, you can split, merge, and set a thumbnail for your DVD file in the same feature.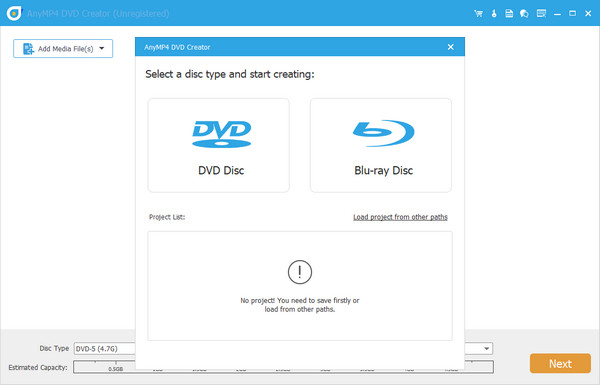 Pros:
1. Compatible in Mac and Windows OS
2. Contains Power Tools for chapter menu and video editing
3. Fast burning speed
4. It contains tons of templates
5. User-friendly interface
Cons:
The free trial has limited features
2. iDealshare VideoGo
Like AnyMP4 DVD Creator, iDealshare VideoGo is also a converter with a built-in video editor. Speaking of video editors, this tool stands out because you can de-shake and denoise your MOD file before authoring it. It supports 80 popular input video formats and 35 output formats. One more thing, this desktop tool is compatible not only with Windows but also with Mac platforms.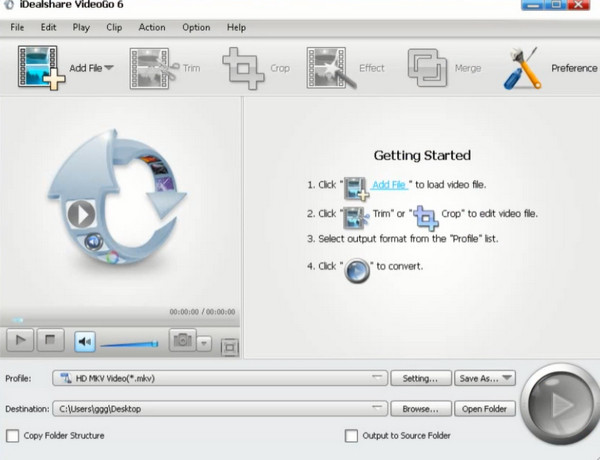 Pros:
1. It contains a comprehensive built-in video editor
2. Supports multiple file conversion
Cons:
5 minutes video length is only supported in the free trial
3. Movavi Video Converter
One of the perks of having Movavi is your satisfying experience with its modern-looking interface. This MOD to DVD converter is a paid software with a 7-day free trial. Besides that, you can use this program without annoying ads popping up on your screen. What is more, you can convert your files up to 4k resolution, ensuring a lossless quality when watching on your device or portable players. When it comes to video editing activity, Movavi offers a separate program for that.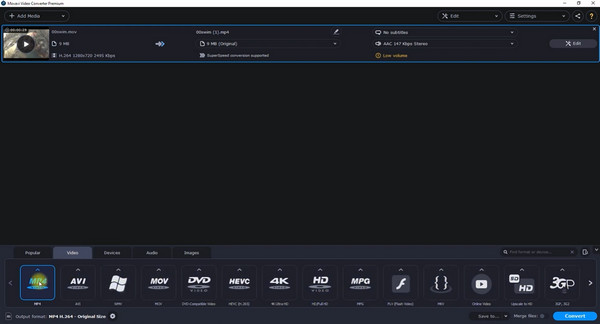 Pros:
1. Excellent user-interface
2. No ads showing up
3. Compatible for Windows and Mac platforms
Cons:
The software is a bit expensive
4. FFmpeg
FFmpeg is not like the other MOD to DVD converters that use a graphical user interface. To give a little background, this is a command-line program that is primarily designed to trim, extract, convert video and audio files. Although FFmpeg looks intimidating to use, it is one hundred percent safe and free.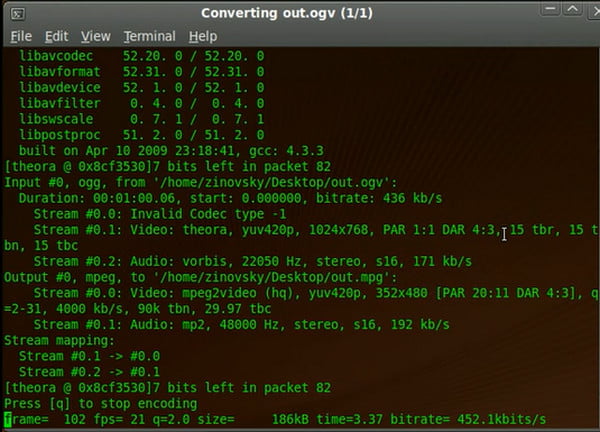 Pros:
1. Cross-platform program
2. Free of charge
Cons:
5. Handbrake
Another cross-platform program you can rely on is the Handbrake. This is a free tool that supports nearly all the popular formats, including MOD videos, for it to become supported on your device. As a side note, Handbrake cannot be used anymore for ripping video files to protect intellectual property.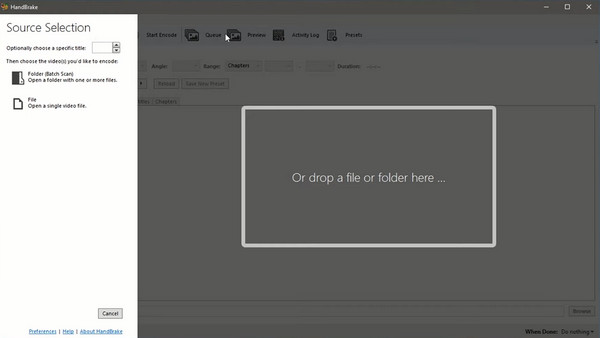 Pros:
1. Use minimal storage on your device
2. Entirely free of charge
3. Allows you to compress your file size
Cons:
Video merging is not supported in its video editor
Bonus: How to Burn MOD to DVD
Now that you learned the best MOD to DVD converters, we will move on to DVD burning using AnyMP4 DVD Creator. Refer to the steps below, and you will surely achieve it very successfully.
Before proceeding to DVD burning, ensure that you transfer your MOD files from your camera recorder to the computer.
Step 1
Install the MOD to DVD Burner
Install AnyMP4 DVD Creator by clicking the Free Download buttons below. Choose which button matches your operating system. After that, run the program and follow the setup wizard.
Step 2
Import the MOD Video File
By the time the program launches, choose DVD Disc instead of Blu-ray. Next, select the Add Media Files and import the MOD videos you transferred from your camera recorder. Along the bottom of the interface, choose your Disc Type (DVD 5= 4.7GB or DVD 9=8.5 GB), the Aspect Ratio, (16:9 or 4:3), and the Video Quality (from Low to High).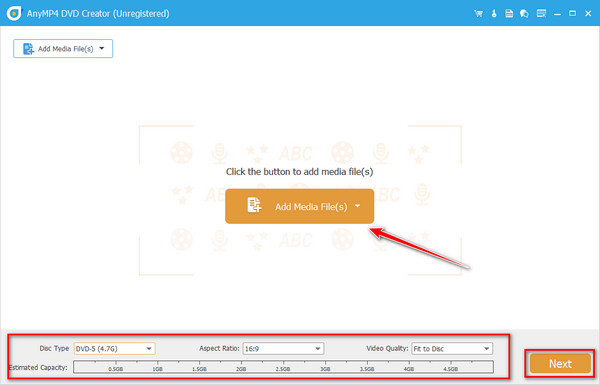 Step 3
Edit Video (Optional)
After that, you can enhance your MOD videos by hitting the Power Tools. Check on the Video Tools to edit your videos, enhance the audio, add subtitles, or cut clips. On the other hand, you can merge, split, cancel, set a thumbnail for your chapter menu on the Chapter Tools.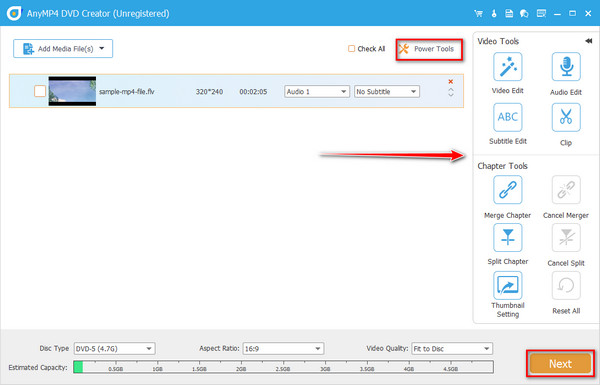 Step 4
Customize DVD Menu (Optional)
Of course, those recorded scenes on your camera may pose a sentimental value, and creating a DVD menu will make it more unique. If then, on the left part of the interface, there are a plethora of templates that you can use. On the other hand, you can upload your personal photo and audio track and treat them as your background. When done, hit the Burn button.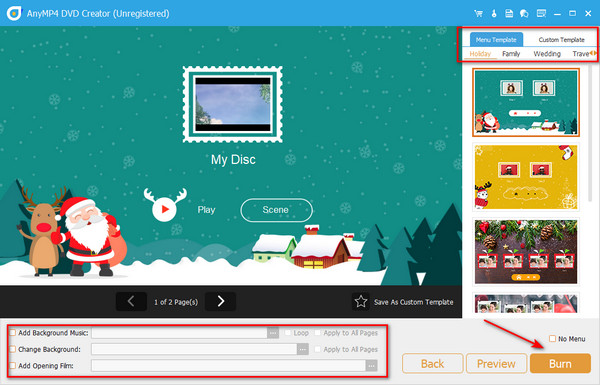 Step 5
Start DVD Burning
For the last part, tick the Burn to Disc button and start to mount your physical disc on your optical disc drive. Choose your TV Standard (PAL or NTSC) on the Burn Settings. When all is ready, hit Start and wait for the final output.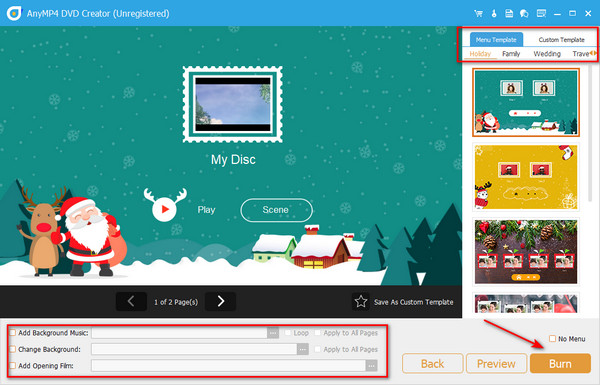 Extended Reading:
Solved – What Is the Best Free DVD Converter Software for Newbies
5 Great VR Video Converters that Converts Normal Video to VR
Part 2. FAQs on Converting MOD to DVD
How can I play MOD on my PC?
In many cases, you will not have a hard time playing MOD videos because of their compatibility. If you happen to have difficulty in playing them, try to install VLC Media Player.
Are MOD and MPEG the same?
No. MOD and MPEG are entirely different video formats. But you can consider that when a media player supports MPEG-2 files, MOD is surely playable.
Can I convert MOD to DVD using an online program?
Definitely, yes! If you want to convert your MOD videos online, you can try Zamzar. This offline program offers tons of preset video output, including DVD. However, Zamzar can only have a maximum of 50MB file per conversion and may not be able to process your large videos.
Conclusion
And that's it! Hopefully, you have been given the idea about what to do when looking for MOD to DVD converters and burners. Feel free to tag along with your loved ones and friends if this blog has been insightful to you.