A Walkthrough of Finest MP4 to DVD Converters for Windows and Mac
MP4 videos are the standard video format that you will ever see today. The very reason for this thing is because they have high compatibility with any media players on your device. However, there will be a scenario when you need to delete some of your most valuable MP4 videos to give way to the coming ones. Is it already over then?
Do not worry. Backing up your MP4 on a DVD is as vital as saving them on your flash or external drive. This is one of the great ways to store your files because it is permanent and incorruptible. Correspondingly, this guidepost is made to give you a review of the 4 MP4 to DVD Creator for Mac and Windows devices.

Part 1: 4 MP4 to DVD Converters
1. AnyMP4 DVD Creator
There is a powerful DVD burner that covers all your needs, known as AnyMP4 DVD Creator. This program backs up your image or video files to DVD, Blu-ray, and even ISO folder with a few simple clicks. When it comes to jaw-dropping features, AnyMP4 DVD Creator offers you tons of templates for DVD menu customization and even essential video editing tools. As a matter of fact, this MP4 to DVD burner is best known for integrating GPU acceleration, making the burning speed process 50x faster.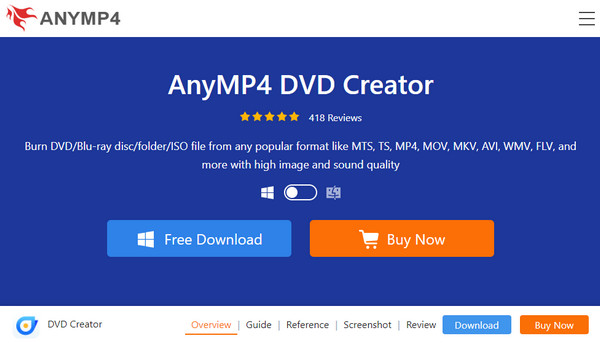 Pros:
1. This is an MP4 to DVD Creator for Mac and Windows.
2. It provides video editing tools like cropping, adjusting the brightness, and adding watermark.
3. Contains hundreds of interactive DVD menu templates.
Cons:
Access to the full features of the tool requires an upgrade.
2. 1Click DVD Copy
Yet another option you can try later on is the 1Click DVD Copy. This is a Windows-supported DVD burner and appears in a circular shape interface. As a matter of fact, 1Click DVD Copy supports two popular TV standards: the NTSC and PAL. In that sense, it makes your video playback possible wherever you are. Above all its features, 1Click DVD Copy supports writing your files in a dual-layer DVD.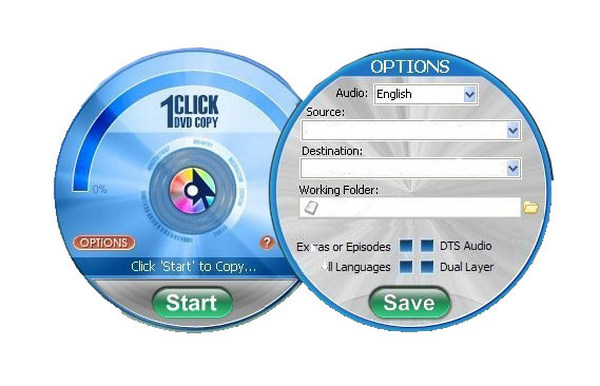 Pros:
1. It has an easy-to-use interface.
2. It provides technical support.
Cons:
1. It does not contain a video editor.
2. It does not support writing files on Blu-ray or ISO.
3. Freemake
One of the significant advantages of using Freemake is creating a photo slideshow out of it. This program is supported on Windows devices alone, and it can burn any video file. Besides that, this MP4 to DVD burner has more than 20 multi-language interfaces available. Not only that, it supports all types of optical discs such as the DVD+R, DVD-R, and Dual Layer DVD. Lastly, you can save any of your files in an ISO folder and write them later.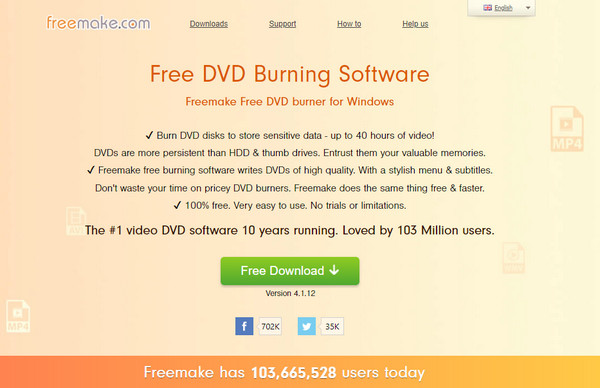 Pros:
1. It contains DVD menu templates.
2. It supports many video formats aside from MP4.
3. This tool is a free MP4 to DVD creator.
Cons:
The burning process is slow compared to other programs.
4. Sothink DVD Maker
Sothink DVD Maker contains a drag and drop feature. This MP4 to DVD burner can hold video files up to the highest resolution of 1080P. Plus, this has an easy-to-use interface, which makes the navigation for beginners possible and lightweight.
However, you need to have an upgrade to the premium version of the program to avoid the intrusive ads and upsells that pop up on the free version.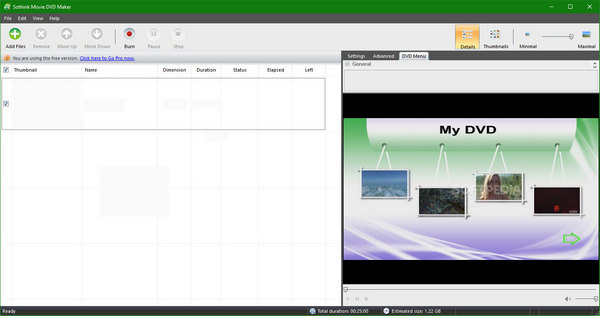 Pros:
1. It has a simple interface.
Cons:
1. Program not supported on Linux and Mac.
2. It contains advertisements on the free trial.
Part 2: Comparison Chart
Below is the comparison chart we have made for you.
| | AnyMP4 DVD Creator | 1Click DVD Copy | Freemake | Sothink DVD Maker |
| --- | --- | --- | --- | --- |
| Platform | Windows/Mac | Windows | Windows | Windows |
| Interface | 5/5 | 4/5 | 4/5 | 5/5 |
| Burning Seed | 50x Faster | Great | Great | Great |
| Customs DVD Menu | √ | √ | × | √ |
| TV Standard | NTSC/PAL | NTSC/PAL | N/A | NTSC/PAL |
| Can write files on Blu-ray | √ | × | × | × |
| Supports ISO | √ | × | × | × |
Tips: How to Burn MP4 to DVD
You can follow the quick guide below to burn MP4 to DVD.
Step 1
Install AnyMP4 DVD Creator
Download the Free Download button and run the file to install on your device. When the program launches, hit the DVD Disc as your project.
Step 2
Load MP4 files to the burner
Tick the Add Media File(s) button and select the MP4 videos you want to burn. Alternatively, you can employ the drag and drop method. Also, insert your blank DVD on the optical drive to prepare for a later's process.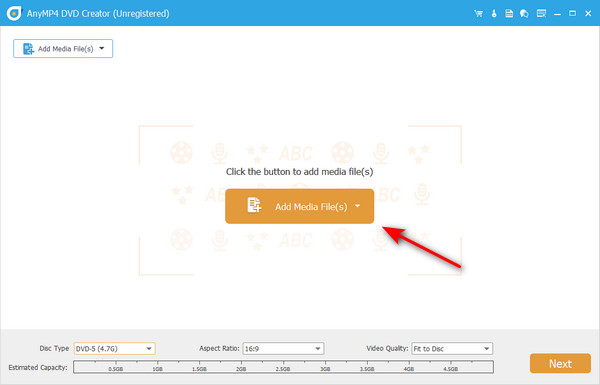 Step 3
Add Audio and Subtitle
With AnyMP4 DVD Creator, it is possible to incorporate an audio file or subtitle for your videos. To do this, expand the dropdown Audio and Subtitle tabs aligned to your file's thumbnail and upload your additional file. When done, you can hit the Next button.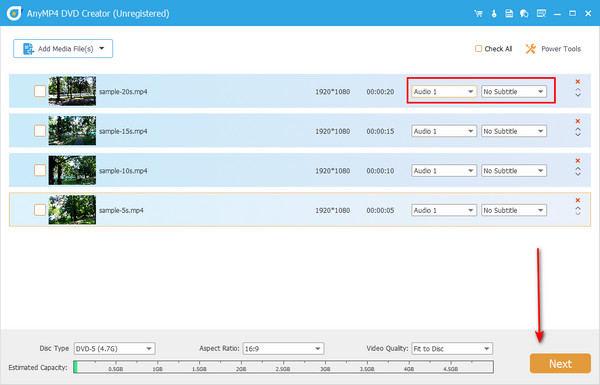 Step 4
Customize the DVD menu (Optional)
Creating a DVD menu makes your video files more personal, stylish, and interactive. On the template panel, select one that matches your liking or theme. Then, you have complete control of placing the buttons, chapters, and titles. You might as well insert a piece of background music. Hit the Preview mode to find out some changes you need to make and when done, proceed to the Burn button.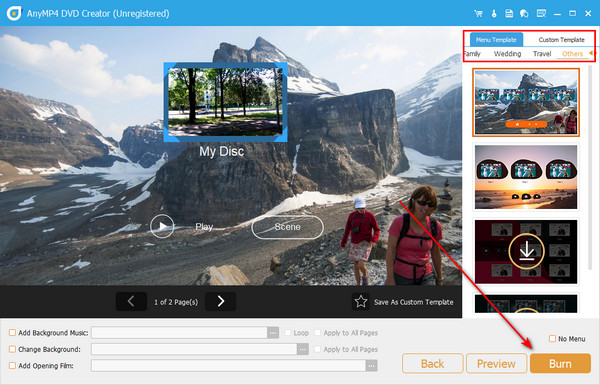 Step 5
Burn MP4 to DVD
And now, check the disc you inserted earlier if the program read it. Then, set some parameters like the Burn Engine, Volume Label, and the TV Standard for compatibility. Finally, hit the Start button and wait for the output.
Further Reading:
How to Rip DVD to MP4 with 14 Free Methods on Windows and Mac
Extract Audio from MP4 - Convert MP4 Video to Audio 2023
Part 3: FAQs about MP4 to DVD Burning
What is the difference between DVD burning and DVD ripping?
While both of these activities are related to DVDs, their purpose is very different. When we say DVD burning, you save a digital file to the physical disc. Meanwhile, DVD ripping takes the saved file from the DVD itself to a laptop or computer.
Is there a built-in MP4 to DVD burner on Mac?
Before, Mac devices had a built-in app called iDVD. However, since laptops nowadays are becoming more advanced and durable, optical drives are no longer added. Unfortunately, iDVD is no longer available in the iLife bundle.
Can I burn MP4 to DVD using a web-based program?
You may convert your MP4 files to a DV format but you cannot use an online program to write your files on a physical disc.
Conclusion
Now comes to the final verdict. With all of the given programs, we believe that AnyMP4 DVD Creator is the top choice because it is an MP4 to DVD creator for Mac and Windows. Anyhow, you can still try the others and decide which one matches your needs.