Excellent Ripping Procedure to Transcode Avatar 2 Blu-ray
Have you already watched the first Avatar? Then we know how great it is. But if you are not aware yet, Avatar 2 is already on various streaming platforms. So, if you want to know about the film, you can visit this post first. We will give you all the information about Avatar: The Way of Water. Additionally, we'll show you easier instructions to rip the Avatar 2 Blu-ray on your computer.

Part 1. What is Avatar 2 Blu-ray
Avatar: The Way of Water is another name for The Avatar 2. It was included in Blu-ray, which is among the best movies it has. Jake and Neytirias, the major characters in the first movie, take the stage in this one. As parents, they begin on a brand-new journey. The movie has been in development for a while. Plans for a sequel were disclosed in 2010 after the first movie's phenomenal 2009 box office performance. But production hiccups stopped the actual release from happening.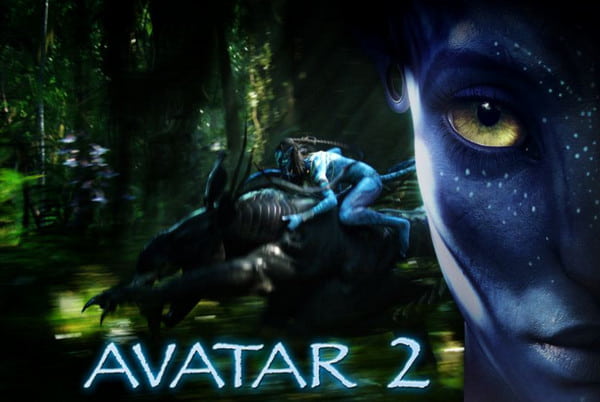 Fans can now visit Pandora again over 13 years later. More sequels to Avatar 2 are already in the works, and Avatar 3 will be shot with Avatar 2. The expected debut date is December 20, 2024. Early box office results for Avatar: The Way of Water were encouraging. It has a worldwide total of $435 million over the opening weekend. It ranks as 2022's fourth-largest opening weekend. Here is all the information you need to know about Avatar: The Way of Water, from the actors to the director.
Part 2. Avatar 2 Blu-ray Review
In this part, we will provide a detailed review of Avatar 2. We will provide its plot, video and audio quality, and more. With that, you can discover more things related to the film. So, to begin the discovery, you can check the information below.
Plot of Avatar 2
After 16 years, Jake was the Omatikaya clan's chief. Together with Neytiri, he raises a family. They are parents of Neteyam, Lo'ak, Tuk, and Kiri, an adoptive daughter. Spider, the late Colonel Miles Quaritch's human son from Pandora. He was raised by the scientists who stayed in Pandora and got to see their kids. Frances Ardmore, the RDA's new head, returns to settle Pandora, much to the chagrin of the Na'vi. Recombinants are among the newcomers. Embedded in Na'vi avatars are the memories of fallen human troops.
Jake spearheads a guerilla battle against the RDA a year later. Quaritch and his men kidnap Jake's kids while on a counterinsurgency campaign. They are set free when Jake and Neytiri arrive. They are killing many soldiers of Quaritch. Quaritch, who knows Spider to be his son, still manages to capture him. Quaritch resolves to spend time with his son to win him over. It is when the RDA is unsuccessful in getting information from Spider. Spider instructs Quaritch in Na'vi culture and language in return.
Later, Kiri connects to the underwater Spirit Tree of the Metkayina and runs into her mother, Grace. But Pandora is where her consciousness is located. Kiri had a seizure and drowned while under the link's inducing trance. Jake asks Max Patel and Norm Spellman for help using their medical supplies. Kiri was then given an epilepsy diagnosis. They informed them that she was not to re-connect to the Spirit Tree since doing so might result in her death. Quaritch follows Norm and Max's plane to the Metkayina's home islands. Quaritch joins forces with the RDA's marine operations, bringing Spider. It is commanded by a whaling ship under the direction of Captain Mick Scoresby. To get the Amrita anti-aging serum, they hunt Tulkuns.
After Neteyam's funeral, Jake tells Tonowari of his decision to leave the Metkayina. Then, the chief identifies Jake as part of the group and welcomes him and his family to remain. Jake and his family accept and live their new life at sea. It is before vowing to continue their campaign against the RDA.
Avatar 2 Blu-ray High Frame Rates
Frame rates determine how they differ from one another. Most movies are made with a 24 frames per second frame rate. But Cameron quadrupled it for certain scenes in "Avatar 2," filming at 48 frames per second. Not all theaters can show movies at 48fps because it is still a specialized technology. Some will continue to display it at the regular 24 frames per second, which will cause some of the depth to be lost. The action and underwater scenes in "Avatar 2" were shot at 48 frames per second, among other frame rates. Then, for simpler situations, more conventional 24 fps.
Avatar 2 Blu-ray Video Quality
When watching Avatar: The Way of Water, you can watch it in various video quality. It is available on 480p, 720p, 1080p HD English, and 4K UHD.
Genre
Sci-fi, Action, Fantasy, Adventure
Original Language
English
Part 3. Avatar 2 Blu-ray Release Date
The international premiere of Avatar: The Way of Water took place on December 6, 2022. On December 14, 2022, the movie started showing in several countries' theaters. On December 16, Walt Disney Studios Motion Pictures distributed it under the 20th Century Studios banner in the United States. The movie is the first in the franchise to be distributed by Disney due to its 2019 acquisition of 20th Century Studios and the Avatar licensing rights.
Part 4. How to Rip Avatar 2 Blu-ray
If you have an Avatar 2 4K Blu-ray and want to rip it on your computer, use Blu-ray Master Free Blu-ray Ripper. It is a computer program that can be used offline. Additionally, the download and installation times are quick. You won't have any issues getting the software with that. It provides a hassle-free technique for the ripping procedure. Its user interface is easy; ripping the Avatar 2 Blu-ray requires a few clicks. Because of this, even non-technical individuals can use the program. You can also use other features while ripping the Avatar 2 Blu-ray. The program provides excellent editing options to assist you in enhancing the video. If you like, you can make use of different editing tools. By adding watermarks like text and photos, its cropping feature turns the video into a 3D object. You can also change the video's brightness, saturation, hue, and contrast. You can rip your Blu-ray to various output formats. The Free Blu-ray Ripper supports other video formats, including MP4, MOV, AVI, MKV, WMV, and FLV. See the methods below and begin ripping the Avatar 2 Blu-ray.
Before following the instructions, ensure the Avatar 2 Blu-ray is inserted into your device.
Step 1
Download and install Blu-ray Master Free Blu-ray Ripper. Then, launch it and start the procedure.
Step 2
Click the Load Disc option to view the computer folder. Then, select and click the Avatar 2 Blu-ray you want to rip.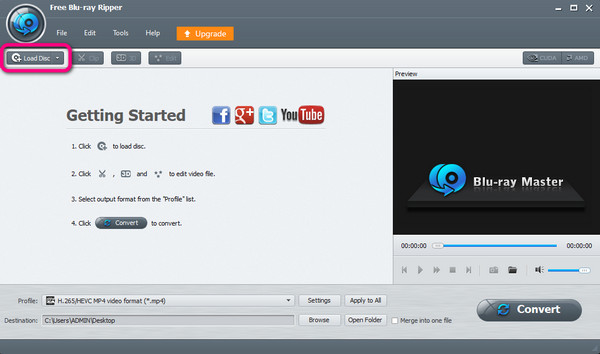 Step 3
After you load the Avatar 2 Blu-ray, go to the Profile section. Then, choose the General Video option and select the video format you want for the Blu-ray.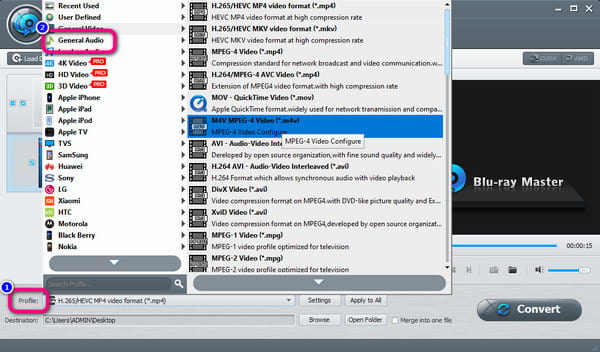 Step 4
To rip the Avatar 2 Blu-ray, click the Convert option on the lower right part of the main interface. After that, you're done!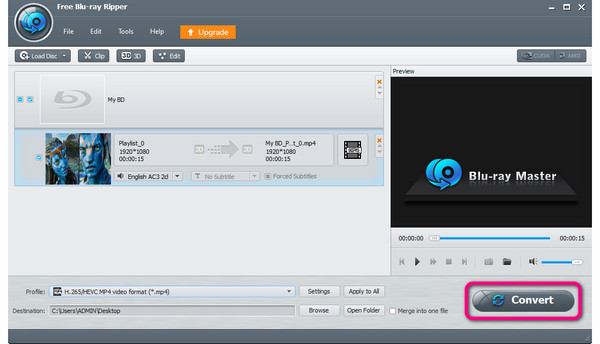 Further Reading
How to Rip 15 Minutes Blu-ray: The Best Review and Method
Aftersun Blu-ray: Digitize the Movie to Other Video Formats
Part 5. FAQs about Ripping Avatar 2 Blu-ray
1. Why has Avatar 2 done so well?
It is because its first movie is an excellent masterpiece. Producers, cinematographers, writers, directors, and more must create another excellent film, Avatar 2. With that, the audience won't feel disappointed watching Avatar: The Way of Water.
2. Is Avatar 2 available on Disney Plus?
Definitely, yes. Avatar: The Way of Water is available on Disney Plus. So, if you already subscribed to the platform, you can watch it.
3. How was Kiri born in Avatar?
Dr. Grace Augustine gave birth to Kiri. But Kiri was adopted by Neytiri and Jake Sully. It is a painful scenario since Dr. Grace is dying at that time when giving birth to Kiri.
4. Why is Avatar 2 delayed?
It is because filming the projects is too slow. Also, there were some situations when shooting days were set, but it was delayed many times. With that, Avatar 2 takes so much time to be released.
5. What is the fastest movie ever made?
The fastest film that was made was Vishwaguru. It is produced in just 2 days, 3 hours and 2 minutes. Vijeesh Mani, AVA Production Anoop, and Aniswara Charitable Trust achieved it. It happened in India from December 27-30, 2017.
Conclusion
The Avatar 2 Blu-ray is good, especially if you want to include it in your collections. However, as we observed, some devices no longer accept Blu-ray discs in a computer. So, if you don't want to experience any trouble in the future, you must also get a digital copy of your Blu-ray movie. Then, the best solution is to rip the Blu-ray using Blu-ray Master Free Blu-ray Ripper. The program has the capability to turn your Avatar 2 Blu-ray to digital with various formats.