Windows Media Player for Windows 10? Here is the Detailed Information And Best Alternatives
When you are using Windows 10, you might not able to find Windows Media Player as the default and pre-installed media player. Instead, you should download Windows Media Player 12 for Windows 10. If you are missing the Windows utility, you should read the ultimate guide about the program before making a decision.
What should be special for the latest version of WMP? Is there any alternative for the Windows Media Player on Windows 10? If you have encountered a problem when playing a file format, you can also learn more about the solutions from the article.

Part 1: Brief Review of Windows Media Player 12
Windows Media Player 12 is a great Windows utility to watch movies and play music with a high quality. Whether you update Windows Media Player 12 on Windows 7 or download the program on Window, you can enjoy the changes made to the latest version.
But you might still get many problems for the Windows Media Player 12 downloaded. If you want to get a superb audio-visual experience, you should pay attentions to the drawbacks as below.
Pros
1. The built-in media player support more media types, including 3GP, AAC, AVCHD, MPEG-4, Flip videos and unprotected songs from iTunes library. As for the case, you do not have to install extra codec for the Windows Media Player on Windows 10.
2. With the "Play to" feature, you can stream and sync digital media file to a portable device, or another Windows PC running Windows 7 on your home network without transferring.
3. There are more other new features, such as shop online for the digital media content, Now Playing mode, smarter DVD playback, 15-second song previews and fast access to favorite media.
Cons
1. Cannot stream video properly over a slow DSL connection to other devices.
2. Less flexibility in choosing the sound and video quality and formats.
3. Difficult to read video in small type and see small artwork details with ease.
4. Do not support many popular video and audio formats, and you need to download (MKV, MOV, etc.) codec for playback.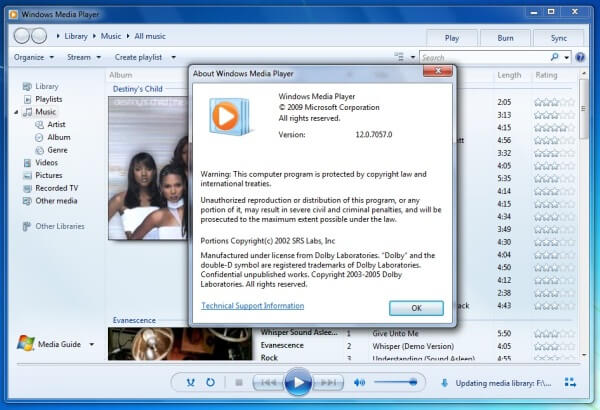 Part 2: Top 3 Windows Media Player Alternatives
Is there an alternative solution for Windows Media Player? In order to enjoy the videos within Windows 10, what should be the best media player? Here are 3 frequently used media players you can take into consideration.
Top 1: Free Blu-Ray Player
Free Blu-Ray Player is a versatile media player to watch common videos, Blu-Ray movies and DVDs. It enables you to enjoy the videos to keep 100% image quality with excellent video effect. As a Windows Media Player alternative, it has an intuitive interface to enjoy the videos in different playback modes.
1. Capable to play most of video formats, including MKV, MP4, AVI, TS, etc.
2. Watch Blu-Ray discs/folders/ISO files, DVDs, 3D and HQ videos with ease.
3. Multiple screen modes with full, half, normal, double to enjoy the movies.
4. Capture the favorite snapshot while you watch the video files.
Step 1
Once you download and install Free Blu-Ray Player, you can launch the program and select the "Open File…" option to load the video files. If you want to play DVD or Blu-Ray disc, you have to use DVD drive or virtual DVD drive, such as DAEMON tools on your computer.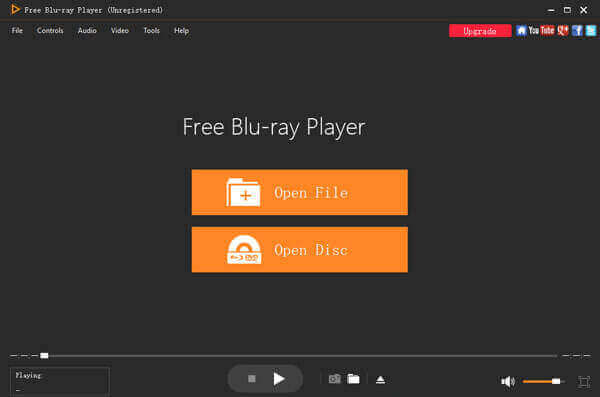 Step 2
After you load the videos into the program, the Windows Media Player alternative will start to play the files automatically. You can adjust the playback mode and other tools to enjoy the videos, or capture the favorite video image through the "Snapshot" function.
Step 3
Adjust the audio track, channel and device by opening the "Audio" drop-down button, then adjust the video track and screen size by opening the "Video" drop-down button to a better audiovisual effect. Just in one word, you can enjoy all the media files within the program in a desired mode.
Top 2: VLC Media Player
VLC Media Player is a popular Windows Media Player for Mac, Windows, Android and iOS devices. Except for the Blu-Ray movies and some of the DVDs, it can play almost any media file format without quality loss. Moreover, it also processes audio file along with extended support to podcasts and Internet radio.
1. A play-list function allows for multiple films to play one after the other.
2. Optimize video and audio playback for the chosen device.
3. Provide some excellent tools to tweak video and audio playback with ease.
4. Extended plugins that enable integration with streaming services.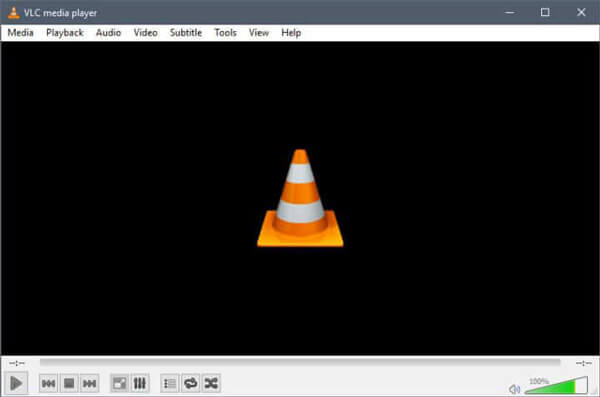 Top 3: KMPlayer
KMPlayer is featured for its ability to play all essential media file formats. As a Windows Media Player alternative, it has packed with all sorts of options and settings to explore all the features of the media player. Even if you are not satisfied with the user interface, you can customize the KMPlayer with ease.
1. Extensive screen control menu to modify the screen ratios in methods.
2. Support both 3D and Virtual-Reality playback in different settings.
3. Playback settings for audio sync, repeating section, skipping section, etc.
4. Provide a wide range of filters and different menus for playing videos.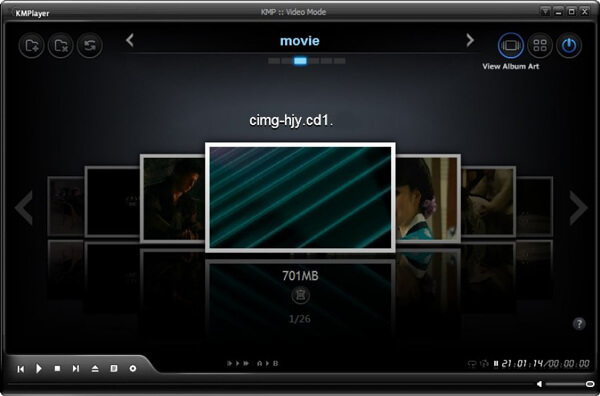 Part 3: Windows Media Player Encountered a Problem While Playing the File? Here are the Solutions
When you use Windows Media Player on Windows 10, you might get an error message "Windows Media Player encountered a problem while playing the file." If there are some special codecs and protections for the media file, you should get the error message as above, here are the solutions you should know.

Solution 1: Disable the Audio and Video Protection
Step 1
Go to "Control Panel" on Windows 10, select "Troubleshooting" > "Programs" > "Windows Media Player" settings. Choose the "Reset Windows Media Player to default settings" to reset Windows Media Player on Windows 10 first.
Step 2
Back to "Control Panel" and choose "Sound" > "Speaker and Properties" > "Enhancement Tab" > "Disable all enhancements shown" to disable all the enhancements in Sound Option.
Step 3
After that you need to create Registry value as below.
HKEY_LOCAL_MACHINE\SOFTWARE\Microsoft\Windows\CurrentVersion\Audio
Step 4
Make a new registry entry as below before a reboot.
DisableProtectedAudioDG Type: RED_WORD Value: 0
Solution 2: Install 3rd Party Codecs on the System
Just install a 3rd party codec on the system to check whether the issue persists should be another solution. If you want to playback any video or audio from a new device, you can search for the codec for the device to get a satisfied result. Once you install the codec on Windows Media Player, you should reboot the program.
Solution 3: Choose the WMP alternative
In order to playback the protected audio files, DVDs and Blu-Ray discs with protection, choose a Windows Media Player alternative should be a simple and effective solution. Free Blu-Ray Player and other free media players recommended that you can download to enjoy the videos and audios with high quality.
Part 4: FAQs of Windows Media Player Alternatives for Windows
1. How to fix Windows Media Player not responding?
When you face the issue that Windows Media Player not working, you can reboot your system first. It can fix almost problems related to Windows application. If that doesn't work, turn off and on Windows Media Player feature. Or rebuild its Library Database. If your Windows Media Player is still not responding, try Windows Media Player alternatives. You can free download Blu-ray Master Free Blu-ray Player to your Windows. This player is completely safe and clean, you can feel free to have a try.
2. Can Windows Media Player rip DVD?
No, it is not possible to rip DVDs using Windows Media Player. The reason for this is that there is copy protection present on most commercial DVDs. You need to use a free DVD ripper to rip your DVDs.
3. Can I delete Windows Media Player?
However, unlike other programs you can reinstall, you don't actually need to delete Windows Media Player. Just disable Windows Media Player within the Windows Features utility to remove it, or enable it to add it back to your computer.
4. Why Windows Media Player can't play the MOV file?
Windows Media Player cannot play the MOV file because the required video codec is not installed on your computer. Or your MOV file damaged and lost some certain parts for playback. Probably, Windows Media Player is not completely installed or the software source is corrupted. You can turn to other free MOV file players to play your MOV file.
Conclusion
When you want to enjoy videos, DVDs and Blu-Ray discs on Windows 10, you might take Windows Media Player as the first choice. The media player might not work with the DVD or Blu-Ray discs, because of the special codec, or even a problem while playing the file. Just check out the best Windows Media Player alternatives from the article to choose a desired one with ease.