8 Top Picks Volume Boosters - Intensify Volume Above Maximum [Windows, Mac, iPhone, & Android]
A movie with a low volume level will not appeal to an audience, much less a music video with a fuzzy sound. Volume is one of the vital parts of our entertainment, and as much as possible, we want the best audio experience when listening to our most-loved soundtracks and watching our favorite movies. There are a lot of volume boosters on the web nowadays. If you're not sure where to begin your search, here's a list of the best volume boosters for Windows, Mac, iPhone, and Android to get you started.
Part 1. 3 High Profile Volume Boosters for Windows 10/11 and Mac
1. Video Converter Ultimate
You should consider Video Converter Ultimate if you want a great sound with the least amount of effort. It is a one-stop-shop that performs admirably and better than the majority of its competitors. This is a powerful video editor that allows you to boost the volume of your media file up to 200 percentage maximum without quality loss. It means you can still have a high-quality media file right after converting it. You can customize video files, as well as audio tracks, right away in just a few clicks. Using this audio booster will help you enhance the video and audio sound quality and help you more to seize your audio listening experience.
Key Features:
1. Modify your media files using its volume booster, video trimmer, video reverser, video rotator, video speed controller, and video merger.
2. Create animated GIF, play video and compress your video.
3. Play the converted files in a variety of operating systems
2. Loudness Equalization
Loudness Equalization is a feature that comes pre-installed with Windows. Its focus is to maximize the volume of Windows so that it exceeds the predefined volume limit of the operating system. The volume boost increases the audibility of voices and sounds otherwise difficult to hear. This feature not only increases the volume of the sound but also maintains the ear-shattering sounds so that you don't end up damaging your ears in the process. The only downside of this built-in volume booster, it has only limited buttons to modify your media file. Its purpose is just to regulate the volume of your audio. Try this volume booster on Windows 10 now.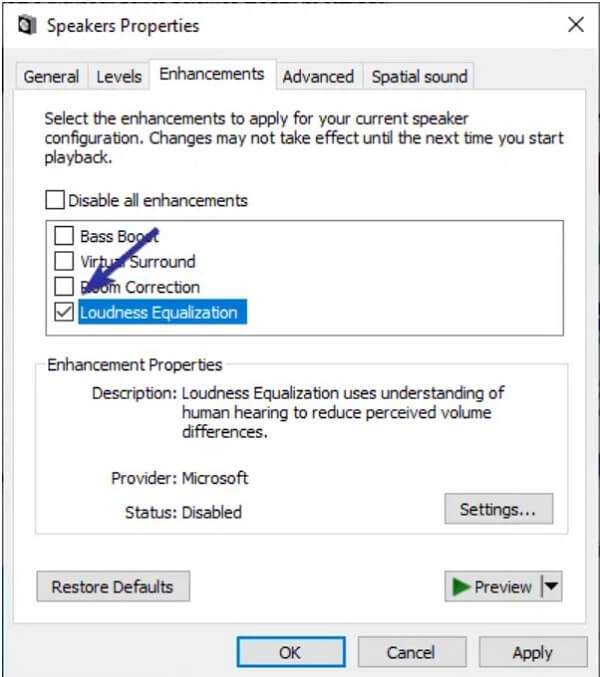 3. Ear Trumpet
In contrast to other volume boosters, this application is not commonly used as a stand-alone product. The Windows 10 audio mixer, which already exists, has been supplemented by this new feature. It is effortless to utilize since it only adds alternative opportunities to the sound mixer you are already using. The app will enable you to switch between different playback devices with a single click. You will also control the volume of each application that you have open on your computer. The Microsoft Store offers a free download of this volume booster.
Part 2. 3 Top of the Range Volume Booster Apps [iPhone & Android]
Choose your best picks as we introduce to you the top profile volume boosters on Android and iPhone.
1. Super Loud Volume Booster
Super Loud Volume Booster is unquestionably loud, making your listening experience fun. Like any other volume booster apps for Android, this app allows you to enhance the volume of your soundtrack on an individual basis while also tweaking the volume of different parts of your smartphone. With a nicely crafted UI and specialized buttons to modify the boost levels, this is a beautiful app to have on your phone. Aside from that, there isn't much to the app; it does what it intends and doesn't offer many options to get lost in. It is simple and straightforward.
2. Volume Booster Pro
This volume booster app has an excellently designed user interface and provides a wide range of features without sacrificing the quality of the sound. What's more impressive about this app, it doesn't just serve as a volume booster, but it allows users to calibrate all the sound channels on their smartphone, such as the alarm, voice, and music. Despite its great functionality, it lacks accessibility. It only allows a few audio and video formats to boost its volume.
3. Precise Volume
It is an iPhone volume booster app with a maximum of 100-step volume level. Shortcut keys appear once you connect in your headsets, an equalizer with sound amplification and bass booster, and customized volume levels for various apps. In addition to finer-grained sound, the app automatically adjusts volume when you need it the most. This app is free, but you can purchase the Pro version to enjoy the app's other great features.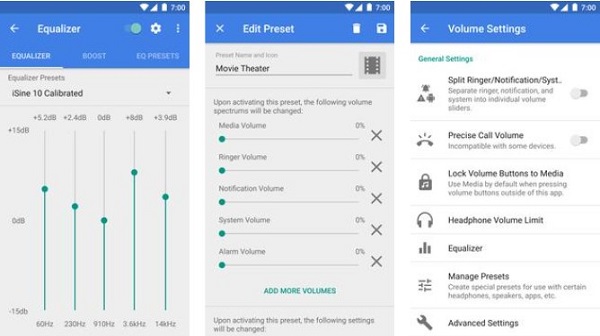 Part 3. 2 Commendable Volume Booster for Chrome
1. Volume Master
If you want to boost volume on your browser, this volume booster on Chrome can assist you. You might want to increase the audio from a separate browser window, internet site, or webpage from moment to time. There is no need to use the Loudness Equalization, which increases the system's overall volume in those circumstances. To increase the volume of chrome tabs, you can use a free chrome extension. Even though the extension allows for a volume boost of up to 600 percent, I suggest you do not increase the volume above 200 percent because doing so may cause severe effects on your ears.
2. Ultimate Volume Booster
Ultimate Volume Booster is the most uncomplicated and dependable free volume booster on Chrome. Feel the sound at the new level depending on how loud your music you want to be. Users love this app's intuitive and straightforward design that will make volume-boosting convenient. It offers up to 600 percent of sound level. You can smoothly increase the volume using the slider and switch to any tab that plays audio with one click. That is all there is to it.
Part 4. Bonus Tip on How to Make the Volume Louder
Video Converter Ultimate is one of the top video editing programs that aspiring and inspiring editors utilize. More so, it is also considered a trusted volume booster on pc. To give you a bonus on making the volume of your media file louder, follow the easy steps below.
Step 1
Visit the official website
Before we begin, download the Video Converter Ultimate by pulling off a browser. Visit the website and start installing the tool on your desktop. If you want a quick tool installation, you can hit the download buttons available above. Upon launching the program, go to Toolbox > Volume Booster.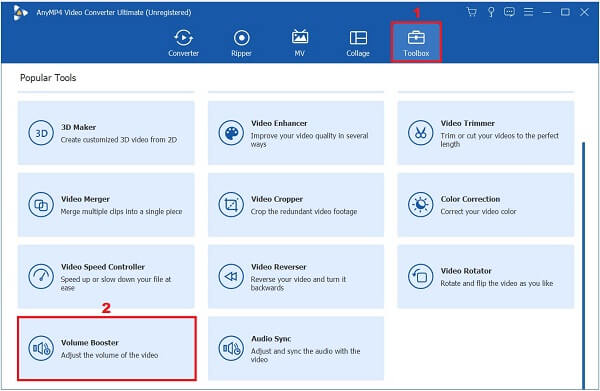 Step 2
Import the video file
Hit the Plus (+) button to unload the desired media file upon clicking the Toolbox.
Note: You can drag and drop the file at the center of the interface for fast unloading.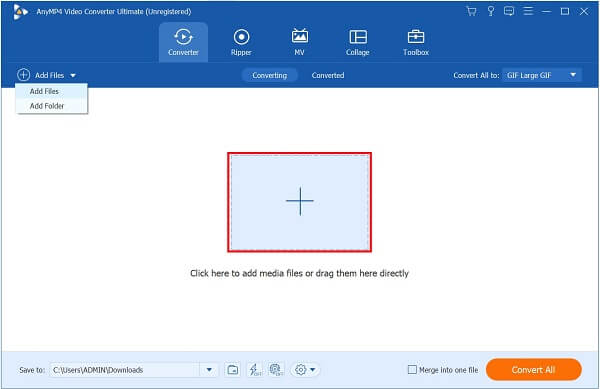 Step 3
Calibrate the volume
After you've unloaded the intended video clip, it's time to increase the volume of the file. Move the cursor over the Volume Booster Slider to the right. Take note that you can increase the volume by up to 200 percent.
Tip: If there are circumstances that you change the volume too loud, you can always hit the Reset button and start to regulate the volume again using the Volume Booster Slider or input the desired value on the Volume Booster Percentage dialog box.
Step 4
Rename the video
After that, rename the newly volume boosted video of yours by hitting the Pen icon on the left part of the user interface.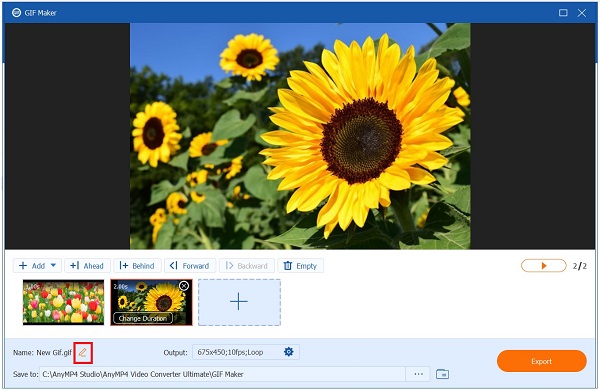 Step 5
Save the output
Next, find the folder destination of the video output by clicking the Folder icon on the bottom part of the interface. By doing this, you can easily locate the file folder destination of the video after exporting it.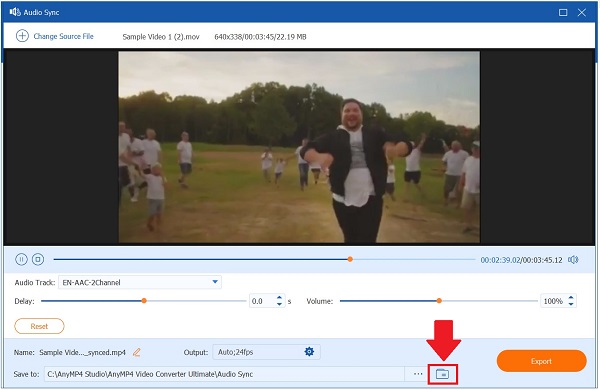 Step 6
Initiate the exporting process
Finally, to export the file, hit the Export button at the bottom right corner of the screen. Wait for the video to render.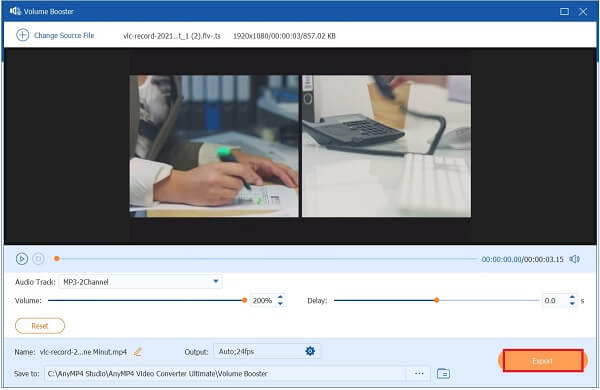 Extended Reading:
Free Music Player - Best 10 Music Players for Windows and Mac [2021]
10 Best FLAC Players for Windows, Mac, Android and iPhone
Part 5. FAQs about Volume Booster
1. Are volume boosters harmful?
Typically, using a volume booster for a brief period of time is acceptable, and it will cause no damage to your hardware. Therefore, if you want to amplify the volume of any alarm systems on your mobile phone, the finest volume booster apps for mobile phones will work just fine.
2. What will I do if my Mac is making a fizzing sound?
Apart from tweaking your sound settings, many of the most familiar ways to resolve the noise of your MacBook pro speakers involve rebooting your Mac, configuring the latest updates, restarting NVRAM, or relaunching your Mac in Safe Mode. As dependable as your MacBook is, audio issues are reasonably common.
3. Is there an app that can help you improve your sound quality?
Yes, I recommend Video Converter Ultimate. It has many distinctive features that will help you have the best music experience.
Conclusion
There you have it. We have provided you with the different kinds of volume boosters on Windows 10/11, Mac, Android, and iPhone. Your only task is to find the most compatible volume booster that will suit your needs, and you can let the party begin. Download Video Converter Ultimate now and be prepared to be amazed at its volume booster capability.