What Is Windows Media Player Codec Pack and How to Download It
"I want to play a video on my Windows 10 laptop; however, Windows Media Player told me it cannot play the file and it might not support the file type, how can I play the video?" Windows Media Player is the preinstalled media player and manager for PC users. It just includes some of the popular codecs, like WMV, WMA, and MP3. If something is not working in WMP, chances are that you might not have the right codec. Fortunately, Microsoft and some third-party developers offer media player codec packs for Windows Media Player.

Part 1: Why Windows Media Player Needs Extra Codec Pack?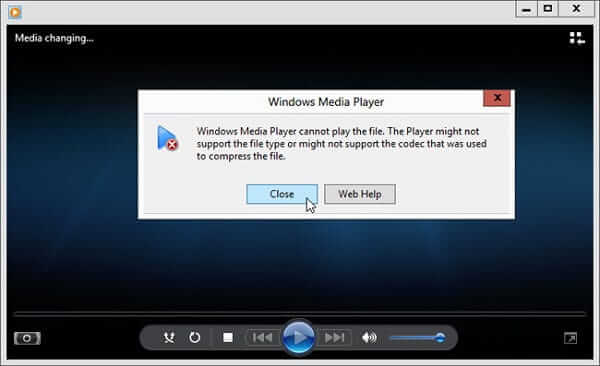 Windows Media Player codec is able to encode or decode multimedia files, such as music or movies. To properly play video and audio files, Windows Media Player required an appropriate codec pack, but it just contains limited codec natively. If a codec is missing or absent in the system, the multimedia file cannot be played and you will receive an error message. That is why your movie cannot be opened sometimes due to the absence of right codec. The only way to let your media player work is to download extra codec pack, such as MOV codec for Windows Media Player.
Part 2: How to Download and Install Media Player Codec Pack
The latest media player for PC is Windows Media Player 12. Microsoft has introduced many new features into it. You'd better update your media player from Microsoft website if you are using Windows XP.
Step 1Go to the Start menu at the bottom left corner of your computer. Type in media player in the search box and click Windows Media Player in the result list.
Step 2Choose the Help menu on the top menu bar. If the menu bar is hidden, press Ctrl + M at the same time to unfold it. Then select About Windows Media Player.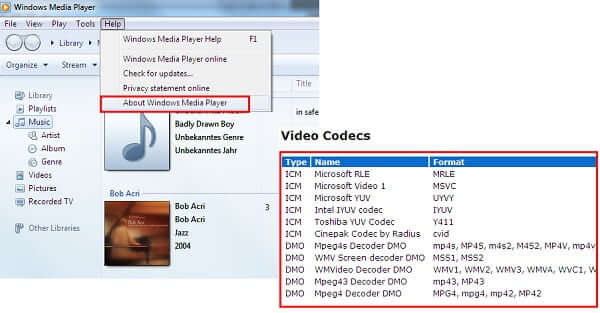 Step 3Next, click the Technical Support Information link on the popup dialog. Then you will be presented the technical details list in your browser. Scroll down to the Video Codecs section and you will see all codecs.
How to Install and Update Windows Media Player Codec
An important improvement of Windows Media Player 12 is to automatically update Windows Media Player codec. Moreover, it is the safe way to get necessary media player codecs through the internet. Follow the steps below to get it quickly.
Step 1Open your Windows Media Player and go to the Tools menu from the top menu bar. Then select Options to open the options dialog.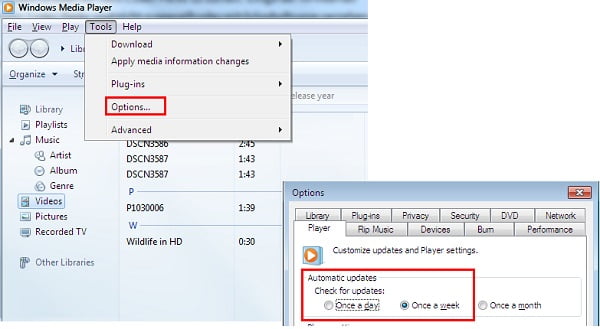 Step 2Select the Player tab on the dialog and locate the Automatic updates area. Now, you can decide to check for updates for Once a day, Once a week or Once a month.
Step 3After that, click on the OK button and hit Apply to confirm the setting. Then Windows Media Player will download new codecs on Windows 10/8/7/XP automatically.
How to Download Media Player Codec Pack Manually
Even if you have updated codecs in Windows Media Player, your media files still cannot be opened. In such cases, the easiest way to fix this problem is to go online and search for the codec you need. We use media player codec pack as the example to show you the workflow.
Step 1Visit the website that offers the desired codec, like https://www.mediaplayercodecpack.com/. Then download the proper version according to your system.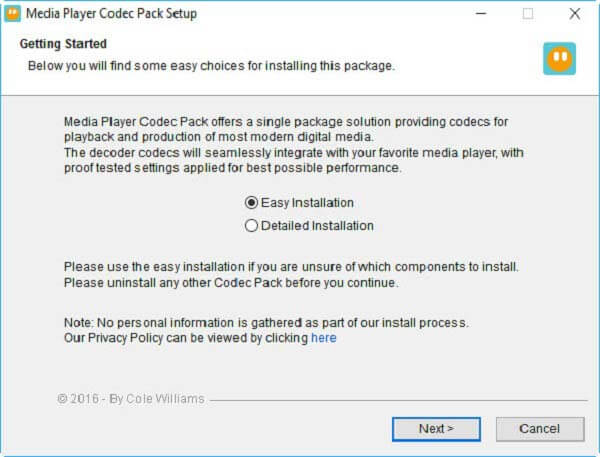 Step 2Then double-click the installer file and follow the onscreen instructions to finish it.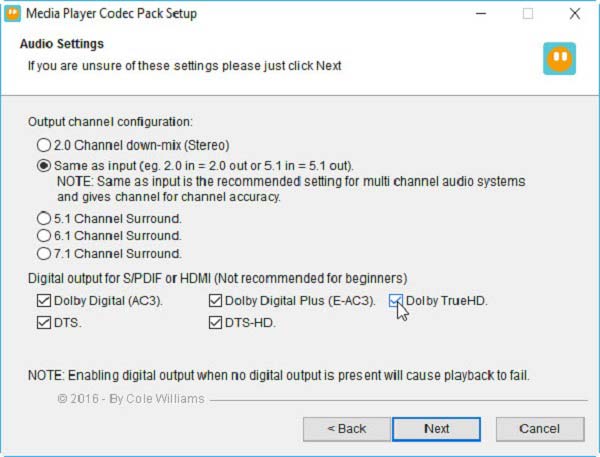 Step 3Open Windows Media Player and open the movie or music file. It should work now.
More Codec Packs for Windows Media Player
With media player codec pack, you can play MKV, AVI, FLV, WebM, MP4, M4V, AAC, OGG, 3PG and many more formats in WMP. However, it is not the only codec download for Windows Media Player 12 or earlier. Other packs worth you to try include:
1. Shark007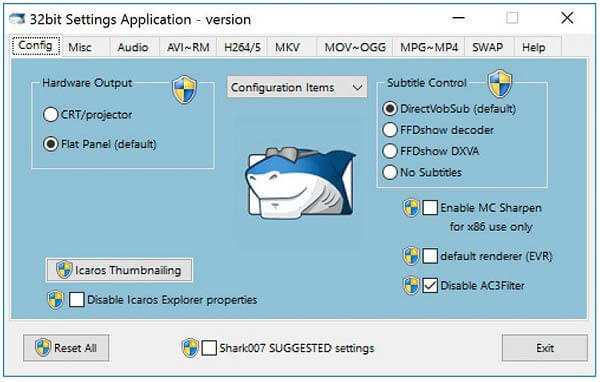 Shark007 is a video and audio codec pack for Windows Media Player. In addition to popular multimedia formats, it supports ISO and 3D decoding. Moreover, you can right-click on the file to add it to WMP directly.
2. K-Lite Codec Pack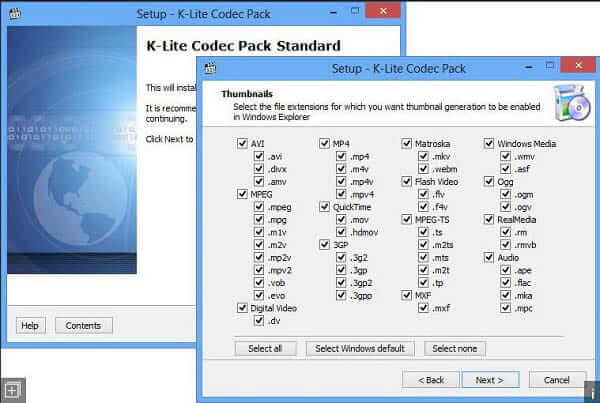 If you want to download a Windows Media Player codec pack on XP, it is a good option. It helps you fix the playback issue of nearly all the common and mainstream multimedia files. Plus, it offers four different types for various needs.
3. X Codec Pack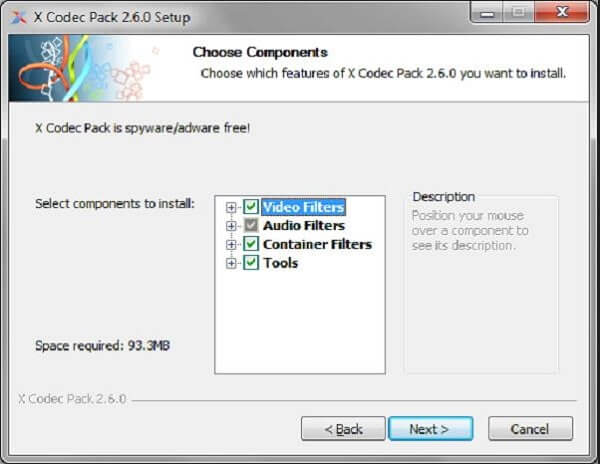 X Codec Pack is not only a codec pack for Windows Media Player, but also available to other media players, such as Media Player Classic. It includes a wide range of video and audio codecs.
Part 3: Best Alternative to Windows Media Player
For ordinary people, it is complicated to download and install media player codec pack. Moreover, free codecs are not mature or with malicious software. The alternative solution is to find a media player built-in a large codec pack, such as Blu-ray Master Free Blu-ray Player.
Key Feature of the Best Alternative to Windows Media Player
1. Play almost all video and audio file formats.
2. Support the latest technology, such as 4K.
3. Offer a user-friend interface to help you navigate easily.
How to Use the Best Alternative to WMP
Step 1Open a video file
After installing the best alternative to Windows Media Player and codec pack, launch it and click on the Open File button. Find the video file that you want to watch and open it. To play DVD or Blu-ray disc, select Open Disc instead.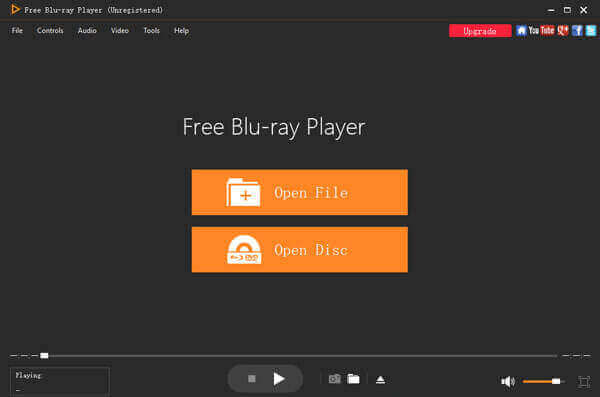 Step 2Control video playback
Then the video will begin playing immediately. You can control the playback with the buttons at the bottom quickly, like fast forward, rewind and more. Moreover, it lets you take snapshots with the Camera icon. The top menu bar offers more controls.
Read more to learn more Windows Media Player alternatives.
Part 4: FAQs about Media Player Codec Pack
Is media player codec pack safe?
The media player codec pack is a free codec for Windows Media Player. According to our research, it is safe to use if you download it from the official website.
What does it mean when it says missing codec?
If you encounter the error message said codec is missing when using Windows Media Player, it means that the proper codec is not installed on your computer. You have to search for the codec pack online and install it manually.
Do I need codec pack?
The answer depends on your condition. If your media player cannot open a video file that can play on other machine, you will need an extra codec pack for your media player.
Conclusion
This guide has talked about what is media player codec pack, why you need it and how to install it on your computer. If your Windows Media Player cannot open a video or music file, you can follow our guide to resolve this problem easily. Blu-ray Master Free Blu-ray Player, on the other hand, has built in a lot of codecs. So, it is able to open almost all multimedia files without extra codec. More questions? Please leave a message below.