Familiarize Yourself with the Top 5 Leading 3D Video Makers [2023]
Making 3D videos has long been a prevalent task for those wishing to make their content more exciting and distinctive. There are a plethora of 3D movie makers available on the internet, but which ones are truly trustworthy? As you go through this article, you will learn about the various 3D animation video makers available on the internet.

Part 1. The Professional 3D Video Maker
If you are looking for a 3D creator that is easy to use and includes a large number of video editing tools, there's no need to look any further. Video Converter Ultimate is more than just a conversion tool; it is also a 3D video creator. Users can select the desired anaglyph they desire, split the screen of the 3D video to their liking, select the desired format that is compatible with their operating system, and select the quality that meets their needs. Follow the steps below on how to create your own 3D video using this matchless tool.
Key Features
1. 3D maker with excellent customization tool
2. Make GIF video, compresses the file, and alter ID3 tags
3. It makes extraordinary MV's from your gallery
4. Converts more than 500+ audio and video formats
Step 1
Download the 3D video make
To begin, launch a browser and navigate to the Video Converter Ultimate download page on your computer's desktop. After launching the tool, select the Toolbox tab from the menu bar and navigate to the 3D Maker section of the interface.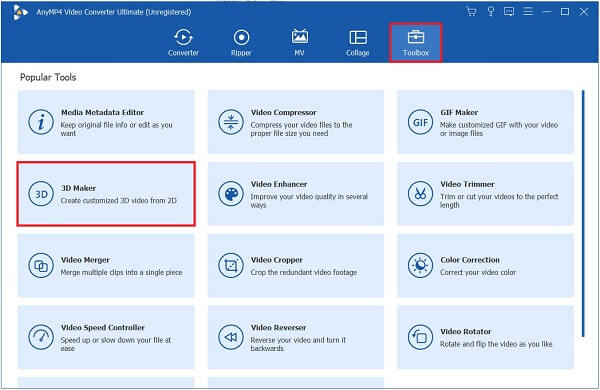 Step 2
Unload the media file
Then, by clicking the Plus (+) icon in the center of the screen, you can upload the 2D video you want to convert to a 3D video.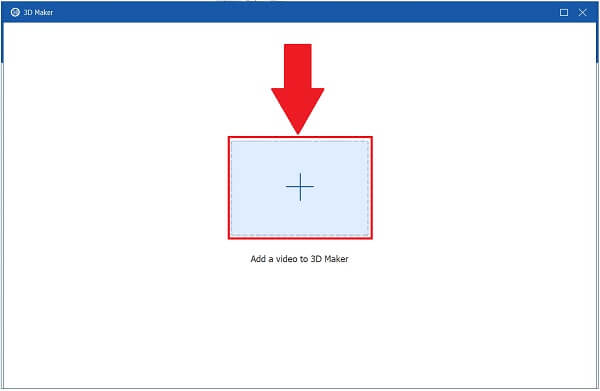 Step 3
Select the desired anaglyph
After you've imported the 2D video, click on the Anaglyph button and select the color you wish to apply to your 3D film from the drop-down menu. Depending on your preference, you can choose between anaglyphs in the colors red/cyan, green/magenta, and amber/blue.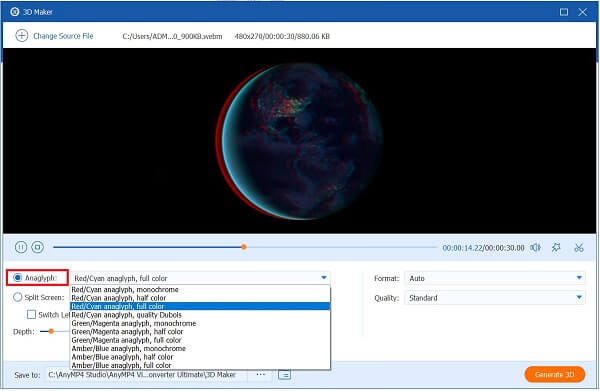 Step 4
Split the video
After that, you can split the video into segments that suit your needs. You can change it by selecting Side by Side split-screen from the Split Screen drop-down menu or Top to Bottom split-screen from the Split Screen drop-down menu.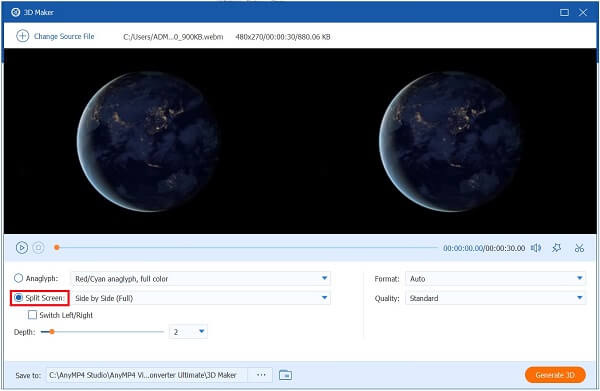 Step 5
Choose the desired format
Now you have the option of customizing the format into which your 3D video is converted. Decide on a file format that is compatible with the device's operating system you are using.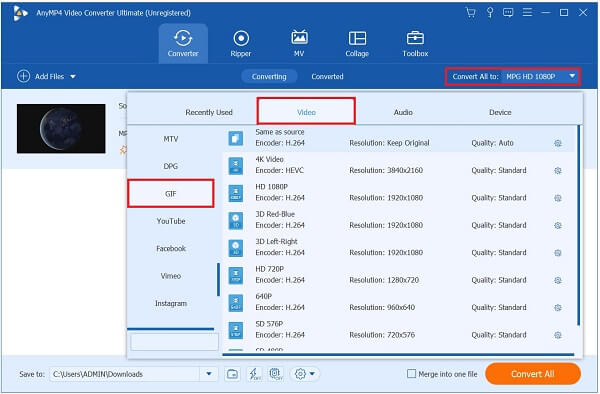 Note: You can alter the video quality by selecting three different settings: High, Standard, and Low.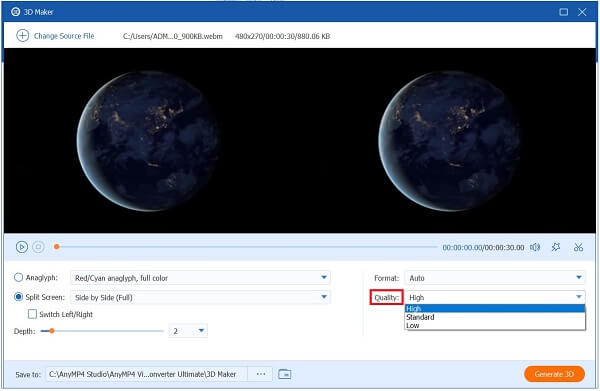 Step 6
Initiate the conversion process
Finally, you can click on the Generate 3D button to watch the 3D video on your desktop monitor.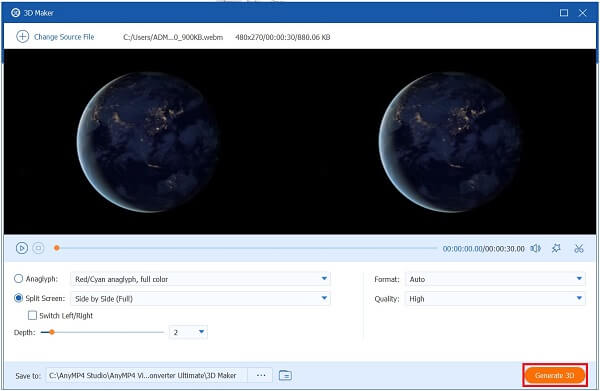 Part 2. The 4 Highly Recommended 3D Video Makers
1. Anim8or
Steven Glanville is the person who coined the term "Anim8or." It is a 3D video maker app and character animation program that runs on the Windows operating system. Whether you want to use geometric shapes, frames, distortions, or other modifications, there are numerous options available to you. You can also use digital image images to create cut-out videos, which is possible because of the elevated bone system. At the same time, this video maker supports bump maps, soft shadows, spotlights, textures, and many more.
Key Features
1. It has inverse kinematics
2. Combined target editor
3. Exports .obj, .3ds, and .stl files
4. Equipped with OpenGL shaders for realistic previews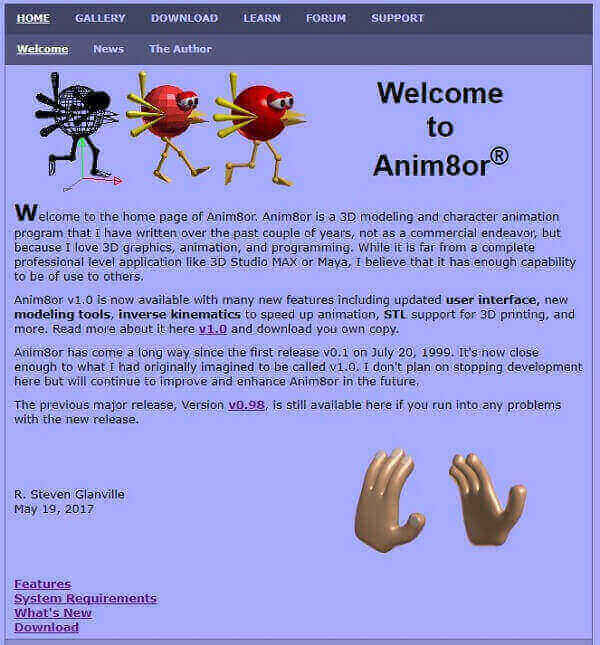 2. Pencil2D Animation
Pencil2D Animation is a simple and intuitive tool for creating animations that look drawn by hand. The interesting part about the 3D video maker is its minimalist design. It is lightweight and straightforward to use, allowing users to concentrate on animating rather than worrying about which button to press next. More importantly, it allows for a seamless transition between raster and vector workflows, allowing you to start sketching and painting immediately. Pencil2D is a free 3D text video maker online and offers a lot of tutorials offered in different languages.
Key Features
1. User-friendly interface
2. Lightweight program
3. Open-source software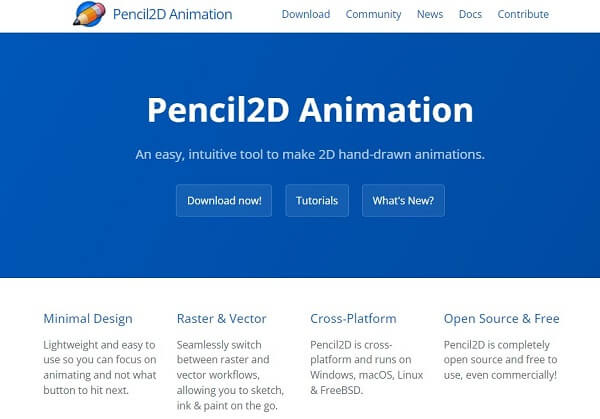 3. Stykz
Another highly recommended 3D animation movie maker software that is free to download is the Stykz. It is the first multi-platform stick figure animation program. Stykz works with animations. There are no restrictions on how many animation documents you can open simultaneously. You can cut, copy, and paste figures between them. More so, it has many manipulation figures. For instance, to generate a crossing arms effect within a figure, you can independently relive two lines and straightforwardly. You can quickly switch the surface of any chosen figures to develop the front-to-back order you desire.
Key Features
1. Edit instantly on the stage
2. Frame-based animation done right
3. Automatically save your files
4. Repeat figures easily and share them with others
4. Cinema 4D
Lastly, Cinema 4D is a 3D computer animation, simulation, and rendering software. Thanks to a new modern skin, user interface improvements, and an extensive predefined system for maximizing your work process, it is easy to use and has just gotten even better. The playback allows you to experiment with due process and elongated modeling and rigging, visual effects, illumination, surface texture, and rendering. The only disadvantage of the tool is that you must bet a fixed amount of money each time to take advantage of all of its unique features. Give this 3D video maker for pc a try!
Key Features
1. It has a built-in render farm
2. Super stable 3D maker
3. Well-equipped with the animations
4. Integrated workflow
Extended Reading:
Know the Trusted GIF Makers and Learn to Create GIF Easily
Top 8 3D Video Players Help You to Enjoy 3D Movies Smoothly
Part 3. FAQs about 3D Video Maker
Is 3D modeling a simple process?
3D modeling programs are intricate because they are required to be so. Even so, if the software has a user-friendly interface and offers a variety of guides and learning resources, it can be relatively simple to learn.
Is 3D modeling a coding-intensive project?
Working knowledge of computer coding and occasionally programming languages is also required of 3D modelers in most cases. 3D software programs are not the most straightforward to learn, and 3D modeling itself can have a steep learning curve. As a result, having a natural aptitude for using computers to complete tasks correctly is essential.
Will it take time to master 3D modeling?
Consider the following factors that influence the amount of time it requires to grasp 3D design: Studying the fundamentals of 3D design takes a minimum of 6 to 12 months while perfecting all of its tools can take many years.
Conclusion
There you have it! Making 3D videos made easy using the highly recommended and trusted 3D video makers mentioned above. Video Converter Ultimate is the best solution in creating 3D videos. Easy, efficient, and quick. Install the tool now and give it a shot!