Honest Review of 8MB Video Compressor with a Remarkable Alternative
Let's be clear on this and see the possible reasons why you need to know about the 8MB video compressor. One of the most used calls for video editing nowadays is compression. Many users need to compress their files because it is a necessary act for video sharing online. Have you noticed many different videos are being uploaded every day? And to give you an idea, you cannot easily upload a video since most social media websites demand specific video sizes to pursue. On this note, we cannot argue that all social media influencers need a video compressor as part of their video editing necessities.
However, there will come a time when you look for an online video editor to quench your video editing obligations. And here comes the 8MB file compressor, one of today's most trusted online tools. But you better see the honest review below to see if you can also trust it. This way, you can easily decide whether to use this tool or depend on the best alternative presented below.
Part 1. 8MB Video Compressor Review
While video editing tools online run their race to be the best in their line of purpose, this 8MB file Compressor also humbly runs. It is one of the reliable web-based programs that are able to help you shrink your video clips with not more than 8MB. Furthermore, this tool is compatible with the most popular web browsers like Chrome, Firefox, and Internet Explorer. If you mainly desire an online tool with a clean and intuitive interface in the absence of annoying ads, this 8MB is a perfect choice.
What makes it lovable is that with this tool, you won't need to register for a membership or an account to navigate its full functionalities. What is captivating is its free usability, which lets you compress a bigger 2GB file into an 8MB one. Thus, to know more about its features, we have listed them below for you to read.
Key Features
Massive file compressor to 8MB size.
Multiple customization options, such as trim, mute, and more.
Can import videos by URL.
Auto-save compressed files.
Pros:
It has an easy-to-use interface.
It is free from ads and purchases.
It doesn't require registration or membership.
It comes with extra tools besides compression.
Cons:
It only allows you to import a video with a maximum of five minutes.
The file importation takes time.
It compresses files in a lossy procedure.
It provides poor output quality after processing two videos.
How to Use It in Compressing Video Files
Step 1
Website Visitation
Since it is an online tool, you will need to use your browser to launch this 8MB Compressor. Visit its official website and be acquainted with it once you reach its main interface.
Step 2
Video File Importation
Before you proceed to this step, you must have prepared the video you are about to compress. If so, you can import it now by clicking the Upload button at the bottom of the main window.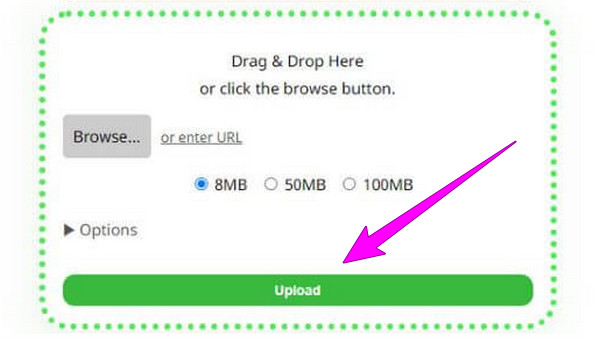 Step 3
Choose Your Desired File Size
Once the video is loaded, a set of options will also appear. Please begin the adjustment by choosing your desired file size for your output. Then, feel free to tick an extra option for your output.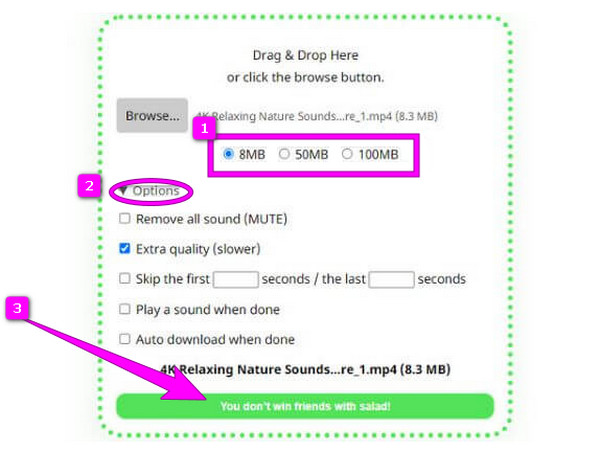 Step 4
Start the Compression
Finally, you can already commence with the purpose of this 8MB file compressor. To do so, hit the green button at the interface's bottom. Then, wait for the compression process to finish so that you can save the compressed file afterward.
Part 2. Best Offline Alternative to 8MB Compressor for Windows and Mac
If the disadvantages or cons of this online compressor made you realize that downloadable desktop software is more needed, then you better see this. You can always count on a handy and standalone video editing program like Video Converter Ultimate picked by Blu-ray Master. This amazing software allows you to enjoy the good quality of your videos still even if they were compressed big time. Aside from that, this Video Converter Ultimate also allows you to alter the other parameters of your videos, such as their bitrate, format, and resolution. One of its distinctive advantages over the 8MB Video Compressor, Video Converter Ultimate, provides a preview function that lets you see the file before the compression. For this reason, you can still work on fine-tuning the parameters until you achieve the best settings for your file.
Key Features
It compresses the video losslessly.
Extensive video editing tools such as an enhancer, merger, flipper, and more.
It supports all popular input and output formats.
Accelerated compression procedure due to its acceleration technologies.
How to Compress Video Losslessly
Step 1
Obtain the Software for Your PC
First and foremost, you need to obtain this best video editing program on your device by clicking the Free Download button above. Once the software is installed, launch it immediately.
Step 2
Access the Video Compressor Tool
Once you get to the program's main interface, go to its Toolbox menu. From there, access the Video Compressor tool and click the Add icon on the next window. By clicking the icon, the tool will allow you to access your local folder to upload the video you need to compress.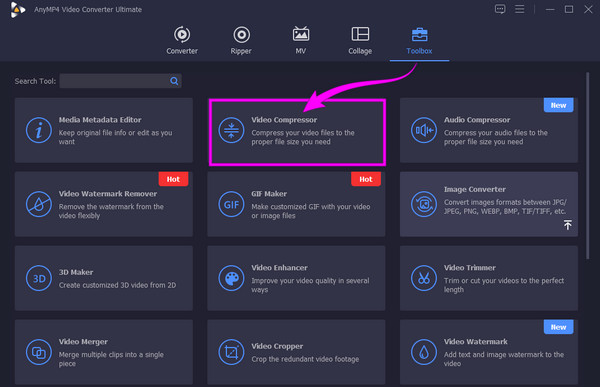 Step 3
Begin the Compressing Process
After the quick file importation process, a new window will prompt. From there, you can compress videos by hovering over the dragging bar in the Size section. To reduce the file size, you must drag it to the left. Then, you can also customize your video's format, bitrate, and resolution. Subsequently, hit the Preview button to see how the changes are made, and if it is all fine, click the Compress button.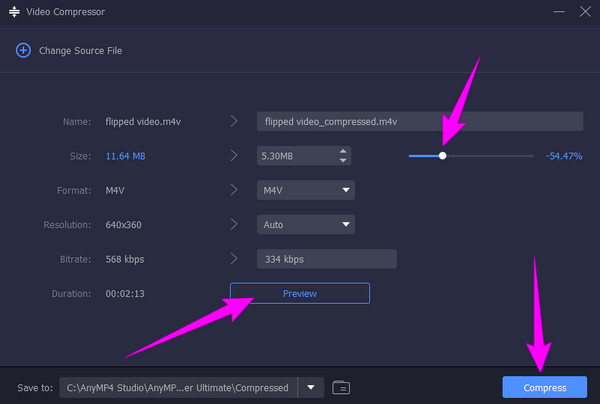 Part 3. FAQs about the 8MB Compressor
Does the 8MB video compressor produce a watermarked output?
No. Surprisingly, this free online tool works and produces compressed outputs without a watermark.
Can I upload 3GB files in the 8MB Compressor?
Unfortunately, this free online tool only allows you to upload a maximum of 2GB file size.
What happens if I compress my 4K video online?
Most probably, it will get your desired compression size, but please do not expect it to have the same 4K quality. Hence, if you want to have almost the same video quality after the compression, use a desktop video compressor such as Video Converter Ultimate.
Conclusion
This article that has the 8MB Compressor review is based on the actual trial and experience made by our team. As our final verdict, it is a video compressor online that is easy to use, but it is not something everyone can be fascinated with. The good thing there is this Video Converter Ultimate, a multifunctional video compressor that can provide an oozing video output even after compression.