How to Add Music to PowerPoint Slideshow to Upgrade Your Next Presentations
Watching a presentation can be boring. Especially when all you hear is the voice of the speaker or presenter. Adding background music to your slideshow will help you liven things up. But not all users know how to make a PowerPoint slideshow with music and pictures. If you are one of those who do not know how you have come to the right place. This article you are reading covers everything you need to know about adding music to your PowerPoint slideshows. It may be hard at first, but as everyone says, practice makes perfect.
Below are detailed steps on how to add music to your PowerPoint slideshow for you to understand it better.

Part 1. How to Add Music to PowerPoint Slideshow
Follow this step-by-step guide to quickly learn how to make a picture slideshow on PowerPoint with music. This will make your next presentations more exciting.
Step 1
First, open PowerPoint and create a new blank slide. Choose the design you prefer, then add text or images to the space provided. After that, head over to the Animations section. Select the desired animation effect of your presentation to make it better visually.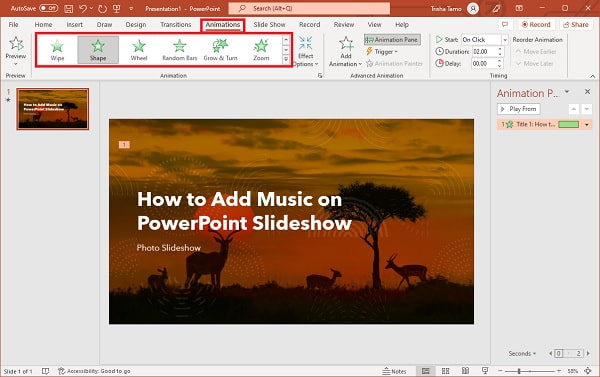 Step 2
To add sound effects to your presentation, click the Animation Pane button. A menu panel will appear on the right side of the application window. From there, tap the arrow down button and select Effect Options so you can start inserting sounds.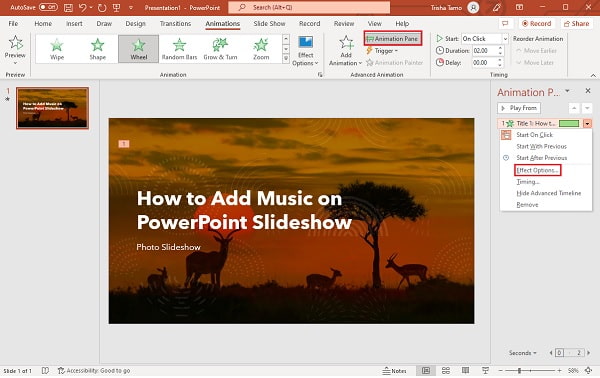 Step 3
A new pop-up window will appear for adding music to your slideshow. Beside Sound, tap the drop-down list for you to choose from the default sound effects. You can adjust the timing of the sound effects to sync with the text or images.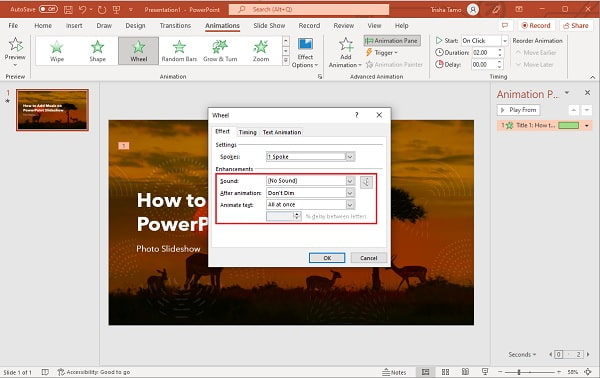 Step 4
f you don't want the default sounds, you can include your own music on your slideshow. Using the drop-down list beside Sound, scroll down until you see the Other Sounds option. After clicking the said option, you will be redirected to your file folders. Choose your desired music to insert into your slideshow.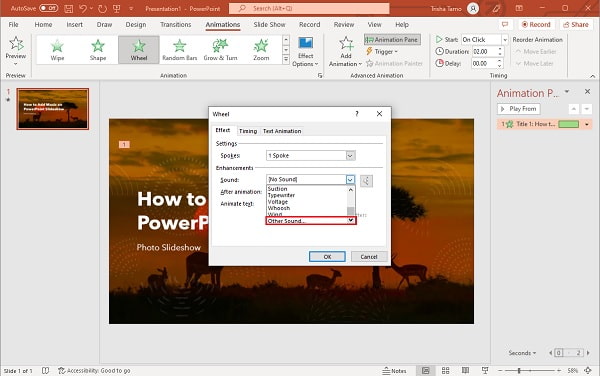 And that is how you make a PowerPoint slideshow with music. Unfortunately, using PowerPoint to create slideshow presentations is already outdated. There are programs capable of making slideshows with better features and customizations. We will recommend a program that can efficiently create slideshows with music rather than PowerPoint for the next part.
Part 2. How to Make A Slideshow with Music not Using PowerPoint
Bluraycopys Video Converter Ultimate is an all-in-one solution that can create slideshows with music better than PowerPoint. This free-to-download program can be downloaded on Windows and Mac devices. You can make slideshows using the MV feature, the same one for creating music videos. You can select themes that are suitable for occasions such as birthdays, weddings, and holidays. Additionally, there are slideshow effects perfect for presentations, lectures, and business proposals. You can effortlessly add photos, texts, and background music using this tool, making your slideshows more appealing. Aside from the slideshow maker feature, there are tools included in this program like file conversion, DVD ripper, collage maker, and many more.
Key Features:
1. Supports up to 500+ video and audio file formats (MP4, AVI, MOV, MP3, WAV, AAC, etc.)
2. Popular tools (GIF maker, watermark remover, video enhancer, etc.)
3. Supports popular audio formats for your background music.
4. Multi-editing functions like merging video, volume booster, rotating, cropping, and adding watermark on videos.
Here's a detailed guide on how to add music to your slideshow using this tool.
Step 1
For starters, acquire the program by clicking the Download button above. Continue to install it on your desktop. After downloading and installing it on your desktop, proceed to launch the program. On the main interface, select the MV feature located on the top part of the program to start creating a slideshow.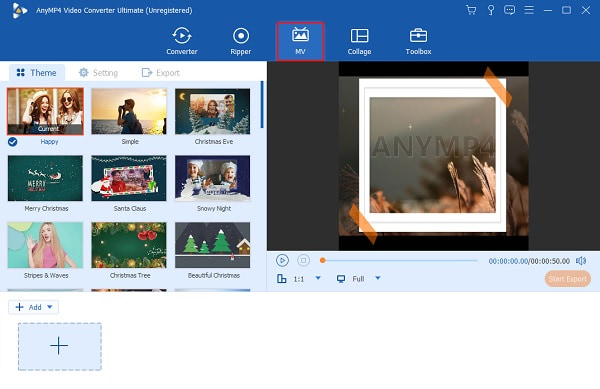 Step 2
Under the MV feature, you see themes that you can use to make slideshows and customize your slideshows further. Below the interface, there is a +Add button for adding photos or videos to your slideshow. Click the said button to start adding images and videos from your PC.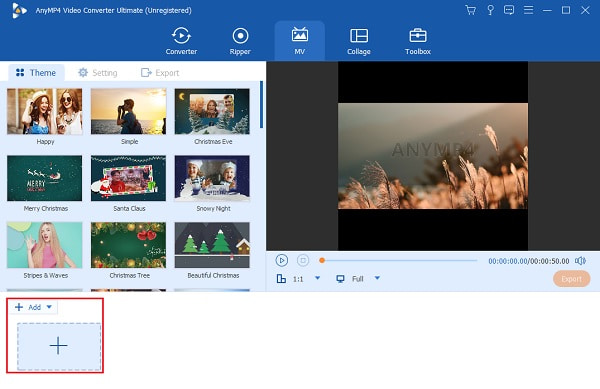 Step 3
Now, press the Setting tab to add music. After that, you can either keep the original track or change the audio on the Audio Track part. Beside Background Music, tap the drop-down list and click the Add button to start integrating your preferred music for your slideshow.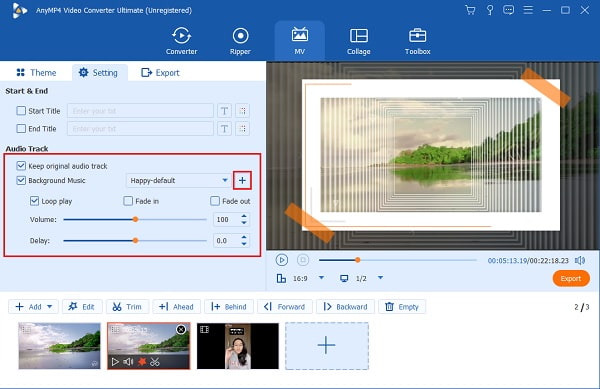 Step 4
Click the Export tab for the last adjustments of your project. In this section, you can change the video's file name, format, resolution, and frame rate. In Format, you can choose MP4, MOV, GIF, etc., for the final output format. For Resolution, use the drop-down list to change the video's resolution from 720 to 4K HD. Do not forget to choose the file output location so you can find the slideshow quickly. Press the Start Export button to start the exporting process.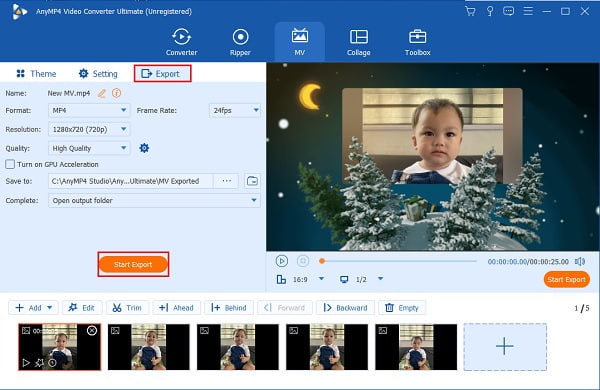 Part 3. FAQs about Adding Music to PowerPoint Slideshow
What audio formats does PowerPoint support?
The audio formats that Powerpoint supports are WAV, MP3, WMA, MIDI, AIFF, and AU. If you want a program that supports more audio formats, you can use Bluraycopys Video Converter Ultimate, as it supports other audio formats like FLAC, AC3, AAC, MP2, DTS, etc.
Are online slideshow makers safe?
Yes. There is another way for you to add music to your slideshow. Follow the steps below. On the Insert tab, select Audio, which automatically opens your File folder. Locate the music file you will use, then select Open. Choose Play in Background to play the audio in the background automatically while presenting your slideshow.
Can you add multiple songs to PowerPoint?
Yes. You can add multiple songs on different slide panels of your Powerpoint presentation to make it more entertaining. This feature is only available for the 2010 and later versions of Microsoft PowerPoint.
Conclusion
To wrap things up, you can now add music to a PowerPoint slideshow easily. You also realize that PowerPoint can only do basic editing for slideshow presentations. Therefore, you can always rely on Bluraycopys Video Converter Ultimate if you need to create a professional-grade slideshow. Aside from slideshow making, other useful tools are included in this program that you can use for future references.