Make Impressive Slideshows Online with Animoto Free Video Maker
Online slideshow makers are convenient and easy to access especially if you are in a rush to make a slideshow. Most of them are free to use, making them beneficial for students and people without a budget. What you need is your desktop and internet to start making slideshows online. You can then upload your photos and videos quickly for your slideshows. Animoto Slideshow Free Video Maker is one of the popular online slideshow makers in the market and many commend how efficient it is in making slideshows. To know more about Animoto, continue reading below.
Part 1: Animoto Slideshow Review
Animoto Free Video Maker is a well-known online solution for turning your still photos into a beautiful slideshow within minutes. This tool can create slideshows for business proposals, marketing advertisements, events and occasions, and even school projects. And as an online tool, you can access Animoto on any OS platform and device as long as you are linked to the internet. However, you can only use the program for free within the 14-day trial period and must upgrade to the Pro or other version to continue using it. Here are several features you will encounter when accessing Animoto video slideshow maker.
Key Features:
1. User-friendly and smooth interface
2. Edit images and videos individually
3. Can add special effects on texts
4. Auto-save function
5. Free access to its large music library
There are 50 templates that you can access freely to create slideshows that will look professionally made. You can effortlessly share your slideshows on social media platforms like Facebook, Instagram, and Youtube. The downside of using the free trial version of Animoto is that there are watermarks in every project you create. Also, your video slideshows will only come up to 720p HD, which is now considered low quality by today's standards.
For the next part, we will teach how to create a slideshow online using Animoto.
Part 2: How to Make a Slideshow Using Animoto
As mentioned above, using Animoto Free Video Slideshow Maker to create video presentations is simple and easy. Here's a step-by-step guide for you to understand it better.
Step 1
Visit Animoto's main webpage and log in to your account. Tap the Get Started Free to start creating your slideshow online.
Step 2
On the next page, choose which template you will apply to your slideshow. There are plenty of templates available that are suited for different occasions and events.
Step 3
To upload photos and videos, just click the center of the pop-up window to start adding the media files from your computer to Animoto. You can add pictures later in case you need more. All the files will be saved in Media Library.
Step 4
After adding the photos and video clips for the slideshow, you can now begin customizing. You can add texts, change background color, and change the slideshow layout. Drag the photos on each slideshow pane according to your preference.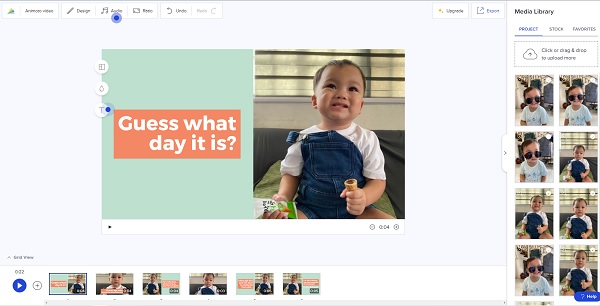 Step 5
To add more slideshow panes, click the Plus sign button below the interface.
Step 6
To add audio, tap the Audio button. You can either use the default music track or add your audio from your device.
Step 7
Hit the Export button to download the slideshow or share it directly with your social media accounts.
Part 3: Best Alternative to Animoto
As a web-based solution, Animoto Free Video Maker has its limitations. You need to be connected to a stable internet connection. The free trial has watermarks on your slideshows and a time limit for the trial version. If these are not good for you, you can try this offline tool. Video Converter Ultimate is a program that can create slideshows easily and with pleasing results. Its MV feature can create music videos, original movies, and video presentations. Plenty of templates are free to use to make your slideshow more appealing. You can use the default audio or your preferred music from your device as background music for your slideshow. More importantly, this tool is excellent for novice and advanced users.
Key Features:
1. Supports 500+ file formats for audio and video (MP3, WAV, AC3, MP4, MOV, MKV, etc.)
2. Extra tools on Toolbox (GIF Maker, 3D Maker, Video Enhancer, and more)
3. Very easy to understand and user-friendly interface
4. Accessible on Windows and Mac devices
Step 1
Start the download process by clicking the Download button above. Proceed to install the program on your PC. Once you successfully install the software on your computer, continue to launch the application. Tap the MV feature to begin creating a slideshow.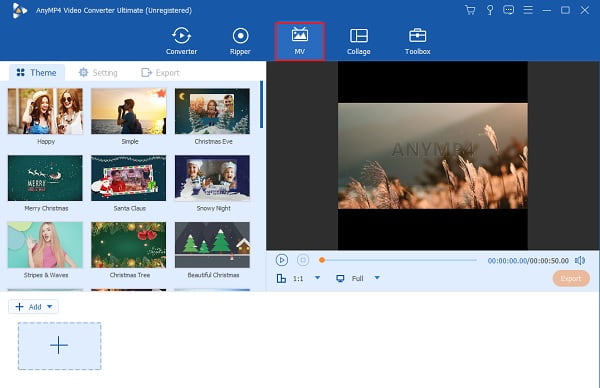 Step 2
On the MV feature, you can use the templates included in the program to create amazing slideshows. There are plenty of templates you can choose from. On the bottom part of the interface, use the +Add button to add the photos and video clips to the slideshow. Another way is to drag the images or video clips and drop them in the space provided.
Step 3
You can proceed to the Setting tab to add and change the background audio of your slideshow. Use the drop-down list or the + sign button to include your desired music. You can then increase or decrease the volume and add an echo effect to your music by adjusting the given slide controls.
Step 4
Head to the Export tab to change the video file's name, file output format, frame rate, resolution, and video quality. Increase the video resolution for better clarity and frame rate for smoother video playback. Also, change the final output location to locate the file easily. Hit Start Export to start the exporting process. Your video will be saved automatically after the process ends.
Part 4: FAQs about Animoto Slideshow
What is the maximum time limit for Animoto Slideshows?
The maximum time limit for your video slideshows that Animoto allows is 50 minutes. You can upload the images to your slideshows as much as you want if you do not exceed the 50-minute limit.
What are the image formats that Animoto supports?
Animoto supports images in JPEG, GIF, PNG, and TIFF formats. You can upload photos with a maximum size of 30MB each. For the best result, you may want to change your images to a 1:1 square aspect ratio or 16:9 landscape aspect ratio.
What are the supported video formats of Animoto Slideshow?
Animoto supports popular and widely-used video formats like MP4, AVI, MOV, MPG, MPEG, FLV, and more. You can upload video clips with a maximum size of 400MB.
Conclusion
Animoto Slideshow Free Video Maker is a reliable online slideshow maker for beginners who don't have time to download an offline program. However, offline solutions are more stable and robust, making them the better option. Video Converter Ultimate is one of the best alternatives to Animoto. With its ability to create amazing slideshows and lots of tools in one program, you will not be disappointed.