The Best Way to Convert AVI to DivX with Small Size and High Quality
When you download your favorite movies in AVI format on the Internet and want to play them through DVD players or PS3 with a larger screen, you will find they can not be played. In this case, you need to convert AVI format to the compatible DivX format.
In most devices, including DVD player, PS3, Blu-ray player, and Television, you can see the DIVX mark. And most mobiles and pads also have passed the DIVX certification. Moreover, AVI videos always occupy a lot of storage space because of the less compression and high quality. At the same time, DivX has a smaller size with high quality because of its advanced encoding. Thus if you want to store more movies on your computer, you can also transform AVI to DivX. In this article, you will know more about the differences between AVI and DivX and the way to convert AVI to DivX.

Part 1: What is DivX? What's the Difference between AVI and DivX?
DivX is normally known as a digital video format that includes H.264, H.265, and HEVC codecs. It has a relatively small size and enough high quality for movies. Thus DivX format is recognized by most movie companies and it is used for creating DVD discs. DivX is also a codec that can be included in AVI and MKV format. So you can also change the codec when converting AVI format to DivX.
The biggest difference between AVI and DivX is the video size. As a less compressed format, AVI is always 3 times larger than DivX videos. Thus, to save the space of your computer, you should also transfer AVI videos to DivX or other formats like MP4.
Part 2: The Best Method to Convert AVI to DivX
Bluraycopys Video Converter Ultimate is the best AVI converter that supports 500+ import and export video formats. You can convert AVI to DivX format and change the video resolution, frame rate, and bitrate. Moreover, you can also transform AVI videos to the DivX codec without changing the AVI format.
1. Transfer AVI to DivX videos with a smaller size for better playing.
2. Support 500+ import and export formats with different codecs.
3. Able to adjust the video resolution, frame rate, and bitrate to keep high quality.
4. 70X faster processing speed to convert AVI to DivX quickly.
Step 1
Download and launch Bluraycopys Video Converter Ultimate on your computer. Click the Add Files button to choose the desired AVI files. You can also pull and release the files from the computer to add to the software.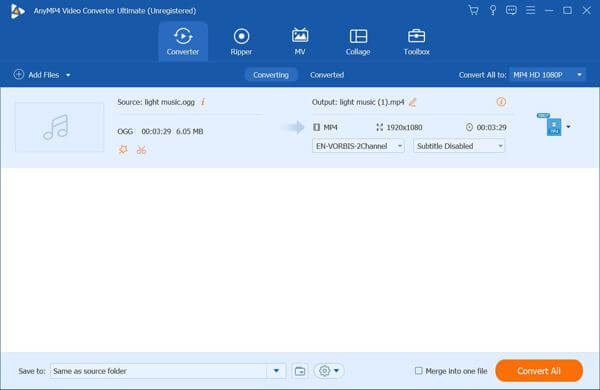 Step 2
Click the Convert All to menu and scroll down to select the DivX format in the video list. Then choose the Same as Source resolution or other desired option according to your need. If you want to change the video quality, frame rate, and bitrate, click the Custom Profile icon to change the settings.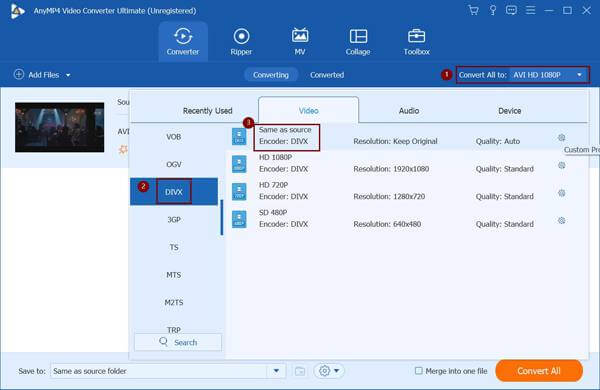 Step 3
After going back to the main interface, you should choose the storage path and then click the Convert button to start converting AVI to DivX videos.
If you only want to reduce the AVI size and play videos on the computer, you can try using Bluraycopys Free Online Video Converter to convert AVI to MP4 or other compatible formats with your video players. Without downloading any software, you can simply transform AVI files to some common formats.
Part 3: FAQs of Converting AVI to DivX
1. Can I convert AVI to DivX codec with the original AVI format?
Of course, you can. As mentioned before, AVI contains the DivX codec. Thus, you can use Bluraycopys Video Converter Ultimate to choose the AVI format as the export format and then click the Custom Profile button to change the video codec to DivX.
2. Will converting AVI to DivX lose quality?
Yes, it will. AVI files always have less compression, and that's why AVI videos have a large size. So if you transform AVI videos to DivX, the video quality must decrease and the video size will be smaller at the same time.
3. How to play DivX videos on the computer?
DivX is not compatible with most video players on the computer. And you need to download the specific DivX video players, including Bluraycopys Free Blu-ray Player. Or you can install the DivX decoder for video players.
Conclusion
Although AVI format is good for movies of high quality. But it is too large to store too many videos on the computer. And it can't be played on DVD players or PS3 to enjoy the big screen size. From this article, you must have learned the best way to convert AVI to DivX format for better playing. If you have any questions or advice, please contact us or leave your comments.