Canva Slideshow Maker Detailed Review: Is It the Best Online Tool for Slideshows?
Canva is an online tool for creating slideshows and other visual materials suited for beginners. This is also a great alternative to Microsoft Powerpoint in making presentations for school, work, and business purposes. Slideshows show your photos and memories with your friends, families, and loved ones usually in moving motion via projector. You can add visual effects and background music that compliments the slideshow for different events.
In this article, you will learn more about Canva and its advantages and disadvantages against other solutions. As well as a simple guide on how to make a slideshow with Canva. Continue reading below to understand better.

Part 1. Canva Slideshow Reviews
What is Canva? Canva is a web-based graphic design application for creating visual materials even if you are not that knowledgeable in graphics designing. You can create slideshows, video presentations, and resumes using this online tool. This is also perfect for small businesses and entrepreneurs in creating their brand logos and advertisements. In Addition, there is a free and paid version of this program. The free version is more than enough for most users that do not require advanced features. You get 250,000 templates, 100+ design types, 100,000+ free images and graphics, and 5GB of cloud storage. If you want bigger storage and extra features, you can opt for the Premium and Enterprise versions. To make things better, you can access this online tool on any device for Windows and Mac.
Pros:
1. Great for beginners and first-time users
2. Plenty of templates and designs
3. Cross-platform capability
Cons:
1. Cross-platform capability
2. Insufficient features for professional users
For the next part, you will learn how to create a slideshow in Canva by following the steps we provided.
Part 2. How to Create a Slideshow in Canva
To create a slideshow using Canva, refer to the steps below.
Step 1
The first thing to do is going to Canva's homepage. You should create an account to edit and save your projects. Use the search bar and type "slideshow" to start a design.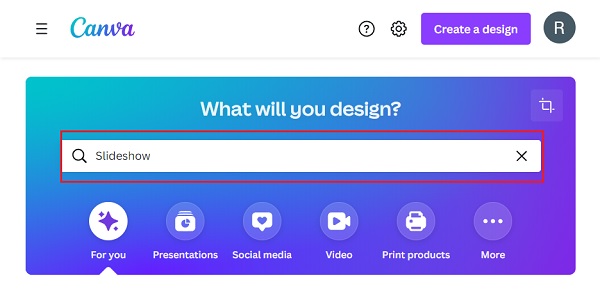 Step 2
Browse the free slideshow templates with different themes for different occasions. Use the filter to sort and select based on Style, Theme, Price, and Color. Click the template you like to begin customizing your slideshow.
Step 3
Use the toolbar located on the right side to modify your slideshow to make it better. Under Templates, you can change or add new templates to your slideshow. On Elements, you can put lines, graphic designs, tables, photos, videos, and more from its large collection. Uploads, as the name implies, allow you to upload your own media from your device and even on your cloud storage. And on Text, you can add words with different fonts and sizes to make your video more appealing.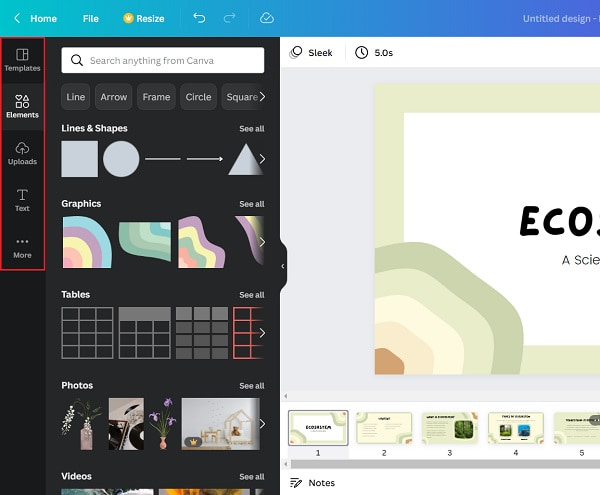 Step 4
After you finish customizing your slideshow, click the Share button positioned in the top right corner of the program. You can add people you allow to use your design or send the link for a more secure method. Click the Download button to acquire your slideshow and save it to your device for offline use.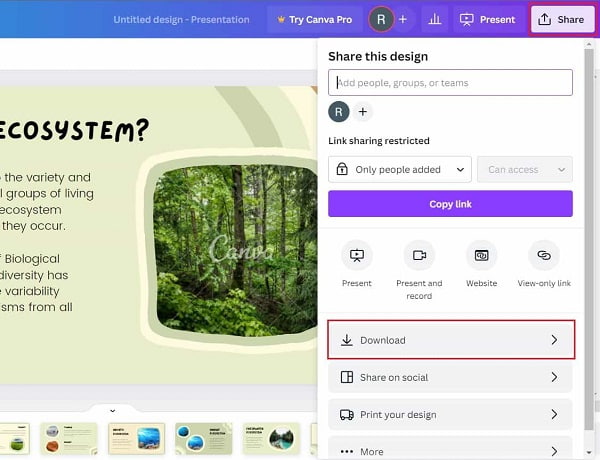 Part 3. The Best Alternative to Canva
Since we already know that Canva can only be used while connected to the internet, it is not usable at times. To solve this trouble, you may want to look for an effective offline tool that can create slideshows easily. Bluraycopys Video Converter Ultimate is one of the most capable programs that can make slideshows similar to what Canva can do. You get various templates with background music included making your slideshows more appealing. There are themes as well to match the occasion you are planning to use the slideshow for. In addition, you can use this tool on Windows and Mac devices. The free version is functional for beginner and professional users.
Key Features:
1. Photo and Video collage maker
2. File converting tool supporting 500+ video and audio formats such as MP3, AAC, AC3, MP4, MOV, AVI, etc
3. Rip DVDs into digital files
4. Powerful video editing functions like Rotate, Flip, Crop, Trim, Merge, etc
Follow this detailed step-by-step instruction in making a slideshow using this great program.
Step 1
T obtain the program, press the Free Download button above. Wait for the application installer to download completely. Proceed to open the file and start the program installation. Afterward, launch the program on your desktop.
Step 2
On the program's main interface, you will see several tabs on the top of the application window. There is Converter, DVD Ripper, MV, Collage, and Toolbox. Choose MV to make your slideshow.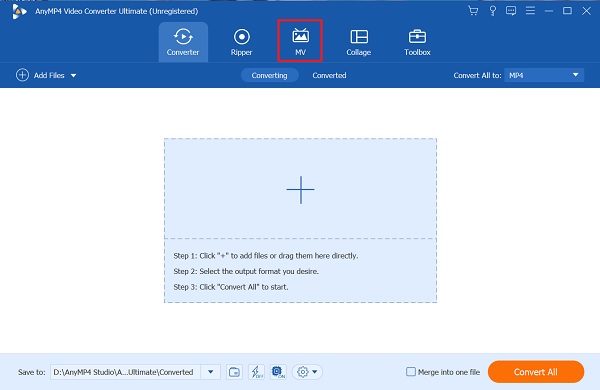 Step 3
Under the MV tab, you will see that the layout of tabs and buttons is very straightforward. Click the + Add button to add photos from your PC that you will use for the slideshow. Alternatively, you can drag the photos and drop them directly to the space provided below the +Add button.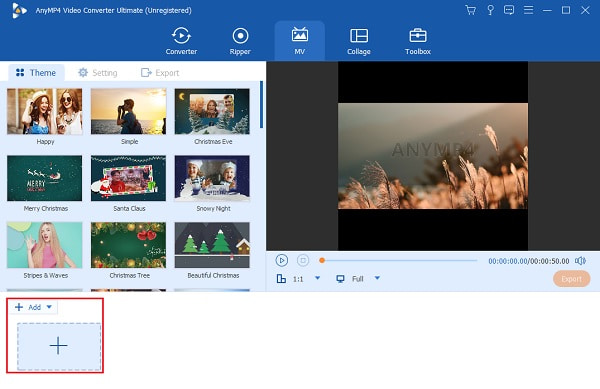 Step 4
After importing the photos for your slideshow, select the theme of your preference under the Themes tab. Happy and Simple themes are already pre-downloaded. While the rest of the templates require you to download them before you can use them. After applying the template of your choice, you can play the preview on the right side of the interface.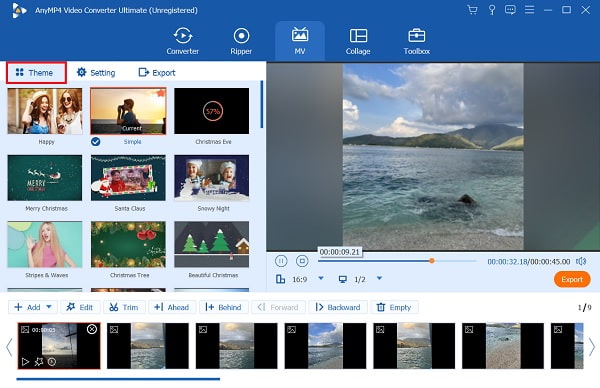 Step 5
Once you finish editing and enhancing your slideshow, you can now head to the Export tab. From there, you can change the final video format. Beside Format, tick the drop-down list and choose between MP4, MOV, AVI, etc. Next is Resolution. Tap the drop-down list beside it and choose the video resolution from 720p to 4K HD. For Quality and Frame Rate, adjust these two for a smoother and better slideshow quality. Finally, click Start Export to begin the exporting process. Click here to learn how to make a slideshow on iPhone.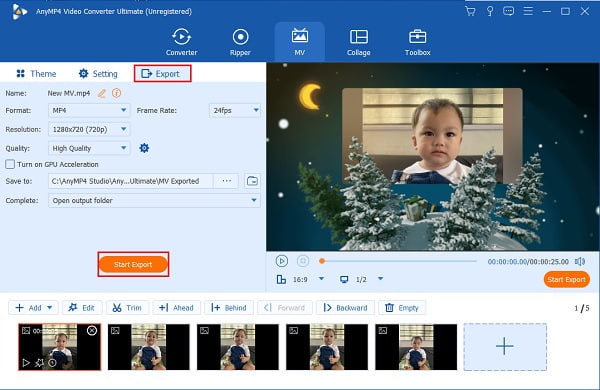 Part 4. FAQs about Canva Slideshow
Is there a desktop version of Canva?
Yes, Canva has recently launched a desktop version of their online tool for Windows and Mac. There is no significant difference between its web version counterpart, so you can stick with the online version.
Does Canva include a watermark when you create a graphic design from their software?
No, the good thing about Canva is that there is no watermark or logo included in your designs. This saves you the hassle of removing unwanted logos and watermarks on your projects.
Is there a Canva mobile app?
Yes, there is a mobile version of Canva. It is free to download the app for Android and iOS devices. You also get the same features and tools on its online version counterpart.
Conclusion
And that's it. Now you know what Canva is and how to create a slideshow in Canva. As others claim, it is really easy to use, which is excellent for people without graphics design and editing knowledge. Moreover, the free version is sufficient for basic users but not for professionals. But for those wanting a program that can do more than just slideshow making, you can always refer to Bluraycopys Video Converter Ultimate. We hope that this post significantly helped you to know Canva. Don't forget to leave a comment below.