Merge AVI Video Files Online For Free in 1 Minute
You may want to combine several AVI video clips into one file seamlessly. Maybe it is to produce a highlight film of your gameplay or reunite a long story that has been cut into pieces. No matter what kind of scenario you're in, this post will walk you through without any hassle.

Part 1: Merge AVI Video Files Online for Free
We will use Free Online Video Merger for the AVI merging task, for it reaches a good balance between being easy to use and being functional. No matter how big your AVI files are, you can handle them using this tool without any hassle.
Key Features
1. Merge AVI files in web browser without downloading any program.
2. Join AVI files of any amount and any size without limitation.
3. Your videos are not really uploaded to the server, which keeps them safe.
4. Save your output video in various popular video formats.
You can follow the steps below to combine AVI video files.
Step 1
Launch Free Online Video Merger in your browser and click the Add Video for Merging button in the middle of the webpage. Usually, the online AVI merger takes several seconds to load. After that, you will be asked to upload your AVI video file.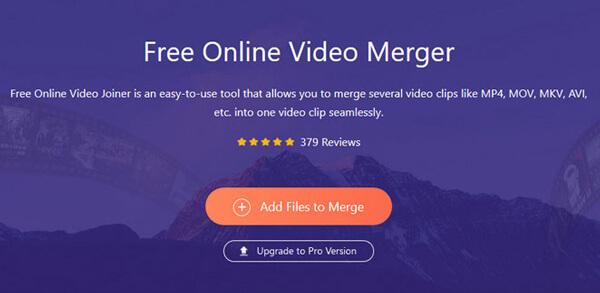 Step 2
After uploading at least one AVI video file, you will immediately see the interface of the tool. You can add more videos using the Insert new button. If you need to remove any of the added video files, just click the cross button on it. Keep the Resolution as default, and select AVI as the output format if you want to maintain the format of the file. It's ok to change the file to other formats.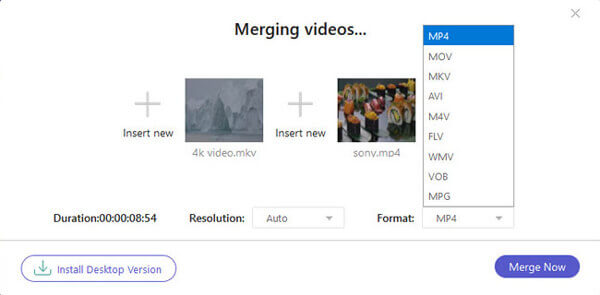 Step 3
The last thing you need to do is to simply click the Merge Now button in the bottom right corner of the AVI merger's interface. It will ask you to set a destination for the output file. When the combining process is finished, you will see the Join Successfully notification. Before it is done, you need to avoid closing the browser.
This method works well when you combine AVI videos with identical aspect ratios and resolutions. However, when dealing with videos with different aspect ratios and resolutions, you need to crop the videos beforehand. Otherwise, the clips that don't fit the output resolution will show up in letter box. Besides the cropping features, it also involves more powerful tools. Read on to learn more about it.
Part 2: Combine AVI Videos of Different Resolutions
Blu-ray Master Video Converter Ultimate can not only trim and merge AVI video files but also do many other editing operations to them like trim, crop, rotate, etc. When faced with videos in different resolutions, you need to trim them to make them in the same resolution before you join them into one.
Key Features
1. Combine AVI videos of different resolutions by cropping.
2. Hardware accelerating technology boosts the processing 70x faster.
3. Import and export video files in any format.
4. Create an MV connecting AVI video clips with various themes.
Step 1
Install and launch Video Converter Ultimate on your Windows or Mac. In the main interface, click the Add Files button in the top left corner. This will pop up a file explorer window where you can select and import your AVI files. Then add your AVI files to be combined.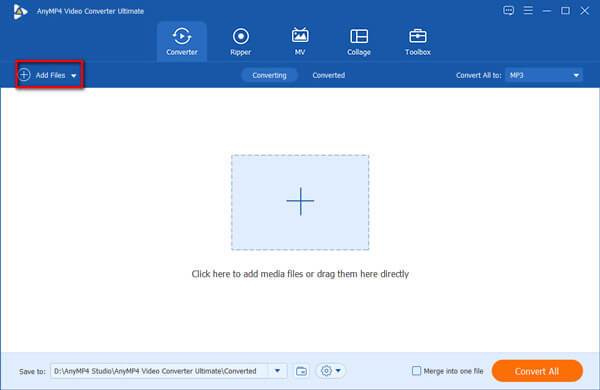 Step 2
Tick the Merge into one file box in the bottom right corner before going on, so that the program will join the added AVI video files when you click the Convert All button. Otherwise, the AVI video files you added will be converted one by one. Here you can also drag the added AVI clips up and down to arrange their places.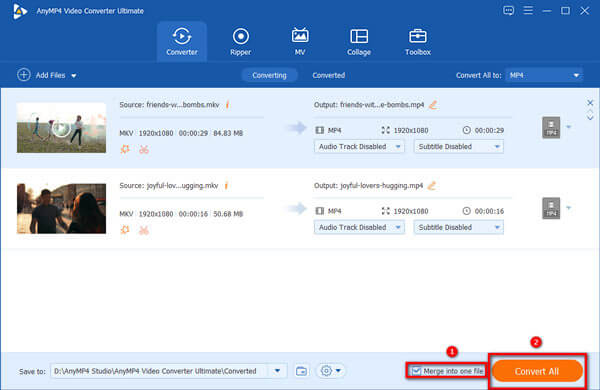 Step 3
Make the added AVI video files in the same aspect ratio and resolution (width and height) using the Rotate & Crop feature in the program. A click on the Edit button will present the Rotate & Crop interface.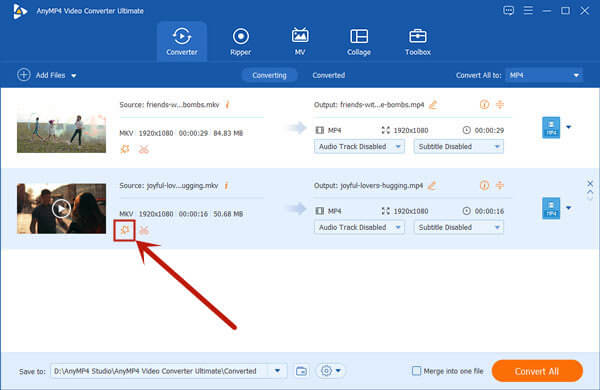 Step 4
In the Rotate & Crop interface, you can freely drag the yellow frame in the screen on the left to adjust the width and height of the video. You can also directly input the desired resolution in the Crop Area section. For the videos in unique directions, you can rotate it using the four buttons in the Rotation area.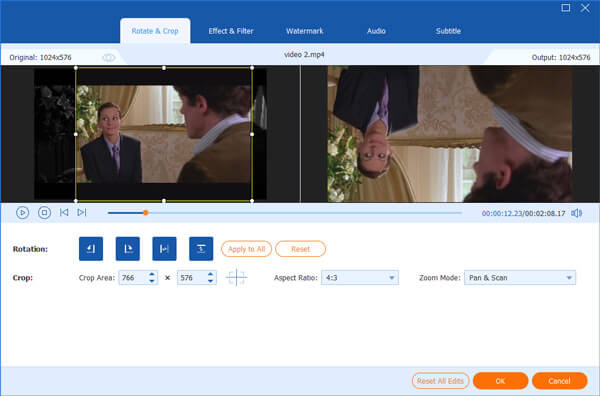 Step 5
Go back to the main interface. Click the Convert All button in the bottom right corner of the main interface. Then you need to wait patiently for the program to join the AVI video files.
This AVI combiner helps you convert the merged AVI file to video, audio or devices, so that you can play the AVI files on iPhone, iPad or Android.
Part 3: FAQs about Combining AVI Files
Is AVI better than MP4?
It is hard to say which format is better. AVI video format uses less compression compared with MP4 format, which results in the relatively large sizes of AVI video files. MP4 video format has excellent compatibility but is a lossy video format. Find other AVI converter here.
Why are AVI video files so big?
Actually, AVI video files don't have to be very big. AVI is a container format, not a specific codec. Usually, when you export a video in AVI format, the tool you use tends to produce the video file without any compression, while other formats usually compress the video. Thus, the AVI files are often big.
How do I convert a large AVI file to MP4?
Add the large AVI file(s) into Video Converter Ultimate. On the right of the file you added, there is a drop-down button. Click it and then you can select MP4 from the list. Click the Convert All button in the bottom-right corner in the main interface to export it.
Conclusion
This post talks about two efficient methods to combine AVI video files. Two tools are involved. They are Free Online Video Merger and Video Converter Ultimate. The former is convenient to use but has limited features. For simple AVI merging tasks, it's OK to use it. But if you want to join AVI files with different aspect ratios, resolutions, and directions, you may need the perfect Video Converter Ultimate.