[SOLVED] How to Compress AVCHD to a Manageable Size: Step-by-Step Guide
Question: Since I got my AVCHD camera I've pretty much eaten up all the space on my HDD because of the way iMovie converts the files to a format that takes up like 15 times more space. Is there any way to resize an AVCHD clip? Thanks in advance for your suggestions. - an Apple Discussion Community User
Answer: To elaborate on your point, you are looking for an equitable tool to decrease the size of your AVCHD videos without the extra work of re-encoding. This makes perfect sense since AVCHD is already highly compressed thus CPU-heavy for any video editor to process. But how can you squeeze even more juice from a lemon? In this article, we will demonstrate to you exactly how.

Part 1. What is the AVCHD Format
By definition, AVCHD is used by video recorders as the default high-resolution video format encoded on DVD media, hard disk drives, and memory cards. Depends on the brand of the video recorder you are using, AVCHD could be utilizing different codecs. Usually, it is less compressed than other common formats such as MP4.
Part 2. How to Compress AVCHD Video Files Professionally
Due to the workload of AVCHD files, it is highly recommended that you'd better utilize desktop AVCHD compressor software that could handle the heavy-lifting compression job professionally. Blu-ray Master Video Converter Ultimate should be listed on the top of your checklist. Proven and trusted by many pro-level users, it is one of the best all-in-one video and audio media solution provider software in the game. Other than compressing AVCHD video with a competent and qualified touch, it also implements other features such as:
1. No watermarks or time limitations for output videos.
2. Clean interface with a user-friendly approach.
3. Supports the highest possible quality, HD/8K/4K, etc.
4. Diversity of export formats, support all popular video codecs and streaming platforms.
5. Cross-platform support for both PC and Mac.
6. No hidden fees for purchase, get lifetime license within a limited time.
Step 1
Open Video Compressor
Launch the program and find the Toolbox option on the right side of the top ribbon. Click on it, and select the Video Compressor option on the screen. If you are struggling to locate the options, check out the screenshot below for help.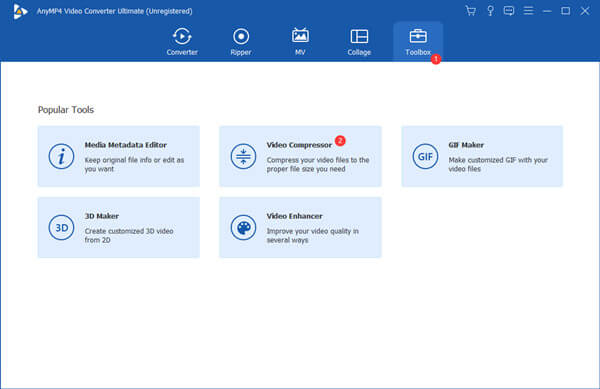 Step 2
Import AVCHD Files
Import your AVCHD videos to the video compressor. Either drag and drop your files to the box or click on the "+" plus button to import the files to your project.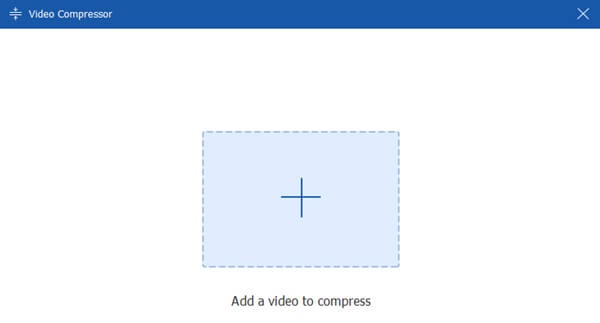 Step 3
Settings and Configurations
Resize the video to the exact size that you desire. Drag the slide bar beside the Size option to change your output video size. If you wish to get a glance at what your final output video will look like, click on the Preview button.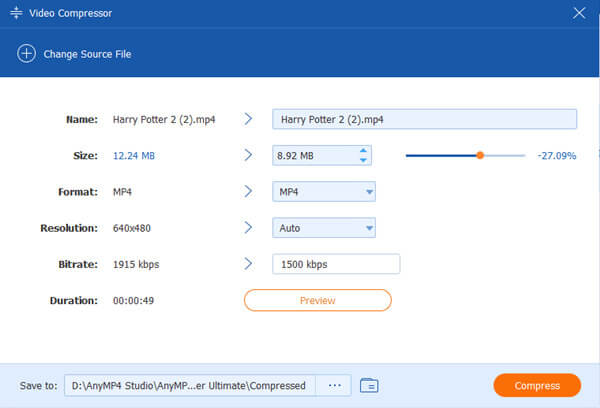 Step 4
Save Your Videos
Click on the Compress button to complete the final step. Your compressed AVCHD video will soon be ready.
Tips: If you wish to convert AVCHD video to MP4 or other formats, you could simply click on the Format option to select the container codecs as you like.
Part 3. How to Compress AVCHD Free Online
Some users prefer to use an online service instead of desktop apps due to flexibility and adaptability. Among the options floating on the Internet, we picked the Free Online Video Compressor as the default choice for an online AVCHD compressor. Here are the steps on how to use the free online video compressor to resize your AVCHD video:
Step 1
Visit the website in your preferred browser. Click on the Add Files to Compress button to proceed. You may need to install a launcher beforehand. Simply follow the steps indicated on the website.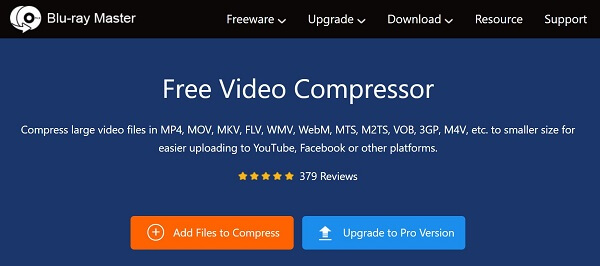 Step 2
Drag the slide bar on the right side of the Size option to change the compression rate. Choose the desired export format in the Format settings. Eventually, click on the Compress button to complete this step.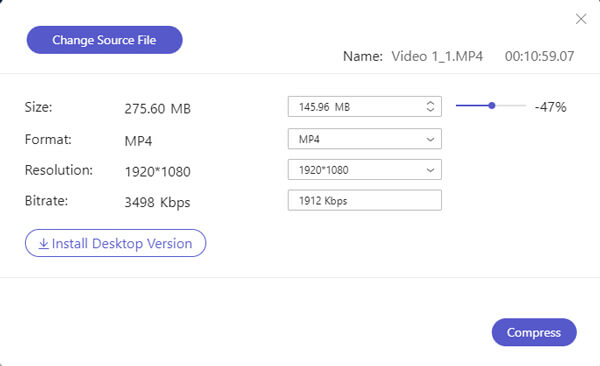 Step 3
A "Compression Successfully" pop-up would be shown to you once the process is over. Click on the OK button to download your output video.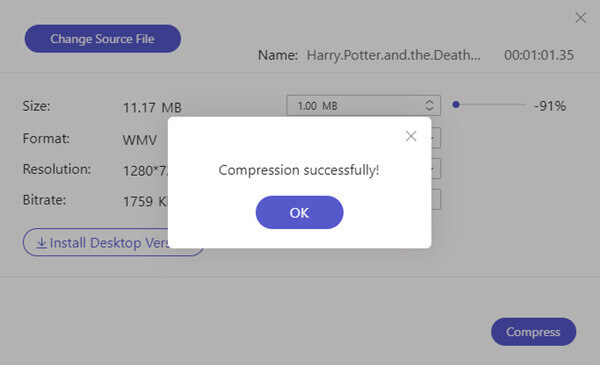 Part 4. FAQs about Compressing AVCHD
1. Why are my AVCHD files so big? What can I do?
Generally speaking, AVCHD is a lossless encoding format. It's designed to ensure that you get the best possible quality and performance into your editing software. That's why the raw footage in AVCHD formats usually comes in gigabytes.
2. How to convert MP4 to AVCHD?
No, do NOT convert MP4 to AVCHD. Since MP4 is a compressed (lossy) format while AVCHD is the original lossless one, it is pointless to convert MP4 to AVCHD. On the other hand, it makes sense if you wish to convert AVCHD to MP4. Use the Video Converter we suggested completing your task.
3. How do I import AVCHD videos to Mac?
AVCHD files are not natively supported by Mac. You might get an "AVCHD video is not recognized or cannot be transferred to a Macintosh computer." error if you attempted. Use iMovie to import your AVCHD footage instead.
Conclusion
This article introduced popular solutions to compress AVCHD video files. Comparing a Free Online Video Compressor and a dedicated professional AVCHD video compressor, we would highly recommend the second method as your initial choice. We would be happy to listen to other workarounds and alternatives as the reader is encouraged to leave feedback in the comments section.