Compress your MPEG/MPEG-4 Video: Best Video Compressors Compared
Question: So, my boss wants me to compress a 300MB MPEG-4 video file into a 20MB file. I'm assuming it is possible, even if the quality of the video becomes atrocious. I'm guessing I have to drop the resolution of the video somehow. The problem is that I'm using a MacBook and there isn't any available software as I've known it. Could anyone instruct me on how to compress MPEG-4 videos on Mac please? - Johnny
Editor's reply: Good Question, Johnny. There aren't many MPEG video compressor options on Mac. There are generally speaking two paths for you to move forward: either find a good, professional-level compressor that supports Mac OSX or use a free online MPEG-4 video compressor instead.
In this article, we will talk about the details, the advantages, and the disadvantages of each feasible option. If you are in a similar situation as Johnny, you would be greatly inspired by our recommendations as well.

Part 1. What is MPEG-4 Format? Is MPEG-4 the Same as MP4?
Even though they share similar names, MPEG-4 and MP4 fall into different categories. MPEG-4 is a type of video codecs that mainly functions as the algorithm to compress your video. On the other hand, MP4 is the container format that wraps your compressed video into a single file that could be played by a video player.
Part 2. Most Efficient Way to Compress MPEG/MPEG-4
Why do you need a professional video compressor to compress your MPEG-4 video? Because the popular zip software usually works not so well for compressing MPEG-4 videos. General-purpose compression programs are worse at compressing video data than a proper video compressor.
Blu-ray Master Video Converter Ultimate is one of the more established names in the video compressor market. It also supports features such as:
1. Compress all the mainstream video formats. Compress MKV, MPEG-4, WMV, AVI, GIF
2. HD video support
3. Build-in video editing tools. Rotate/Crop/Clip your video easily
4. Supports both Mac and Windows PC
5. Choose from a 1-Year License or Lifetime License with a discount
How to compress MPEG-4 videos on Mac/PC:
Step 1
Download Video Converter Ultimate from the official website. On the main screen of the program, find the Toolbox tab on the top right side of the user interface. Click on the Video Compressor button. You would be able to drag and drop your videos directly into the project, or you could click on the "+" Add button, navigate to the folder where your video files are located. No matter which way you decide to operate, we need to import your files first before compress MPEG-4 videos.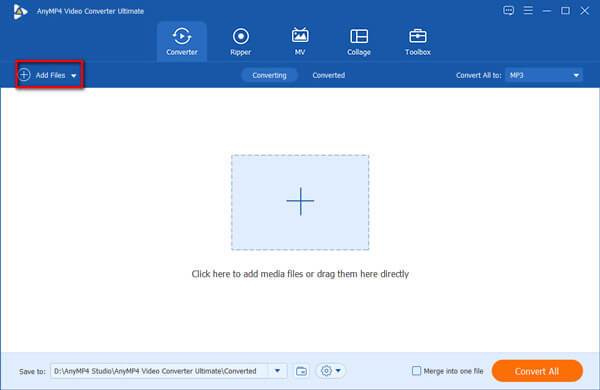 Step 2
On the next screen, change the option on the Size slide to resize your MPEG-4 video. It is a simple, straightforward approach that allows you directly decide the size you need to shrink your MPEG-4 videos. If you wish to change more details about your video with advanced options, click on the Format option to access settings such as codecs and resolutions settings.
Step 3
If you have already found the correct parameters for your video, click on the Compress button at any time. Your MPEG-4 video will be compressed in no time. Now the process is completed. You could easily resize a 300MB MPEG-4 video to 20MB without any hassle.
Part 3. Compress MPEG/MPEG-4 within Your Browser
As a free option for people who prefer a web-based solution, Blu-ray Master Free Online Video Compressor works perfectly for most of the scenarios. It could easily compress your MPEG-4 videos, and it is extremely easy to use without any prior knowledge for everyday consumers. Here is the step-by-step guide on how to compress MPEG-4 online:
Step 1
Navigate to the Free Online Video Compressor website. If you never used the website before, you have to download and install a launcher to proceed.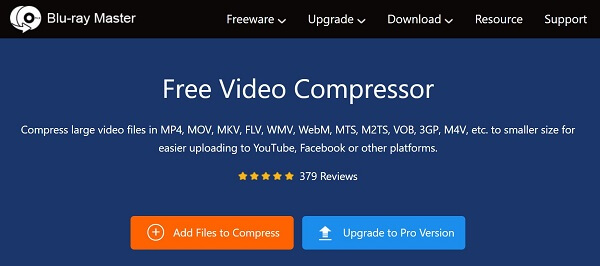 Step 2
Upload the video by clicking on the Add Files to Compress button. You could also change the output video size, format, resolution as well as video bitrates.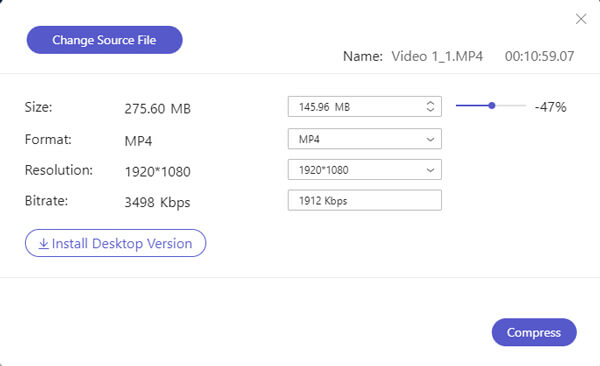 Step 3
Lastly, click on the Compress button to compress MPEG-4 videos. A link would soon be ready for you. Click on the link to download the compressed video.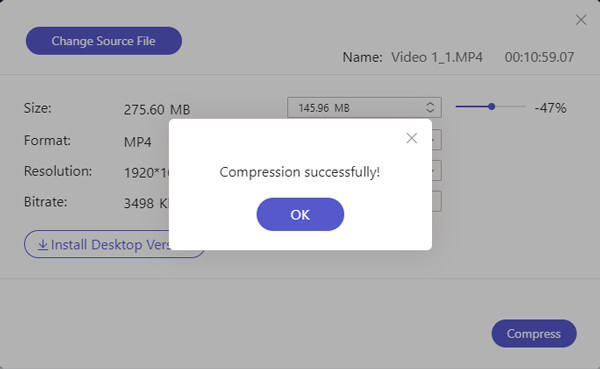 Part 4. FAQs about Compressing MPEG/MPEG-4 Videos
1. Is MPEG-4 better than MP4?
Comparing MPEG-4 and MP4 is kind of like comparing apples to pears. MPEG-4/H.264 is an encoding algorithm, while MP4 is a container format. It doesn't mean necessarily that MPEG-4 is better or worse than MP4.
2. How can I convert MPEG-4 to MP4?
In principle, you do not need to convert MPEG-4 to MP4, since they are almost similar. However, you might need to convert MPEG-4 format to MP4 in some cases: some players such as RealPlayer or iPhone Photos Player don't have full MPEG-4 support. Use the Video Converter Ultimate function to complete the task.
3. Where to buy an MPEG-4 set-top box?
An MPEG-4 set-top box allows you to stream video content to your TV sets. DD Free Dish New Full HD MPEG-4 Set Top Box is one of the more popular products but other choices are available as well.
Conclusion
To sum up, we have examined the best desktop MPEG-4 video compressor and free online MPEG-4 compressor. Whenever you are looking for a solution to compress MPEG-4 videos, opt for the choice that fits you most as we have suggested in the article.