[SOLVED] Verified Tools to Compress your SWF Files
Question: Hello everyone, I'm trying to reduce the size of my Flash movie file coming in SWF format. I downloaded random software from the Internet to compress SWF files but it didn't work for me. Somehow the actual file got even bigger! Does anyone know where can I find a good website to compress SWF? Thanks in advance! – Anonymous
Answer: We feel sorry for what you have experienced. We advise you take a step back from using unverified software from bogus sources. Sometimes the software doesn't work (which is your case), or worse, it might contain a virus or ransomware. To fix this issue, you do need to find a legit, working video compressor with compressing SWF files support.

Part 1. Compress SWF Files with Free Tools
For users who need to compress their SWF files quickly, try to use a free online SWF compressor as your default option. Blu-ray Master Free Online Video Compressor is a great choice for people who wants to convert a few SWF files without using complex tools. Follow the steps below to compress your SWF file:
Step 1
On the homepage of your free online SWF compressor, click on the Add Files to Compress button to install the launcher.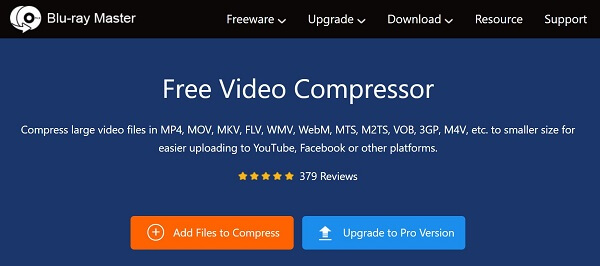 Step 2
After installing the launcher, upload the video you wish to compress to the website. You could also change the output video size, format, resolution as well as video bitrates.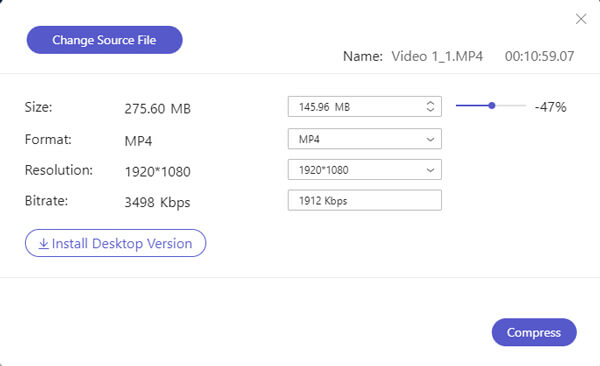 Step 3
Now, click on the Compress button. Your compressed SWF Adobe Flash file would soon be ready to download.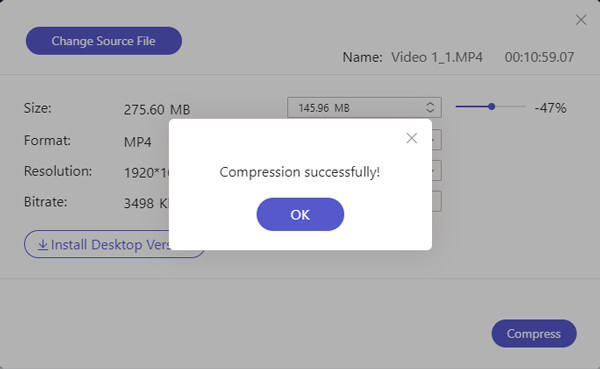 Part 2. Compress SWF Files without Any Hassle
Use powerful desktop software such as Blu-ray Master Video Converter Ultimate could fit your need to compress Adobe Flash SWF files. It is a well-known name in the field of consumer-level media software released by a trusted vendor. Besides merely compressing your SWF files, it also features much more advanced video conversion features. Download the software to try it out:
Here is a step-by-step guide on how to compress your Adobe Flash SWF file:
Step 1
On the main screen of the program, click on the Toolbox tab on the right top side of the screen. And subsequently, click on the Video Compressor button to import all your SWF files to the project.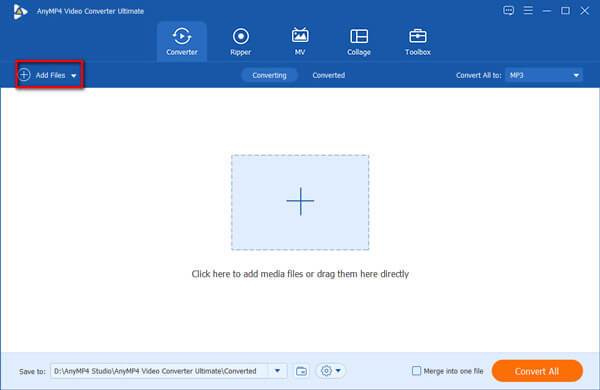 Step 2
Change the size of the file you wish to compress to. Drag the slide bar to the percentage of compression that you desire before compressing your Adobe Flash SWF file.
Tips: If you wish to convert your SWF file to other formats such as MP4 and MKV, Video Converter Ultimate supports over 500 formats that you would like to try. Click on the Format option to select more advanced options.
Step 3
Click on the Compress button to start the process. Your compressed Adobe Flash SWF file would be available shortly.
Part 3. Other Ways to Compress SWF Files
Alternatively, there is also a legacy software called Flash Optimizer which allows you to compress SWF files. It promises users with a stunning compression rate around 60% to 70%, by reducing the reductions of algorithms of vectors, shapes, morphing, Z-buffer and custom fonts.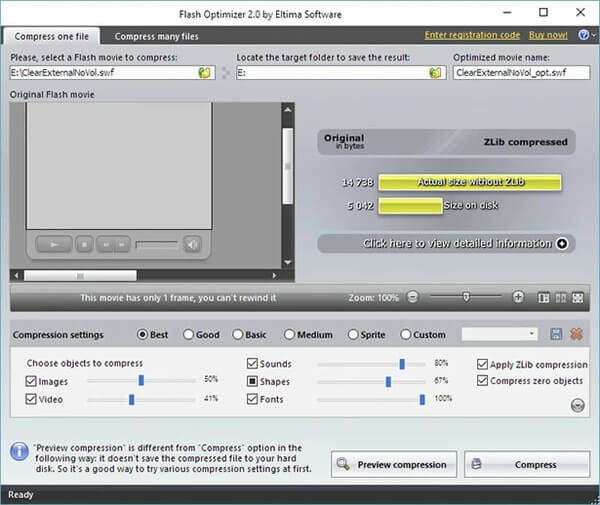 Compare the features of Video Converter Ultimate and Flash Optimizer:
| | Video Converter Ultimate | Flash Optimizer |
| --- | --- | --- |
| Software Design | Easy-to-use, user-friendly | Legacy software interface |
| Compression Rate | Up to more than 80% | 60% to 70% |
| Preview SWF Video | YES | YES |
| Convert Video to Popular Formats | YES | NO |
| Support Popular Video Sharing Platforms | YES | NO |
| Edit Videos | YES | NO |
| Compress Other Video Formats (MKV, MP4, etc.) | YES | NO |
| Support Platform | Mac and Windows PC | Mac and Windows PC |
| Price | $49.95 | $99.95 Business License for $299.95 |
| Has Free Trial or not | YES | YES |
Part 4. FAQs about Compressing SWF
1. Why SWF isn't supported by Adobe Flash Player anymore?
Adobe Flash SWF used to be the most popular multi-media format on the Internet but slowly falls behind new technologies such as HTML5 and WebGL. Its popularity bleeds out gradually, and eventually Adobe deuces to cancel Adobe Flash Player as a product.
2. How can I open an SWF file on my computer?
By default, an SWF file is generated by Adobe Flash, and its subsidies software Adobe Flash Player is designed to open such a format. However, since 2021 Adobe Flash Player has dropped SWF support. Thus, you might need an alternative software such as VLC video player to open SWF format files.
3. How to convert SWF to MP4?
Depends on the file size, you could select from either an online free video converter, or a professional video converter software. For smaller SWF files, an online video converter could handle the workload, while for professional tools such as Video Converter Ultimate fits the need for larger projects. It natively supports converting Adobe Flash SWF files to more than 500 formats.
Conclusion
As we have discussed in this article, you could either choose a professional software to compress SWF files or using a free online SWF compressor to archive your goal. We wish you could choose the product that matches your own need.