How to Compress a Video for Instagram in Various Situations
Today, it is easier to create amazing high-quality videos with smartphone than ever before due to the advanced lens. However, many Instagrammers found that the videos did not look as the same after uploaded to the social platform. That can be considered as video compression by Instagram. It is basically cutting down the video size without taking away or downscaling the quality. The good news is that you can prevent it from happening with our guide.

Part 1: What Are Requirements for Instagram Videos
Instagram released videos back in 2013. It intended the video to be as easy to make and share as possible. Although you can just post a video up to 15 seconds at the time, it quickly became a sensation among users. Now, users are allowed to post organic videos, video ads, and IGTV videos on Instagram. We list the requirements respectively below.
Instagram Organic Video Rule
| | Vertical video | Square video | Landscape video | Video Stories | Carousel Videos |
| --- | --- | --- | --- | --- | --- |
| Aspect ratio | 4:5 | 1:1 | 1:91:1 | 9:16 | 1:1 |
| Video codecs | H.264, VP8 | H.264, VP8 | H.264, VP8 | | |
| Audio codecs | AAC, Vorbis | AAC, Vorbis | AAC, Vorbis | | |
| Maximum file size | 4GB | 4GB | 4GB | 4GB | 4GB |
| Video length limit | 60 seconds | 60 seconds | 60 seconds | 15 seconds | 60 seconds |
| Maximum frames | 30fps | 30fps | 30fps | | 30fps |
Instagram IGTV Video Rule
| | IGTV |
| --- | --- |
| Minimum resolution | 720p |
| Aspect ratio | 9:16(vertical video) or 16:9 (horizontal video) |
| Video codecs | H.264, VP8 |
| Audio codecs | AAC, Vorbis |
| Maximum file size | 650MB for 10 minutes videos or 3.6GB for 60 minutes videos |
| Video length limit | 15 minutes when uploading from mobile device, or 60 minutes when uploading from a computer |
| Maximum frames | 30fps |
Part 2: How to Compress Video for Instagram Online
How to compress a video or videos for Instagram without resizing? Blu-ray Master Free Video Compressor is the answer. As a free video compressor, it works completely online and you do not need to install anything on your disk. Moreover, the web app is able to convert and compress a video for Instagram.
Step 1
Visit https://www.bluraycopys.com/free-online-video-compressor/ in a browser when you need to compress video for Instagram. Click the Add Files to Compress button to download the launcher.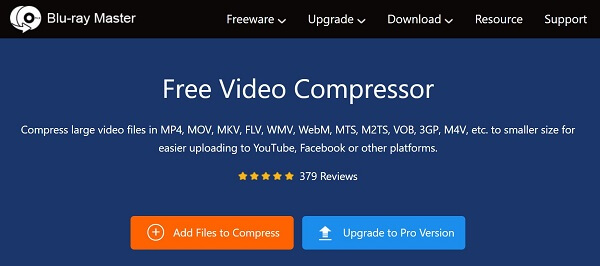 Step 2
When prompted, upload the video that you want to post on Instagram. Then move the Size slider according to Instagram. Set Format, Resolution and Bitrate accordingly.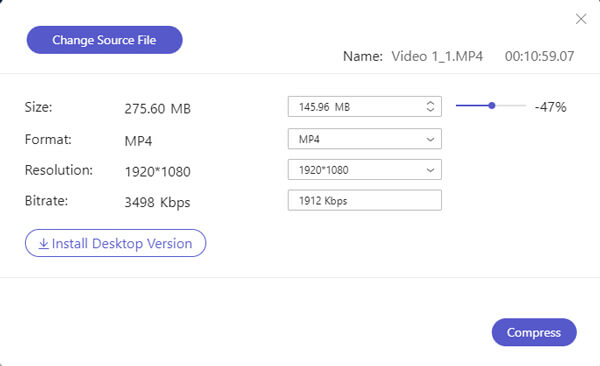 Step 3
Click the Compress button to initiate compress the Instagram video online. When it is done, download the smaller video and post on the social platform.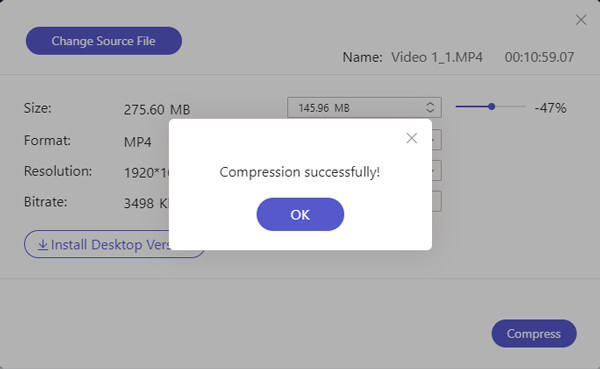 Part 3: How to Compress Video for Instagram on Desktop
Sometimes, it is not enough to compress a video file size for Instagram. To avoid video distortion, you also need to crop parts of the video. Blu-ray Master Video Converter Ultimate is just the right tool you need. It helps you to compress a video for Instagram. More importantly, it utilizes advanced technology to protect the video quality while compressing.
Main Features of the Best Video Compressor for Instagram
1. Compress a video for Instagram easily.
2. Trim parts of the video and remove unwanted frames.
3. Convert video format to MP4, MOV, and more.
4. Reset resolution, bitrate and other parameters.
How to Compress a Video for Instagram without Quality Loss
Step 1
Add video
The best video compressor is compatible with Windows 10/8/7 and Mac OS X. You can download and install it on your computer following instructions. Then launch it, go to the Toolbox tab from the top of the window, and choose Video Compressor to open the main interface. Click the + icon to import the source video. Or drag and drop the video onto the interface to add it.
Step 2
Set parameters
Enter a filename in the Name field and move the slider of Size until it meets the Instagram rule. You can also set the size manually in the box. Pull down Format and choose MP4 or MOV. Change the Resolution and Bitrate according to Instagram.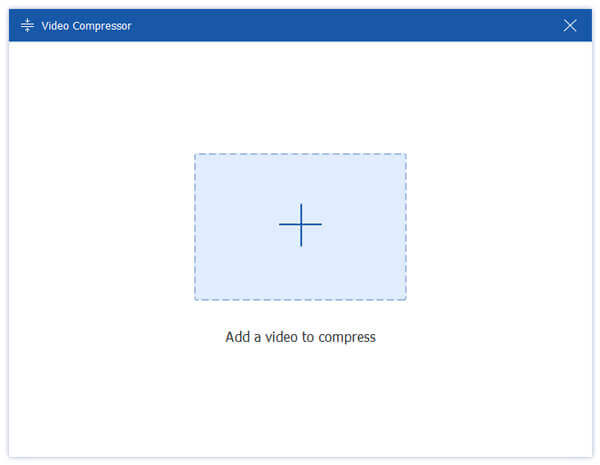 Step 3
Compress video for Instagram
When you are ready, click the Folder button at the bottom and select a specific folder to store the Instagram video. At last, click on the Compress button to begin compressing video for Instagram. A few seconds later, you will find the video on your hard drive. Then you can upload it to your Instagram account.
Also Read:
How to Compress Videos for Email
How to Compress Videos for Web
Part 4: FAQs about Compressing Video for Instagram
Why does Instagram compress video so much?
In order to save on both bandwidth and on storage space, Instagram has implemented video compression at the time of upload. Every video you upload will be run through this compression; there's no way to avoid it completely.
How do I fix the quality of Instagram Story video?
Instagram Story video quality bad issues may happen for various reasons, including the Internet connection, the app version and more. To resolve this problem, firstly check your internet connection and use Wi-Fi network rather than cellular. Instagram will compress your video, so use as high video quality as possible. If you take videos on smartphone, set the camera quality to the best. Then compress your video before uploading if your video is too large.
How to stop Instagram compressing my videos?
The reason why your content gets hammered by Instagram is mainly due to the dimensions or rules that your content isn't following. To stop Instagram compressing your videos, you can compress them following the rule before uploading.
Conclusion
Now, you should understand how to compress a video for Instagram properly. Social media compresses your video in order to save traffic and storage space, so does Instagram. The lager your video file, the higher level of compression. Therefore, you should compress your videos with Blu-ray Master Video Converter Ultimate for Instagram without losing quality. If you have other questions, please write down a message below this post.