How to Compress Videos on Android Offline and Online with the Best Android Video Compressors
Were you caught up in a situation when you patiently edited a funny video for hours and got disappointed because you weren't able to send it due to its huge size? What is more annoying is that the video editing app you use to edit that video couldn't help you compress videos on Android phone. Oh, that's a darn. Fortunately, an article like this got your back. The good news is that you would not need to worry about how these compressors fit on your phone since we will introduce online and offline tools that you can access on Android. Not just that, but we also have an excellent solution that works on all your Android videos like a pro! So, without further adieu, let's get these exciting guidelines started.

Part 1. How to Compress a Video on Android in Offline and Online Way
1. Video Compressor & Video Cutter (Offline)
If you are looking for a video compressor app for Android that you can use even if you are offline, then use this Video Compressor & Video Cutter app. It helps you to compress and convert your videos to MP4 easily. Furthermore, it also provides you with additional features that will enable you to fast-forward, extract audio, and share your video when you get back online. What makes it nicer is that you can install it for free, and it will only require you with in-app purchases when you need to. Also, you can edit batch images simultaneously if you wish to, as it is part of its key features. However, it is a perfect app to accommodate your video compressing task; many users still find it very limited from the other editing tools they need. Nevertheless, if you only need a pure compressor, then this app is perfect. Thus, prepare your Android to compress video files following the steps below.
Step 1
Launch the app after installing it and begin by giving it access to your photo and video gallery.
Step 2
Next is to select the video file you need to edit under the Compress Video section. Once you pick the file, tap the Compress Video tab on the next screen.
Step 3
Then, tap your selected size for your video on the next page. Wait for the compressing process to finish, then save the final output.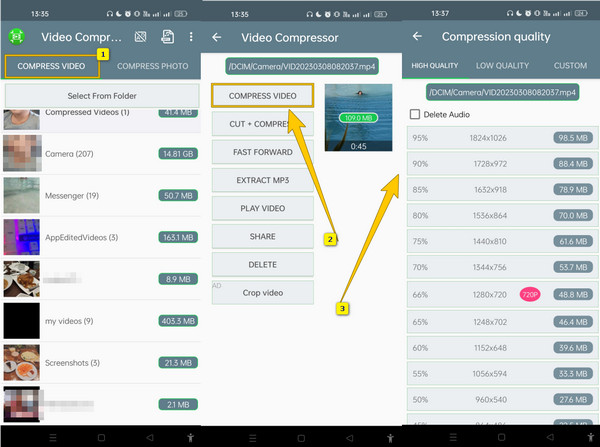 2. Clideo Compress Video (Online)
Moving forward to this online way of compressing video, you shouldn't miss using Clideo. This tool enables you to compress video on Android online for free while excluding the requirement of installing an app. It benefits those who need an instant and accessible tool to help them. Despite being an online tool, Clideo assures you of giving you a secure channel for every file you work with, guaranteeing that no one can access your files but you. Moreover, it lets you upload your video from Google Drive, Photos, and Dropbox. However, do not expect it to function well when you run out of internet connection. Thus, here are the steps you can follow.
Step 1
Open your browser and visit the official website of this tool. Then, once you are on the main page, tap the Choose File button and bring the MP4 video to compress from the Android-selected folder.
Step 2
Once you pick the video, the waiting game happens. Wait patiently until the video is uploaded and, at the same time, compressed.
Step 3
When the compression process is done, tap the Download button that prompts.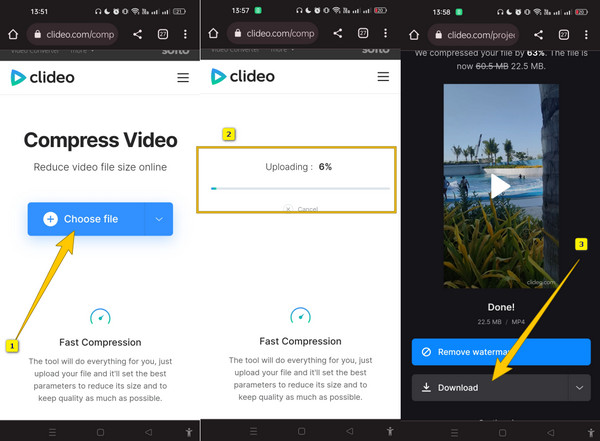 Part 2. Excellent Solution to Compress Android Videos on Computer
If you want an all-out video editing experience, then you should not argue against using a computer program. Desktop video editing software is far more appealing and dominant than an app. For this reason, meet the best among the dominant tools on both desktop and Mac, the Video Converter Ultimate picked by Blu-ray Master. As its name suggests, it is the ultimate software that will not only work ultimately on video conversion but on editing as well, and that includes the Android video compressor. Speaking of editing, this Video Converter Ultimate is infused with tons of tools located in its Toolbox that work smoothly since Artificial Intelligence powers them. Moreover, you will enjoy compressing a video in just a few clicks!
What else? Whether you work on videos you got from your Android or not, it still supports over 500 different file formats, making you transform your videos in any type you want. On top of that, it supports high quality videos such as Ultra HD, 4K, 6K, and even 8K! Amazing, isn't it? Make it even more remarkable when you use it yourself with the help of the following steps below.
Key Features:
1. Compress Android videos losslessly in a few clicks.
2. Many additional tools to utilize in its Toolbox.
3. Work on your high-quality videos up to 8K.
4. Support over 500 different formats for input and output.
5. With advanced acceleration technologies for GPU and hardware.
Step 1
Install the Software
To begin with, please take time to install this amazing software on your computer by clicking the Download button above.
Step 2
Access the Video Compressor
Once the software is available, run it and click its Toolbox menu when you reach its main interface. And from that menu, click the Video Compressor tool.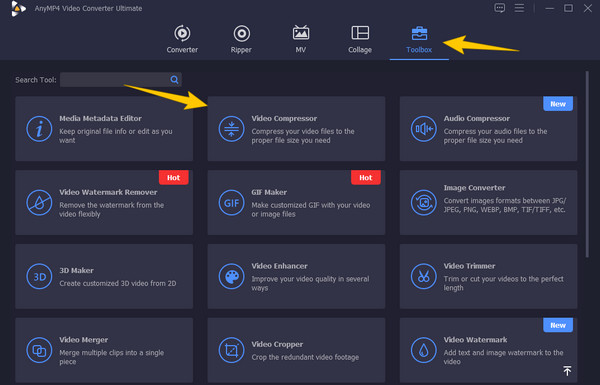 Step 3
Upload the Android Video
After clicking the Android video compressor, you must hit the Plus icon at the center of the new window. This will enable you to upload the video you need to compress.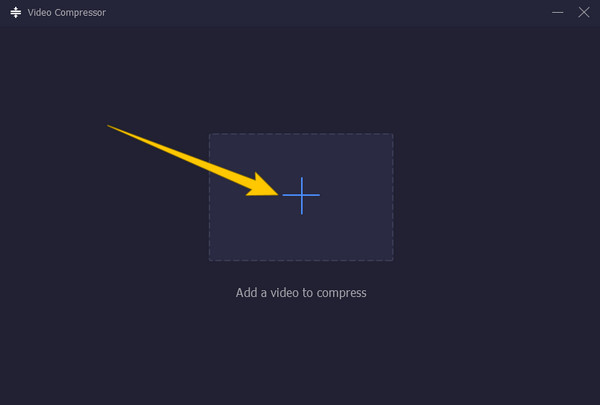 Step 4
Compress the Video
You will know the video importation is done when you reach the new window. From there, begin compressing the video. How? Adjust the sliding bar in the Size section and bring it to the left. And then, before you save the compressed video, you can adjust the other presets for the resolution, bitrate, and format. Otherwise, fire up the Compress button.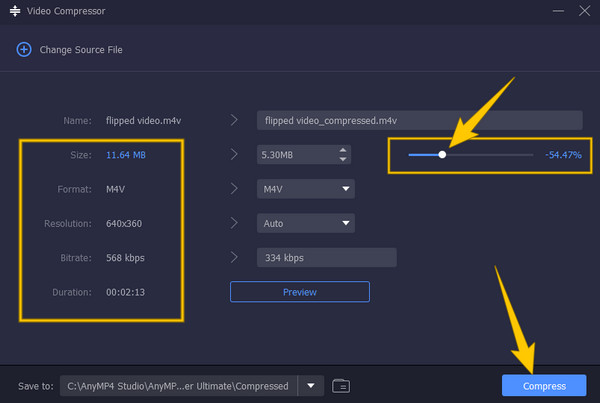 Part 3. FAQs about Compressing Videos on Android
Can I use my Android to compress video for text?
Yes. You can use your Android phone with the help of an online video compressor.
What is the best Android video compressor that provides a preview?
If you want a tool that can preview the video you are about to compress, use Video Converter Ultimate. Click the preview button when you reach its compressor window.
How to compress a video for my email on Android?
If you are using Gmail, you can try to compress your videos for Email on Google Photos. To do so, open the video on your Google Photos and then go to the photo settings. Then, click the upload size selection and then select the storage saver. You can now re-upload and save the video.
Conclusion
There are different ways to compress videos on Android, but you must be wise in picking the best way. But for experienced video editors, we will always choose computer software like Video Converter Ultimate for extensive video editing.