How to Compress WebM Video Files with High Quality (No Size Limit)
Question: I have a few overlays and camera frames that are all animated. However, a few of the WebM files are oversized and consume my memory. Some smaller WebM files make my CPU staying at a steady 15-16%. I've tried a few Free Online Web Compressor services, but they all make the quality atrocious even if I keep the same bit and resolution. Is there any good way to compress WebM files without making them complete pixel blocks like the online converters do? - Question Posted by a Reddit User
Editor Reply: Good question asked. Online tools and desktop WebM video compressors work for different scenarios. For small and quick workloads, using a free online video compressor will be able to help you swiftly complete your task. However, larger projects generally require more professional-level WebM compressor software to ensure reliability and stability. We will quickly go over the choices available for you in the following passages and compare the pros and cons of each option.

Part 1. How to Compress WebM with High Quality
What usually happens is, you need to upload your media files to a website that puts a cap on the upload file size. You want to shrink your WebM file size as much as you possibly could, but hesitate to make any quality loss. Using carefully crafted, professional-level desktop software could be a wise choice. Blu-ray Master Video Converter Ultimate is designed for your exact use case. It simply works. Its features cover almost everything you would need to create videos. You could easily get results within several clicks.
Other features also include:
1. Compress all the mainstream video formats. Compress MKV, MPEG4, WMV, AVI, GIF, and more
2. HD video support. No quality loss
3. Build-in video editing tools. Rotate/Crop/Clip your video easily
4. Choose from a 1-Year License or Lifetime License
How to Compress WebM Videos with Professional Video Compressor
Step 1
Import Videos to Compress
Download and install Video Converter Ultimate. Open the program, on the main screen, locate the Toolbox tab on the ribbon. Choose the Video Compressor option and add the videos to your project. Alternatively, you could drag and drop files towards your window to import WebM video files for compression.
Step 2
Pre-Compression Set Up
Choose the size you wish to resize your WebM video in this step. Slide the Size bar to choose the exact compression rate you wish for, and select the Format option for more codecs and resolutions settings.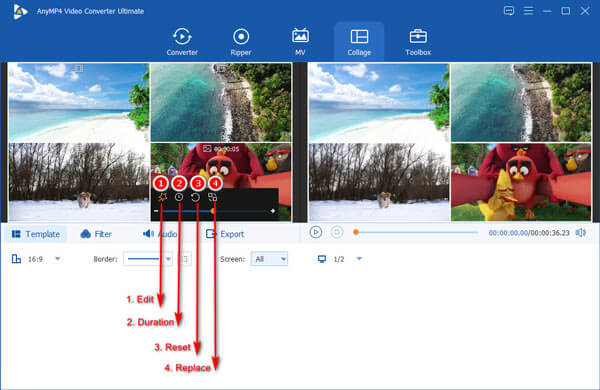 Step 3
Compress Video
Finally, click on the Compress button to save the video. Please wait for a short time and your compressed video would be ready. Now, you are free to share the video with your friends without worrying about the file size!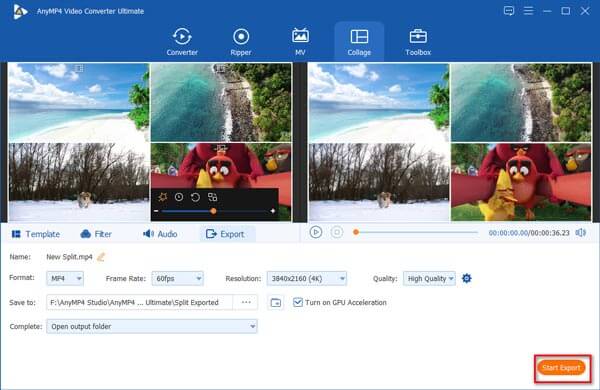 Part 2. How to Compress WebM Free Online
If you insist on using an online video compressor, look no further than the Blu-ray Master Free Online Video Compressor which gives you a simple touch to compress your WebM videos. You do not need a high-end video card to compress large videos fast, just upload to the website portal and the compressor will do the rest of the job for you. Now we'll introduce you to how to use the free online WebM compressor:
Step 1
Install Launcher
Visit the homepage of the free online WebM compressor in your web browser. Next, you need to install a launcher to proceed. Click on the Add Files to Compress button and follow the instructions on the screen. It would take only a minute to complete.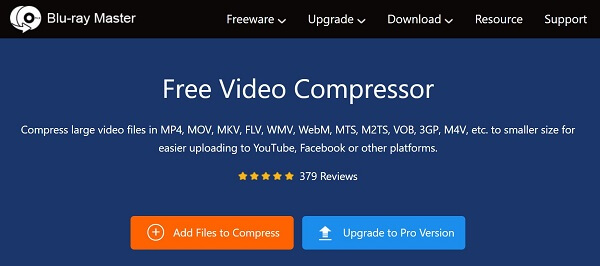 Step 2
Upload Video and Configure Parameters
After installing the launcher, upload the video you wish to compress to the website. You could also change the output video size, format, resolution as well as video bitrates.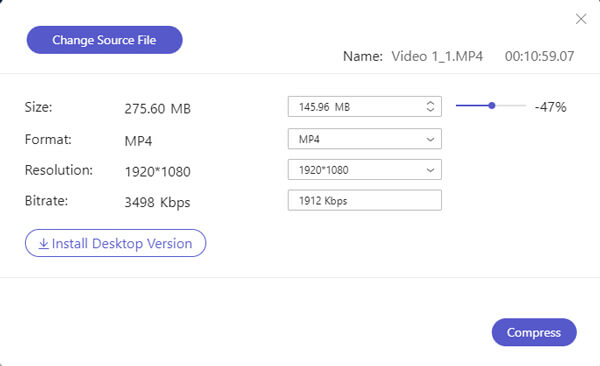 Step 3
Compress Video
Now, click on the Compress button and get a cup of coffee. Your compressed WebM video would soon be ready to download.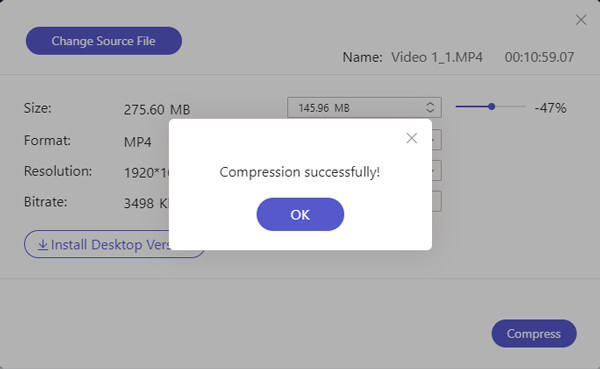 Part 3. What's the Difference
| | Free Online Video Compressor | Video Converter Ultimate |
| --- | --- | --- |
| Compress Video | YES | YES |
| Compress 4K Video | NO | YES |
| Convert Video | NO | YES |
| Convert Audio | NO | YES |
| Safe to Use | YES | YES |
| Edit Video | NO | NO |
| Internet Connection Requirement | YES | NO |
| Convert DVD | NO | YES |
| Output Video Formats | MP4, MOV, MKV, AVI, M4V, FLV, WMV, VOB, MPG, 3GP, etc. | Over 500 formats |
Part 4. FAQs about WebM Compressors
1. Why are WebM files so much larger than MP4?
This might be because of the misconfiguration during WebM encoding process. If you choose the "high-quality" option, then the encoder will spend more bits per second on the video. Use a WebM compressor to fix your issue.
2. Can Windows Media Player play WebM?
No. Windows Media Player is not the best WebM player to play WebM files without having extra plugins. The player is incapable of decoding the WebM container for both the video and audio content.
3. How can I convert WebM to MP4 format?
Use professional software such as VLC Player. It is one of the most commonly used media software available. Moreover, it is free and open-source.
Conclusion
As we have learned, always choose the best fit tool for your workflow before starting your project. Both free online WebM compressor and desktop professional compressor have their advantages and disadvantages. The correct toolkit would optimize your user experience and boost your productivity greatly.