Effectively Make Incredible Slideshows with Adobe After Effects
After Effects is an Adobe application meant for professional use in editing videos and images. You can also create slideshows in After Effects. Your slideshows will come out professionally with the help of its highly customizable templates and various tools. Features include creating 2D and 3D animation, title effects, green screen, transitions, keyframes, and more.
Continue reading this post to learn how to make a slideshow in After Effects. There is also a tool included that is an excellent alternative to Adobe After Effects in creating slideshows.

Part 1. How to Make a Slideshow in After Effects
Adobe After Effects is one of the programs that novice users have a hard time using. It may be overwhelming at first, but with enough time and effort, you will surely be adept at using it. For that, you need to learn how to make slideshows in After Effects CS6. Follow the steps below so you can familiarize yourself using this tool faster.
Step 1
Open Adobe After Effects and do a new project. It is commonly called compositions or comps. Locate and click New Composition to create one. Right-click your mouse and select Import>Multiple Files to start importing files to the program.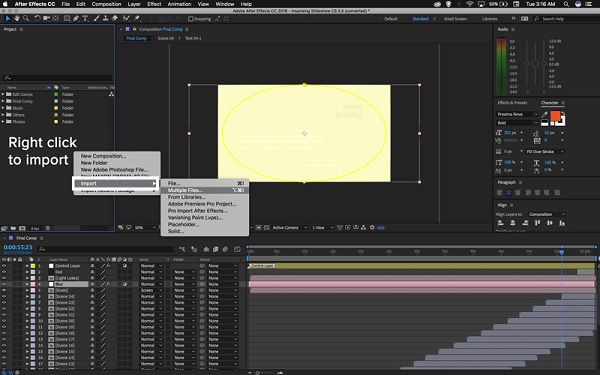 Step 2
A new pop-up window will appear, then select Single Composition. To make your images uniform in size, use the drop-down list button and choose which image file will be the basis.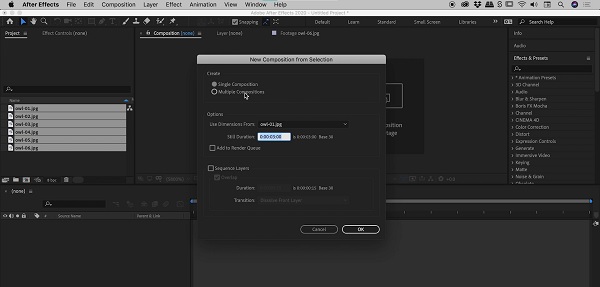 Step 3
Tick the box beside Sequence Layer to separate each image to avoid overlapping photos. On Duration, adjust the time on your preference to how long each image will appear on the slideshow. For Transition, you can choose between these effects: Dissolve Front Layer or Cross Dissolve Front and Back Layers. Click OK to apply changes.
Step 4
Finally, to save your slideshow project, tap on Compositions>Add to Render Queue from the Menu Bar. Select the location where you want to store your project on your device, then click Save.
If you are still having difficulties in creating a slideshow in After Effects, here's a tool that you can try to make slideshows quickly. Read the next part for more information.
Part 2. Alternative Program to After Effects
After Effects, being a part of Adobe's wide selection of video and photo editing programs is unsuitable for beginners. Another reason is that the free trial version does not last long. If this is a deal-breaker for you, you can rely on this program that I will introduce to you. Video Converter Ultimate is a reliable and effective slideshow maker that is free to download. You can create excellent slideshows with ease using the powerful MV feature. The MV feature is capable of making not just slideshows but also music videos and homemade movies at no cost. Moreover, you can further enhance your slideshows by applying themes, including background music, using filters and effects, etc. And to make things better, this program is beginner-friendly.
Key Features:
1. Plenty of templates for your slideshows
2. Supports 500+ file formats for audio and video (MP3, AAC, AC3, MP4, AVI, MKV, etc.)
3. More tools on Toolbox (Video Watermark Remover, Color Correction, Video Rotator, etc.)
4. Available to download on Windows and Mac
Step 1
Start by clicking the Download button to begin acquiring the program. Wait for the exe. file to finish downloading, then proceed to run the installation wizard. The program starts automatically once installed. Use the MV feature to start creating your slideshow.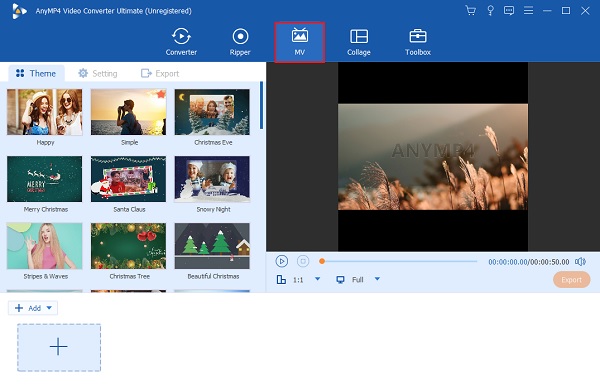 Step 2
On the MV tab, there are templates for you to use and apply to your slideshows. And at the bottom of the interface, use the +Add button to add the photos you will use for your slideshow. After adding images, you can tap the Edit button to modify and enhance your pictures or video clips individually, like adding watermarks, applying filters, adjusting effects, etc.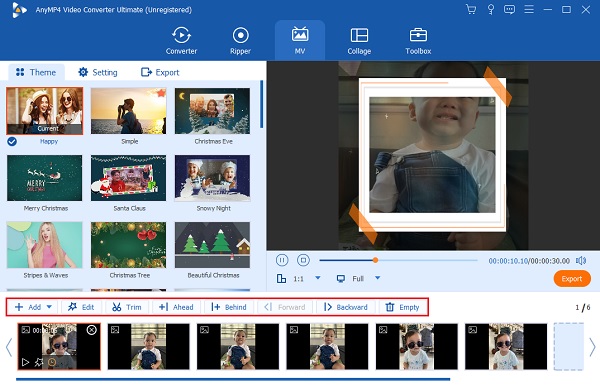 Step 3
You can head to the Setting tab to change the background music of your slideshow. Tap the Plus sign button to change the soundtrack by adding music from your folder. To increase the loudness of the background music, freely adjust the slide control of Volume. And to add an echo-like effect, adjust the slide control of Delay.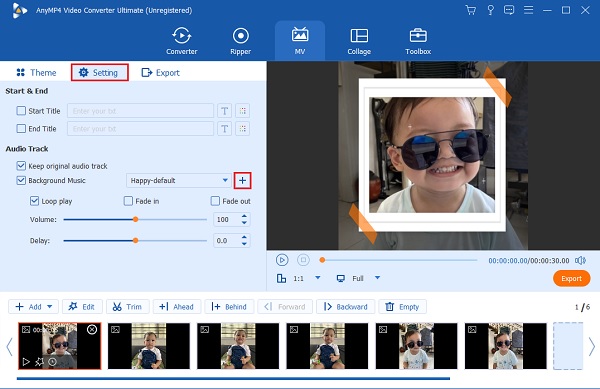 Step 4
Finally, you can move on to the Export tab of this movie maker. Choose a file location where you want to save your slideshow. Tap Start Export to begin the process. Your video automatically saves after the exporting process ends.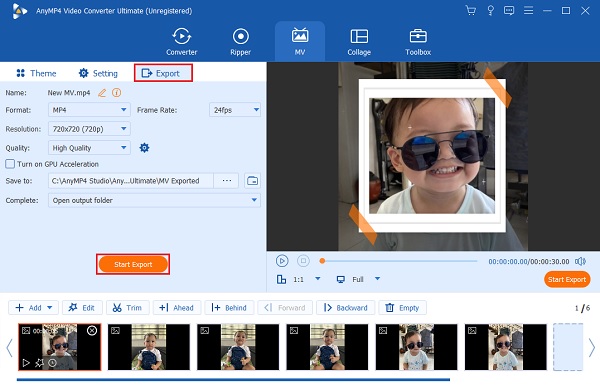 Part 3. Tips for Using After Effects
Here are some helpful tips for you to understand After Effects better.
Keyboard Shortcuts
P-R-S-T
Most animation in After Effects involves customizing a layer's position, rotation, scale, or opacity. You can use the keyboard shortcuts P=position, R=rotation, S=scale, T=opacity to get you animating faster.
Importing Elements and Bringing into Timeline
To import videos and images to After Effects, you can click File then Import from the sub menu or just use the CTRL+l keyboard shortcut.
Using the Timeline
To ensure you have selected the tools correctly, you can hit the V keyboard button.
Scale, Size, Move
To transform properties for layers in Timeline, click the small triangle on the layer you want to change. Select the arrow beside Transform for more options. Change the number values to affect the scale, position, and other items. Click here to learn how to crop videos in After Effects.
Part 4. FAQs of Creating Slideshow in After Effects
Is After Effects free to download on PC?
Yes. Adobe After Effects is free to download on PC. The free trial is the full version of the app that includes all the features and latest updates of the program. However, you can only access it for 7-days.
Does After Effects have a mobile version?
Sadly, no. After Effects does not have a mobile version, but the good thing is that Adobe has a mobile app similar to After Effects called Adobe Premiere Rush. Premiere Rush can do quick video edits for your social media posts. You need a Creative Cloud subscription and a high-spec phone to work smoothly.
How much is After Effects' annual plan?
There are two ways to get After Effects. The first one is the Single App plan which costs $20.99/month on an annual plan. The second is availing of the Creative Cloud All Apps option that gives you access to Adobe's entire creative programs for desktop and mobile apps. This will cost you $52.99/month on an annual plan.
Conclusion
Creating slideshows in After Effects might be complex for beginners like you, but the slideshows you made have wonderful results. But if you want a free program that can make marvelous slideshows, always use Video Converter Ultimate. With its intuitive and well-laid controls, user-friendly interface, plenty of free templates, and lots of editing tools, you will surely not regret this program.