Crop Video in After Effects Efficiently in 5 Easy Steps [Bonus Tips Included]
Adobe's After Effects, which has been refined throughout time, is one of the most widely used video editing products today among producers and filmmakers. In addition to being jam-packed with useful features, it can also help you achieve higher levels of quality in your new projects. Its cropping tool is one of its most distinguishing characteristics. After Effects comes in handy if you mistakenly record a clip with an odd aspect ratio or if you accidentally capture an unwanted area on your camera. So, what is the best method to crop video in Adobe After Effects? Hold on tight as we take you through a step-by-step overview of how to crop video, as well as some simple recommendations for having an effective workflow in video cropping.

Part 1. 5 Steps on How to Crop Video in After Effects
After Effects is considered one of the most advanced editing programs available, especially on how to crop video in After Effects. It is equipped with significant digital effects and high-quality visual design elements. Besides having several noteworthy filters and effects, After Effects is a well-known video editor with a cropping option. Suppose you happen to shoot footage containing many unwanted areas After Effects has you covered. Yet, one of the most significant disadvantages of Adobe After Effects is that it consumes a substantial quantity of system memory. Because of this, you may experience delays when working on your project and may have difficulty previewing it in real-time. Nonetheless, let us look at the complete guide on how to resize video in After Effects in its entirety.
Step 1
Launch the software
Go to the website of the tool. Download and run the After Effects.
Step 2
Unload the video on the timeline
Create a new project, select File from the above menu bar, and hit Import > File to upload the video you wish to crop.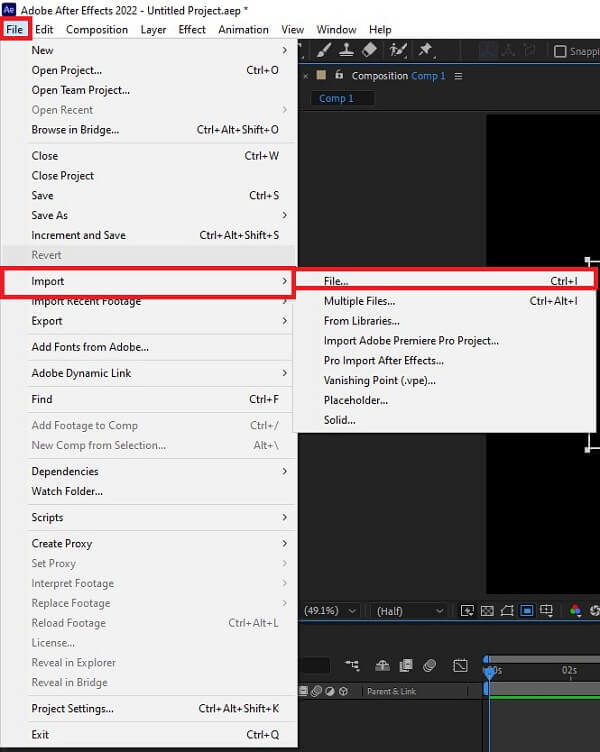 Step 3
Prepare and set the video to crop
Find the Region of Interest button at the lower part of the Composition panel to set your clip to crop. Drag to create a box to use the Region of Interest tool.
Note:If you don't get the box precisely the first time, you may alter the edges after you've selected your Region of Interest. Then, deselect the box specified in the first step to modify the display of the Region of Interest.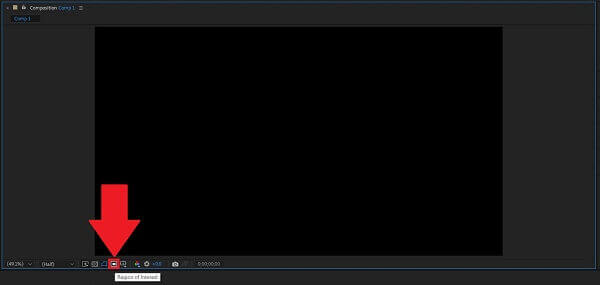 Step 4
Crop video in After Effects
After hitting the Region of Interest, click Crop Comp to Region of Interest. It will automatically crop the video to the Region of Interest you set upon clicking.
Step 5
Export the newly cropped clip
Finally, to enjoy the recently cropped video, go to the menu bar, locate File, and select Export. Hit Render and play your cropped video on the folder file destination.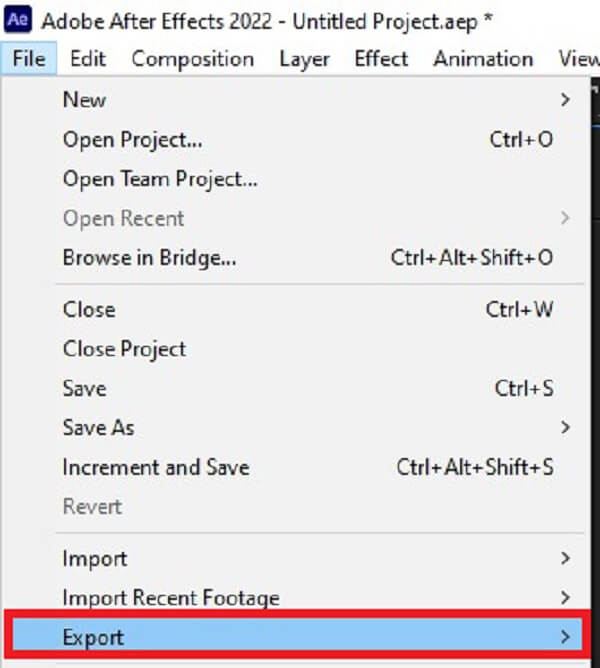 Part 2. The Fastest Way to Crop Videos
After Effects is, without a doubt, a high-end video compositing software for professionals. Indeed, it is a sophisticated program that takes a high degree of complexity to learn. As a result, it is not a good choice for beginners who lack video manipulation skills and only need to execute easy video editing operations. Video Converter Ultimate is yet another simple tool for you to use. A straightforward interface and a comprehensive feature set enable you to complete a wide range of basic video editing tasks quickly. Using it, you may trim a video, split it into segments, merge many pieces into a single file, and do a variety of other operations in a matter of seconds. Come learn how to crop video using this program without any hassle by following the step-by-step guide.
Key Features
1. It has a powerful toolbox to crop, trim, split, and flip videos.
2. It has more than 500+ video and audio formats.
3. It creates animated GIFs and compresses video files
Step 1
Launch the cropping tool
Download and run the program on your desktop. Otherwise, you can click the download buttons above.
Step 2
Set to crop
To prepare a video for cropping, click Toolbox > Video Cropper. It will direct you to the importing interface.
Step 3
Import the video clip
To upload the video, click the Plus (+) button or drag the clip in the center of the interface.
Step 4
Crop the clip
After successfully importing the clip, you will proceed to the Cropping Toolbar. Crop the video using the box according to your desired video size using the handlebar. Otherwise, you can choose your desired aspect ratio and modify the settings.
Step 5
Export now
To save changes, hit Export. If you find yourself needing to crop the video again or change the output settings, you can do so by pressing the Stop button.
Step 6
Preview the cropped video
To view the file, look at the file destination of the cropped video.
Part 3. Bonus Tips to Crop Video Clips Perfectly
1. Ensure that the aspect ratio of a cropped video is just like the aspect ratio of the output format you've chosen.
2. When cropping a video like MP4, watching the finished version is always a wise option before saving it to your hard disk. Check to see that the video has not been cropped excessively.
Part 4. FAQs on How to Crop Video in After Effects
Is it possible to utilize proxies in Adobe After Effects?
Yes, perform one of the following actions in the Project panel: Identify and utilize a proxy, choose a footage item, navigate to File > Set Proxy > File, locate and choose the proxy file, and then hit Open.
What is the After Effects' footage panel?
After Effects' Footage panel has some controls for watching a video, as expected, you can enlarge or minimize your view of the video and playback and pause motion footage.
Is Adobe After Effects free to utilize?
Adobe After Effects is on a whole other level of stunning - to the point where you might be mistaken for assuming that it is the only advanced program of its kind. It is offered for a 7-day free trial period, but you will be required to pay for it when that period has expired.
Conclusion
While cropping videos in Adobe After Effects may be simple for advanced users, it may be difficult for those just starting. Because it is a sophisticated and demanding application, users may experience difficulties cropping videos. As a result, I strongly advise you to download Video Converter Ultimate, which features a straightforward and user-friendly user interface. It will make the work of video cropping quick and clear for you.