How to Crop and Resize a Video on Android without Quality Loss
Suppose you shot a video using your Android phone at your daughter's birthday party. Before posting it to your social page, you'd better check your video and make sure that it does not include any of your neighbors or someone else. To make the followers focus on your daughter, you can crop the video on your Android device. However, there is no built-in video editor app on Android phones. Instead, you can learn the easiest ways to get the desired effect easily.

Part 1: How to Crop a Video on Android
Although you can trim and cut a video with the Gallery app on an Android phone, it cannot crop or resize your movie. It means that you have to use a third-party video editor to remove unwanted areas from your videos.
How to Crop a Video on Android with Google Photos
The Google Photos app includes a simple video editor. In the new version, Google has added some new features into the video editor including cropping a video on Android.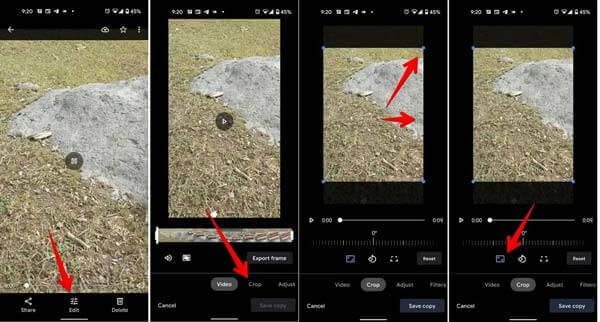 Step 1
Install the Google Photos app on your phone and sign in to your Google account. Turn to the Gallery app, find the target video, tap the Share icon and choose Google Photos. If your phone is online, the video will go to your account.
Step 2
Fire up the Google Photos app, locate the target video and open it. Tap the Edit button to head to the editing screen, and choose the Crop option.
Step 3
Now, you can crop the video by moving the cropping box, or resize it with presets by hitting the Aspect ratio icon.
Step 4
When you are done cropping the video on Android, tap Save copy to save the video as a new file. Here you can share or download the cropped video in Google Photos.
How to Resize a Video on Android Online
Web-based video editor apps are another way to crop a video on Android. Clideo, for example, allows you to upload a video, and resize them to the desired dimensions on your smartphone.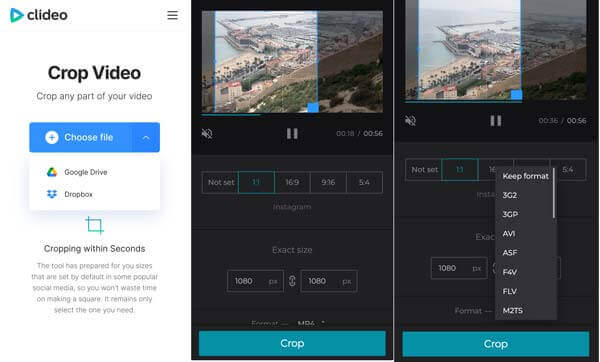 Step 1
Open your mobile browser, and visit https://clideo.com/crop-https://www.bluraycopys.com/video/flip-video-on-android.htmlvideo. If you have an account, sign in. If not, try the free version directly, which adds a watermark to the final work.
Step 2
Click the Choose file button to upload the target video from your Gallery. You can upload a video from Google Drive or Dropbox.
Step 3
Next, you can resize the video on Android with the preset aspect ratio or manually crop it with the cropping box. Tap the Crop button to confirm the changes.
Step 4
Tap the Download button to get the video.
Part 2: How to Crop an Android Video with a Computer
As small screens, Android phones are not a good place to crop or edit videos. That is why so many people prefer to crop Android videos with a computer. Blu-ray Master Video Converter Ultimate can help you streamline the process.
Main Features of the Best Android Video Editor
1. Crop Android videos in a few seconds.
2. Batch process multiple videos at one time.
3. Support almost all video formats, like MP4, MOV, FLV, etc.
4. Work offline and do not require an internet connection.
How to Crop an Android Video on Your PC
Step 1:
Add video
The best video editor includes two editions, one for PCs and the other for Mac. Install the proper one to your machine and launch it. Make sure to send the video that you want to edit from Android to your computer. Click and expand the Add Files menu, and select Add Files to open it. The Add Folder option can open all videos from a specific folder.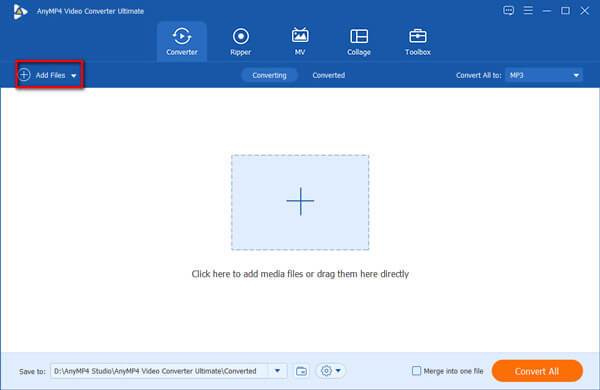 Step 2:
Crop Android video
Click the Edit button under the video title. The video editor window will appear. Go to the Rotate & Crop tab from the top ribbon. Now, the easiest way to crop the Android video is by adjusting the cropping box in the Original panel. You can also resize a video accurately by entering the Crop Area boxes. There are dimension presets in the Aspect Ratio menu. If you want to pan and zoom the video, the Zoom Mode menu can meet your need.
Step 3:
Export video
Preview the Output panel and click the OK button if you are satisfied. Now, decide the location folder in the Save to field. If you intend to change the video output format, click the Convert All to menu at the top right side and set it on the profile dialog. At last, click on the Convert All button to export the video to your hard drive.
Note: To apply the cropping to multiple videos, click the Apply to All button on the video editor window.
Related:
How to Rotate Videos for Instagram
Part 3: FAQs about Cropping Video on Android
Can I crop a video on Android without third-party apps?
No, you cannot edit videos on Android without third-party video editor apps. The built-in Gallery app only offers the video trimming feature. There is no preinstalled video editor on Android.
How to crop videos on Samsung Galaxy?
Although Samsung added a lot of utilities into Galaxy smartphones and tablets, it lacks a video editor app. Therefore, you still have to use a third-party video editor to crop videos similar to other Android devices.
Why is the camera zoomed in WhatsApp video on Android?
When making a video call in WhatsApp, you may find that the video is stretched and zoom. The easiest way to fix this problem is to clear your cache. If it does not work, reinstall the latest version of WhatsApp. Then you will find it works normally.
Conclusion
This guide has told you how to crop a video on Android phones or tablets. The Google Photos app is the best option if you are using it to back up your videos. Moreover, you can try an online video editor app. Blu-ray Master Video Converter Ultimate is the best choice to crop Android videos with a computer. More problems? Please write down a message below this post.