How to Disable Split Screen in Safari Using Two Easy Methods
iPads have a split screen feature that enables owners to multitask on their apps and other kinds of stuff on their iPad. This is also the same when browsing Safari because this browser also allows users to browse two web pages at the same time. Enabling this split screen in Safari is relatively easy. As a matter of fact, you can allow it to even without intending to. As a result, Safari's window size shrinks in half. Now, if you don't like this kind of scenario, then you should really know the ways how to disable split screens in Safari. Good thing you have found this article, for it will feed you reliable yet comprehensive tutorials in doing the task.
On the other hand, we will also recommend the best way to do a split screen. This is not your ordinary screen splitter because it offers tons of exciting features. So, if this excites you, then let's already proceed to the following information below.

Part 1: How to Get Rid of Split Screen on iPad Safari in Two Ways
There is actually a usual and accessible way to remove the split screen on iPad Safari, and that is by simply swiping the screen. But do you really want to do it over and over again? Therefore, to prevent this eternal method, we have prepared two more ways to get rid of split screens.
Way 1. Customize the Multitasking Mode
Apple's iPad comes with a multitasking mode feature. And when Apple introduced this feature, it also marked the birth of a split screen on this device. Subsequently, this made the iPad more significant and fascinating. So, with this being said, it is also the key to getting rid of the split screen it developed. To do so, you can use the following steps below.
Step 1
Open your iPad and hold it in the page orientation you are comfortable with. So it doesn't matter whether you hold it in portrait or landscape mode.
Step 2
Now you can launch your browser as well. Then look for the Ellipsis at the top center of your screen to access the Multitasking mode in order to turn off the iPad Safari's split screen.
Step 3
Tap the Ellipsis, then choose the full-screen mode selection. Doing it will immediately close the split screen mode on your device.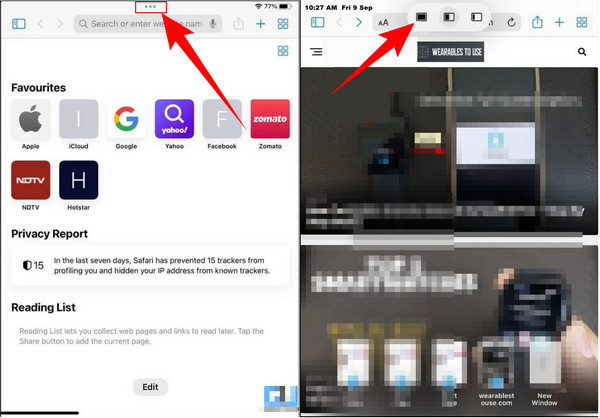 Way 2. Close Split Screen By Merging All Windows
Another effective way to eliminate split screens on iPad is by merging windows. By doing this technique, all the tabs that you opened in Safari will be merged into one window. But you can still access them individually by switching your screen. How can you do that? See the steps below.
Step 1
Launch one of the tabs you have on your screen. Then tap the window icon at the top right corner of your screen. Once tapped, select the Merge All Windows option from its menu.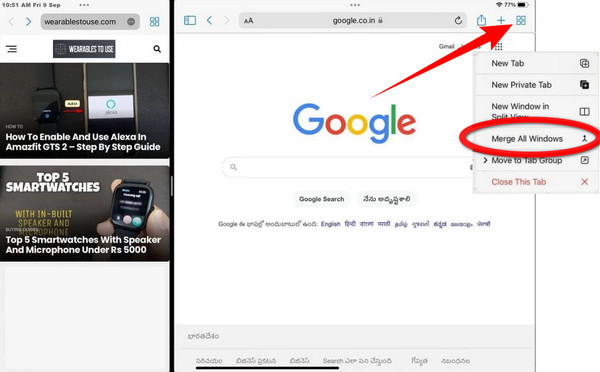 Step 2
After that, you will notice the changes on your screen because you just got rid of Safari's split screen. Tap each that you want to open to switching screens.
Part 2: Ultimate Way to Split Screen Videos on Computer for iPad
Now, if you would just want to play two or more videos on one screen and would not instead get an app on your iPad for security reasons, then this is for you. We introduce you to Video Converter Ultimate, the most promising video editor that supports many platforms, such as Linux, Windows, and Mac. Through this ultimate video editor, you can make awesome split-screen videos on your computer and produce them in any video format your iPad supports. Yes, we are talking about any format because this Video Converter Ultimate favors over 300 various formats, including all from iOS devices.
Furthermore, this excellent software collage designer provides compelling templates in which you can come up with two to thirteen split screens in one video. In addition, numerous filters are also available to give more life and hues to your video project. Not just that, because on the same page, you will also have the liberty to personalize your video file's label, quality, frame rate, and more. Amazing right? Well, the additional features below will excite you more to use it.
1. Come with a jaw-dropping video converter that converts multiple video files 70 times faster.
2. Reliable maker of movies, GIFs, and 3D videos.
3. A toolbox containing every video editing tool you can name, including a media metadata editor, volume booster, video enhancer, and many more.
4. No watermark will come in your video outputs.
How to Create Split Screen Videos Using Video Converter Ultimate
Step 1
Click one of the download buttons above to acquire the software that will fit your computer device.
Step 2
Open the software once installed. Go ahead and click the Collage menu to start the split screen procedure. On the Collage menu page, click the Add icon to upload the video you will need for the split screen. If you want to collage more than two videos, then you can choose a template from the below choices.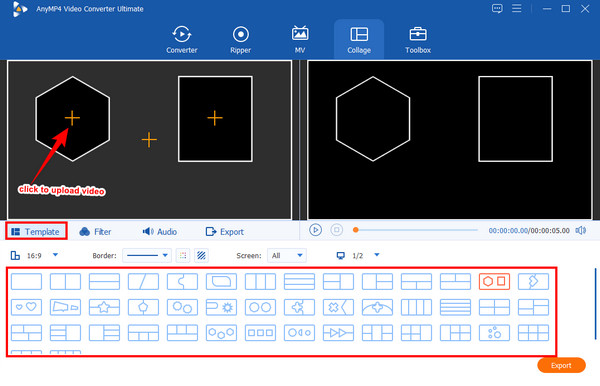 Step 3
After that, you can already proceed to the Filter section to apply one for your video if you want to. Otherwise, you can either go on the Audio option to edit the sound or proceed to the Export tab.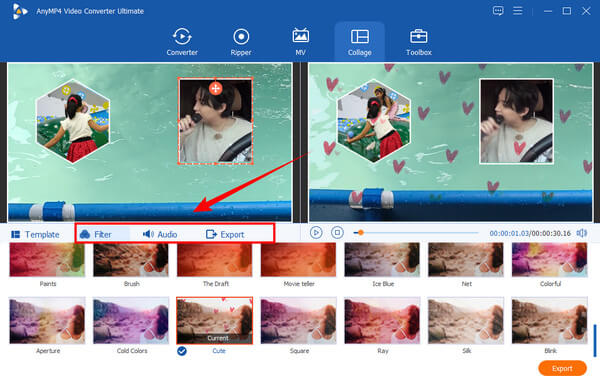 Step 4
Fast forward, if you are on the Export page, feel free to edit the Resolution of your project. Here you can make it to 4K. Also, feel free to edit as well the other presets like the Format for your iPad. After that, click the Start Export button to finish.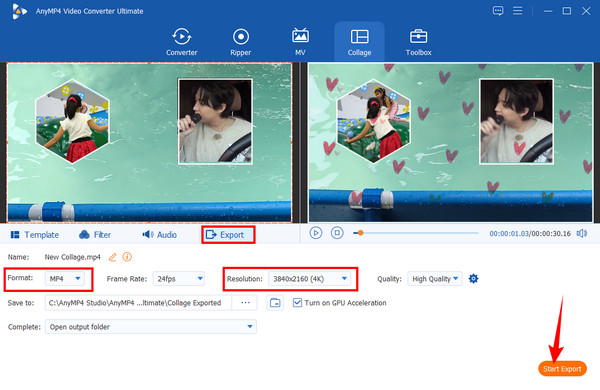 Further Reading:
How to Get Rid of Split Screen on Android Phone Handily
How to Get Rid of Split Screen on iPad: Instant Fix
Part 3: FAQs of Getting Rid of Split Screen on Safari
How to remove the split screen on iPad Safari for just a while?
If you want to remove the split screen for a while, you just need to grab the screen divider and drag it to the corner of your screen. This will only remove the dual screen at that moment.
Can I record the screen of my iPad while on a split screen?
Yes. After all, you can access the screen recorder of the iPad on the control center, so you turn it on without exiting the Safari split screen.
Can I still enable the split screen after disabling it?
Of course, you can. Just go to the settings you did when you disabled it, then reverse the procedures you did.
Conclusion
There you have it, the two comprehensive ways how to close the split screen in Safari on iPad. You can now disable it anytime you want. But please don't disregard the powerful split-screen video maker we introduce you to, the Video Converter Ultimate. This will definitely ease your job in video editing!