6 Best Filter Apps: A Comprehensive Review for Android and iPhone Users
Many people like you are looking for a filter app for their iPhone and Android. Regardless of the reasons you have behind this search, you still deserve the best solution. Although most mobile devices now come with their own filters, it is more fulfilling to use various filters from a third-party app. But, among the thousands of apps in the market today, which will you consider the ultimate that will supply your needs? Fortunately, this article has the best solutions that will excite you to use them. Here, we have gathered six apps, three for Android users and three for iPhones'. Thus, please continue to read the content to get this learning started. Below is the list of the video filter apps that were divided into two.
Part 1: Top 3 Filter Apps for iOS Devices
There are many apps available on the App Store, and most of them are also available on PlayStore. Hence, these top three apps for iOS are the ones dedicated to the iPhones alone.
Top 1. iMovie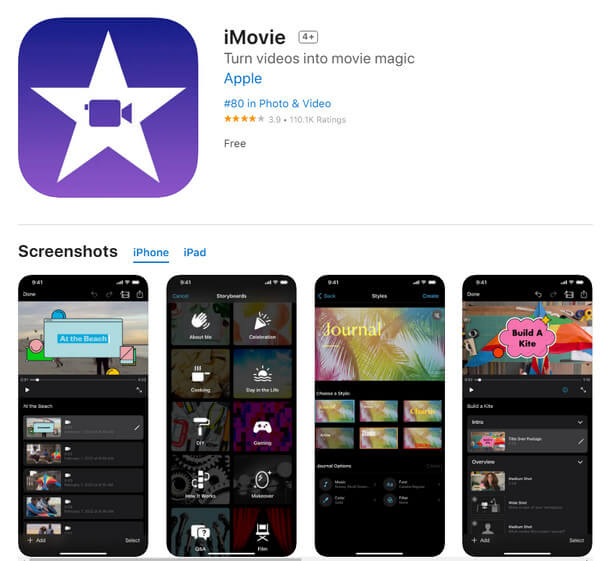 Regarding iOS, iMovie still leads on top when it comes to the best free filter apps. This app is Apple's great video editing tool with many additional features to make your videos awesome. Meanwhile, the filters of iMovie are not as many as the others, but they are impressive. Besides, it lets you share your filtered video easily using its facile interface, which makes the editing procedure very simple.
Pros:
1. It has many built-in effects.
2. Sharing files is easy.
3. It works on 4K videos.
4. It is completely free.
Cons:
1. It could be more flexible.
2. It occasionally crashes, especially on the system-updated iPhones.
Top 2. Mextures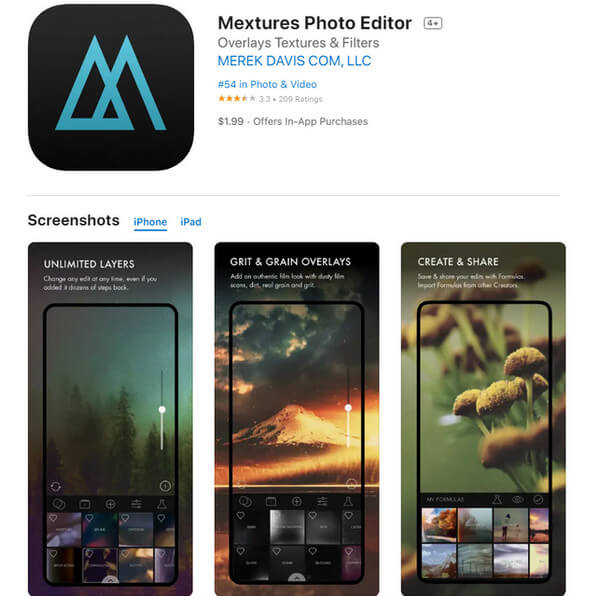 Mextures is an app with a unique variety of filters that can turn the video into a film-style one. Furthermore, this video filter app for iPhone enables you to mix effects layers that will make your video uniquely filtered. Aside from that, Mextures also provides an immersive collection of effects, film grains, gradients, and structures, which is why many love it.
Pros:
1. The app has a clean interface.
2. With a massive collection of effects, textures, and layers.
3. Editing tools to adjust the video's color, sharpness, and exposure.
Cons:
1. It is not a free app.
2. It cannot edit videos in batches.
3. It occasionally freezes.
Top 3. Chromic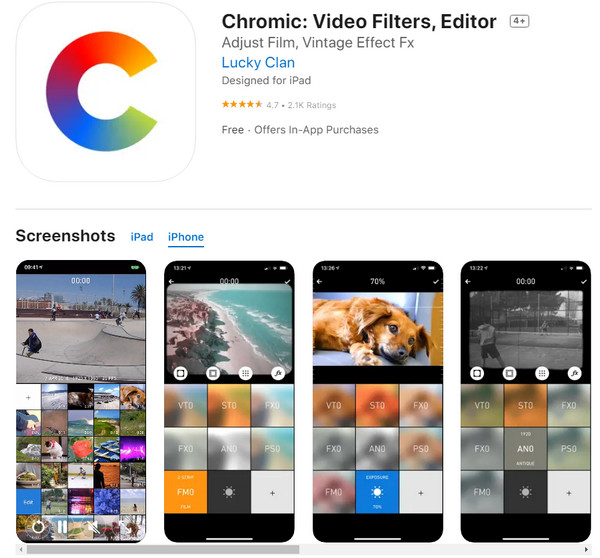 The last iPhone app that should be on your list is Chromic. Its color-corrector filter has made it popular on the App Store. Furthermore, this app is also dedicated to brightening low-lighted videos. Meanwhile, this video filter app for iOS provides you with beautiful options such as monotone, vintage, film, antique, and special effects. Surely, you will also appreciate how user-friendly its interface is.
Pros:
1. It is easy to navigate.
2. It comes with many built-in filters and color adjustments.
3. With a preview option.
Cons:
1. It requires additional costs for add-ons.
2. Not exactly a free app.
Part 2: Top 3 Android Apps to Add Filters to Videos
Moving forward is the list of the apps best used on Android.
Top 1. VSCO: Photo & Video Editor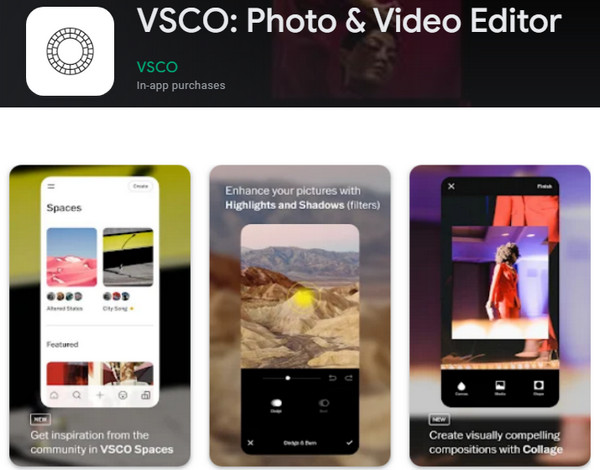 VSCO is a skin-smoothing video filter app that everyone compares to Instagram. It is because of the social sharing function that this app is built-in. With regards to the filters it offers, VSCO has different designs, for they mostly mimic professional videography. It comes with these more than 20 different filters that you can accelerate by purchasing add-on packages.
Pros:
1. Offer professional-like filters that are editable.
2. It comes with advanced editing tools.
3. Use a built-in camera.
Cons:
1. It is not completely free.
2. You will need to purchase it to access its elite filters.
Top 2. Snapseed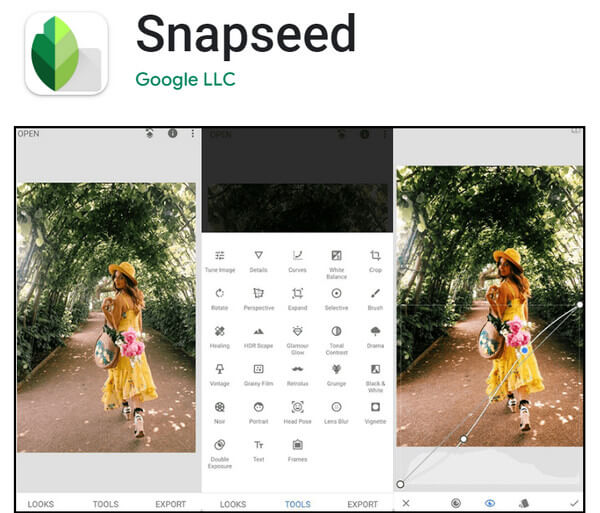 Next on the list is this Snapseed, the other best video filter app for Android. Snapseed is for those who already have experience in video editing. It has an impressive picture editing feature that removes an individual from your file. Meanwhile, you will love the categories of filters it promotes, including grunge, vintage, glamour glow, Electrolux, and grainy film.
Pros:
1. Customizable filters.
2. Robust selective editing tools.
3. It edits the files in the history.
Cons:
1. It may be frustrating to use for beginners.
2. It sometimes crashes.
Top 3. Retrica - The Original Filter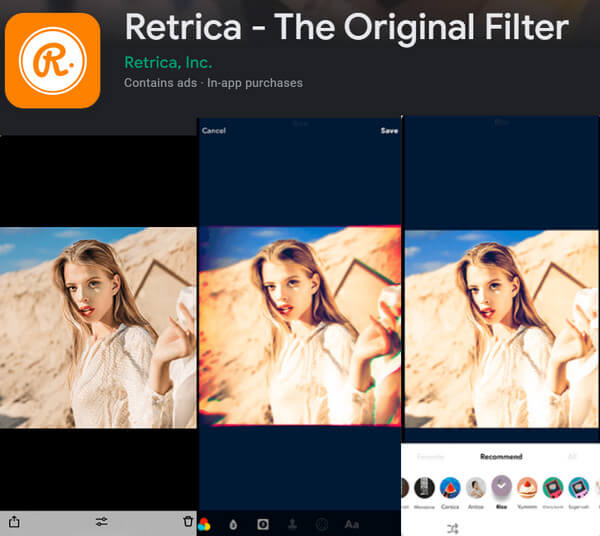 Now, if you are looking for an app that can be navigated by users born in the 80s, this video filter app is for you. Retrica, as its name suggests, is an app that can turn your video into a retro. Furthermore, this app surprisingly comes with a huge variety of filters for free, and you can access more if you purchase its paid version.
Pros:
1. It is easy to use.
2. Numerous free filters.
3. It comes with camera setting tools.
Cons:
1. You will need to subscribe to its Pro version for more filters.
2. It filters what you record on its built-in camera.
Part 3: Ultimate Software to a Filer to a Video on Windows and Mac
The apps above are the best for your mobile device, but which one is the best for your desktop and Mac? Well, it is none other than Video Converter Ultimate. This video filter app for PC has everything that you desire for software, for it comes with robust video editing tools added to its toolbox. Meanwhile, to robustly help you apply great filters to your video, this software can assist you by all means.
Main Features
1. A great array of beautiful filters.
2. Optimizable effects to make outputs more gradient.
3. Its intuitive interface is easy to master.
4. Infused with advanced, powerful technologies.
5. Can add filters to videos in batches.
How to Add Filters to Videos in Batches
Step 1
Start by launching the software after the installation. Then, import the videos you need to add filters by hitting the Add Files button.
Step 2
After uploading all the videos, you may start the work by hitting the Star symbol, which is under the file. Then, under the Effect & Filter menu, from the new window, select a filter you want for all your videos. Also, you can scrutinize the Basic Effect, and hit the Apply to All tab, then OK.
Step 3
Consequently, you can now click on the Convert All button. Then you finish adding filters to videos.
Part 4: FAQs about the Apps that Add Filters to Videos
Can I make my filter?
Yes, you can. However, creating an original video filter will cost you a lot of money and time. Therefore, it is advisable to use the options from the free filter apps. Click here to get how to add filters to GIFs.
Can I use the apps on my desktop?
No. The apps here are only available for mobile devices. Hence, use the Video Converter Ultimate for your desktop.
What is the vital thing to consider in acquiring an app for a filter?
It depends on the asset that you are looking for. But if you don't know, you must acquire an app that best suits your operating system. Then, the features of the app.
Conclusion
This article is a marvelous way to find the best filter apps for both iPhone and Android. All you need to do now is to evaluate the apps and pick the best one for you according to your need. And, of course, for your computer device, there is no need to argue because Video Converter Ultimate is the best choice.