Walkthrough Review of 5 Remarkable H.264 Players for All Users
This is your lucky day if you cannot or don't want to open the H.264 video file with your default media player due to compromised quality or unsuitability. H.264 videos have been known as AVC or Advanced Video Coding for decades. With this being said, this file should be handled with extra care. Thus, this article will help you get a new yet best H.264 player to scrutinize Ultra high definition videos. Meet five of the people's best choices as they are outlined below.
Part 1. What is the H.264 File
Before you see the H.264 players, let us have thorough information about the file type first. H.264 is a file developed by the Moving Picture Expert Group (MPEG) and ITU-T VCEG or Video Coding Experts Group. It is an advanced video coding often claimed to be MPEG-4 part 10, created in 2003, exactly 20 years ago. Over the years, H.264 has been developed with great improvements in coding algorithms and efficient compressing. That said, highly qualified videos such as 4K and 1080p compressed by H.264 are much easier to save, transfer, and compress. This codec is the most flexible or accepted codec that suits almost all video industries, such as video recording, broadcasting, streaming, HDTV, live videos, and online streaming.
Part 2. Top 5 H.264 Players for Windows and Mac
Top 1. Blu-ray Player
The top best H.264 player on the list is this Blu-ray Player from Blu-ray Master. It is highly recommended not just by us but by the users who tried and tested it. Furthermore, this amazing player can play Blu-ray discs with up to 4K UHD visual effects, ISO files, IFO, DVD, and digital videos, such as the updated file of H.264, which is the HEVC or H.265. This means with this amazing Blu-ray Player, and you can play your desired video files excellently without quality loss. Moreover, this Blu-ray player offers many smooth playback features, including great tools like a snapshot, subtitle track, audio track, and effects.
Pros
● It supports up to 4K videos from Blu-ray discs, ISO, IFO, DVDs, and digital formats.
● It offers a free trial version.
● It loads the videos so fast.
● It comes with adjustable playing effects.
● Obtainable on both Mac and Windows.
Cons
● The free trial offers are limited in additional features.
Top 2. VLC Media Player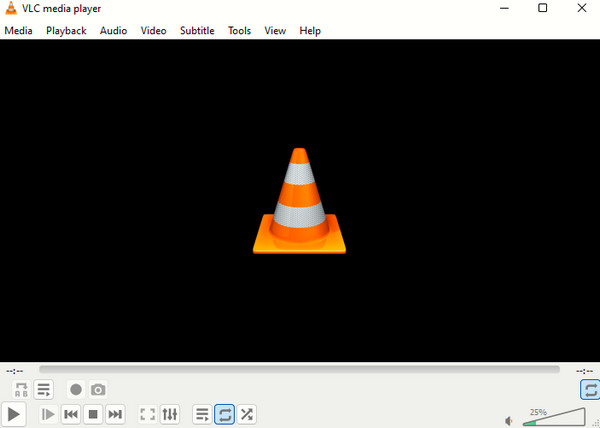 If you want a free H.264 player, then this VLC media player should be your option. It is an open-source, popular media player that smoothly plays H.264 kinds of videos. Moreover, it is the VLC that tops the first media player to support all types of video formats. What makes this tool amazing is its ability to lay media files and its hidden features, such as a video converter, Chromecast, and many more. You also can loop videos in VLC.
Pros
● You can play media files without the need to pay.
● It comes with good features you can utilize for free.
● It supports many various media formats.
● Multi-platform.
Cons
● Users report it to have a problematic playback on H.264/AVC taken from CCTV.
● The hidden features are best for professionals.
Top 3. RealPlayer
Let us now go to the following H.264 codec media player on this list, the RealPlayer. It is a media player software that lets you play various types of media files, such as H.264 videos and movies. One of things to like about it is that it will allow you to burn music and high-resolution videos from discs. In addition, this player has a converter tool that enables you to convert files to your desired output format.
Pros
● It comes with a free version.
● Neat and simple interface.
● Excellent playback performance.
Cons
● It doesn't have video editing features.
● The video quality loses with the free version.
Top 4. DivX Player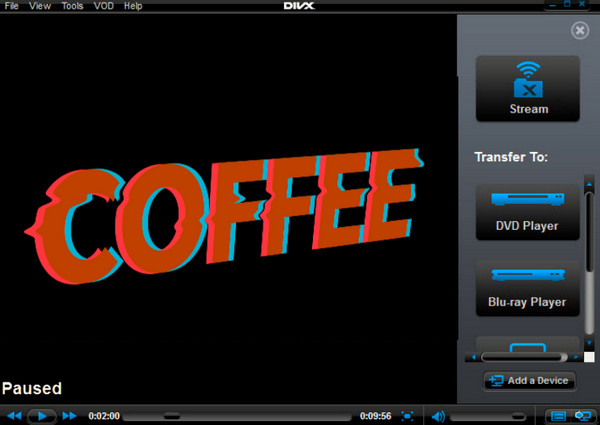 DivX Player is an H.264 media player that mainly plays DivX videos along with the other types, including H.264. This player supports up to 4K video quality which makes it easier to playback the subject file. With its paid version, you can decode videos so that there are no hassle moments you can experience during playback. One good feature you can enjoy with DivX is its ability to cast media files to a DLNA-compatible device.
Pros
● It offers a free trial.
● It lets you cast the video on other devices.
Cons
● The free trial version only lasts for 15 days.
● You cannot enjoy the highlighted features with the free trial.
Top 5. 5KPlayer
Lastly, another H.264 player on Windows 11/10, you can obtain this 5KPlayer easily. It securely and smoothly plays 4K and up to 8K videos, making you confident to acquire a lossless playback for your H.264 coded videos. Moreover, 5KPlayer offers features for AirPlay, DLNA, music, and video streaming. In addition, it lets you enjoy the library and playlist it provides. If you are unsatisfied with this software, here are 5KPlayer alternatives.
Pros
● It is completely free.
● It has support for 360 degree videos.
Cons
● It doesn't have configuration options.
● It occasionally hangs up.
Part 3. How to Play H.264 Files on a Computer
Here is the bonus part to show you the best way to play H.264 videos using the best player today.
Step 1
Launch the Blu-ray Player after installing it on your computer. Then, hit the Open File tab to import your H.264 video.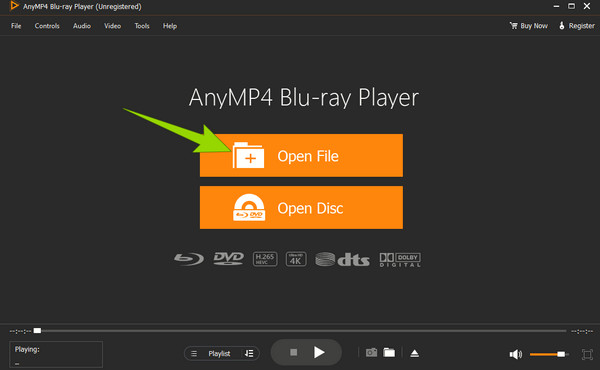 Step 2
Once done, the video will automatically play on the screen. Along with it is the playback control set that you can navigate along the way.
Step 3
Feel free to access the ribbon tab menu at the top of the interface as well. Then, hit the Stop button anytime to finish the playback. And that's how to watch H.264 videos easily
Part 4. FAQs about PS5 and DVDs
Can I use a third-party DVD optical drive with PS5 digital?
No. Even though PS5 has a USB port to attach an external optical drive, you cannot still play DVDs with PS5. It is because an external drive will require a program that the PS5 digital edition doesn't have.
Does PS5 play region-free DVDs?
No. PS5 cannot play region-free DVDs, for it is not a region-free DVD player.
Can I play 4K disc games with PS5?
Yes, if only you use the PS5 standard edition since it is the version that supports discs.
Conclusion
There you have it, the 5 best H.264 players we gathered for you. The next thing that you must do now is to select which one captured your interest. We highly recommend you choose the Blu-ray Player if you want a handy yet robust media player that supports not only digital videos but also Blu-rays and DVDs.