How to Flip a Video in HandBrake without Losing Quality
There are a lot of video editing applications on the market to retouch videos; however, most of them are expensive. Adobe Premiere Pro, for example, costs $20.99 per month. You may wonder whether is it possible to flip a video for free. In fact, some open-source projects can meet your need. For instance, HandBrake can rotate and flip a video without asking for any payment. Moreover, this guide explains the how-to in detail.
Part 1: How to Flip a Video in HandBrake
As an open-source solution, HandBrake is primarily used as a video converter. However, you can find a lot of custom options and bonus features in the freeware including flip a video. Considering many users complained that it is difficult to find the feature to flip a video in HandBrake, we share the steps below.
Step 1Run the free video flipping software. If you do not have it, download it from the official website directly.
Step 2Go to the Source or Open Source menu, and open the video file that you want to flip. Next, click the Browse button in the Destination section and set the destination path.
Step 3Pull down the Container menu and select a proper output format. HandBrake supports MP4 and MKV. Then select a preset from the Presets panel on the right side.
Step 4Head to the Video tab at the bottom, and locate the Extra Options or Advanced Options box, and enter the proper code:
, --rotate=1 means x-flipping a video in HandBrake
, --rotate=2 means y-flipping a video
, --rotate=5 means rotating the video 90 degrees clockwise and y-flipping
, --rotate=7 means rotating a video 270 degrees clockwise and y-flipping
Tip: You can find other options from the documentation on HandBrake's official website.
Step 5Click the Preview menu at the top ribbon and check the effect. Finally, click on the Start Encode or Start menu to save the flip video from HandBrake.
Note: Unfortunately, HandBrake does not provide the intuitive option or menu about flipping a video, so you have to use the command lines.
Part 2: Best Alternative to HandBrake to Flip a Video
For average people, it is still a bit complicated to flip a video in HandBrake due to the command lines. Fortunately, Blu-ray Master Video Converter Ultimate can help you to get the same effect with a friendly GUI.
Main Features of the Best Alternative to HandBrake
1. Flip a video or multiple videos in one click.
2. Enhance video quality using advanced technology.
3. Support almost all video formats.
4. Include a wide array of bonus tools.
How to Flip a Video with HandBrake Alternative
Step 1Import a video
Start the best alternative to HandBrake as long as you install it on your computer. It is compatible with both PC and Mac. Click and expand the Add Files menu at the top left side, and choose Add Files or Add Folder option to open the target video.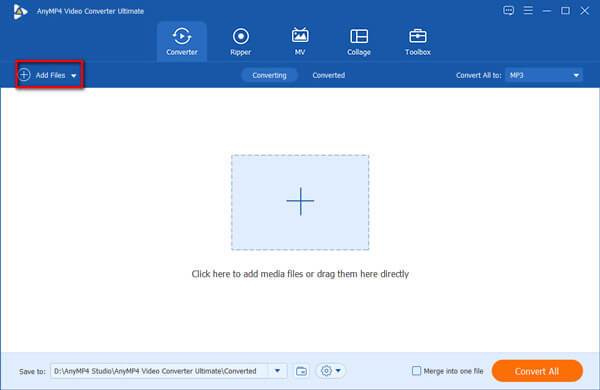 Step 2Flip the video
Then click the Edit button under the video title to open the editor window. Head to the Rotate & Crop tab from the top of the window, and locate the Rotation area. There are four icons, Rotate 90-degree Counterclockwise, Rotate 90-degree Clockwise, Flip Horizontally, and Flip Vertically. Choose the proper one according to your need and check the effect in the Output panel. Click the OK button once you get the desired result.
Step 3Export video
Set a destination folder in the Save to box at the bottom when you go back to the home interface. At last, click on the Convert All button to save the video.
Part 3: FAQs about HandBrake Flip Video
Why I cannot flip my video in HandBrake?
You cannot get any feature related to flipping a video in HandBrake. Instead, you have to enter a command line into the Extra Options or Advanced Options box.
Is HandBrake really free?
Yes, HandBrake is totally free to use since it is an open-source project and released by a developer team. Moreover, there is a community that offers support.
Which is the best place to download handbrake?
Please take note that HandBrake.fr is the only official place where HandBrake can be downloaded from. There are many unofficial mirrors of HandBrake and while most of them offer legit versions, there are a few that don't.
Conclusion
Now, you should master how to flip a video in HandBrake. Although it is free and safe to use, you have to do editing with command lines. Therefore, it is not a good choice for average people and beginners. Blu-ray Master Video Converter Ultimate, on the other hand, is not only easy to use but also able to produce HD output. If you have other problems, please write them down below.