Three Solutions to Make a Collage of GIFs
This post will give you further ideas on making a collage of GIFs on a desktop or phone. Most Millennials use GIFs as visual expressions to easily express thoughts or feelings. Millennials believe that GIFs are better for communication than words do. Blogs commonly use GIFs; it also supports basic animation that may operate as memes on social media sites. The advantage of using GIFs is the size which can be relatively smaller than other file formats. Images will look more professional and transmit messages better. This article recommends ways to quickly create GIF collages on a desktop or mobile phone.

Part 1: How to Make a Collage of GIFs on Desktop
Video Converter Ultimate is the finest and highly recommended tool for creating GIF Collages. This tool has a Toolbox kit for creating GIFs extremely fast; it can meet your desired result. This tool can add captions, remove and add watermarks, cut, crop, and even trim your GIF. What is captivating about this tool is that you can convert your GIF into many different formats. Placing GIFs in a custom format can be challenging if you're unfamiliar with the software. But with its manageable editing tools that don't require more technical skills because of its easy-to-use access. In addition, this tool can also compress video files and even play video files. Hence, you can merge and turn your video clips and photos to create awesome GIFs. Below we will show you simple ways to put GIFs in a collage.
Step 1
To create a GIF collage, hit the download button above. Install Video Converter Ultimate on your desktop, then launch the program. Look for the Collage tab on the upper part of the window. Proceed to the Template icon, choose the template you desire, then click the + to add video or pictures. Your chosen template will appear on the left side of the window.
Step 2
Tick the + icon on the first part of the template; add the GIF clip. Do the same procedure to the next part of the template to add the GIF clip. If you desire to edit the GIF, tick the clip and hit the Edit icon to open the editor window. You can add filters, watermarks, or background music as you want.
Step 3
If you're satisfied with your output, tick the Play icon to preview the result. Hit the Export button on the window's lower-right corner, set a file name, select output format, and choose the frame rate, resolution, and quality you desire. Then, select an output folder in the Save to, and finally, tick the Start Export button to export the output.
Part 2: How to Make a GIF Collage Online
GIFs can be seen everywhere; we sometimes post them on social media. If you want to try making a GIF collage online, you can use Kapwing. Kapwing is an all-in-one GIF collage tool online. It is free, but you need to upgrade to the paid version to use some features.
Step 1
On your browser, open an online video collage maker such as Kapwing. Click the Make a Collage button to open the page. Get started by uploading a file into the Add media tab on the left side of the GUI. The online collage maker supports GIF, JPG, and MP4.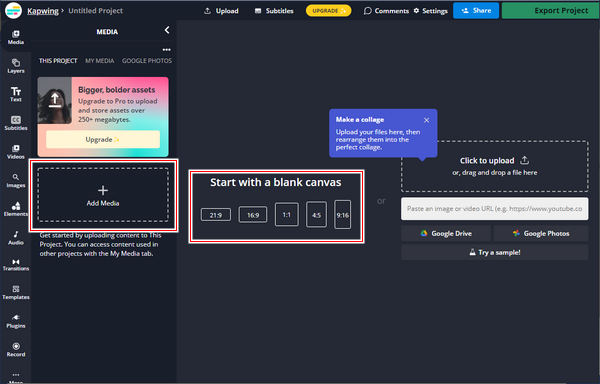 Step 2
Then, you can choose a template that you desire, or you may tick the Start with a blank canvas button. Put another file on the canvas, and design each layout you prefer. Edit each video clip and ensure they are the same in duration. You can make other edits and modifications.
Step 3
When satisfied with the output, click the Export Project in the upper-right corner of the GUI. Select file format, resolution, and compression level as you prefer. Finally, tick the Export GIF button on the window's lower-right corner, then download the file.
Part 3: How to Make a GIF Collage on iPhone/Android
PhotoGrid is a photo and video editing app. This editing app enables users to apply tons of materials, collage photos, enhance pictures, and make video collages. Also, it is a video collage maker app for iPhone and Android users to create spectacular videos for social media, like Instagram video collages with gifs, Facebook posts and comments, and more.
Note: For Android phone user
Step 1
Search your Play Store app for Photo Collage Maker, PhotoGrid. Download and install the app on your phone.
Step 2
After installing the app, tap the Collage icon on the main interface. Select the file you want to collage. Choose your preferred layout, border, ratio, background, filter, and sticker.
Step 3
After editing the file, tap the Save button in the upper-right corner of the GUI. It will automatically be saved and shared directly on your social media.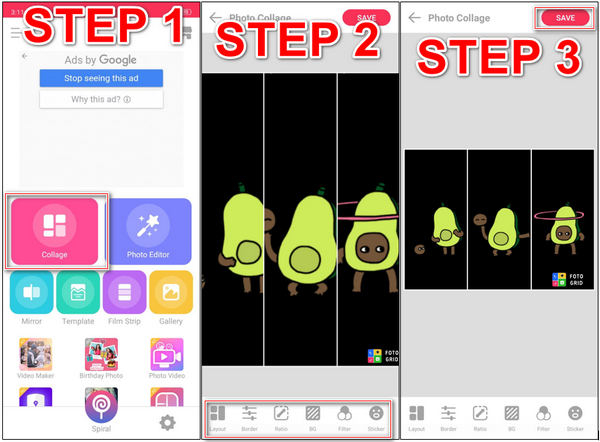 Further Reading:
How to Do Split Screen on iPad to Watch Multiple Screens
3 Ways to Split Screen on Mac to Start Multitasks (macOS 13 Supported )
Part 4: FAQs about How to Collage GIFs
How to make a gif collage in photoshop?
Import your GIF files in Photoshop by ticking File > Import > Video Frames to Layers. Please select all your frames from one of your GIFs and copy them into the video frames of the other GIF by hitting the Animation menu. Window > Timeline or Window > Animation can accomplish this. Paste the frames wherever you'd like them to be by clicking on the desired structure and inserting them. Tick Export > Save for Web (Legacy) to export your GIF.
How to make GIF images on Android phones?
Google Photos on Android can create an animated GIF from a selection of your images if you use it. Go to the Library, then Utilities, and then Create New. Select animation, then select the photos and press the Create button.
How to put GIFs from the camera roll on Instagram Story?
Tap the purple Instagram icon, provide access to your camera roll, and then open Instagram if you wish to upload a GIF. It will allow you to post to your Feed or your Instagram Story. A 15-second square video will be saved on your phone as a GIF result.
Conclusion
We live in a present world where we communicate with our loved ones, family, and friends from one place to another. Most of the time, we use GIFs to express our feelings and to make our conversation more sincere. Creating collages of GIFs is made convenient by using Video Converter Ultimate. Through this tool, you can create a vast collage of GIFs hassle-free. What are you waiting for? Give it a try and download it now!