How to Make a Video Collage with Your Own Clips and Photos
This guide will tell you the best ways to make a video collage on computer or mobile. It is well-known that a photo collage is a series of images putting together. Thus, a video collage is a series of videos and/or photos. It is a good way to add visual interest and shorten the runtime of videos. That is a good idea to tell a whole story on social media although most of them have video length limit.

Part 1: Best Way to Make a Video Collage on Desktop
Desktop video collage makers are able to provide stable performance. However, not all video editor software has such ability. Fortunately, Blu-ray Master Video Converter Ultimate can meet your need. It equips a dedicated video collage maker, so that you can turn your videos and photos into artworks like professionals without much technical skills.
Main Features of the Best Video Collage Maker on Desktop
1. Support almost all video and photo formats.
2. Provide plentiful changeable templates and layouts.
3. Protect video quality while making collages.
How to Make a Video Collage like Professionals
Step 1
Select a layout
Install the best video collage maker to your PC and launch it. There is another version for Mac users. Go to the Collage tab from the top of the interface. Then you will be presented the video collage maker window. Firstly, head to the Template panel and choose a proper template based on your situation. Then the template will appear on the left side.
Step 2
Add videos
Click the big + icon in the first part on the template, and add the video clip. Then do the same to add video or photo to each other part. If you need to edit a video, click on the clip and hit the Edit icon to open it in editor window. You can also adjust the duration of the video with the context menu.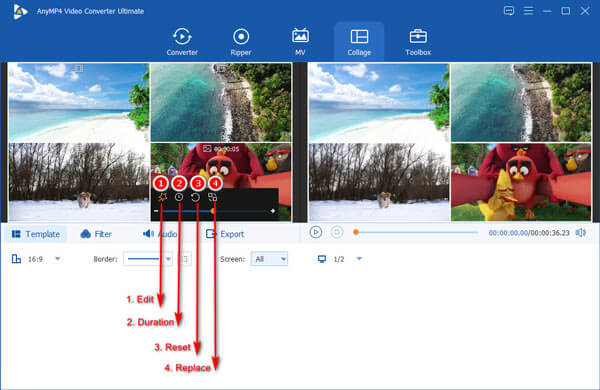 Step 3
Preview and export
Hit the Play icon to preview the result. If you are satisfied, go to the Export tab, set the file name next to Name, pull down Format option and select an output format, select an output folder in the Save to field, and set other options. Finally, click on the Start Export button.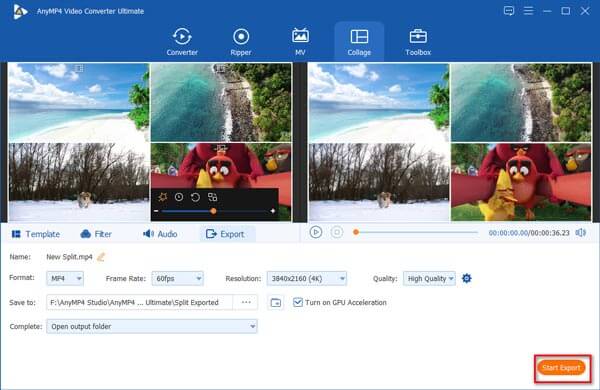 Aside from make a split-screen video, this powerful video converter lets you convert iPhone video to MP4, extract audio file from MP4 videos, and more.
Part 2: How to Make a Video Collage Online
Sometimes, you just want to make a video collage for social media occasionally. In such cases, web-based video collage maker is a convenient choice. Kapwing, for example, is an online video collage maker. It is free of charge, but you need to pay for watermark removal.
Step 1
Open the online video collage maker in your browser, such as https://www.kapwing.com/collage. Click the Get Started button to open the home page.
Step 2
Hit the Add Media button under All Media panel and upload the videos and images that you want to use in the video collage. The online video collage maker supports MP4, GIF, and JPG.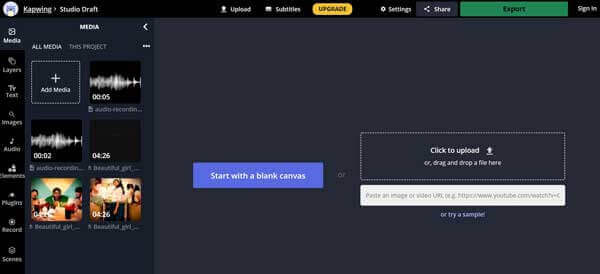 Step 3
Next, click Start with a blank canvas or choose a template. Select a media file from the media library, drag and drop it onto the canvas. Then put other contents to the canvas.
Step 4
Then design the layout based on your need.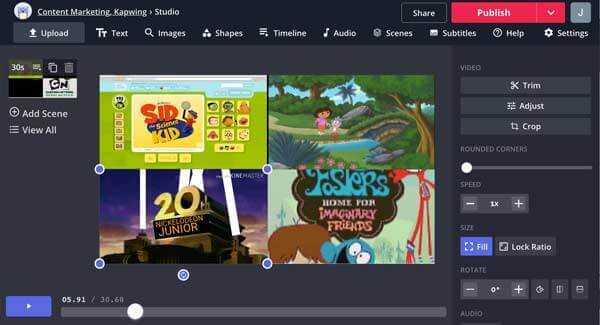 Step 5
Edit each video clip on the timeline and make sure that they are the same in duration. You can do other edit and modification.
Step 6
When video collage is done, click the Done button. Then you can share the video collage by URL, or download it as MP4 or GIF.
Note: Web apps all have file size limit. You have to purchase a plan to unlock the limit. Moreover, they require a good internet connection.
Part 3: Top 4 Video Collage Makers on iPhone/Android
Top 1: VideoCollage
Platform: iOS 9.0 or later
VideoCollage is a video collage maker app for iPhone and iPad. The built-in adjustable frames help you mix photos and videos in a few minutes. There are also video effects and background music library.
Pros
1. Offer collage frames.
2. Add background or your own music to collage.
3. Apply effects to photos or videos.
4. Share video collage to social media.
Cons
1. Some frames are not available to free users.
2. This side by side video app will downscale the video quality.
Top 2: Video Collage Maker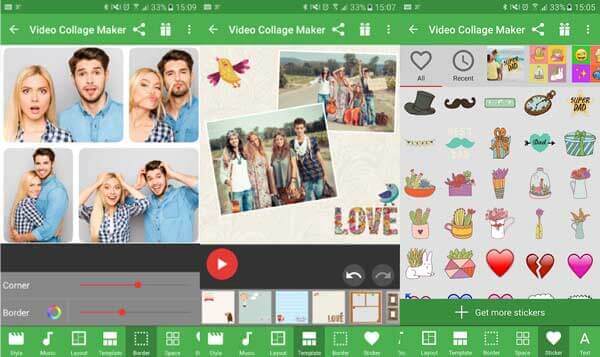 Platform: Android 4.3 and up
If you intend to put videos together into a single screen on Android phone, Video Collage Maker is a good choice. It enables you to pick a layout, add videos from your photo gallery, and then decorate the result.
Pros
1. Use free features by viewing ads.
2. Support 2,3,4 frames layouts.
3. Create video collage with audio.
4. Include a lot of stickers.
Cons
1. You have to view annoying ads.
2. It lacks video editing feature.
Top 3: PhotoGrid
Platform: iOS 11.0 or later
PhotoGrid is one of the best video collage maker app for iPhone users to create stunning videos for social media, like Instagram stories, Facebook posts, and more. It won't add watermark to your video even in free version.
Pros
1. Create video collages without computer.
2. Stitch photos and videos together.
3. Synchronize video clips easily.
4. Include a simple video editor.
Cons
1. There duration limit in both free and premium version.
2. The high quality output is only available to subscribers.
Top 4: PicPlayPost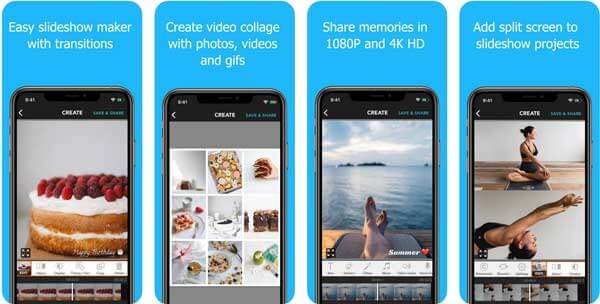 Platform: iOS 10.3 or later, Android 7.0 and up
PicPlayPost is far more than a simple app to make video collage for Android and iPhone, but an all-in-one solution to retouch your videos and photos on mobile device. Thus, it is larger than other video collage maker apps.
Pros
1. Create video clips for editing.
2. Modify every aspect of video and photos.
3. Make video collages up to 1080p.
4. Support photos, videos, and Live Photos.
Cons
1. Some features require subscription.
2. It is only available to the latest handsets.
Part 4: FAQs about Making a Video Collage
What is a video collage?
A video collage is a visually creative way of displaying images or photos in a collage that plays as a video. You can add catchy music to bring your video collages to life. Video collages make great short-form content for social media.
How to create a video collage for Facebook?
The Facebook app does not offer the capacity involving with video collage making. So, you have to make it with a video collage maker on your computer or mobile. The video length should be between 5 seconds to 10 minutes.
Can I make video collages on Windows 10?
Windows 10 has built-in a Photos app with basic video editing features, but it cannot make video collages. Therefore, you have to use third-party software.
Conclusion
This guide has shared you how to make a video collage on computer, mobile and online. For mobile-first, the video collage maker apps are available. The web-based tool lets you do the job without installation. To get the best output quality and stable experience, you should try Blu-ray Master Video Converter Ultimate. Moreover, it is pretty easy to use and you can use it to convert your video and audio files, as well as edit videos easily like rotating, cropping, and more. If you have other questions, please contact us by leaving a message below.