5 Best Ways to Play MOD Files: How to Play Files with MOD Format Efficiently
Why do you need a MOD player? Well, we must admit that recording videos has become a common thing to do these days. Unlike before, one should own a camcorder for him to create a video via recording. Today, as long as you have your phone, you can capture anytime you want. However, even though this fact is feasible, some still prefer the standard where everything has begun. This means some users still prefer to use camcorders over their handy phone cameras, especially people with a videography profession.
That said, whether they like it or not, they will encounter video files in MOD format. And yes, you are thinking it right, MOD file is not widely supported by media players. Therefore, to play MOD, they must use a suitable player.

Part 1. What is MOD Format
MOD is a file JVC produced as a tapeless video format, for it comes from a tapeless device that uses a memory card instead. Furthermore, it is mainly used and pioneered by camcorders such as Panasonic, Cannon, and other digital camcorders even today. Furthermore, it initially appeared in 2003 and was directly recorded to an internal hard drive. When it comes to its quality, MOD has a standard definition with 480i and 576i video signals. Moreover, it has a media file extension of .mod on a camcorder and .mpg or .mpeg on computers. On the other hand, to play MOD with APK, there is a need to convert the file to a mobile-supported format to succeed in the playback.
Part 2. How to Play MOD Files
We can not deny the fact of how frustrating the MOD file is since it cannot be easily played. One of the best solutions to play MOD files is to convert them to other video formats that most media players recognize. And as mentioned above, the file format suitable for MOD is MPEG or MPG.
On the other hand, did you know that you can convert the MOD file to MPG by simply renaming the file extension? Yes, you can rename the file with video.mov into video.mpg. Here's how to do it.
Step 1
On your desktop, open Windows Explorer and browse the MOV file you need to rename. Then right-click the file name and select the rename option.
Step 2
Then, change the MOD file extension name to MPG. After that, hit the enter key on your keyboard.
Step 3
You can now check the renamed file and try to play it.
Part 3. Top 5 MOD Players for Windows, Mac, Android, and iOS
Top 1. Blu-ray Player
Platform:Windows and Mac.
Pros
● It plays various types of videos, including Blu-rays, DVDs, and digital like MOD and MPG.
● This MOD player comes with a free trial.
● Infused with advanced technologies best serve your computer device.
● Pleasant interface with nice playback control.
● It supports high-quality videos, including 4K.
● With a snapshot tool.
Cons
● The free trial comes with limited features.
Here comes the Blu-ray Player, which tops the best media player list of nearly all reviews today. Many have mis-looked its capability to play various digital videos since it is a player for Blu-ray. But as they experienced a hands-on trial with it, they are now testifying about the excellent ability it showed them. With a cinematic picture display, Blu-ray Player can turn your standard video into an ultra-high display and audio content due to its advanced technologies. Furthermore, this MOD player can play the files with a direct MOD format, along with the Blu-ray, DVD, general, HD, and audio formats that it supports. Unlike other media players, this Blu-ray doesn't require a high system. Another remarkable attribute is that it has a snapshot tool that will help you grab frame shots from your videos.
How to Play MOD Files with Blu-ray Player
Step 1
Download and install the player on your computer, then launch it.
Step 2
After that, hit the Open File button and upload the MOD or MPG file you want to watch.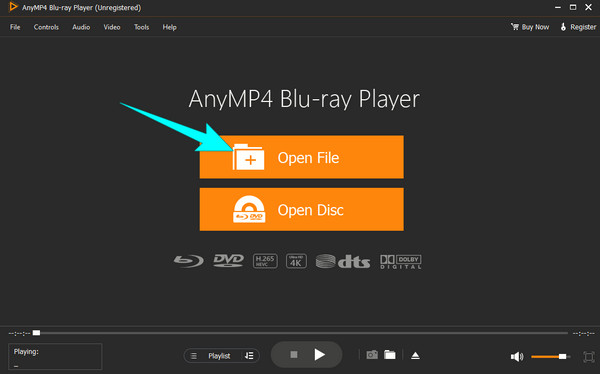 Step 3
As simple as that, you can now enjoy watching your MOD files one after the other. Do not hesitate to navigate the playback control panel and hit the Playlist button to create your MOD playlist videos.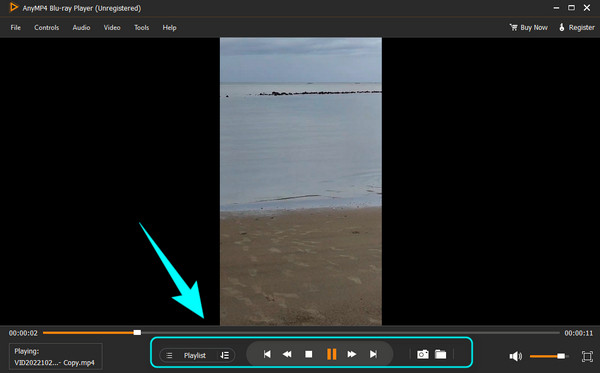 Top 2. MPlayer
Platform:Windows, Mac, Linux
Pros
● It is an open-source media player.
● Capable of playing various video and audio files.
● It is highly customizable.
Cons
● It has an outdated-look interface.
● It takes time to load the MOD file.
MPlayer is an open-source media player capable of playing MOD, MP4, AVI, WMV, MPG, and many more. It has an extensive range of playback controls you can navigate while watching your MOD file. Meanwhile, this video and music MOD player APK is highly customizable; you can customize skins, themes, and playlists for free. Here's how to use MPlayer.
How to Use MPlayer to Play MOD
Step 1
Open the player after installing it. Then, click the File tab menu to select the Open tab to load the MOD file.
Step 2
Once the file is loaded, hit the Play button.
Step 3
Click the Stop button anytime you want to end watching.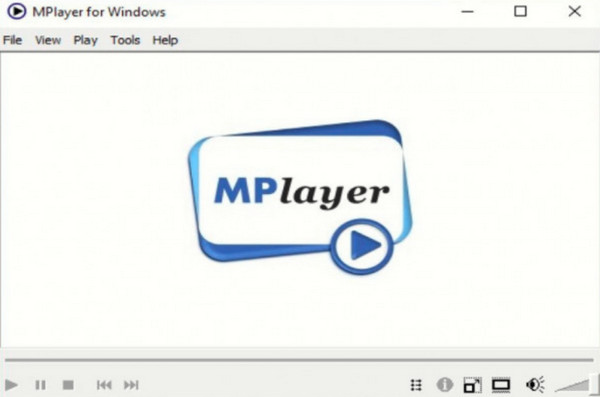 Top 3. 5KPlayer
Platform:Windows and Mac
Pros
● It comes with a YouTube downloader.
● You will use it for free.
● It supports major video formats, including MOD.
● Has extensive support for 8K videos.
Cons
● It is not user-friendly.
● Some users claim it shutters when using its rewind and forward buttons.
5KPlayer is a flexible media player that lets you playback MOD files without a hassle. You can use it for free on both desktop and Mac computers. Despite offering a free service, this player has been generous in providing its users with many good features. One of the reasons it is one of the chosen players nowadays is its ability to display HDR, AV1, HEVC, 4K, and even 8K videos flawlessly. How to play MOD videos with 5KPlayer? Check out the steps below.
How to Watch MOD in 5KPlayer
Step 1
Launch the software on your computer.
Step 2
To load the MOD file, click the Video tab, then look for the file from your local folder.
Step 3
After that, sit back and watch your MOD files on the playing screen.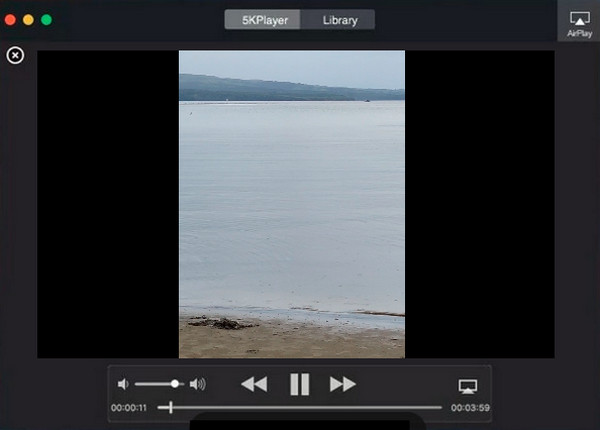 Top 4. VLC Media Player
Platform: Windows, Mac, Android, and iOS
Pros
● You can use it on different devices.
● It comes with extra features.
● You can use it on all platforms for free.
● Smooth and rapid media player.
Cons
● Its other functions are challenging to use.
● It occasionally crashes when playing MOD files.
VLC media player is a tool that you can grab on computers and mobile devices. However, if you use it on your phone, please do not expect it to be as multifunctional as it is on the computer version. Many users have built their trust in this media player when it comes to playing various files. It is because it is the first popular media player that can play almost all types of video and audio files like AVI, MP4, WMV, MOV, MKV, MP3, OGG, AAC, and many more. And yes, it never disappoints its patrons in playing even MOD files flawlessly. And today, let us see the steps to using VLC on an Android phone to play MOD videos. Click here to learn how to use Frame by Frame in VLC.
How to Play MOD with VLC
Step 1
Launch the VLC app on your Android.
Step 2
Tap the Browse tab at the bottom of the interface, and look for the MOD file you have on your phone.
Step 3
Then, tap the Play button to start the MOD video.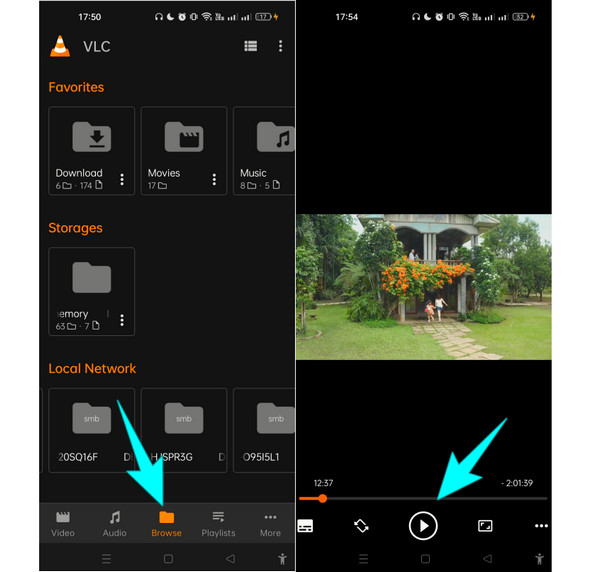 Top 5. PlayerXtreme Media Player
Platform:Windows, Mac, Android, and iOS.
Pros
● It is a free app.
● It plays almost all video formats.
Cons
● It comes with pesky ads.
● It may or may not play MOD files.
Finally, you can use another remarkable media player on all platforms. KMPlayer is a good but not that simple free media player. It offers many features, including support for up to 4K videos and 3D ones. In addition, it works on various codecs while it automatically scans the SD card and cloud for you to manage MOD videos easily.
How to Use KMPlayer to Play MOD Files
Step 1
Install and launch the app on your phone.
Step 2
Ensure the app can access your video files to see the MOD file you need to watch.
Step 3
Tap the video to play.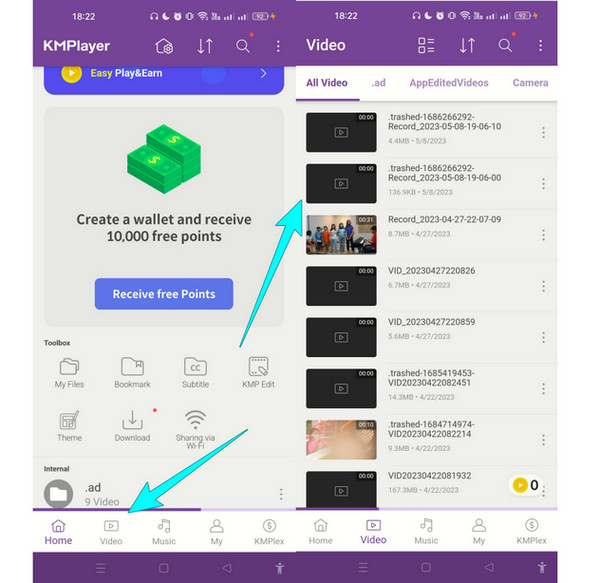 Part 4. FAQs about MOD Players
Is it safe to play MOD files online?
No. MOD files may be corrupted when you upload them on a video player online.
Is there a music player MOD APK?
Yes. MOD music files can be played with a MOD APK music player, and many are on the market.
Can I convert MOD to MP4?
Yes. One of the best solutions to play MOD videos is to convert them to another popular video format, and MP4 is one of them. If you want to convert MOD to MP4 smoothly, try the powerful conversion process of the Video Converter Ultimate.
Conclusion
To conclude, if you want to play MOD files, you must be willing to exert time and effort in finding the best player. Good thing you made it to this post, where you only need to choose among 5 MOD players. If you are still thinking about which one is for you, then go for the one that can even play Blu-ray. Choose Blu-ray Player and be glad to play all types of media formats that your camcorder captures.