5 Best iPhone Video Enhancers: Edit Your Videos Remarkably
Do you think your videos will always be great since you have an iPhone? Then, think twice because even how excellent your phone camera is, there will still be a time when you will capture a low-quality video. On the other hand, we cannot avoid a situation where you can store low-quality videos that you download or get via air-drop. For any reason that you have a poor-quality video, it is still a good thing that you were able to find this post. It is because this article comes with the best iPhone video enhancers that you can assimilate on any version of iOS. Therefore, without further delay, let's all witness the list of solutions you will see if you continue to read below.
Part 1. Top 5 Best Video Enhancers for iPhone
Top 1. iMovie
iMovie must always be present when it comes to editing videos on iPhone. You would agree to this since it is one of the aces of Apple. Moving forward, it is impressive how iMovie provides a free service despite the powerful and helpful tools it comes with. Meanwhile, with this free video enhancer app for iPhone, you can enhance your videos, leaving you with an amazing output that seems like it was done by a professional. Aside from that, it allows you to add themes, templates, and transitions to your enhanced video.
Pros:
1. It is free for Mac and iOS.
2. Best for beginners.
3. Full-packed tools aside from video enhancing.
Cons:
1. It takes up huge storage on your iPhone.
2. The other editing tools are challenging to use.
Top 2. InShot - Video Editor
Next on the list is this InShot. It is a powerful video editing app that lets you claim 4K outputs. Furthermore, this app offers many tools that you can use to fix and upgrade your video files. Meanwhile, this video enhancer for iPhone makes you work with its smoothing and denoising functions, in addition to its brightness, curves, and contrast adjusting tools. On top of that, you can also export your outputs in HD or higher.
Pros:
1. It produces high-quality outputs.
2. It comes with many editing tools.
3. It is free to use.
Cons:
1. You need to pay for you to have 4K outputs.
2. It sometimes crashes, especially when working with HD videos.
Top 3. Videoshop - Video Editor
Another multi-functional video editing app that deserves acknowledgment is Videoshop. With the extra features besides video enhancement, you will be surprised by its editing tools that you can navigate without a hassle. Some of these amazing features are its ability to adjust the display's brightness, saturation, contrast, motion, transitions, and many more. Moreover, this can enhance audio on iPhone video and record a high-quality voiceover.
Pros:
1. It comes with multiple filters and effects.
2. It allows you to share your edited videos online.
3. You can download it for free.
Cons:
1. It doesn't have a tool to denoise a video.
2. It has a huge size.
Top 4. Splice
Now, allow us to introduce Splice, one of the most trusted video editing apps for iPhone. You can also download and install this app from the App Store for free. Furthermore, it enables you to enhance your video by adjusting the clip's contrast, brightness, saturation, and exposure. Likewise, this iPhone app enhances video quality and makes you retouch the video while working on removing noise.
Pros:
1. Great editing tools are in it.
2. Free and unlimited to use.
3. It can correct the orientation, background, and hues of the video.
Cons:
1. It works on updates frequently.
2. It sometimes crashes when in use.
Top 5. CapCut - Video Editor
Finally, we have another flexible editing app to see in the App Store, the CapCut - Video Editor. Part of its flexibility is its availability on Playstore, which means even Android users can enjoy it. Furthermore, it lets you enhance your video by sharpening, adjusting the saturation and contrast, and upscaling the resolution simply and quickly. Plus, it has a free service that this iPhone video enhancer app offers users.
Pros:
1. No subscription or sign-up is required.
2. It enhances videos in several ways.
3. Wide arrays of filters, languages, and effects.
Cons:
1. It occasionally holds stability issues.
2. Advanced features are lacking.
Part 2. Recommendation: Best Video Enhancer on Windows and Mac
Suppose you need to enhance bulk videos and can't use your iPhone for it. If that's the case, then we highly recommend you enhance them on your PC using Video Converter Ultimate. Why this software? Because it is the best choice for many video editors for desktops and Macs. Furthermore, unlike the other editors, Video Converter Ultimate lets you enhance bulk videos simultaneously without any interruptions. It is because it is infused with advanced technologies, specifically hardware and ultrafast acceleration, that make the process and your device work unwaveringly. Additionally, its video-enhancing feature grinds with artificial intelligence, so you don't need to worry too much about how it enhances your files.
Main Features:
1. Grand conversion and enhancing process for multiple files.
2. Easy and facile interface.
3. Workable on all popular video types like MP4, MOV, AVI, WMP, etc.
4. It comes with library storage.
How to Enhance iPhone Videos in Batches
Step 1
Open the video enhancer on your computer after downloading it. Then, proceed to upload the videos from your iPhone by clicking the Plus icon or the Add Files tab.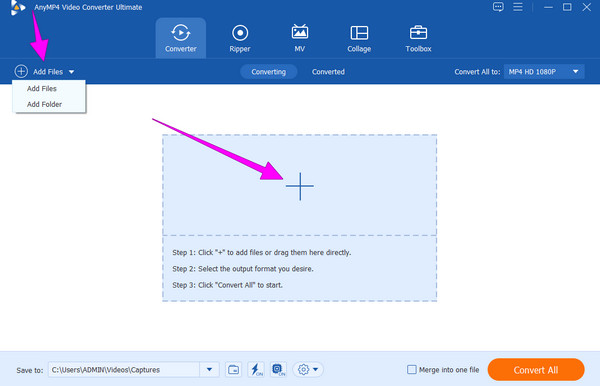 Step 2
After uploading, hit the Paint icon among the added editing features under the videos. Then, on the new window, tick the boxes of the Upscale Resolution, Optimize Brightness and Contrast, and Remove Video Noise options. Consequently, click the Apply to All tab, then hit Save.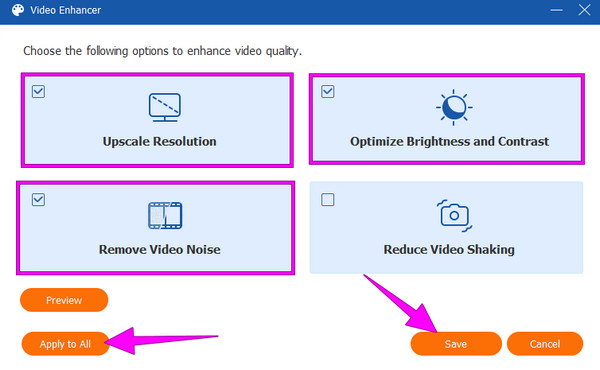 Step 3
After that, check the formats of your outputs if they have your preference. Then, hit the Convert All button and wait for the process to finish.
Part 3. FAQs about Video Enhancers on iPhone
Why are some of my received videos on the iPhone poor in quality?
This causes various reasons. But the main reason why is that the video might be compressed, resulting from reduced quality.
What is the best video quality that I can have for my iPhone video?
As of this writing, the best video quality for your iPhone is 4K with a 4096x2160 resolution.
What is the biggest disadvantage of using a mobile app for video enhancement?
There are various disadvantages to using mobile apps. So far, the biggest is the ads that most of the apps have.
Conclusion
To conclude, only the best iPhone video enhancers are outlined in this article. Your job now is to choose which among them deserves the spot on your iPhone. However, if you don't want to install any on your phone, you can always divert the video enhancement to your computer. If this is the case, then use Video Converter Ultimate.