Kapwing Resizer: How to Crop Video in 4 Easy Steps
There are numerous reasons for cropping your videos. Cropping a video is done because you wish to improve the frame of the image by removing unwanted components that were accidentally included. Cropping is often necessary when a long, high-quality lens is not available to properly frame the main subject. Shooters in sports and wildlife may use this approach when it is impossible to get closer to fill the frame with the subject. Even more so, when changing the orientation of the video from landscape to portrait, you'll need to crop it quite tightly. Therefore, you require a tool that will make your task easier while not requiring you to spend as much time in the editing process. A device that does not require installation or the creation of an account. That is why Kapwing Video Resizer is your go-to solution for all of your cropping problems. It comes with several distinguishing features and an easy-to-use UI. In addition to this, you can utilize the other best alternative tool to crop your videos with simplicity by reading today's post.

Part 1. Professional Way to Crop Videos
When you crop a video clip, you're shifting or altering the edges of the video clip. Cropping is frequently used for editing images, but it is also helpful for video editing. Cropping lets you delete unwanted or distracting parts of a video clip or adjust its measurements to fit within a specific ratio. Whether you're working with camera or screen video footage, you'll probably need to crop these recordings at some point. Cropping video is utilized to adjust a scene's emphasis or remove unnecessary and distracting elements.
Video Converter Ultimate is your best editing partner when it comes to cropping and zooming in on your videos. Using this software, you can edit your films by cropping, flipping, rotating, trimming, and splitting them. Not only does it allow you to crop video clips in a matter of seconds, but it also contains a variety of excellent free filters and transitions that you can use to enhance your videos. Moreover, it features a simple user interface, implying that even newbies will easily edit videos. To use it is to believe it. Here are the easy steps to utilize on how to crop video in a short time using the best solution.
Distinctive Features
1. Crop, trim, split, flip and rotate video with high-quality output.
2. Equipped with 70X faster conversion technology.
3. Video player, video compressor, animated GIF maker.
4. Provides 4K/5K/8K/1080p high-quality video output.
Step 1
Download the cropping tool
To begin, download and install the Video Converter Ultimate by clicking on one of the download buttons above. Alternatively, you can go to the tool's official website and download it directly. Download and run the software from your computer's desktop.
Step 2
Add files
Upon launching, import your files by selecting the Add Files button at the upper left part of the interface. Conversely, you can drag the files to the middle of the interface.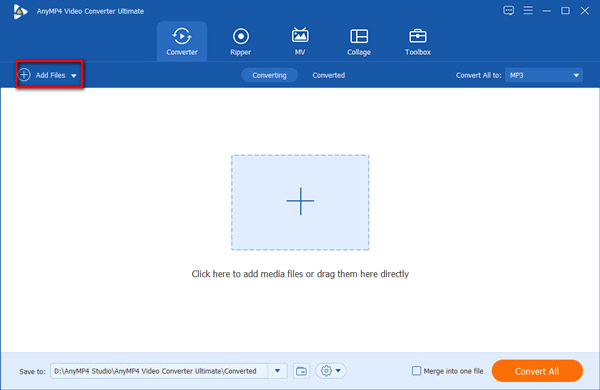 Note: You can import a whole folder by hitting the Add Folder.
Step 3
Prepare to edit
After importing the files, click the Edit button to modify and edit the video.
Step 4
Crop the video
To crop the video, directly move the cursor to the handlebar and crop the video in the size you prefer. When you are good with the result, hit the OK button.
Tip: It is possible to change the video output settings before exporting it. These include changes to the video resolution and format and the framerate, bitrate, and audio settings.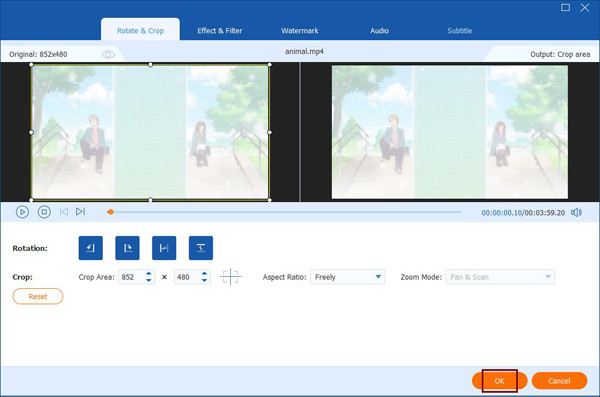 Step 5
Export the cropped video
Upon clicking the OK button, it will lead you back to the main interface. Export the cropped video by clicking the Convert All button.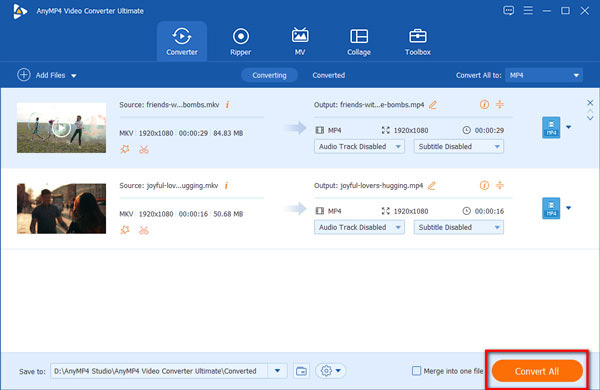 Step 6
Preview the clip
After converting, play the newly cropped video on the computer's hard drive or in the destination file folder.
Part 2. Efficiently Crop/Resize on Kapwing
In terms of cropping movies to perfection, Kapwing Video Resizer is one of the most prominent web application solutions that artists rely on for their work. Many online media websites make use of a range of video size standards in order to make their content more aesthetically appealing to their audiences. Kapwing allows you to crop your videos to ensure that they are the perfect size for your new blog article or social media posting. With no need to create an account or download any additional software, you can begin resizing and cropping your favorite films right now! In addition, Kapwing's logo displays at the end of the video, which, while not particularly annoying, may be easily deleted by paying a small flat price to the tool. The free version has a modest file size and other limitations, which are appropriate in this case. Additionally, many users believe that this tool is suitable for editing short videos but not for editing large videos and that if the file size exceeds 250MB, a fee must be paid to the tool. If you are a complete novice, the only disadvantage is that it can be a little frightening to get started. In the meantime, take a look at the complete instructions below on how to resize the video with Kapwing in a matter of seconds utilizing the tool.
Step 1
Visit the official page
First things first, go to the official page of Kapwing Resizer.
Step 2
Import your video file
After you've signed in the tool, you'll need to import the video you want to crop by clicking the Upload File button in the center of the interface. Allow it to finish downloading before continuing.

Step 3
Crop the video
After successfully uploading the video, navigate to the crop tool in the interface, which is found in the right-hand corner of the display. Manually crop the movie by dragging the crop handlebar to the desired position.
Step 4
Share the cropped video
At last, when you are pleased with the modifications, click on the Export Video icon located in the upper-right corner of the user interface to begin the export process.
Don't Miss:
2 Highly Commendable Ways on How to Crop Video in Premiere
Ultimate Tutorial to Crop A Video on iMovie for Mac/iPhone/iPad
Part 3. FAQs about Kapwing Resizer
1. What is the maximum length of a Kapwing video?
With Kapwing, you can create videos up to 60 minutes in length. Users who sign up for a free account, on the other hand, can only submit films that are less than 7 minutes long.
2. Is Kapwing a reputable website?
Yes! Kapwing is a 100% safe platform. Instead of spamming adverts, which are seen on most online editing websites, Kapwing does not display any. External interaction with other users on the forum is also restricted for this tool. They take the security of our clients' data and content seriously and have implemented procedures to ensure it.
3. How long does it take Kapwing to export?
Each stage of the export procedure can take up to one hour, according to Kapwing. The video can pause if an action does not complete inside the set time range. Although we estimate that the vast majority of projects will export successfully within a few hours, it is possible that some projects may not.
4. Is it true that Kapwing degrades video quality?
Kapwing does not degrade the quality of your files in any way. Although file size and resolution can be correlated, this is not always the case. It's critical to remember that file size is determined by the codec, the format, the file size, and the bit rate - and not all of these factors are related to quality.
Conclusion
Kapwing Resizer is a fantastic tool that makes it extremely simple to edit videos in various formats. It becomes straightforward to create material that appears to be of the highest quality and appears to have been created using high-end software because you have so many tools and templates at your disposal. However, suppose you believe that Kapwing Resizer has a high learning curve. In that case, you may rely on Video Converter Ultimate, which is user-friendly enough that even a beginner will have no trouble navigating the tool. With its simple user interface, you will have no problem completing your cropping tasks. Moreover, it is equipped with a toolbox kit that helps you modify your video in different ways, such as video cropping, enhancer, video merger, video speed controller, video reverser, video rotator, and video trimmer. Isn't this a fantastic feature? Download the tool right away and start editing your videos instantly.